Excellent detour off I-70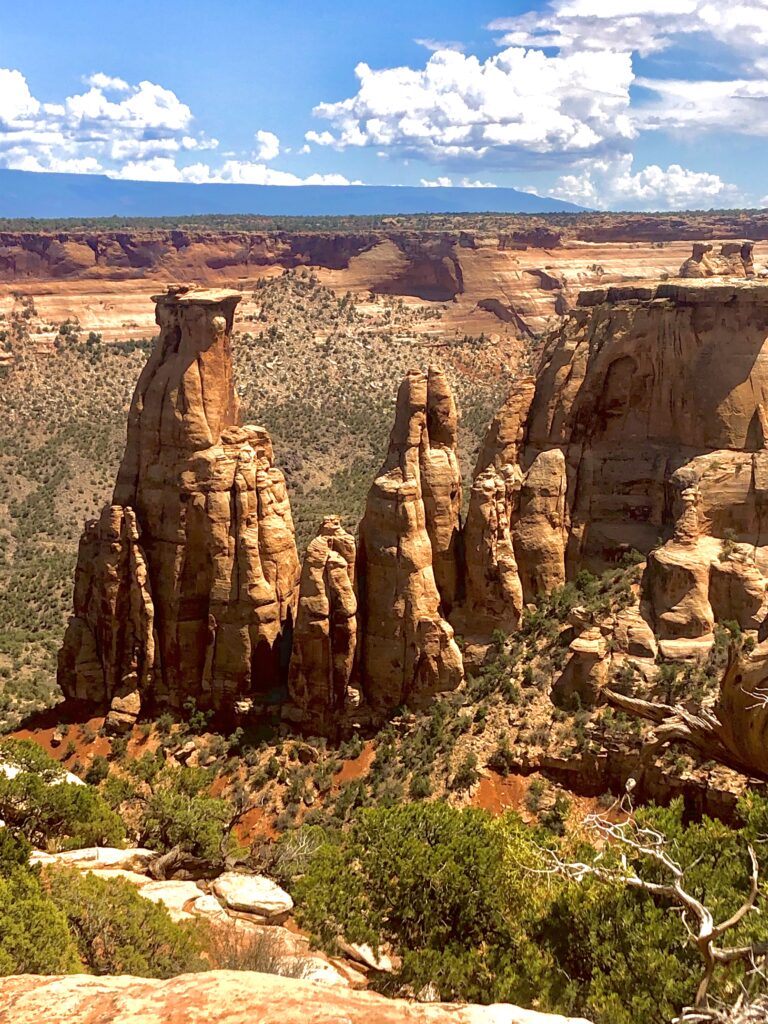 As we traveled the highways and byways of America, it was our amazement to drive through the Colorado National Monument. We were not expecting this detour to wow 🤩 us as we drove from Grand Junction to Fruita, CO. The high desert 🐪 was not an image conjured when ruminating about Colorado. You've always had the power my dear, you just had to learn it for yourself. – Glinda the Good Witch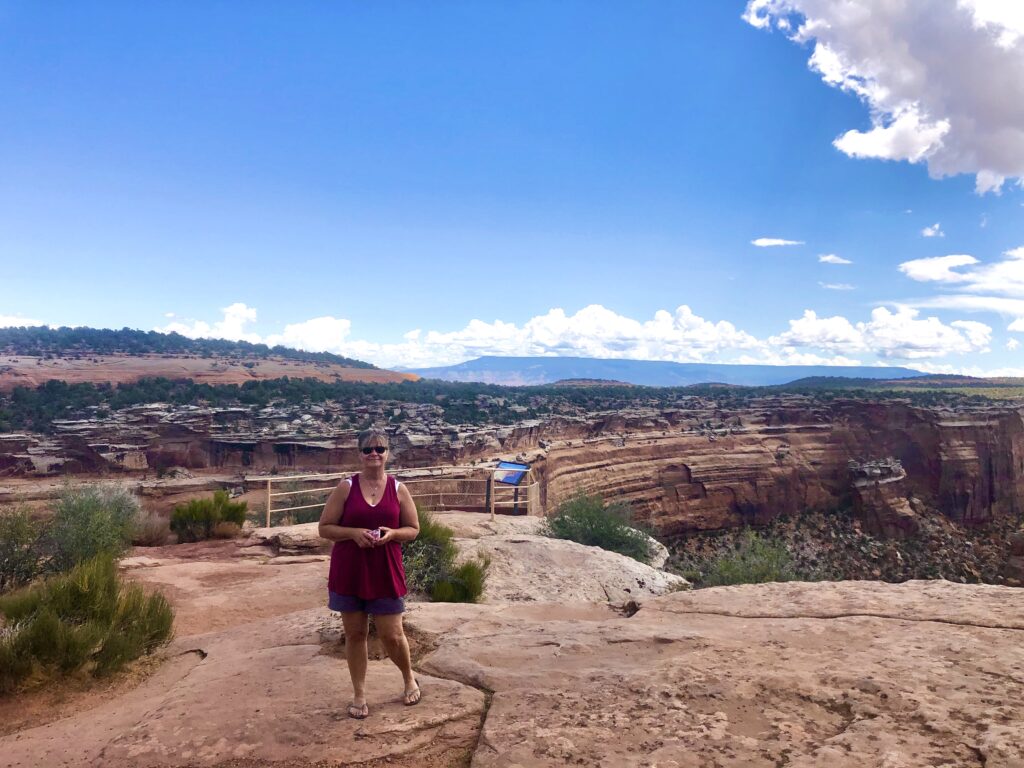 The 23-mile Rim Rock Drive offers redrock canyons, crisp blue skies, and glorious views along the way for motorists and bicyclists. The monument's feature attraction is Monument Canyon, which runs the width of the park and includes rock formations such as Independence Monument, the Kissing Couple, and Coke Ovens.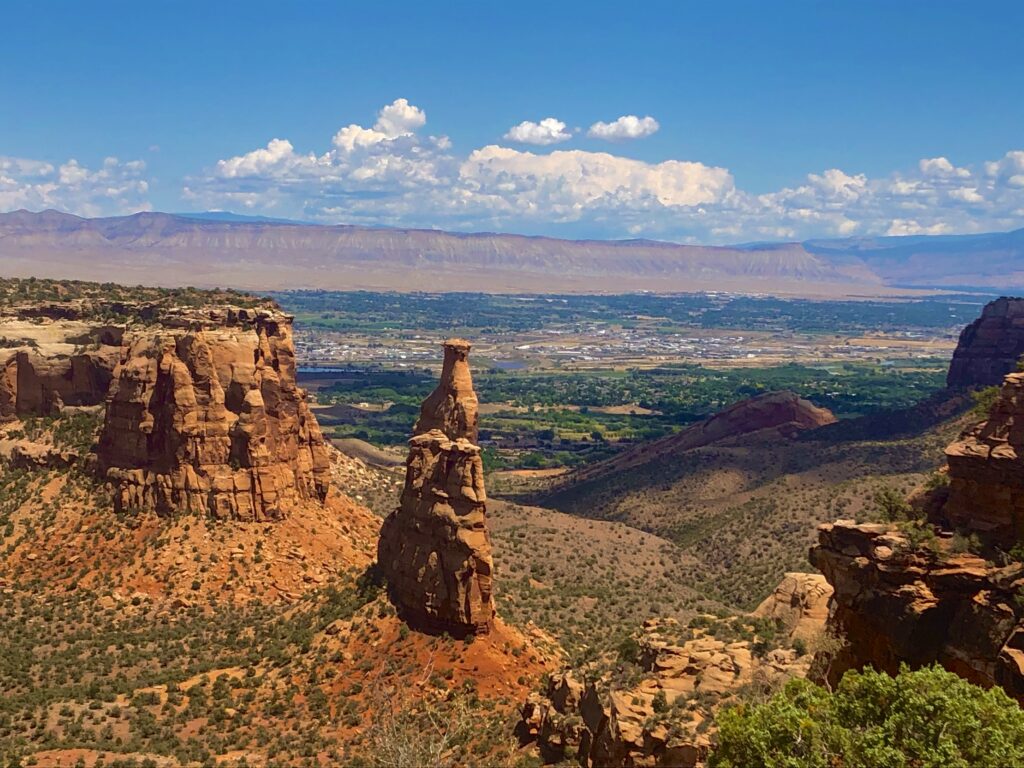 Colorado National Monument's Rim Rock Drive is one of the most spectacular drives in the United States. Redrock canyons, crisp blue skies, and verdant green juniper splash fantastic views along the way for motorists and bicyclists. However, the road is challenging, narrow, and steep in some sections with sheer dropoffs. Special considerations must be made for road travel since motorists and bicyclists share the road. Use caution when on tight corners and hills. On the east side of the monument, motorists may encounter large trucks that use four miles of the monument's roadway to access the community of Glade Park. Road work is an on-going process.
Reclusive canyon dweller John Otto mounted a one-man campaign to have his "backyard" declared a national park. That designation came in 1911, with Otto as its first superintendent. Otto famously wrote, "I came here last year and found these canyons, and they felt like the heart of the world to me. I'm going to stay and promote this place because it should be a national park." Ultimately, Colorado National Monument was established on May 24, 1911, as a presidential proclamation by President Taft under the authority of the Antiquities Act.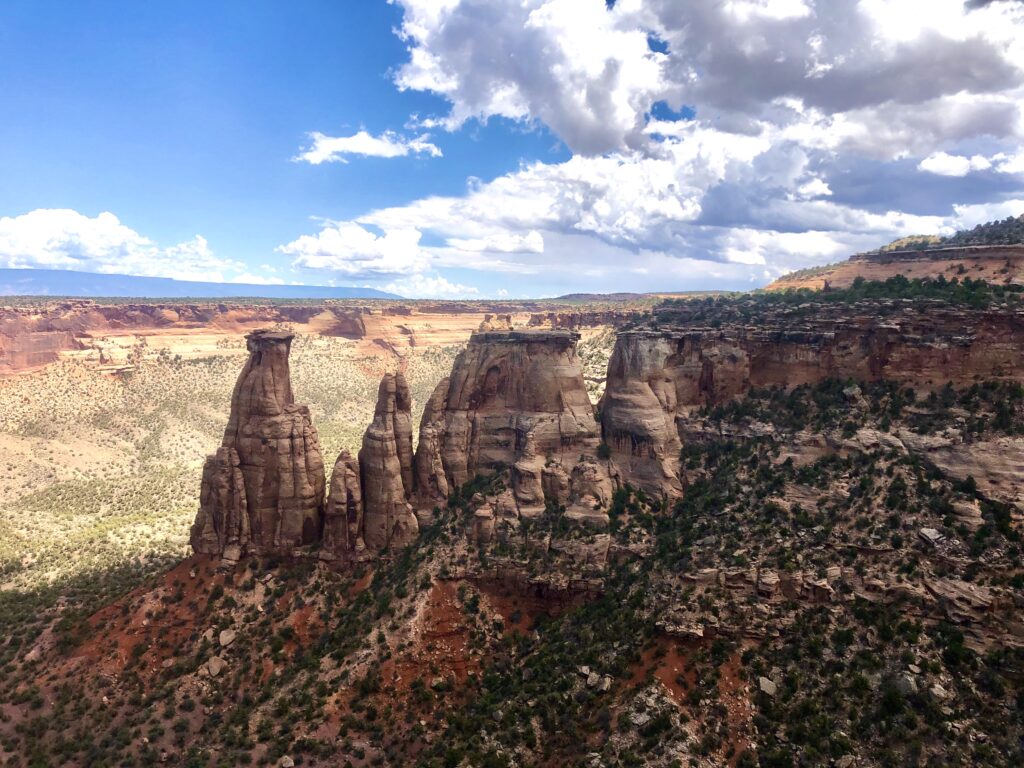 The park became more well known in the 1980s partly due to its inclusion as a stage of the major international bicycle race, the Coors Classic. The race through the park became known as "The Tour of the Moon", due to the spectacular landscapes the race passed through on Rim Rock Drive.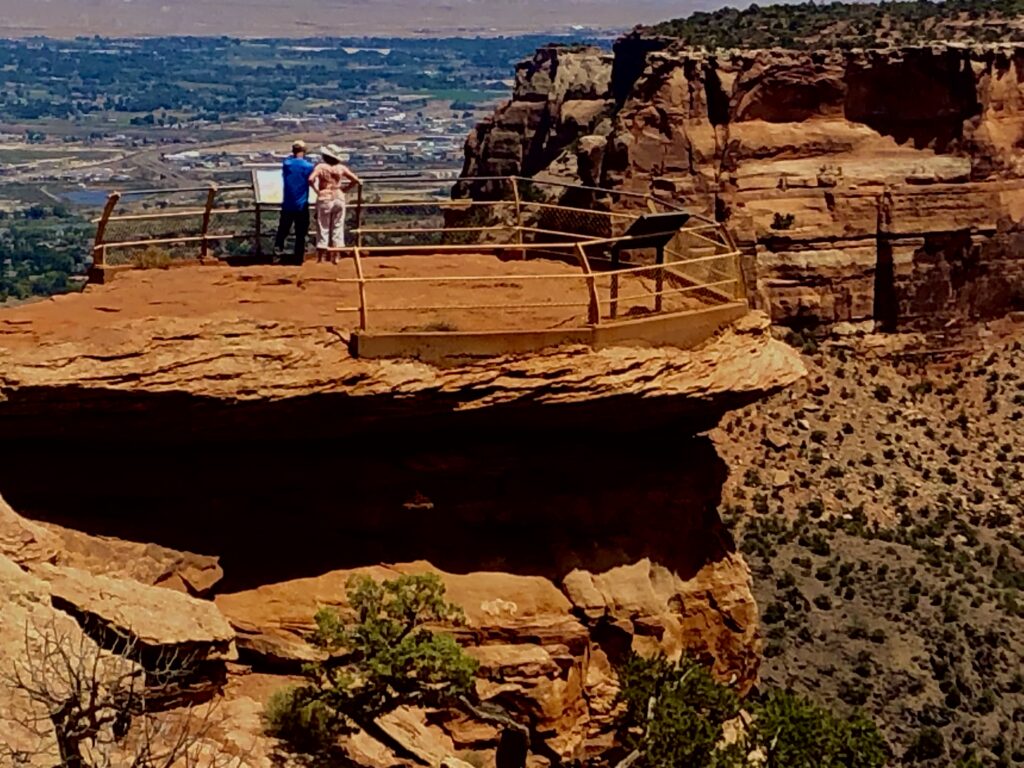 Rules to follow on the road within this monument:
Please Follow These Rules:
Use your headlights in all tunnels and watch for bicyclists and other vehicles.
Obey all traffic laws and speed limits. The maximum speed is 25 mph.
Do not attempt to proceed around bicyclists unless you have a clear view of oncoming traffic and a safe passing distance. Do not pass in the tunnels.
When passing bicyclists, please allow at least three feet of clearance between your vehicle and the bicyclist.
Check carefully for bicycles, pedestrians and vehicles before pulling out onto the road from pullouts.
Allow other motorists and bicyclists to pass if you are obstructing traffic and there is a safe place to pull over.
Remember that bicyclists have all the rights and responsibilities of any vehicle.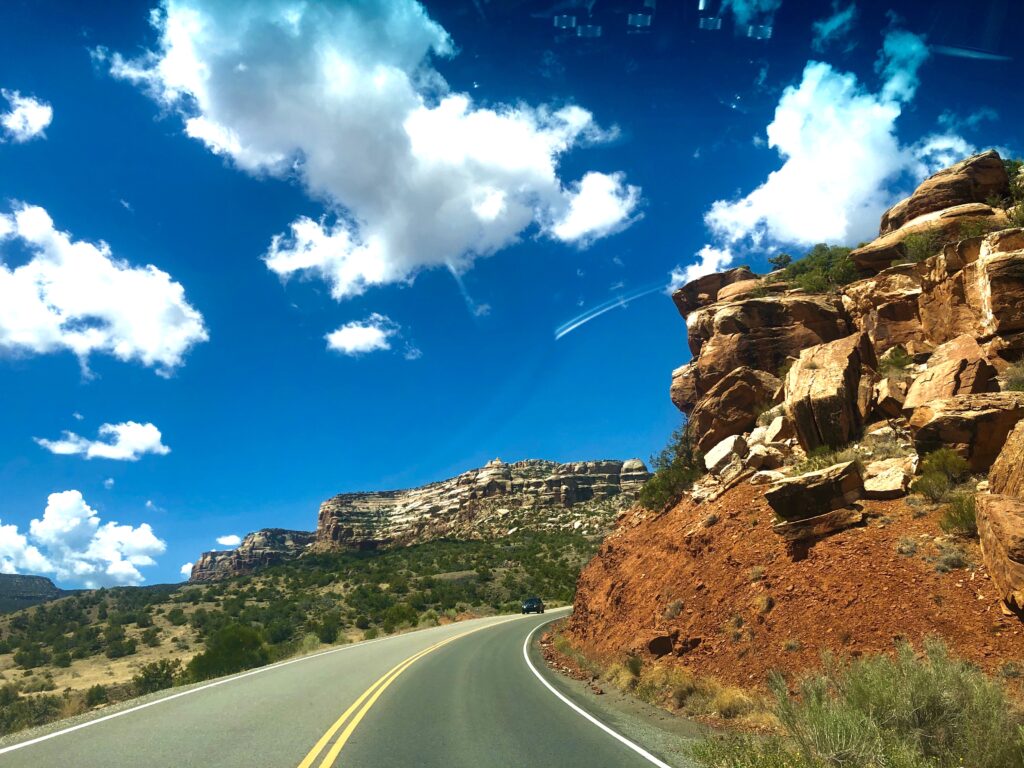 What to expect during your drive?
The monument boasts canyons as deep as 500 feet and rock monoliths as tall as 450 feet.  Of the three tunnels along the 23-mile-long Rim Rock Drive, the longest is 530 feet long. . Serpent's Trail, the original dirt road into Colorado National Monument and now its most popular hiking trail make 54 switchbacks in just 2 1/2 miles. We did not allocate even time for hiking but would recommend. If seeking additional hiking trails the monument boast 47 more trails for all skill levels. Do not forget to bring extra water on these hikes as Colorado National Monument records an annual average of fewer than 12 inches of rain. It was hot hot 🥵 hot on our visit.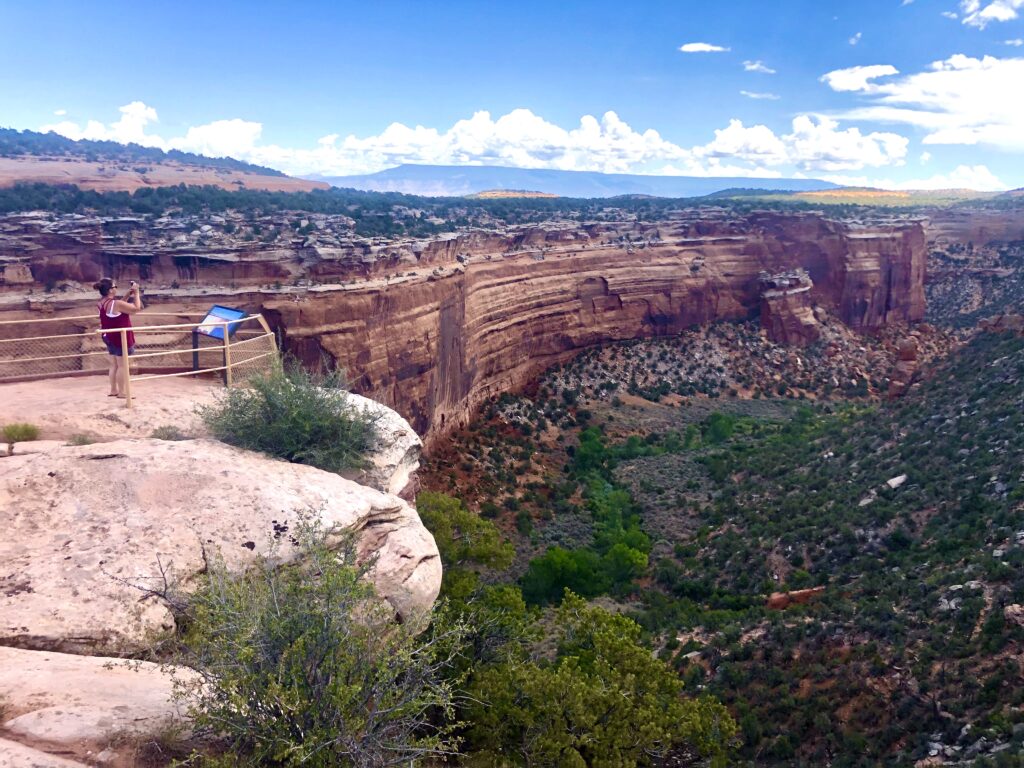 What kinds of wildlife can we expect to see in this desert region?
Visitors often see mule deer and may also spot coyotes, mountain lions, bobcats, desert bighorns and much smaller mammals such as foxes, desert cottontails, squirrels, and other rodents. We had no luck witnessing the fauna as the desert heat kept most animals in the shade.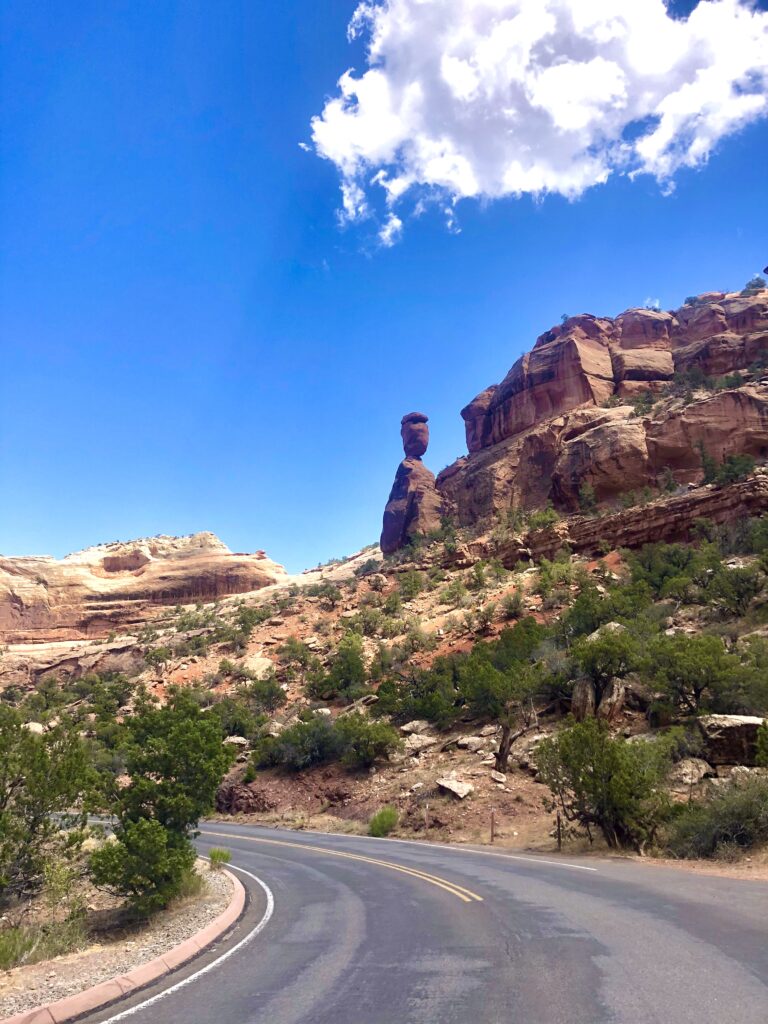 Road warriors need to pass the time when on the road. I highly recommend the Audible books 📚
Try Audible and Get Two Free Audiobooks
Camping options:
Unfortunately for us, we underestimated the beauty and solitude offered within the Colorado National Monument while making our plans. If we could have a do over then we would have considered sticking around for a few days. You have two choices for camping within the park.
Saddlehorn Campground: You'll find this within proximity of the Visitor Center. It is the only established campground in the whole park, with individual and group campsites available. Tent camping and RV sites are available, each with a picnic table and grill. Restrooms are open in the summer only. Reservations are advisable (recreation.gov), and you can make them up to 6 months in advance.
Backcountry: You can get a free use permit to travel, hike and camp in the backcountry. Permits are good for 14 nights, although you can only stay 7 consecutive nights at one time. There are no services or water available in the backcountry, so you do have to pack a considerable amount in with you.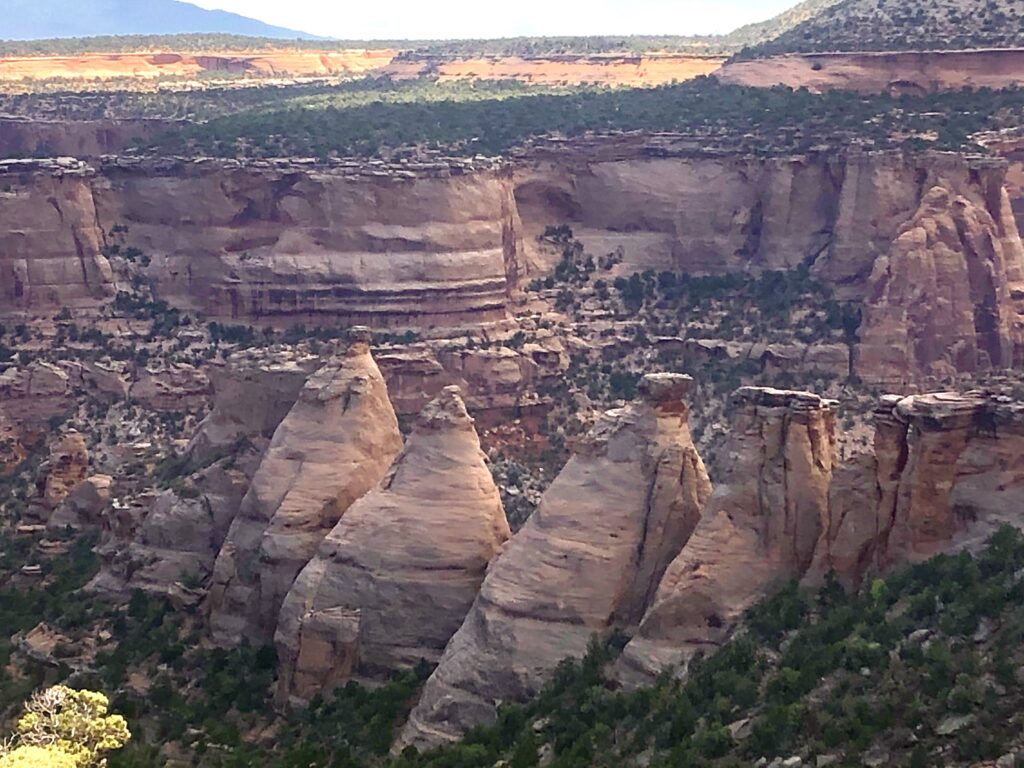 Pro-Tip One of the shortest trails, also popular, is Devil's Kitchen. The trailhead is located near the eastern entrance of the park on Rim Rock Drive. This trail is about 1 mile long, and ends in a sandstone grotto. Devil's Kitchen trail is well suited for families with smaller children, as the hike is short and the "kitchen" itself provides plenty of opportunity for child-sized exploration.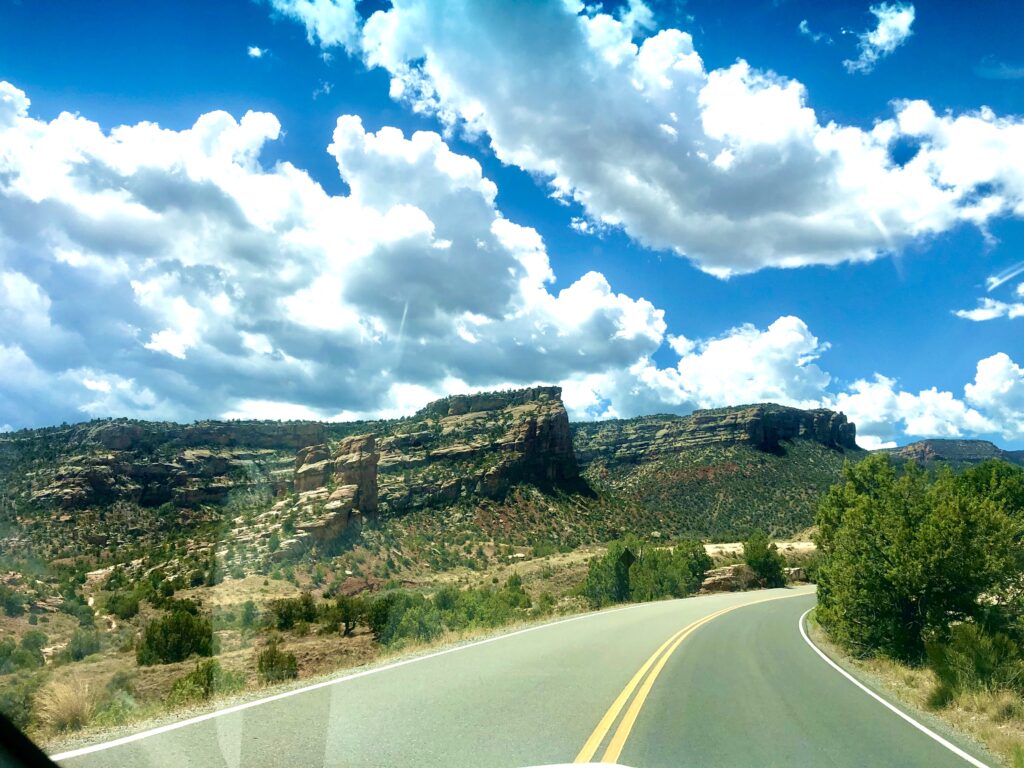 Money saving tip: Buy the annual national parks pass. The National Park Pass will also allow access to all the national monuments. The cost is $80. If you plan on being in any of the National Parks more than three times within a year then you will save money. The pass will sometimes allow discounts to camping in the National Forest 🌳. There's also discounts for seniors which can be applied against camping threw out America. Other discounts apply so please read the eligibility which can save you more money. We estimate we saved over $600 in park fees."We don't inherit the earth from our ancestors, we borrow it from our children."—Native American proverb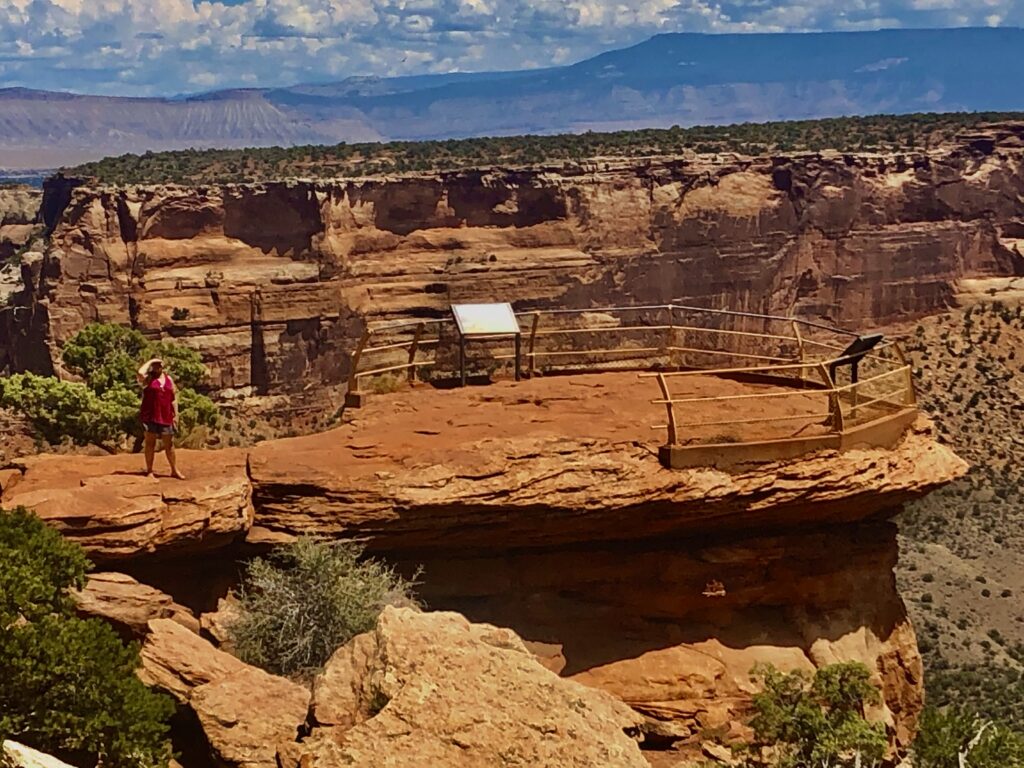 This site contains paid advertisements. By clicking the links it does not cost you any extra money as the seller pays Travelswithgg a referral fee. We will never place any links without 100% satisfaction of a product we use.
Traveling across the country is challenging enough to not have to worry about ones drinking water. We carry with us the Berkey water filtration system which we consider one of the best on the market.
Our thoughts 💭 about the Colorado National Monument
As one traverses the country, the demand for a detour can not be summarized in rest areas. We believe old and young will find some activity to be entertained within this national monument. This departure from the interstate is guarantied to recharge your soul. I promise you will not be disappointed. ~One touch of nature makes the whole world kin. —William Shakespeare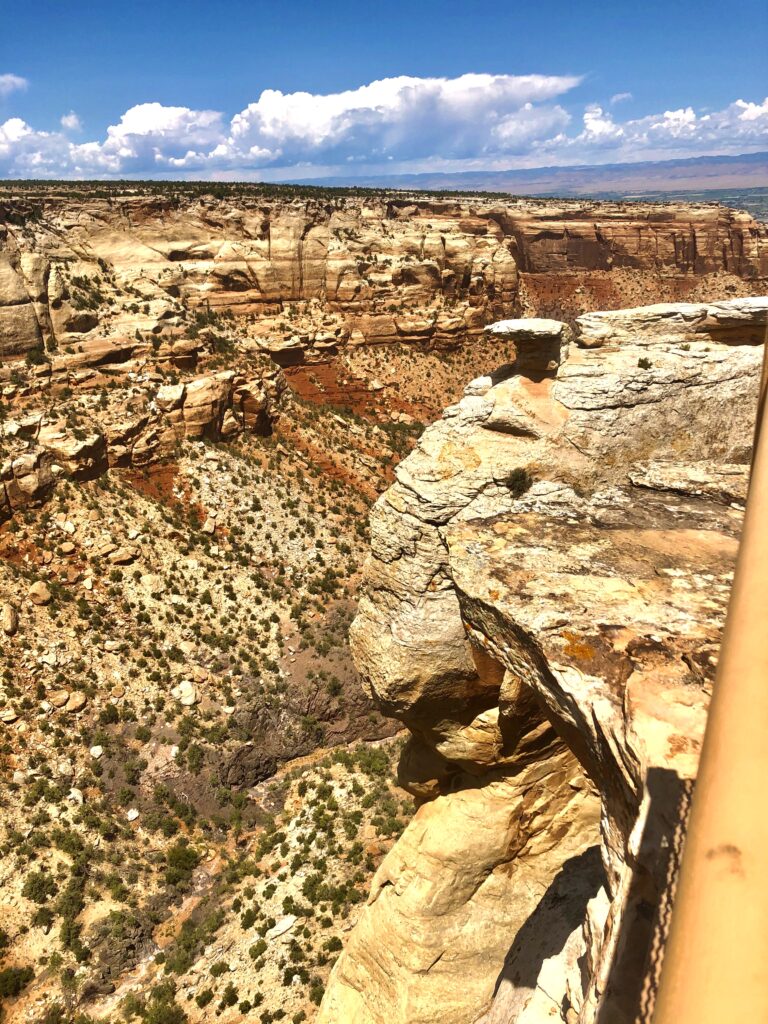 Amazon Launchpad Holiday Gift Guide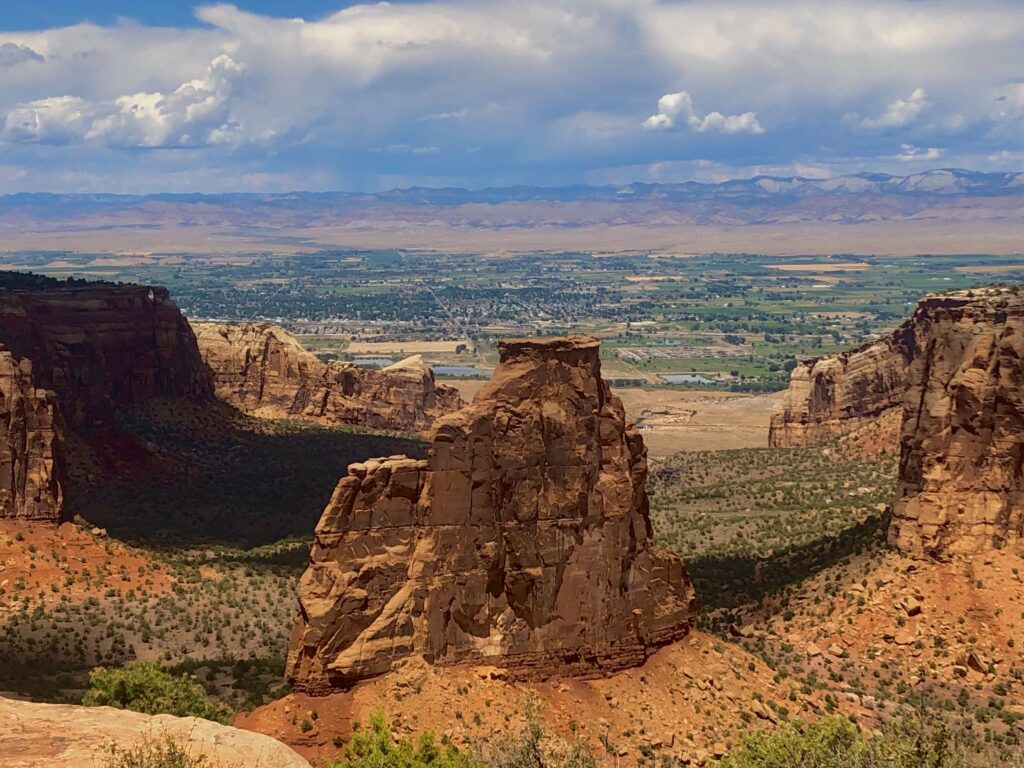 Drone flying is fast becoming a hobby of mine. After much research I purchased the Mini from DJI. I am very satisfied but still an amateur having a blast. Check out our drone videos within the blog which we hope you will enjoy.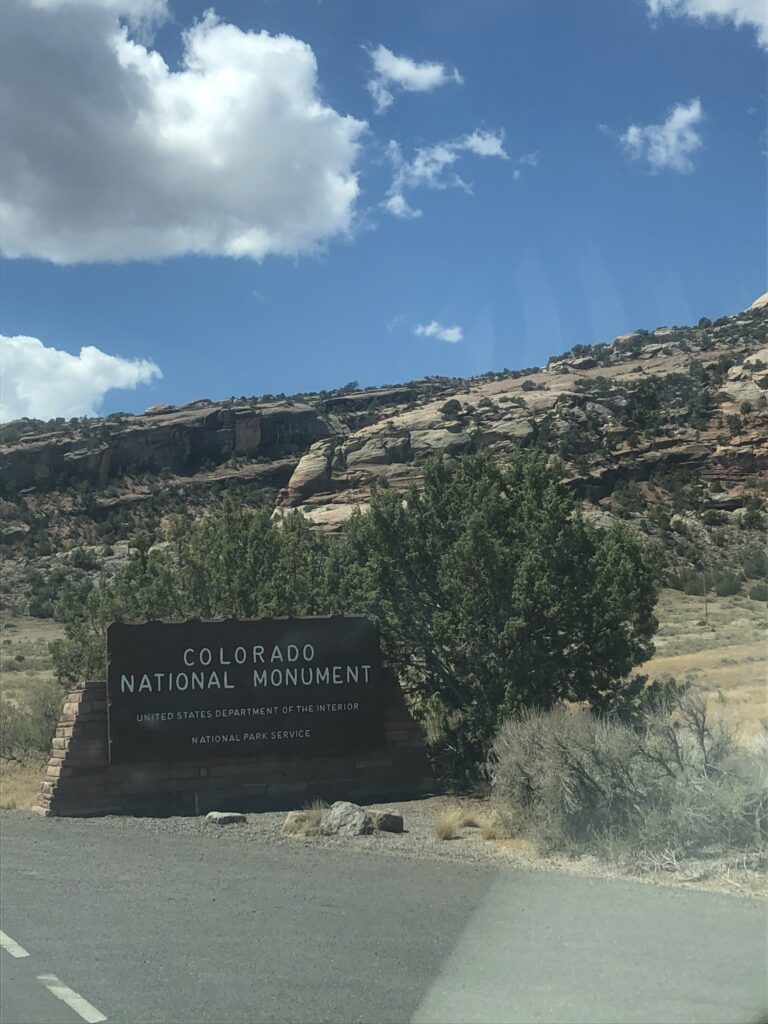 Products we love ❤️
After 12,000 miles on the road and hundreds of miles hiking 🥾 throughout America, our Merrells have withstood all types of terrain and although they may be dirty, the quality is outstanding and are ready for the next 12,000.
Being on the water is very therapeutic and lots of fun. Space is always our issue so the inflatable kayak was our answer. Easy to inflate but we did buy a battery 🔋 pump to make life easy. We have kayaked the lakes of Montana, Idaho, Arkansas, Minnesota, South Carolina, Arizona and the Intex has not let us down.
Robin's favorite outdoor cooking utensil
Great personal usb fans. Perfect for warm dry camping nights
Our Retro Jr offers only so much space so to expand the cooking area, Robin loves this easy to put up table from Lifetime. No issues after multiple setups and break downs.
Campers are for the most part very honest and friendly people. However, pulling GG through a city and leaving her to go explore can make one feel uneasy 😬 so this easy locking 🔒 system was our solution.
Our teardrop does not come with a refrigerator so coolers are our life blood. We needed to keep our food cold for days on end and these coolers did the trick.
Grand daughter had her first birthday so the best gift was to start her love of camping. Love you Bridget.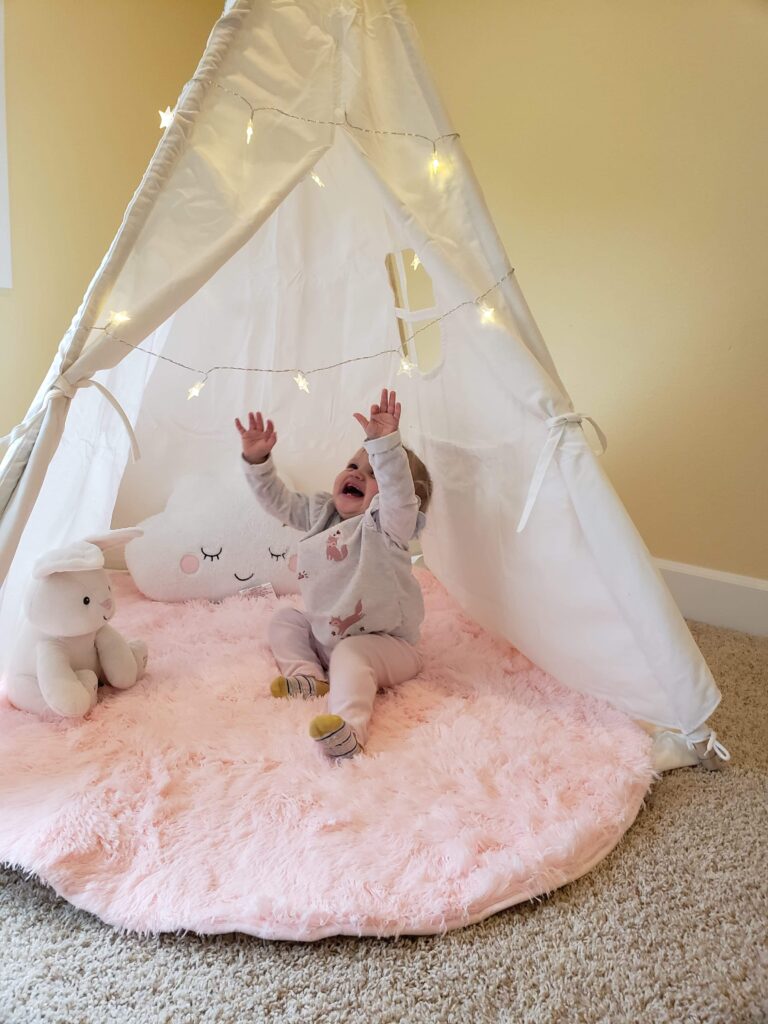 Traveling over 12,000 miles in a Teardrop trailer one realizes space is an issue. We highly a roof rack to aid in carrying more items ie inflatable kayak, life jackets, oars, and etc.
12,000 miles on the road, one of my best purchases was my Costa sunglasses 🕶. The glare from driving is gone and the polarized lenses intensified the colors of my surroundings.