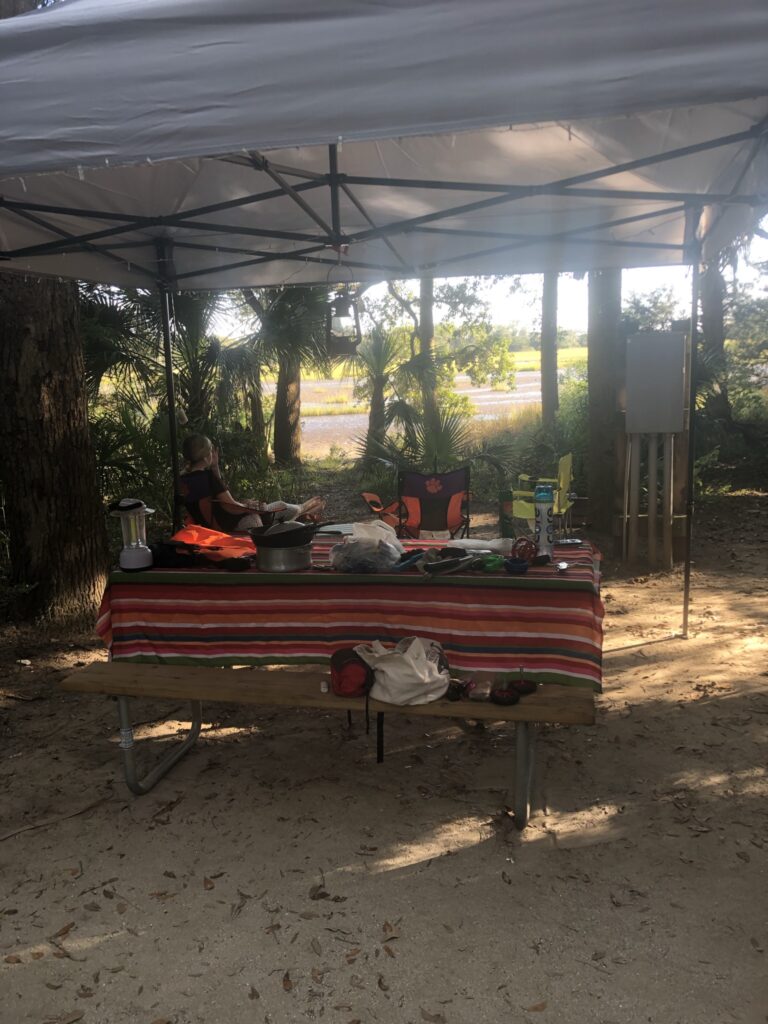 Edisto Beach State Park is one of four state parks in South Carolina located on ocean. I'm going to argue this is the best state park in South Carolina on the ocean. The park is approximately 50 miles from Charleston, SC making day trips to the Holy City very convenient. Beware coming back late at night as the two lane highway is known to be haunted with ghost 👻 and the Lizardman.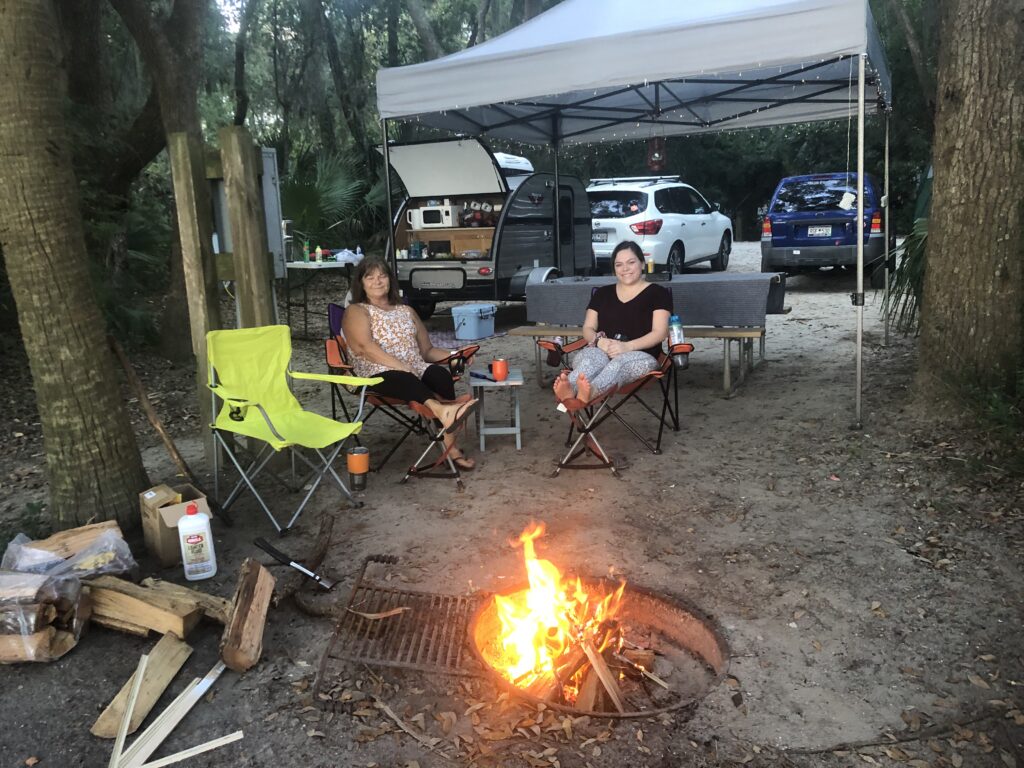 Edisto Beach State Park is nestled within a sleepy 😴 town that begs for families to come and enjoy the sun and fun. 🤩 The State park has 120 campsites 🏕 and is divided into two campgrounds. The first is located right on the beach. These sites are very close to each other; although, a short walk to beach 🏝. We stayed at the Live Oak campgrounds about a mile and half away. We loved the privacy offered to each site and there is nothing more beautiful than the sun 🌞 set over the marsh in SC. It's magical not to mention all the hiking trails and fishing 🎣 opportunities.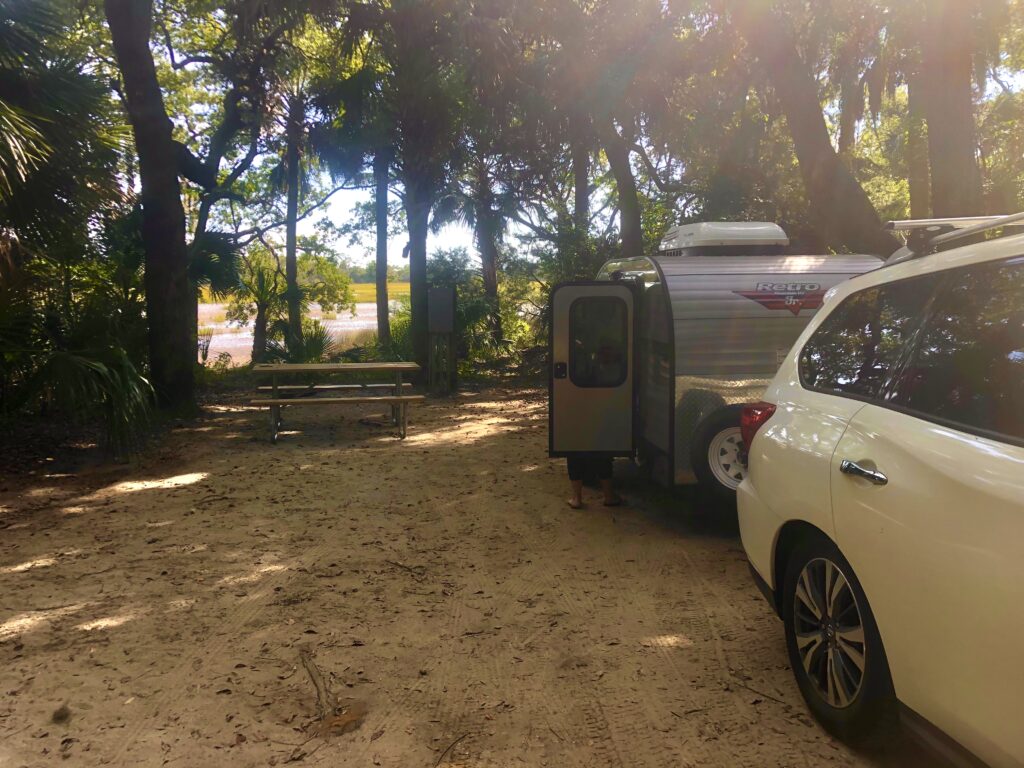 At the live oak campgrounds the hiking trails are a great escape from the blistering heat. Most of the trails are short and friendly to novice and experienced hikers.

Local secret: Edisto Beach and the surrounding area offers what many believe to be the best fishing anywhere.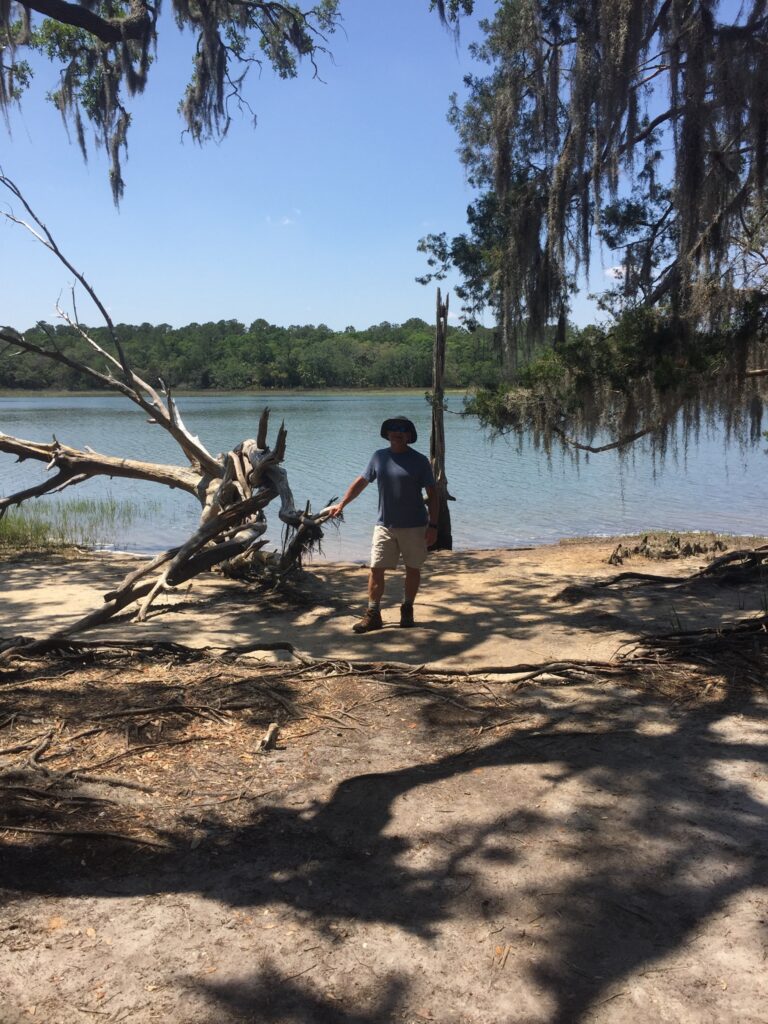 The mysterious 4,000 year old shellmidden along side the tidal basin – we could not find but the search was worth it!
CAMPGROUND TRAIL
Length: 0.3 miles
Type: Hiking and Biking Trail
Difficulty: Easy
Description: This trail will take you from the campground to the Scott Creek Trail.
SCOTT CREEK TRAIL
Length: 0.7 miles
Type: Hiking and Biking Trail
Difficulty: Easy
Description: The Scott Creek Trail takes one through the maritime forest offering views of the marsh from three boardwalks. The Scott Creek Trail connects to the Spanish Mount Trail.
SPANISH MOUNT TRAIL
Length: 1.7 miles
Type: Hiking and Biking Trail

Difficulty: Easy

Description: One of the earliest Native American shell mound sites in South Carolina can be found at the western terminus of the Spanish Mount Trail.
What is a Shellmidden? Signs of early settlements directly associated with villages, as a designated village dump site. Shells and bones 🦴 and other refuse.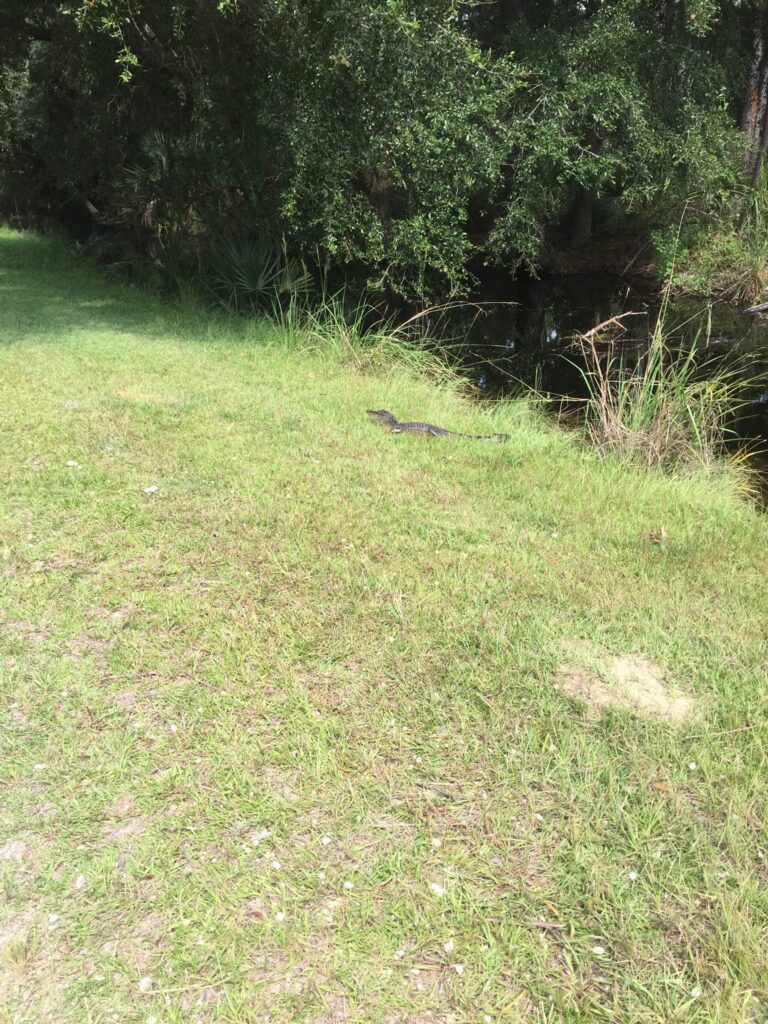 Close by the state park are grocery stores, restaurants, water and bike rental companies to make camping as Boosie as possible. We grabbed some chicken wings at McConkey's Jungle Shack and would recommend.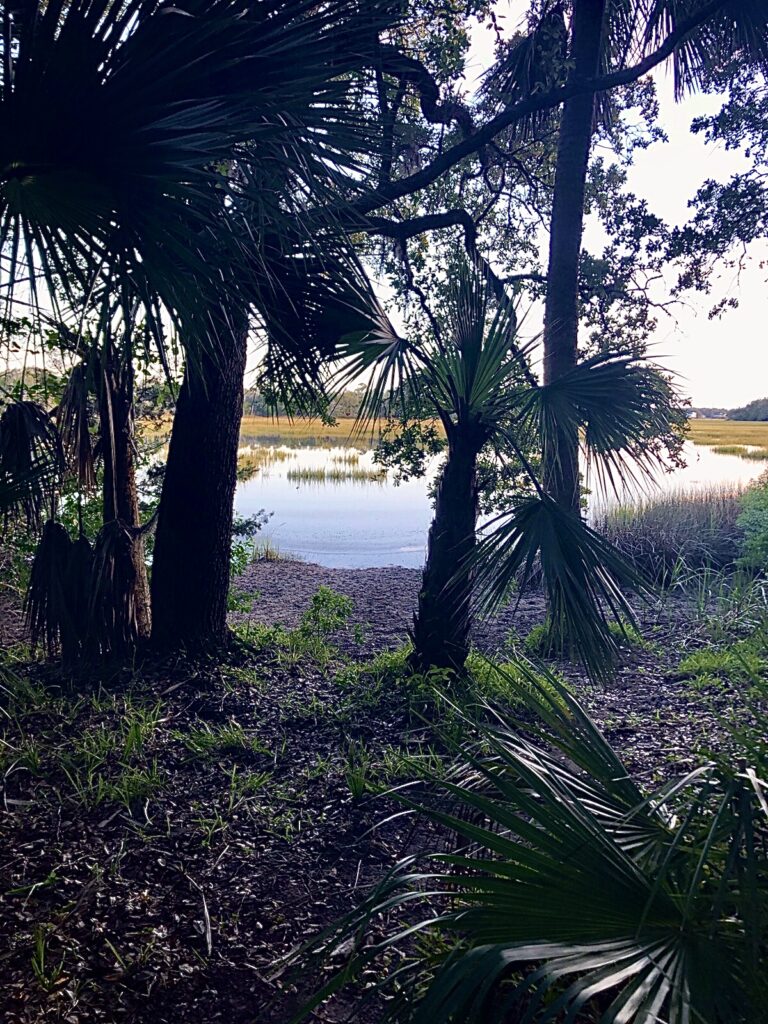 THINGS TO DO
Fishing Information: Enjoy surf fishing or fishing in the salt marsh for flounder, whiting, spot tail and other species.

Fishing: Yes
Saltwater Fishing: Yes
Boating and Boat Access: A boat ramp and courtesy dock is located on the western boundary of the park which offers guest access to Big Bay Creek.

Boating: Yes
Boat Ramp: Yes
Wireless Internet Access: Complimentary wi-fi is available for park guests near the office area and in the wi-fi room located adjacent to the office. The wi-fi room includes a sitting area and restroom.

Picnic Area and Shelters: Two picnic shelters are available on a first-come, first-served basis for family or other group gatherings at no charge.

Park Store/Gift Shop: A small retail area is located in the Ranger Station and includes tshirts, caps and limited gift items.

Picnic Shelters: Yes
Swimming: Swimming is permitted in the Atlantic Ocean at your own risk. There are no lifeguards on duty.

Bird Watching: The best area for bird watching is along the trails in the park. Water fowl can also be spotted along the beach or marsh areas.

Geocaching: Geocaching is permitted. Several geocaches are located on the park. For more information visit the official geocaching website.

Biking: Yes
Birding: Yes
Interpretive Trails: A series of short, mostly level trails wind through Edisto Island's maritime forest of live oak, hanging Spanish moss, and palmetto trees. During your walk you may see white-tailed deer, osprey, or alligators, and may even catch a glimpse of the wary bobcats.

Hiking: Yes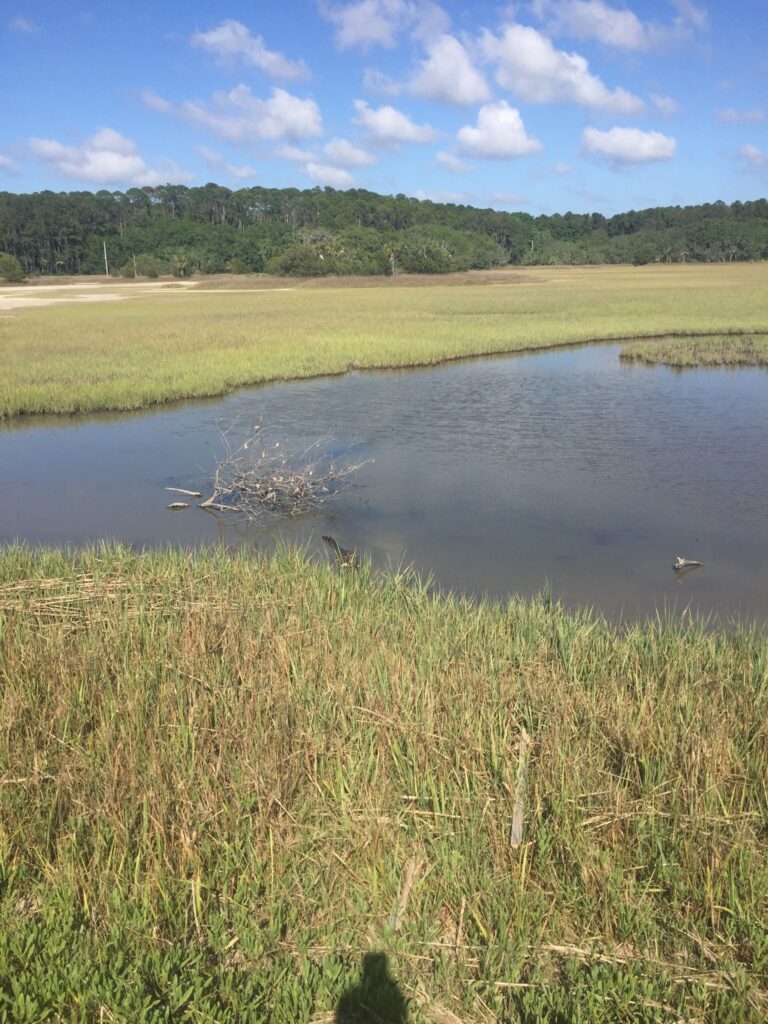 Road warriors need to pass the time when on the road. I highly recommend the Audible books 📚
Try Audible and Get Two Free Audiobooks


Another South Carolina treasure (Charleston area)
The Angel Oak Park is located on Johns Island where you can find what is known as "A Lowcountry Treasure". The Southern Live Oak tree is a historical site and focal point of one of the City of Charleston's public parks. It is considered to be the largest Live Oak Tree east of the Mississippi estimating to be 300 to 400 years old.
Money saving tip: Buy the annual national parks pass. The National Park Pass will also allow access to all the national monuments. The cost is $80. If you plan on being in any of the National Parks more than three times within a year then you will save money. The pass will sometimes allow discounts to camping in the National Forest 🌳. There's also discounts for seniors which can be applied against camping threw out America. Other discounts apply so please read the eligibility which can save you more money. We estimate we saved over $600 in park fees. "I googled my symptoms… turned out I just need to go camping"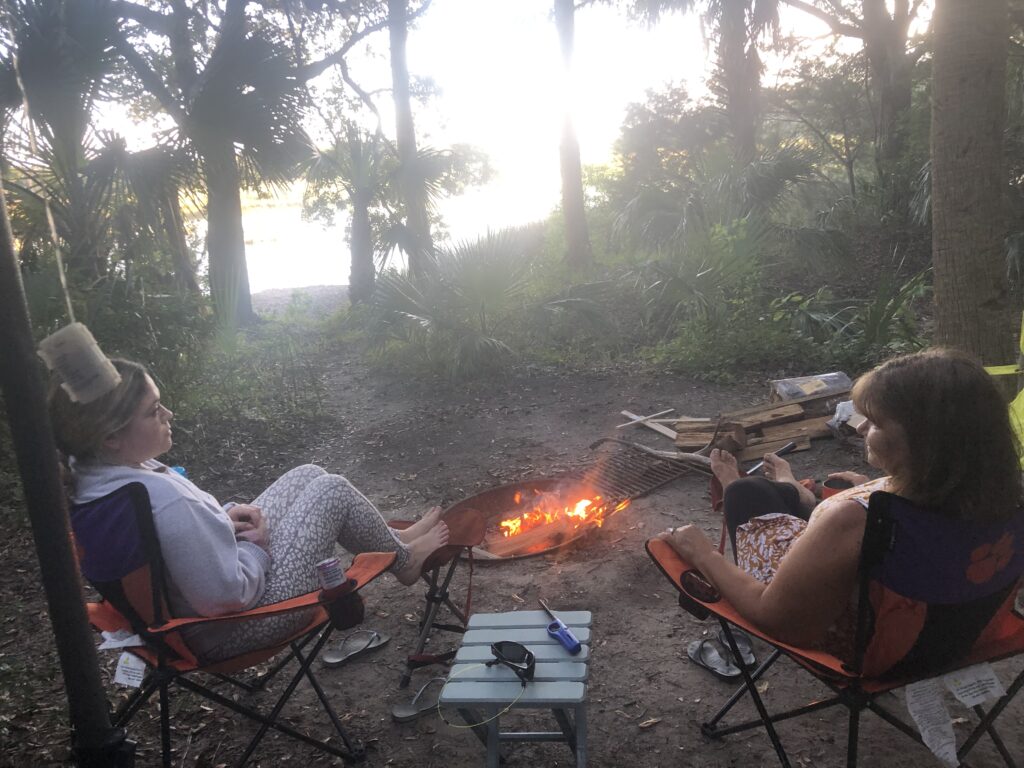 This site contains paid advertisements. By clicking the links it does not cost you any extra money as the seller pays Travelswithgg a referral fee. We will never place any links without 100% satisfaction of a product we use.
Traveling across the country is challenging enough to not have to worry about ones drinking water. We carry with us the Berkey water filtration system which we consider one of the best on the market.
Our thoughts 💭 about Edisto State Park
I called Edisto a sleepy 🥱 hamlet but let me be clear the secret 🤐 of this town is out. The beach and town can get very busy with tourism and locals alike. I still believe even in busy times one will find this state park enjoyable. Definitely place this state park on your to Do list. "Life is better by the camp fire"
Amazon Launchpad Holiday Gift Guide
Drone flying is fast becoming a hobby of mine. After much research I purchased the Mini from DJI. I am very satisfied but still an amateur having a blast. Check out our drone videos within the blog which we hope you will enjoy.
Products we love ❤️
After 12,000 miles on the road and hundreds of miles hiking 🥾 throughout America, our Merrells have withstood all types of terrain and although they may be dirty, the quality is outstanding and are ready for the next 12,000.
Being on the water is very therapeutic and lots of fun. Space is always our issue so the inflatable kayak was our answer. Easy to inflate but we did buy a battery 🔋 pump to make life easy. We have kayaked the lakes of Montana, Idaho, Arkansas, Minnesota, South Carolina, Arizona and the Intex has not let us down.
Robin's favorite outdoor cooking utensil
Great personal usb fans. Perfect for warm dry camping nights
Our Retro Jr offers only so much space so to expand the cooking area, Robin loves this easy to put up table from Lifetime. No issues after multiple setups and break downs.
Campers are for the most part very honest and friendly people. However, pulling GG through a city and leaving her to go explore can make one feel uneasy 😬 so this easy locking 🔒 system was our solution.
Our teardrop does not come with a refrigerator so coolers are our life blood. We needed to keep our food cold for days on end and these coolers did the trick.
Grand daughter had her first birthday so the best gift was to start her love of camping. Love you Bridget.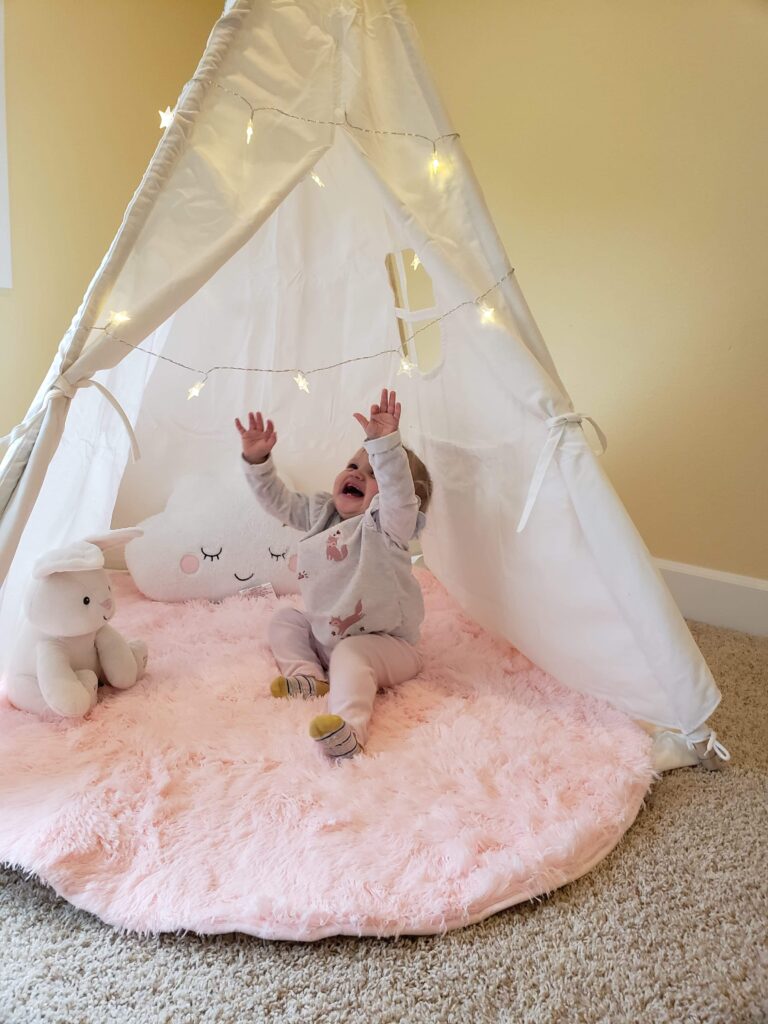 Traveling over 12,000 miles in a Teardrop trailer one realizes space is an issue. We highly a roof rack to aid in carrying more items ie inflatable kayak, life jackets, oars, and etc.
12,000 miles on the road, one of my best purchases was my Costa sunglasses 🕶. The glare from driving is gone and the polarized lenses intensified the colors of my surroundings.