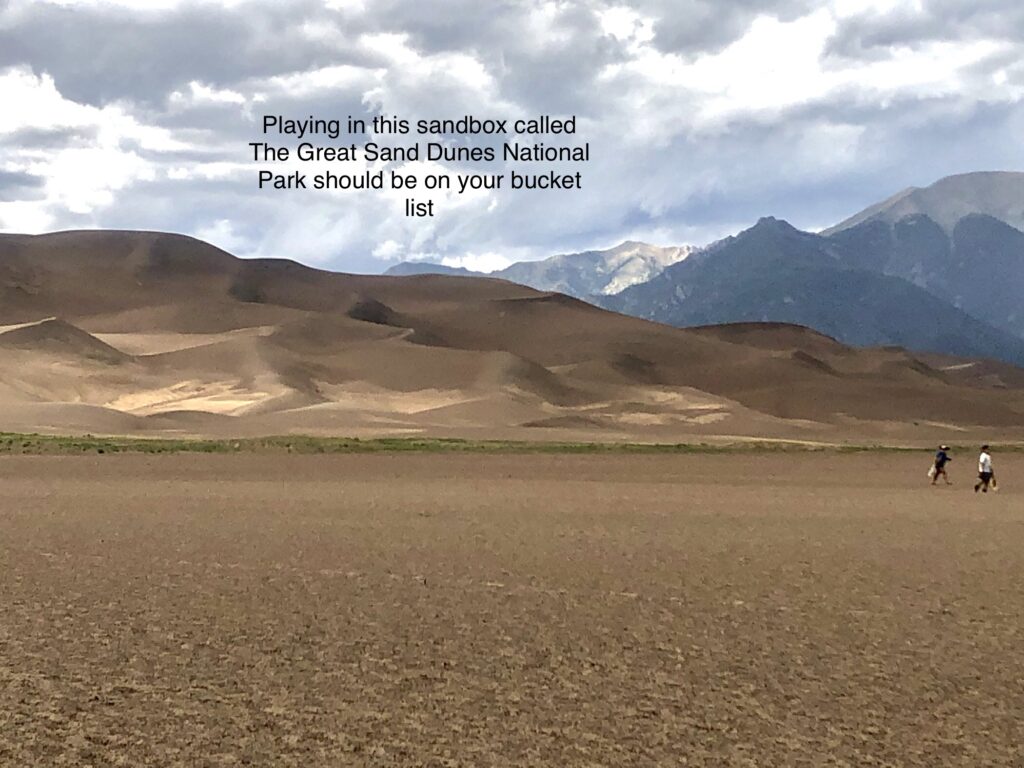 As a kid who does not remember playing in a sand box. Well welcome to an epic dune field encompasses 30 square miles and the tallest dune towers 750 feet which is the largest in North America. The kid in every visitor loves to sled down the sand year-round and plunge into the soft-sand tracks. I was ready to go sledding but the fear of a busted knee had me just watching the kids and adults 🧑 having the time of a life.
What formed the Great Sand Dunes? Geologists believe sediments from the surrounding mountains filled the valley over geologic time periods. After lakes within the valley receded, exposed sand was blown by the predominant southwest winds toward the Sangre de Cristos, eventually forming the dunefield over an estimated tens of thousands of years. The wind patterns are constantly moving the sand and if you can wake up early enough yours could be the first steps 🦶 of the day.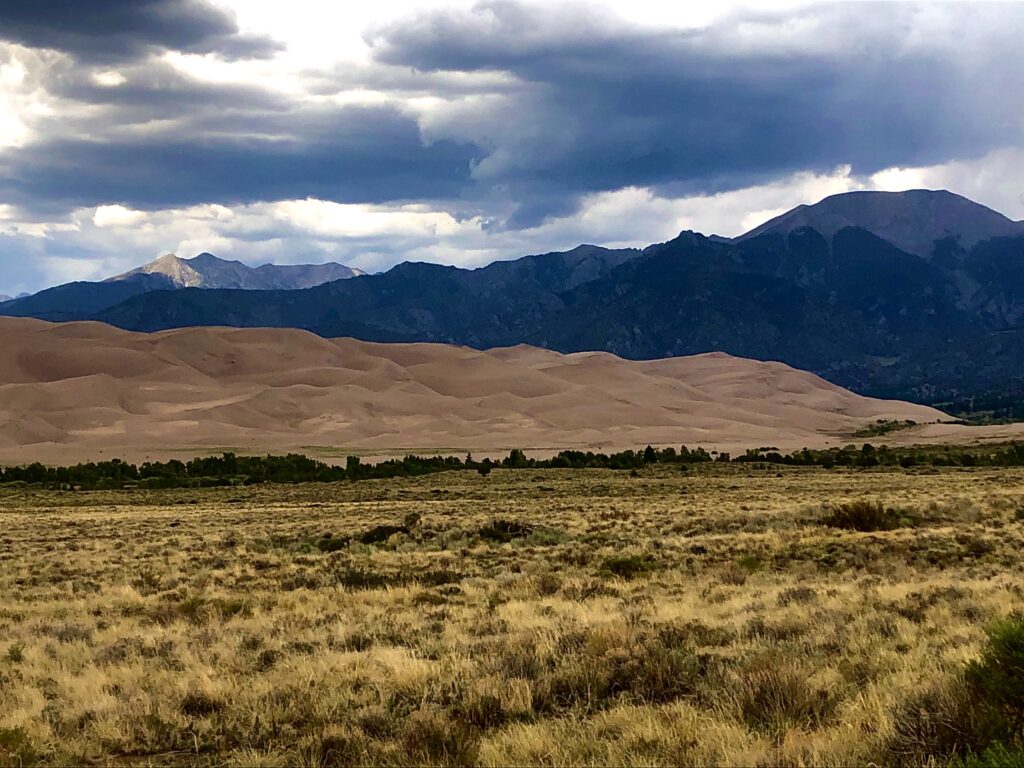 Money saving tip: Buy the annual national parks pass. The National Park Pass will also allow access to all the national monuments. The cost is $80. If you plan on being in any of the National Parks more than three times within a year then you will save money. The pass will sometimes allow discounts to camping in the National Forest 🌳. There's also discounts for seniors which can be applied against camping threw out America. Other discounts apply so please read the eligibility which can save you more money. We estimate we saved over $600 in park fees.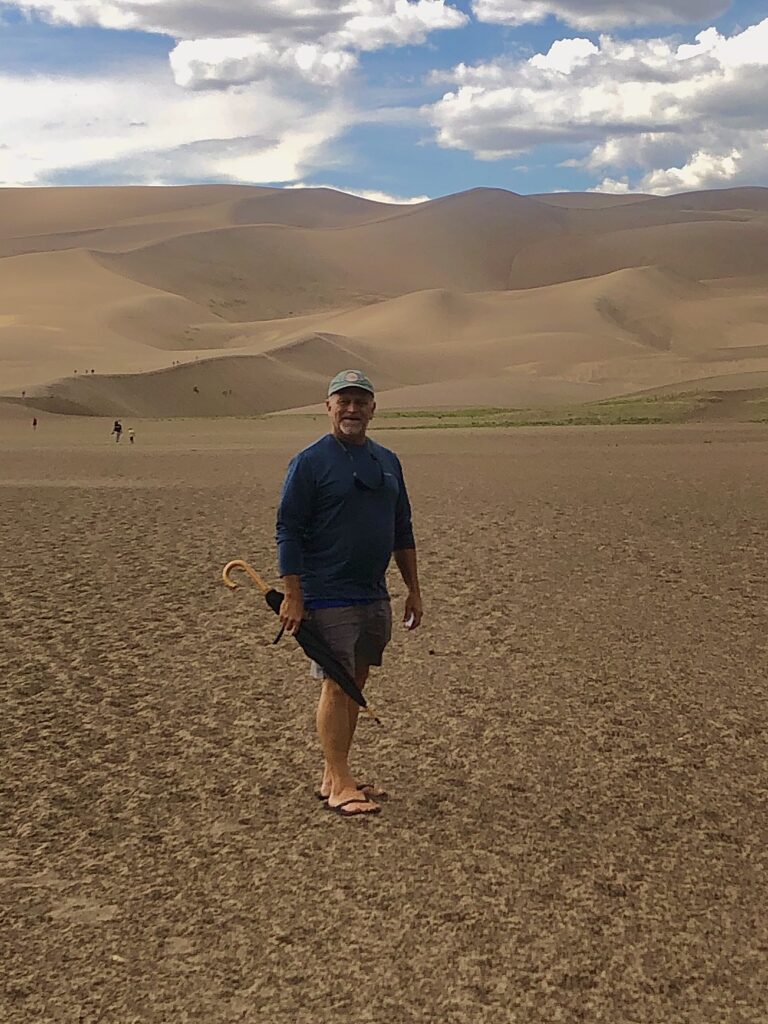 This site contains paid advertisements. By clicking the links it does not cost you any extra money as the seller pays Travelswithgg a referral fee. We will never place any links without 100% satisfaction of a product we use.
Traveling across the country is challenging enough to not have to worry about ones drinking water. We carry with us the Berkey water filtration system which we consider one of the best on the market.
Hiking and exploring Great Sand Dunes
Hikers and visitors can explore any part of the 30 square mile dunefield you wish; there are no designated trails in the sand. A dunes-accessible wheelchair is available for free loan at the Visitor Center. Summer air temperatures are pleasant at this high elevation, but during afternoon hours the sand surface can reach 150F degrees, and dangerous thunderstorms can develop. Plan to hike the dunes in early morning or evening to avoid heat exhaustion, burned feet, or fatal lightning strikes.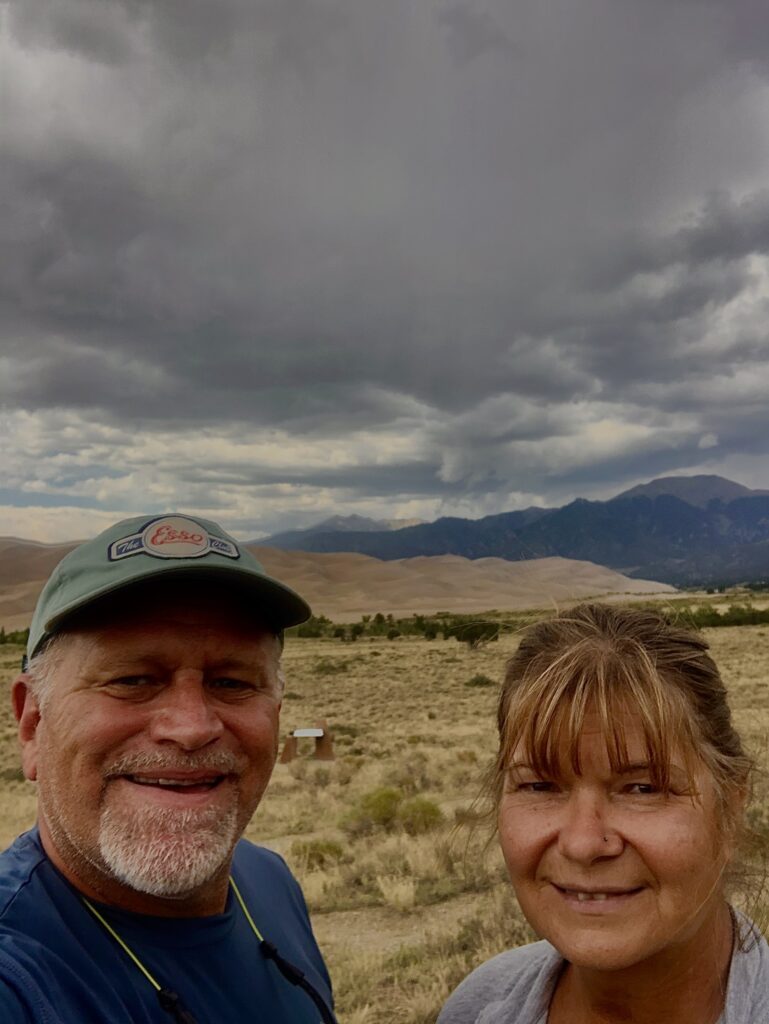 High Dune at First Ridge: There are five dunes over 700 feet tall. The high dune on the first ridge is neither the highest in elevation nor the tallest in the park, but it looks that way from the main parking lot. This is the most common destination in the dunefield, providing a great view of the entire dunefield. It is about 699 feet (198 m) from base to top. Cross a half-mile (1km) of the Medano Creek bed, then zigzag up along ridgelines to reach it. Robin and I began this hike and a bad thunderstorm ⛈ approached us that was extremely menacing and we turned back.
Average round trip hiking time for High Dune is 2 hours and 2.5 miles. There is no formal trail and popular hiking applications do not show changes to the dune and are often inaccurate. Plan to take as much as 4 hours to hike roundtrip if not acclimated to the high altitude and lower oxygen level.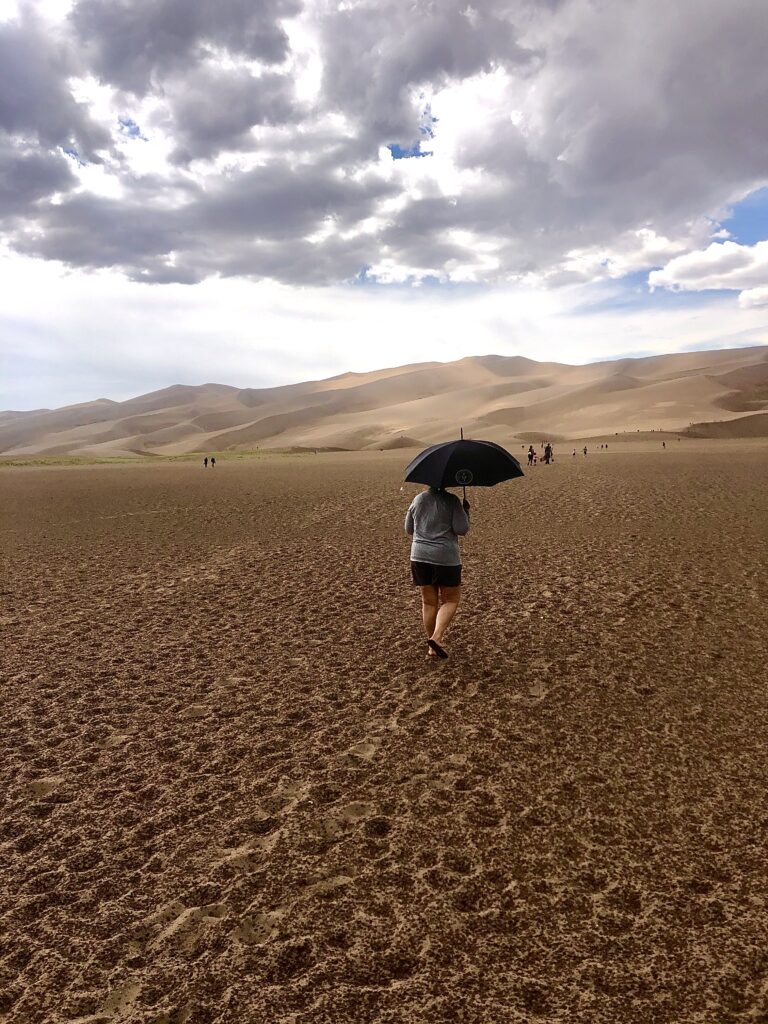 Road warriors need to pass the time when on the road. I highly recommend the Audible books 📚
Try Audible and Get Two Free Audiobooks
Star ⭐️ Dune: The tallest dune in North America stands at 750 feet (229m) from base to summit. While it can be hiked from the summit of the High Dune on the first ridge, it's more direct, and less up and down, to access it via its base along the Medano Creek bed. From the Dunes Parking Lot, hike about 2 miles (3.2 km) south down the Medano Creek bed until the massive pyramid-shaped Star Dune comes into view. Follow a ridge to its summit.
Average round trip hiking time for High Dune is 6 hours and 8 miles. Plan to take as much as 9 hours to hike roundtrip. It is a strenuous hike so be prepared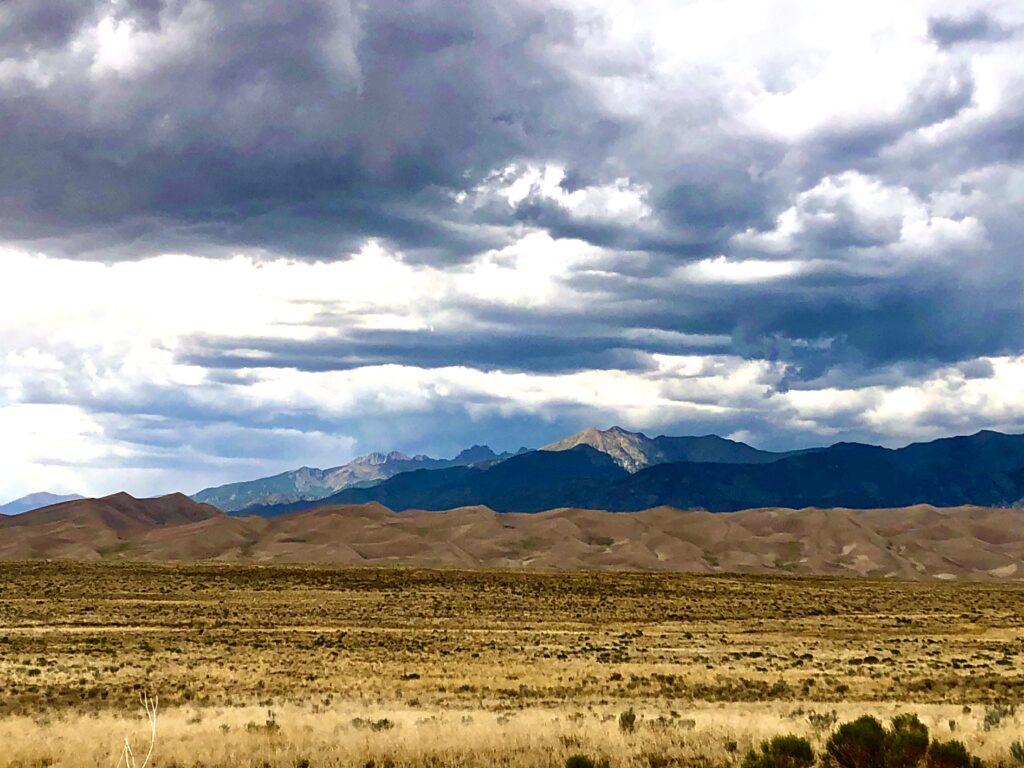 Rookie Mistake: Not allowing enough time to hike more of the sand dunes, explore the Forest 🌳 trails, splashing in 💦 Medina Creek, sand boarding, 4wd the Medina Pass Rd, star gazing, exploring Zapata Falls, Los Caminos Antiguos Scenic and Historic Byway, Fat biking 🚴‍♀️ Medina trail and San Luis Lakes State Wildlife Area are just a few of the many things to do. If we could have a do over, it would be to spend atleast 3 full days in this enchanted region. Do NOT rush through the Great Sand Dunes. We will be back soon and will definitely stay longer. Go wonder!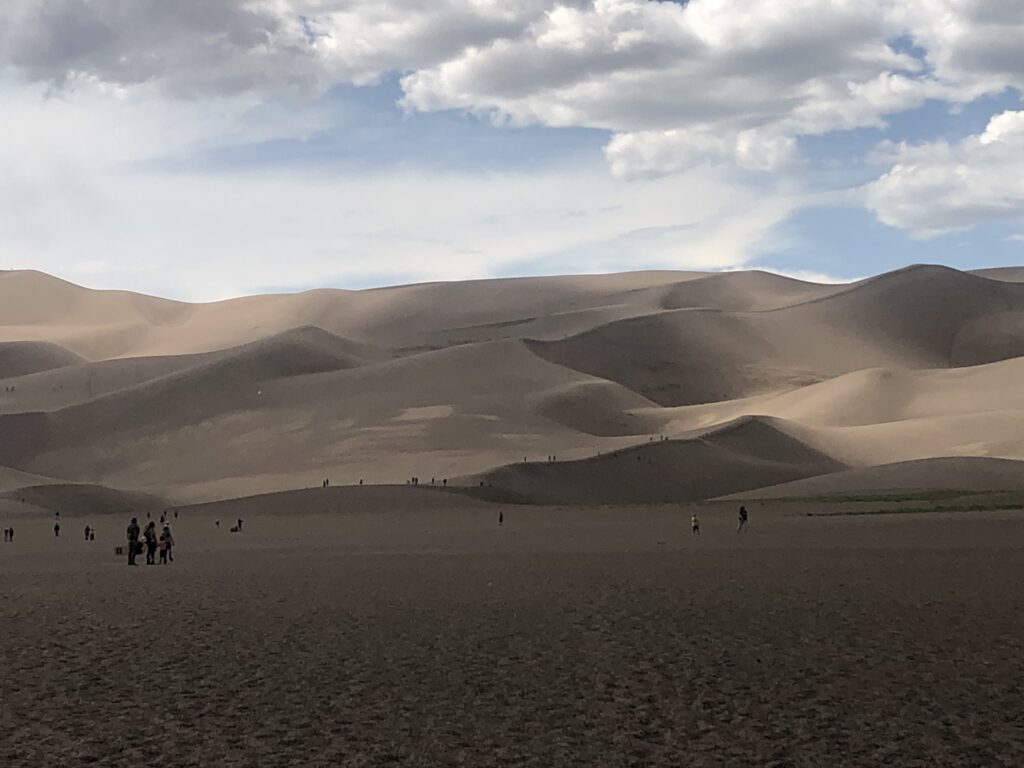 Forested Trails-This diverse area offers a little of everything

Montville Nature Trail
In summer, keep this hike as an option for afternoon as an escape from the heat of the dunes. Walk along a shady forested trail named for a late 1800s settlement, comprising 20 houses in its heydey. Rest near the trail's highpoint, where you'll find outstanding views of Mt. Herard, the dunes and the valley.
(Please be aware that hunting is permitted during legal seasons in Great Sand Dunes National Preserve, the higher mountainous areas above the dunes. Primary rifle seasons are in fall months. Check with a park ranger for details.)

Mosca Pass Trail
This trail follows a small creek to the summit of a low pass in the Sangre de Cristo mountains, winding through aspen and evergreen forests. Allow 2-3 hours to reach the pass; the trail is 3 1/2 miles (5.7 km) one way. American Indians and early settlers used this route for travel into the valley.
Sand Ramp Trail
This 11 mile trail is most commonly used as an access to various backpacking sites along the foothills, rather than as a destination trail for scenery, since it stays at the same elevation along the base of the mountains. Begin hiking the Sand Ramp Trail in Loop 2 of the campground or at Point of No Return Parking area. After the first two miles, much of this trail is sandy soil or pure sand, up and down along the foothills, so this hike can be grueling. Allow for more time than the mileage indicates.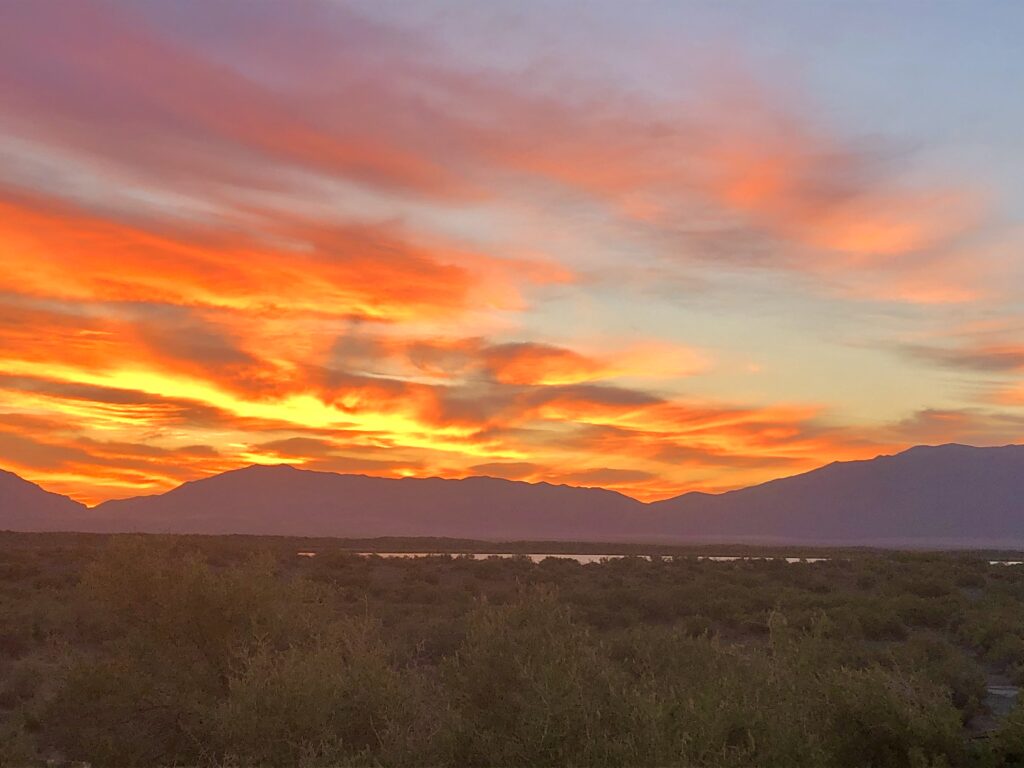 Nearby Attractions:
Zapata Falls
This popular short hike is located on BLM (US Bureau of Land Management) land south of the national park, off of Highway 150. It is a good option for summer afternoons when sand surface temperatures are high. Simply driving to the trailhead provides an excellent view of the entire dunefield and San Luis Valley. However, the hike to the falls requires wading over slippery rocks into a rock crevasse.
From the Visitor Center, drive south 8 miles, then turn left (east) onto a dirt road marked by a large sign. Drive 3.5 miles to the trailhead. We attempted to drive this road but it was very rough and our fear was GG would take a pounding and not recover. To view the falls, hike 1/2 mile, and wade into a crevasse where the 30 ft. high falls cascade onto a ledge.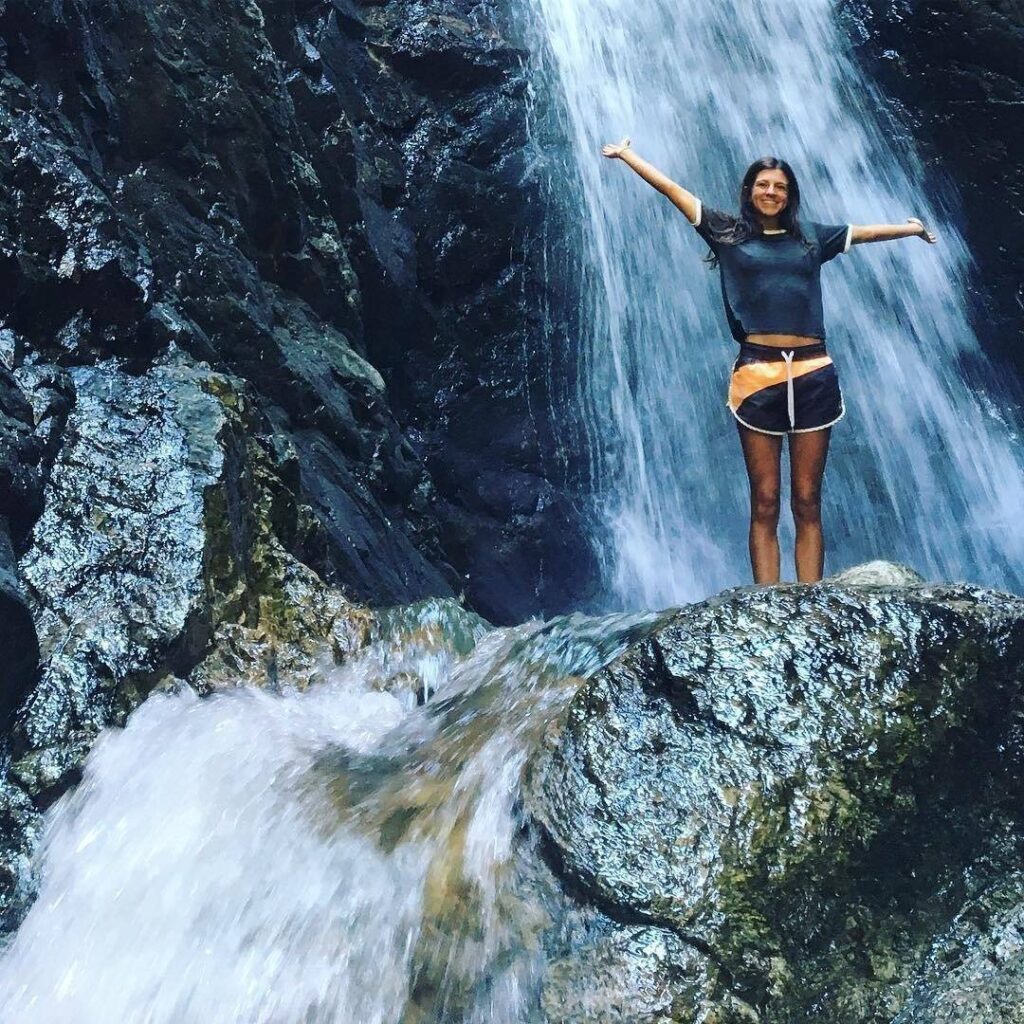 Caution: Rocks are slippery. Water may be deep and swift in early summer during snowmelt, or during heavy thunderstorms. Rarely, rocks may fall from above into the crevasse. In winter, the falls freeze, creating an icy sculpture. Ice and snow may make the hike very slippery. Falling ice may be a hazard in spring.
Near the trailhead is Zapata Falls Campground, a primitive campground open year-round.
San Luis Lakes State Wildlife Area
San Luis Lakes State Wildlife Area protects a wetland complex adjacent to Great Sand Dunes National Park. Birdwatching and photography are primary activities here, although hunting is permitted in season. As with most protected wetlands, this wildlife area is closed to the public for shore bird nesting from February 15 – July 15 each year. We planned to camp at Zapata Fall campground but the road was in such bad shape for the 3 mile step incline we chose to camp in this wildlife area And we were impressed.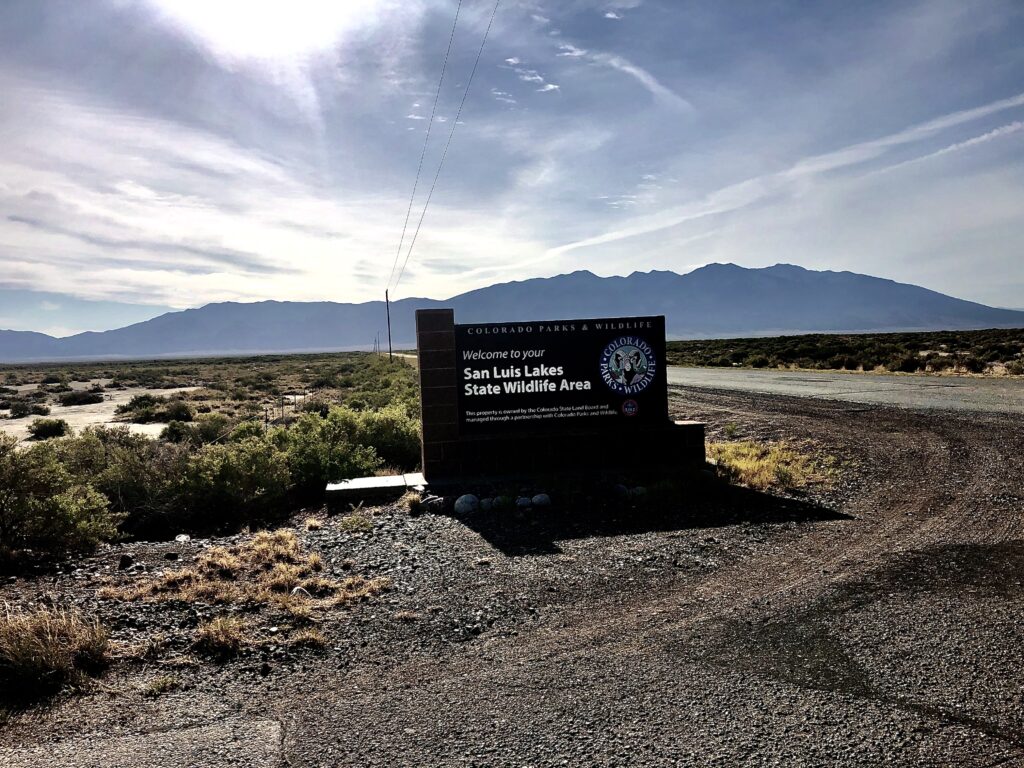 Camping within San Louis requires a valid Colorado hunting or fishing license. We did not have one and the cost was expensive since we were not planning on fishing or hunting. The camp host allowed us to stay one night for free. It was a gift 🎁 from heaven since all the first come first serve sites with the Great Sand Dunes were taken. Each site has electricity and pit toilets.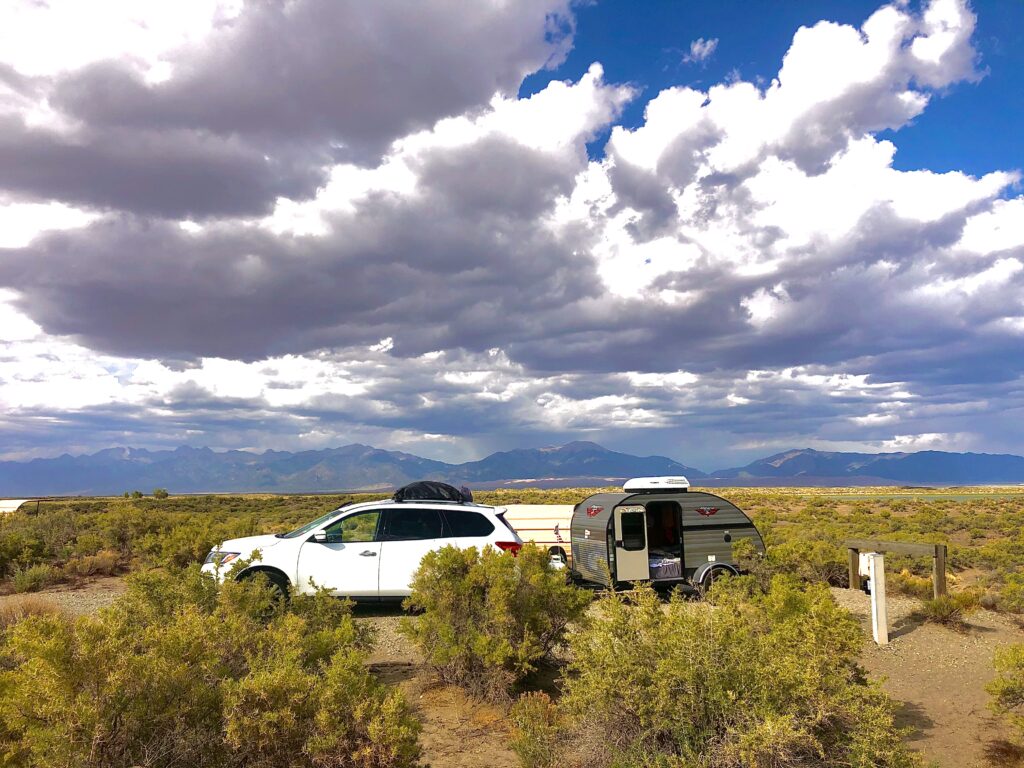 CAMPING IN GREAT SAND DUNES NATIONAL PARK- this was our second choice but no vacancies
The Piñon Flats Campgroundis run by the National Park Service, with 44 sites that are first-come, first-served and 44 that visitors can reserve in advance. We recommend a reservation. When we return this would be our first choice. Walking the sand dunes at night would be on our new bucket list.
For those traveling in 4WD vehicles, there are 21 campsites along Medano Pass Road within the park that are free and available on a first-come, first-served basic.
For those willing to haul their gear and everything else needed in backpacks, free backcountry permits (required) are available at the park's visitor center. You can pitch your tent anywhere in the 30-square-foot dunefield that lies outside the day-use area. You'll have a minimum hike of 1.5 miles over the dunes, but will experience a unique overnight setting.
Backpacking (with a permit) is also available amid the foothills and mountains along the Sand Ramp Trail within the park, where the dunes give way to the mountains.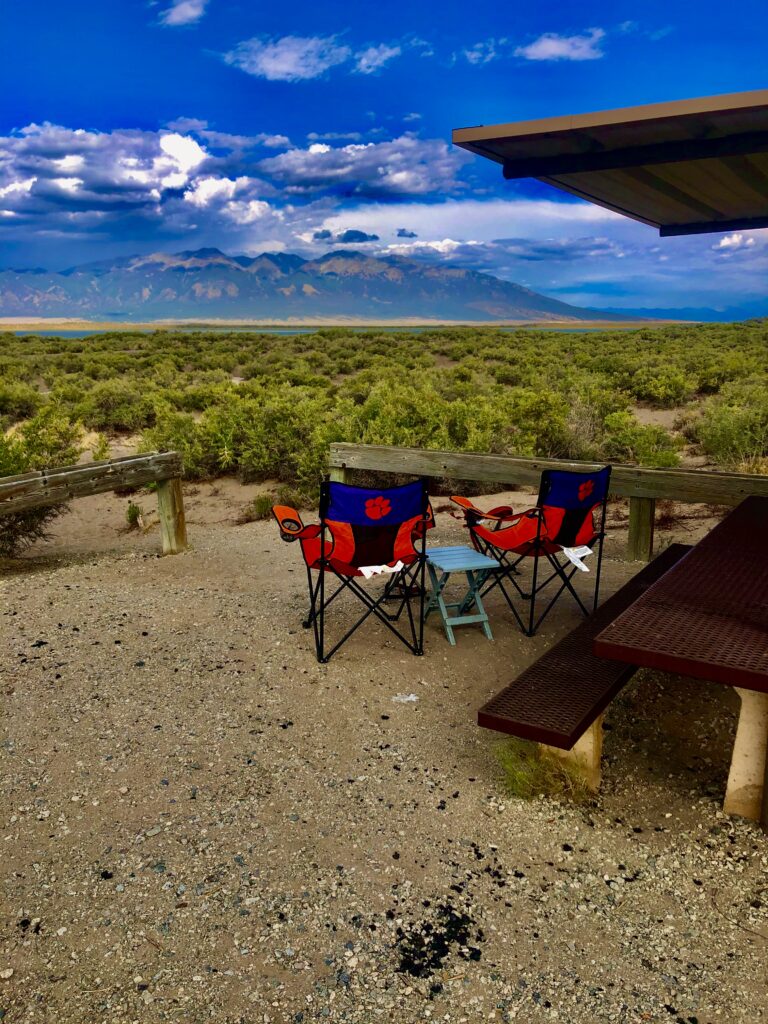 Amazon Launchpad Holiday Gift Guide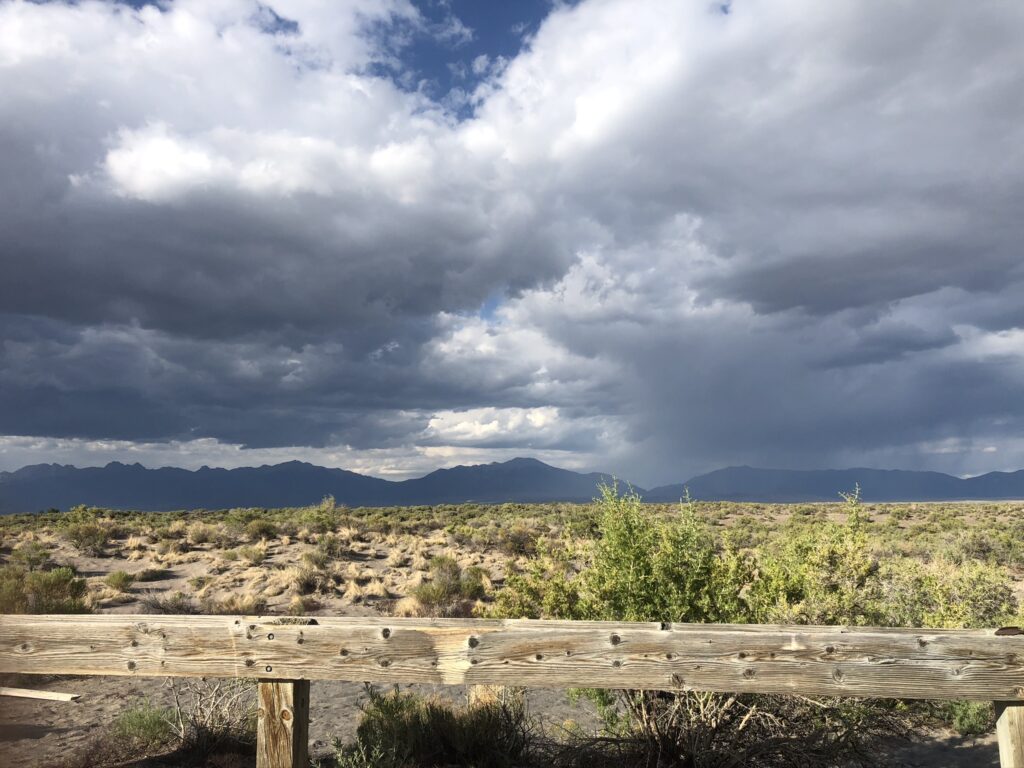 Star ⭐️ Gazing & More
Daytime activities can be exhausting but one must save some energy for adventures at night! Night at Great Sand Dunes can include dunes exploration under a bright full moon, viewing thousands of stars on a clear moonless night, listening for owls along the foothills, or observing migrating amphibians on a wet night.
With a combination of dry air, little light pollution, and high elevation, Great Sand Dunes National Park and Preserve is an excellent and easily accessible dark sky viewing location! In 2019, Great Sand Dunes was certified as an International Dark sky zone.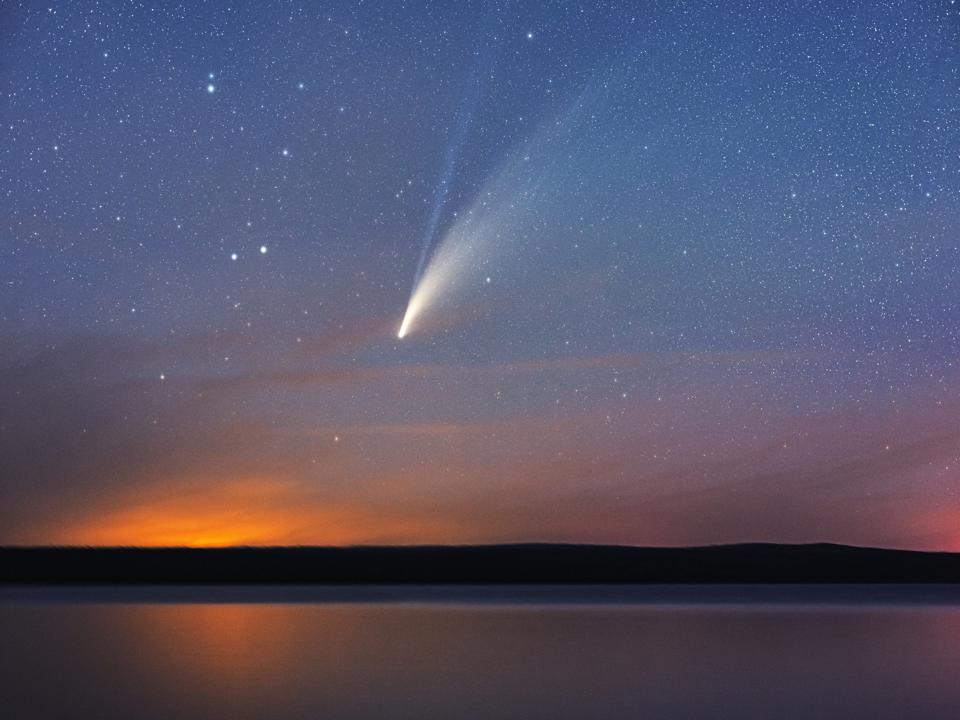 We were luck enough to view the Neowise Comet while at the San Luis Wildlife Refuges. The picture above is NOT ours because our camera 📸 did not have proper aptitude for night viewing but this is what we saw. Go roam and don't forget the journey does not end when the sun goes down.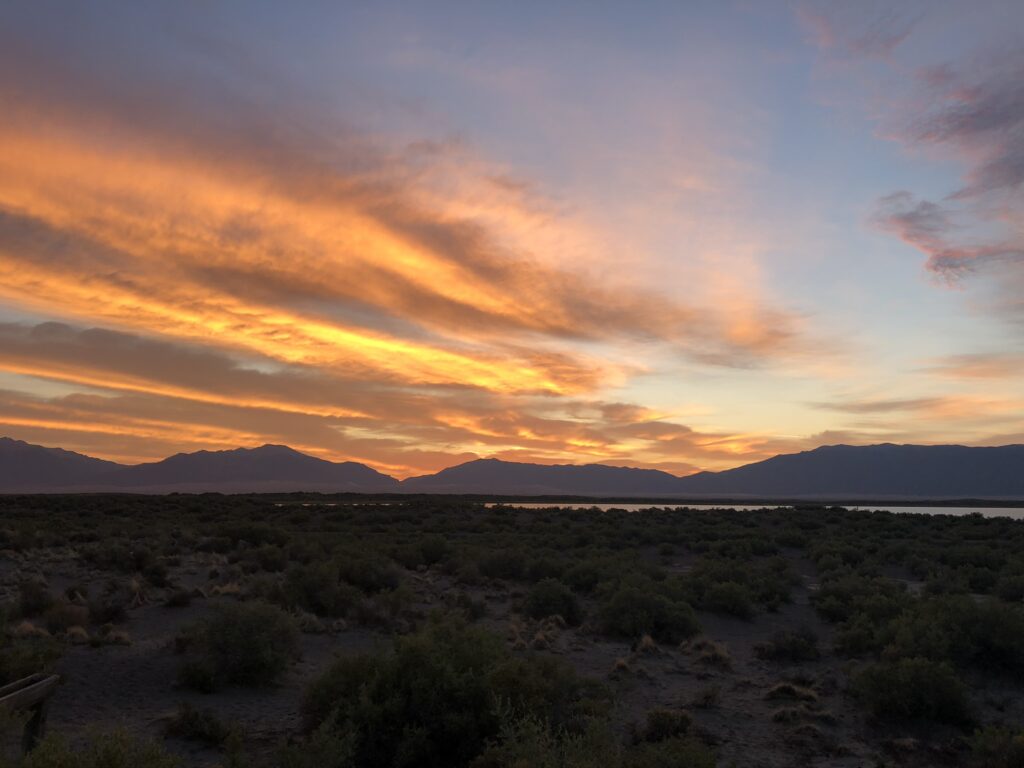 Planning to Experience the Night
To see the most stars, plan your visit for moonless nights, or nights with a late moonrise. View a moon calendar for the month you plan to visit.
Plan your visit on the full moon for a surreal walk on the dunes with no need for a flashlight.
The Milky Way is highest and clearest in the evening sky during late summer and fall.
Watch the weather forecast to time your visit for nights with little chance of rain. If it is rainy, watch for frogs, toads and salamanders along Medano Creek or in the dunes! Rainy weather is safe for exploration unless it is accompanied by lightning.
When exploring the dunes on dark nights, make sure to plan in advance how you will find your vehicle after you return, because the parking lot/trail access is not obvious in the dark. When hiking back toward the Dunes Parking Lot, aim toward the left end of the long line of trees along Medano Creek. The parking area is located about 100 yards (100 meters) to the right of the end of the trees.
Minimize your use of lights. Shining a bright flashlight will diminish your night vision for up to 30 minutes, limiting your view of the night sky and wildlife, and harming other visitors' experience. Use only a red light if needed.
Keep an eye out for the night-life of the dunes, including camel crickets, kangaroo rats, toads, salamanders, coyotes, bobcats, and owls. Never touch wildlife, and remember that their nocturnal eyes are highly sensitive to light. Use only a red light if needed.
Don't just depend on your eyes to experience the night. Feel the soft night breezes. Listen for the call of owls, the howling of distant coyotes, the calls of frogs and toads, the rustle of creatures in the forest, and the drum of kangaroo rats thumping warnings to each other. And smell the fresh scents of piñon pine, juniper, and seasonal flowers. You may notice that your senses grow sharper as you spend more time in dark and quiet locations.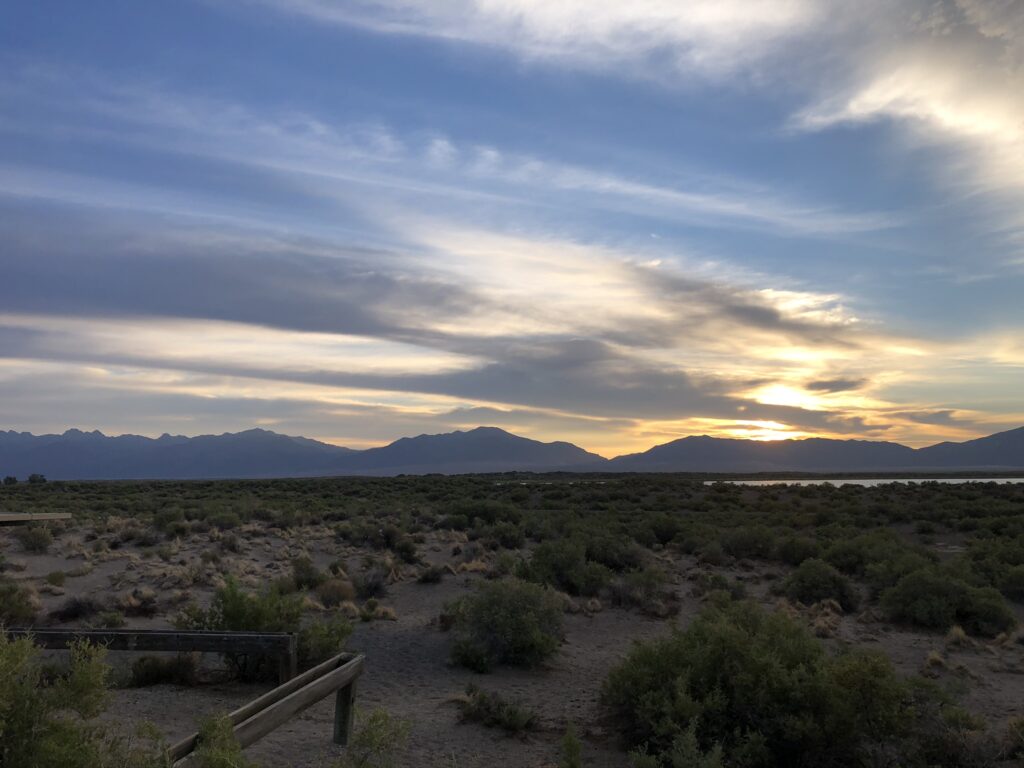 Quick link to Great Sand Dunes Website
Drone flying is fast becoming a hobby of mine. After much research I purchased the Mini from DJI. I am very satisfied but still an amateur having a blast. Check out our drone videos within the blog which we hope you will enjoy.
Drone flying around San Luis Lake Wildlife Campground

Products we love ❤️
After 12,000 miles on the road and hundreds of miles hiking 🥾 throughout America, our Merrells have withstood all types of terrain and although they may be dirty, the quality is outstanding and are ready for the next 12,000.
Being on the water is very therapeutic and lots of fun. Space is always our issue so the inflatable kayak was our answer. Easy to inflate but we did buy a battery 🔋 pump to make life easy. We have kayaked the lakes of Montana, Idaho, Arkansas, Minnesota, South Carolina, Arizona and the Intex has not let us down.
Robin's favorite outdoor cooking utensil
Great personal usb fans. Perfect for warm dry camping nights
Our Retro Jr offers only so much space so to expand the cooking area, Robin loves this easy to put up table from Lifetime. No issues after multiple setups and break downs.
Campers are for the most part very honest and friendly people. However, pulling GG through a city and leaving her to go explore can make one feel uneasy 😬 so this easy locking 🔒 system was our solution.
Our teardrop does not come with a refridgerator do coolers are our life blood. We needed to keep our food cold for days on end and these coolers did the trick.