No trip through Tallahassee, Florida on I-10 would be complete without a detour to Apalachicola. Oysters from this region are often referred to as "Appalachia cola" or "colossal" oysters because of their large size and unique flavor.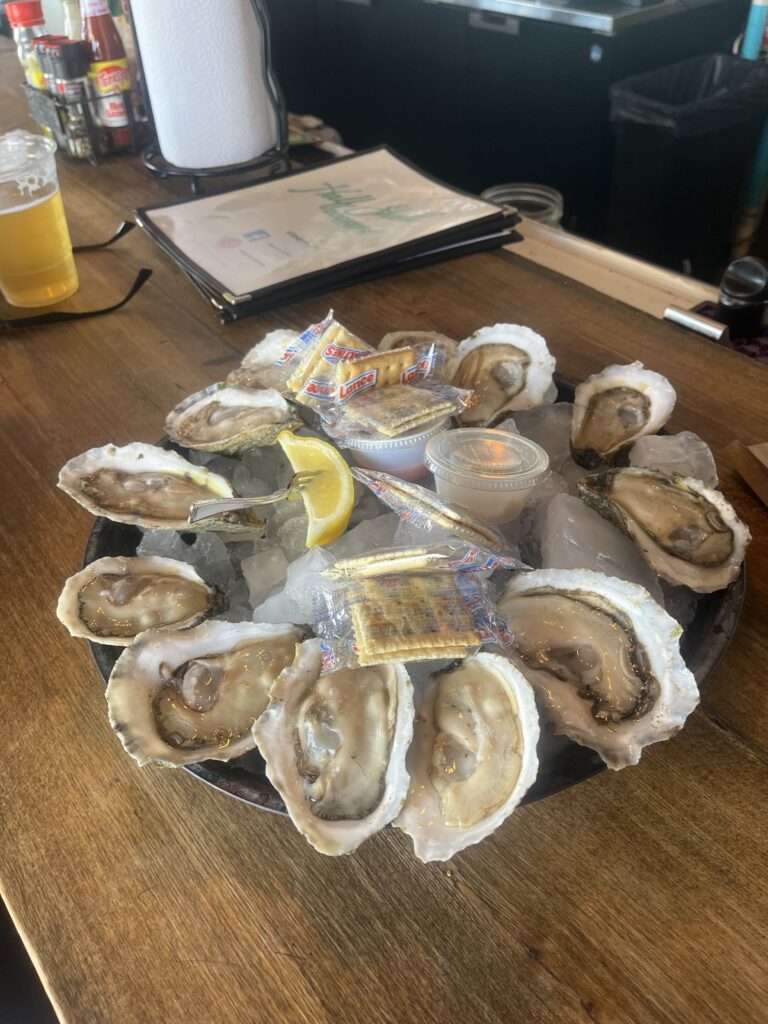 One reason these oysters are considered among the best in the world is because of the nutrient-rich waters in which they are grown.

Another reason these oysters are highly regarded is because of the traditional farming methods used by many Appalachian oyster farmers. Many of these farmers use sustainable and environmentally friendly methods, which can result in healthier and more flavorful oysters.

Apalachicola oysters are so prized that they have been designated as a regional delicacy by the State of Florida. They are also protected under federal and state regulations, which help ensure the sustainability of the industry and the preservation of the unique ecosystem of the Apalachicola Bay.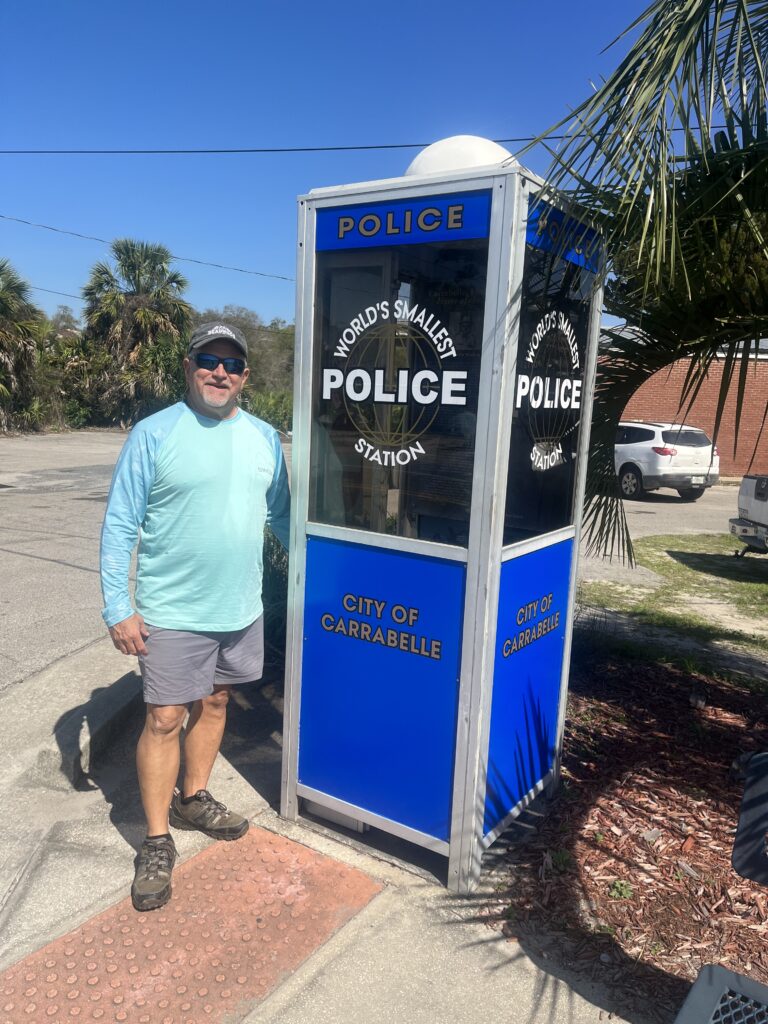 Our detour towards Apalachicola took us through the village of Carabelle,FL. One of the most interesting and unique attractions in Carrabelle is the world's smallest police station. The station is located on US Highway 98 and is housed inside an old phone booth. The phone booth was originally used by a police officer who patrolled the area on foot. He would use the phone to call the station and report any incidents or crimes he encountered.
Over time, the phone booth became a symbol of the town and was eventually converted into a police station. Today, visitors can stop by and take a look at the tiny police station, which is just large enough to hold a single person.
Life is 10% what happens to us and 90% how we react to it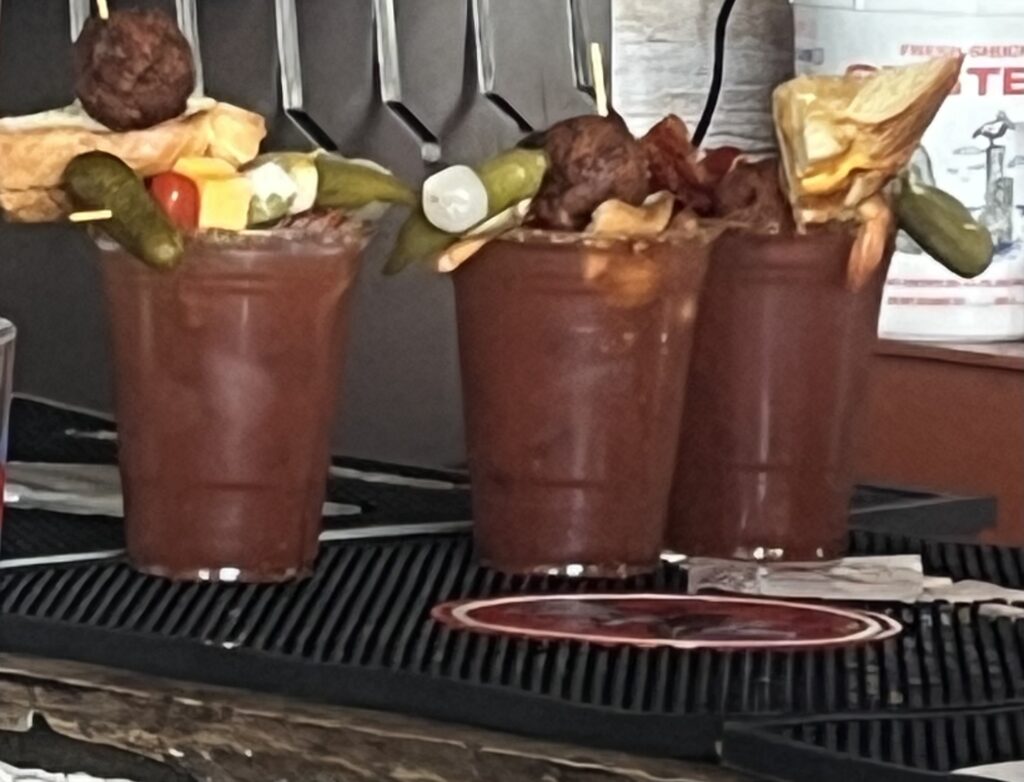 Our journey took us through Apalachicola on a Sunday. Many of the shops were closed; however, we found a restaurant called Half Shell and the oysters were delicious but the Bloody Mary's topped with a pimento cheese sandwich and Hush Puppies was a meal 🥘 by itself. We highly recommend a visit to this restaurant.
Life is what happens when you're busy making other plans.
Things to do in Apalachicola
Visit the Apalachicola National Estuarine Research Reserve: This reserve is located on the Apalachicola Bay and offers visitors a chance to learn about the ecology and biodiversity of the area through interactive exhibits and educational programs.
Explore the Apalachicola Historic District: Take a stroll through the historic district and admire the beautifully preserved 19th-century architecture. You can also visit the John Gorrie Museum State Park, which honors the inventor of air conditioning.
Take a boat tour: Take a boat tour of the Apalachicola River and Bay to see the local wildlife and learn about the area's fishing industry.
Sample the seafood: Apalachicola is known for its oysters, shrimp, and other seafood delicacies. Visit one of the many local restaurants and enjoy a delicious meal.
Visit the Apalachicola Maritime Museum: This museum showcases the maritime history of the area and includes exhibits on boatbuilding, navigation, and local fishing.
Attend a festival: Apalachicola hosts several festivals throughout the year, including the Florida Seafood Festival and the Apalachicola Oyster Cook-Off.
Go fishing: The Apalachicola Bay is a popular spot for fishing. Hire a charter boat or rent some gear and try your luck at catching some fish.
Go kayaking: Explore the calm waters of the Apalachicola River by kayak. You can rent a kayak and explore on your own, or join a guided tour.
Visit St. Vincent Island: Take a ferry to St. Vincent Island, a pristine barrier island located just off the coast of Apalachicola. The island is home to a variety of wildlife, including endangered species like the red wolf and the sea turtle.
Visit the Apalachicola Center for History, Culture and Art: This center showcases the art, history, and culture of the Apalachicola region through exhibits, programs, and events.
You miss 100% of the shots you don't take.
We love to camp in National Forest. The price is great and no frills. Usually no water nor electric hook-up in Federal Forest sites. If a pit toilet 🚽 does not scary you away consider these campgrounds ⛺️. We stayed at Mack Landing for the night within the Apalachicola Forest. There were 10 sites and camp host was very friendly and helpful. The bugs were bad; albeit, for $8.50 a night no complaints.
**Your time is limited, don't waste it living someone else's life**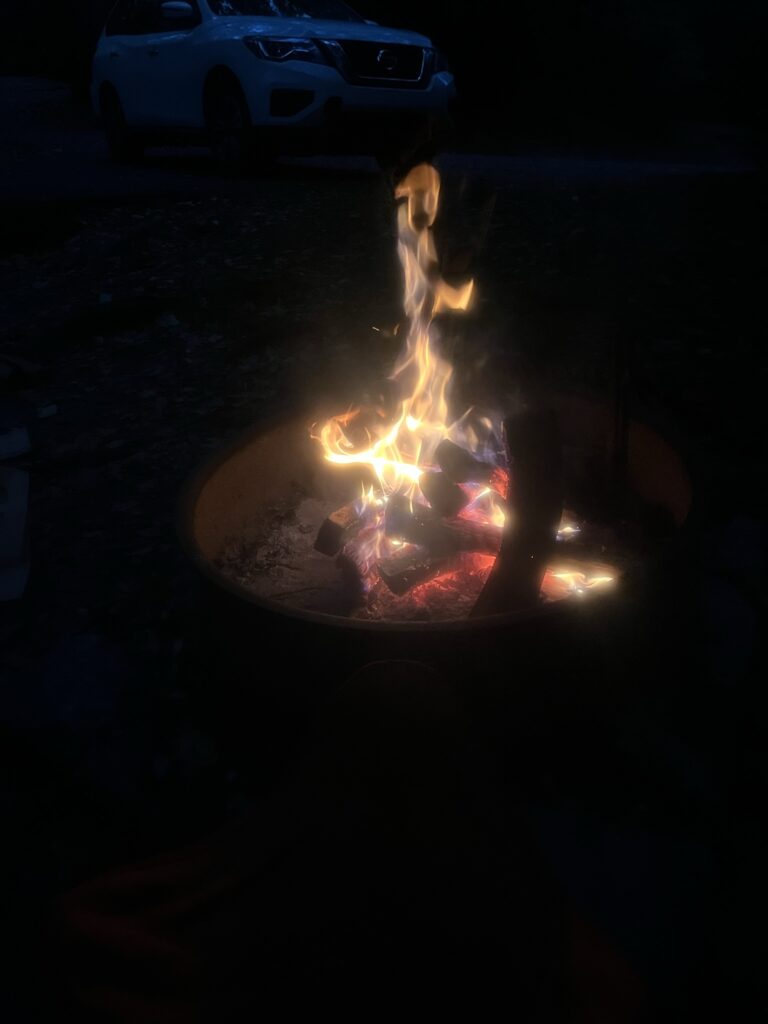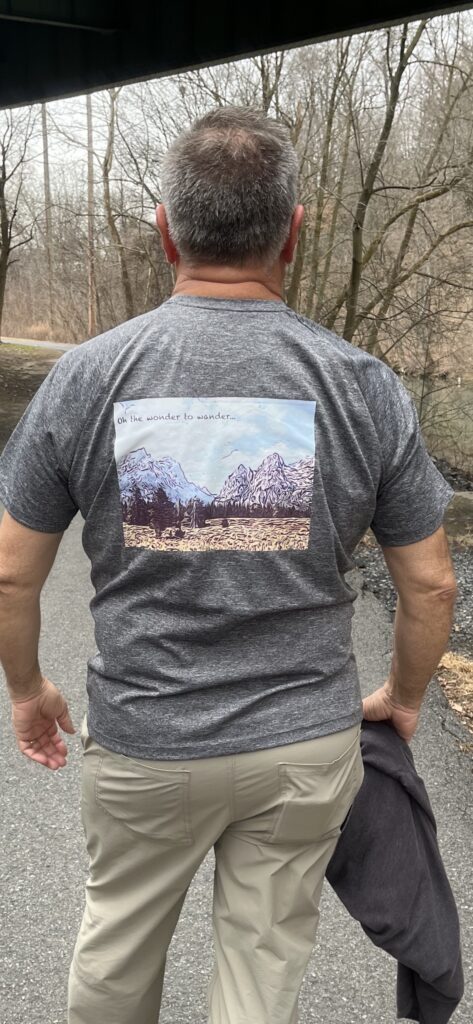 Road warriors need to pass the time when on the road. I highly recommend the Audible books 📚
Try Audible and Get Two Free Audiobooks


Money saving tip: Buy the annual national parks pass. The National Park Pass will also allow access to all the national monuments. If you plan on being in any of the National Parks more than three times within a year then you will save money. The pass will sometimes allow discounts to camping in the National Forest 🌳. There's also discounts for seniors which can be applied against camping threw out America. Other discounts apply so please read the eligibility which can save you more money. We estimate we saved over $600 in park fees. "I googled my symptoms… turned out I just need to go camping"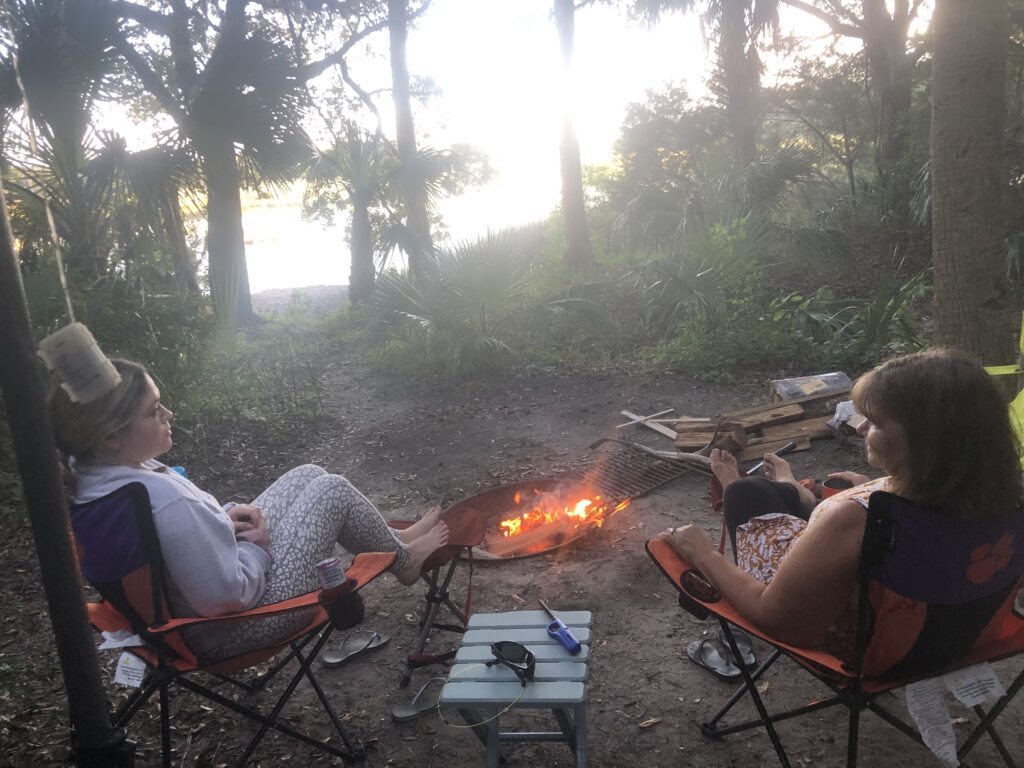 This site contains paid advertisements. By clicking the links it does not cost you any extra money as the seller pays Travelswithgg a referral fee. We will never place any links without 100% satisfaction of a product we use.
Traveling across the country is challenging enough to not have to worry about ones drinking water. We carry with us the Berkey water filtration system which we consider one of the best on the market.
"Life is better by the camp fire"
Amazon Launchpad Holiday Gift Guide
Drone flying is fast becoming a hobby of mine. After much research I purchased the Mini from DJI. I am very satisfied but still an amateur having a blast. Check out our drone videos within the blog which we hope you will enjoy.
Products we love ❤️
After 12,000 miles on the road and hundreds of miles hiking 🥾 throughout America, our Merrells have withstood all types of terrain and although they may be dirty, the quality is outstanding and are ready for the next 12,000.
Being on the water is very therapeutic and lots of fun. Space is always our issue so the inflatable kayak was our answer. Easy to inflate but we did buy a battery 🔋 pump to make life easy. We have kayaked the lakes of Montana, Idaho, Arkansas, Minnesota, South Carolina, Arizona and the Intex has not let us down.
Robin's favorite outdoor cooking utensil
Great personal usb fans. Perfect for warm dry camping nights
Our Retro Jr offers only so much space so to expand the cooking area, Robin loves this easy to put up table from Lifetime. No issues after multiple setups and break downs.
We enjoy a good cup of coffee ☕️ and one of our favorite cafes offers a pour over. ( How to make the best pour over coffee) If you are still making coffee in a pot break the yoke of social conformity and consider alternatives to a drink of the gods (coffee) every morning. This Insta Pot has been a godsend to our travels.
Campers are for the most part very honest and friendly people. However, pulling GG through a city and leaving her to go explore can make one feel uneasy 😬 so this easy locking 🔒 system was our solution.
Our teardrop does not come with a refrigerator so coolers are our life blood. We needed to keep our food cold for days on end and these coolers did the trick.
Grand daughter had her first birthday so the best gift was to start her love of camping. Love you Bridget.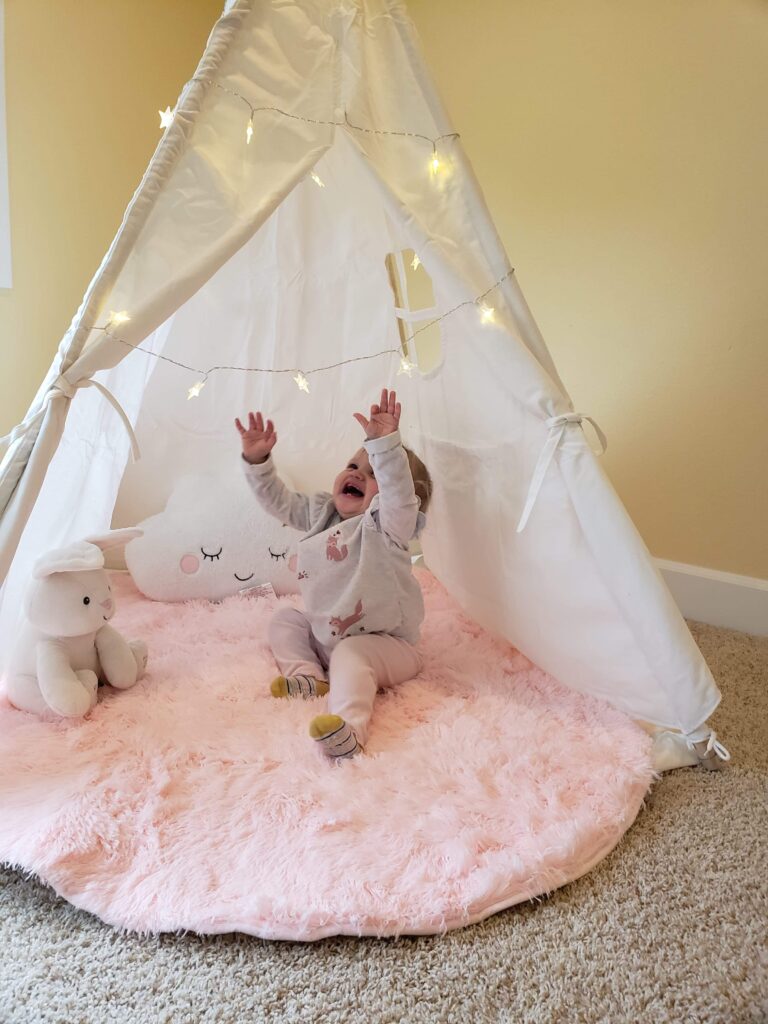 Traveling over 12,000 miles in a Teardrop trailer one realizes space is an issue. We highly a roof rack to aid in carrying more items ie inflatable kayak, life jackets, oars, and etc.
12,000 miles on the road, one of my best purchases was my Costa sunglasses 🕶. The glare from driving is gone and the polarized lenses intensified the colors of my surroundings.