Trip taken August 2020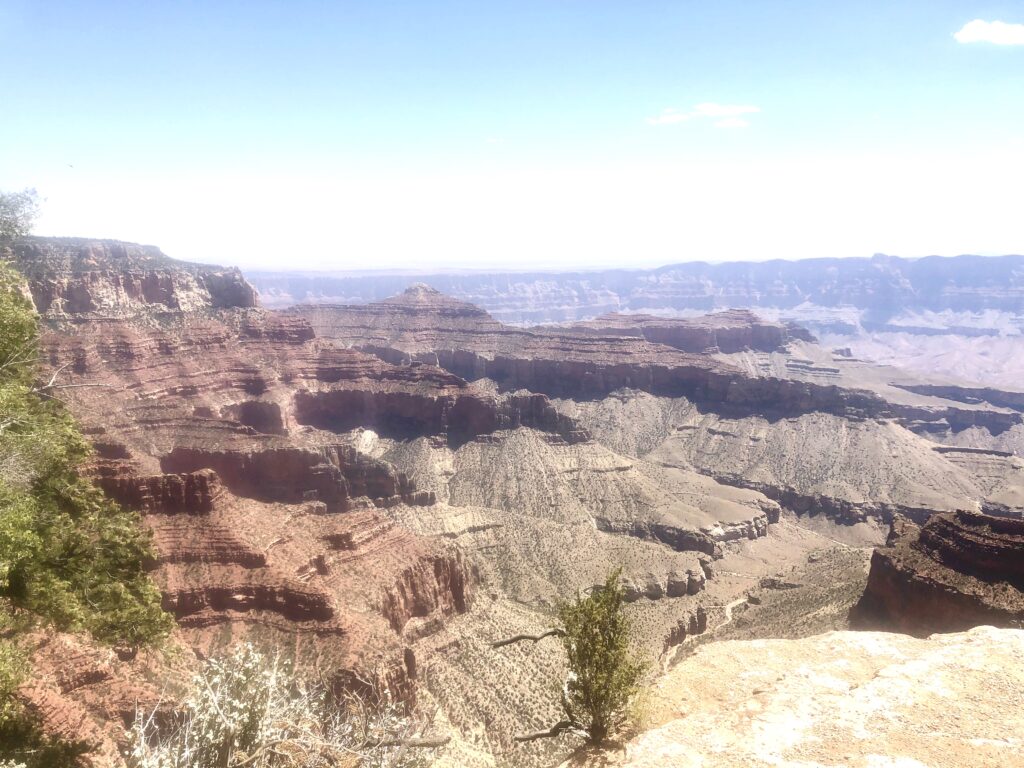 We had almost completed ✔️ our visit to Utah's Mighty 5 (reviews at this link) and our plans were to venture into Arizona and boondock on Lake Powell and go to the South Rim of the Grand Canyon. However, the heat was so hot 🥵 and we don't use generators so we decided to scrap the South Rim but I still wanted to see the Grand Canyon for the first time. In between Bryce Canyon and Zion, we took an excursion to the North Rim. Wow 🤩! Rookie mistake we did not plan enough time to explore this area adequately. The North Rim of the GC sits at 8,000 feet 🦶 compared to the South Rim at 7,000 🦶 which makes temperatures much cooler. We experienced 80s during the day and 50s at night. It was a relief 😅 from the heat.
Pro Tip – When planning a long country time it is important to be prepared to venture off your route as unexpected fires, flood, storms, snow, and pandemics may make destinations dangerous or impossible to reach. Don't be disappointed 😢 because there is plenty to see in this big USA. We were forced to cancel the state of California; albeit, Idaho and Montana easley filled in the gaps.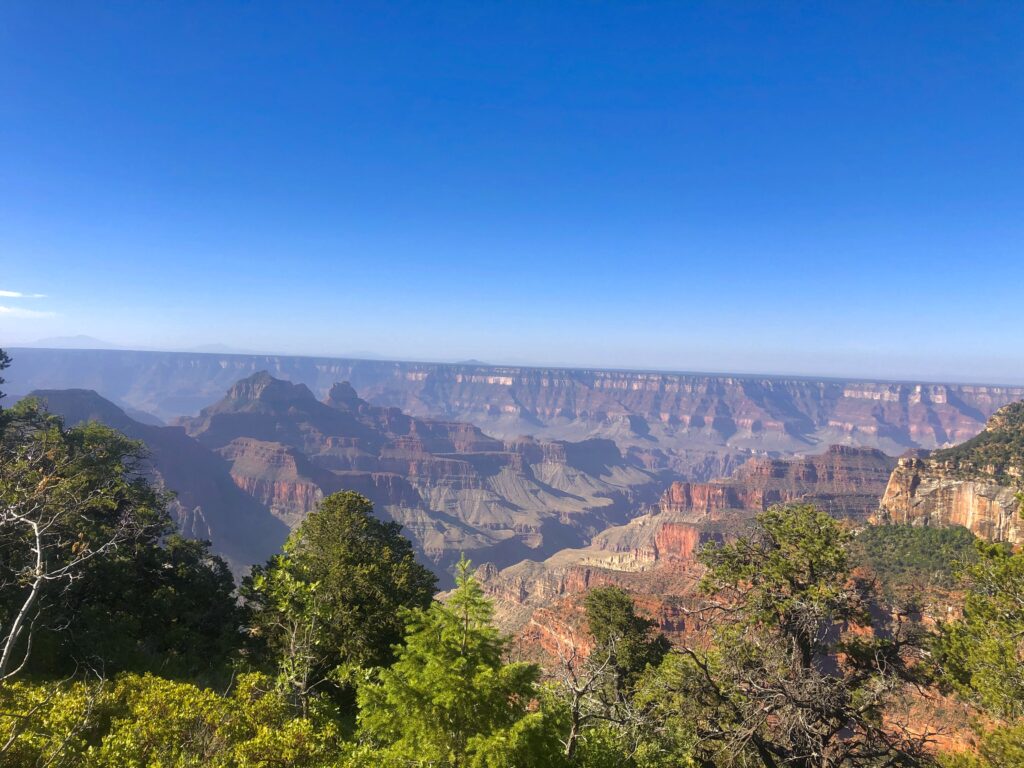 The crowds were much smaller. Of course, we did explore during the pandemic 😷 so this could have skewed our perspective. Park rangers say, the North Rim is 1/10 less crowded than the South Rom. I also felt the tourist attractions were non existent so the camping experience was intensified. The road to the North Rim transversed open valleys and forest 🌳 which had me pondering 🤔 whether any settlers became lost heading West and traveled the same roads we were on only to find a big hole called the Grand Canyon in their way? It gives a new meaning to Gilligans Island character "Wrongway Feldman"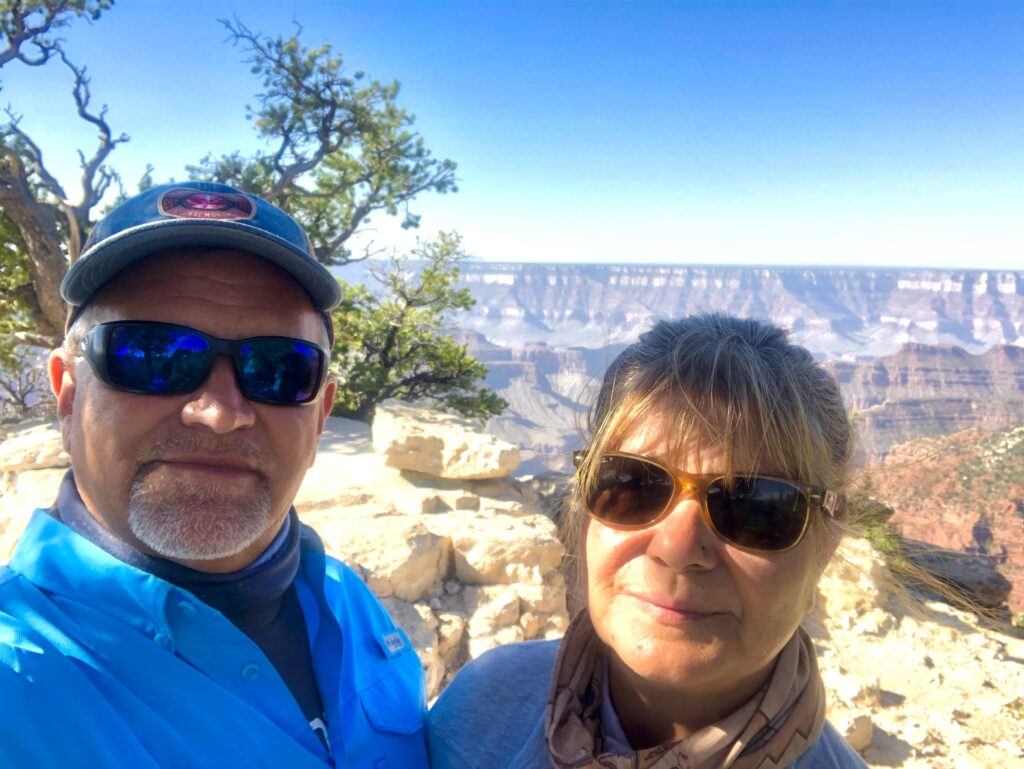 Grand Canyon North Rim Visitor Center – The North Rim Visitor Center is located next to the parking lot for Grand Canyon Lodge and has park information, maps, exhibits, ranger programs as well as a bookstore. This is a good place to start when exploring the North Rim.
Money saving tip: Buy the annual national parks pass. The cost is $80. If you plan on being in any of the National parks more than three times you will save money. The pass will also allow you access to the National Monuments and sometimes discounts in the National Forest 🌳. There's also discounts for seniors which can be applied against camping threw out America. Other discounts apply so please read the eligibility we can save you more money. We estimate we saved over $600 in park fees.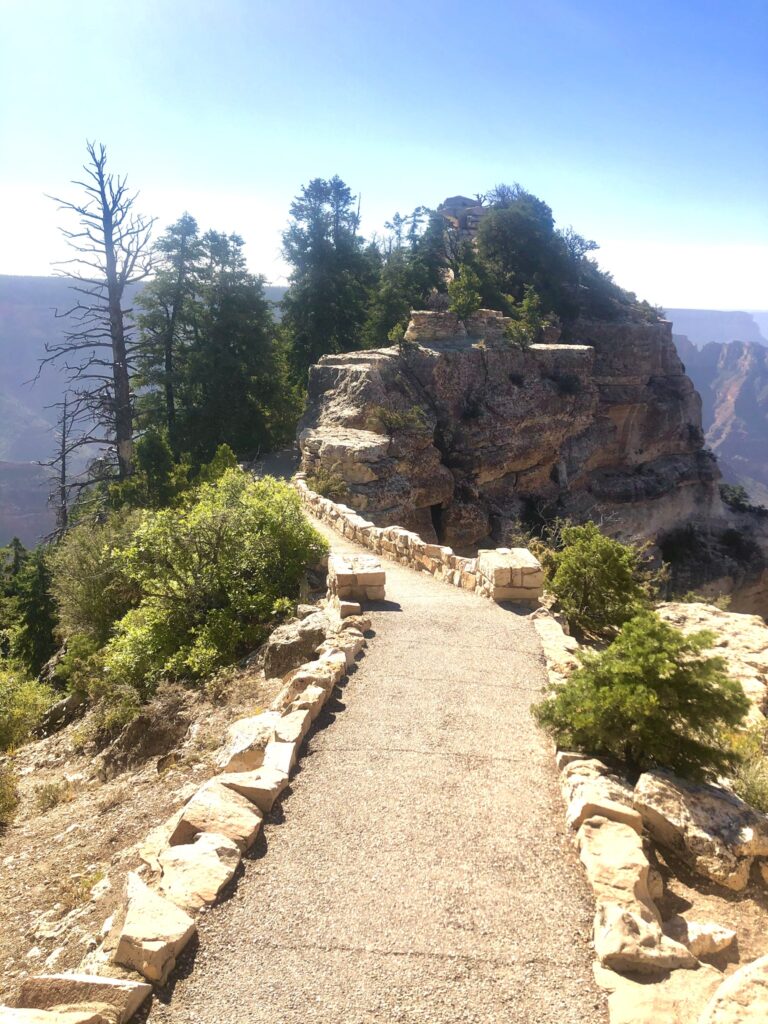 Road warriors need to pass the time when on the road. I highly recommend the Audible books 📚
Try Audible and Get Two Free Audiobooks
We highly recommend hiking Bright Angel Point, the most popular viewpoint on the North Rim, is accessed from a steep, paved trail which begins near Grand Canyon Lodge. The hike is only a quarter-mile from the lodge area and is often the first scenic viewpoint that visitors experience after their arrival at the North Rim. Take your time if you are not used to higher elevations. Acrophobia can be a bitch!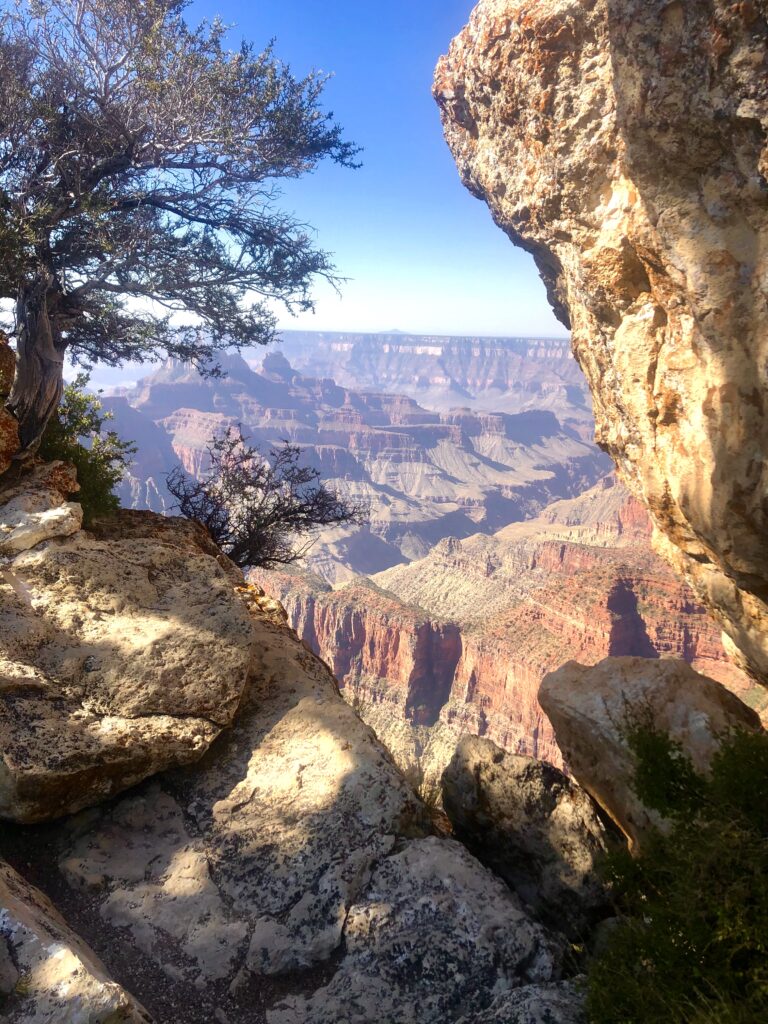 Amazon Launchpad Holiday Gift Guide
Most visitors expect clean air and clear views in parks. Unfortunately the day we visited there was a lot of haze in the air as Grand Canyon National Park (NP) is downwind of air pollution from coal-fired power plants in the Four Corners region, nearby mining, urban farming and industrial pollutants from Mexico and California.
Visibility effects on views at the Grand Canyon:
On most days, reduction of the average natural visual range from about 175 miles (without the effects of pollution) to about 140 miles because of pollution
On high pollution days, reduction of the visual range from about 120 miles to below 90 miles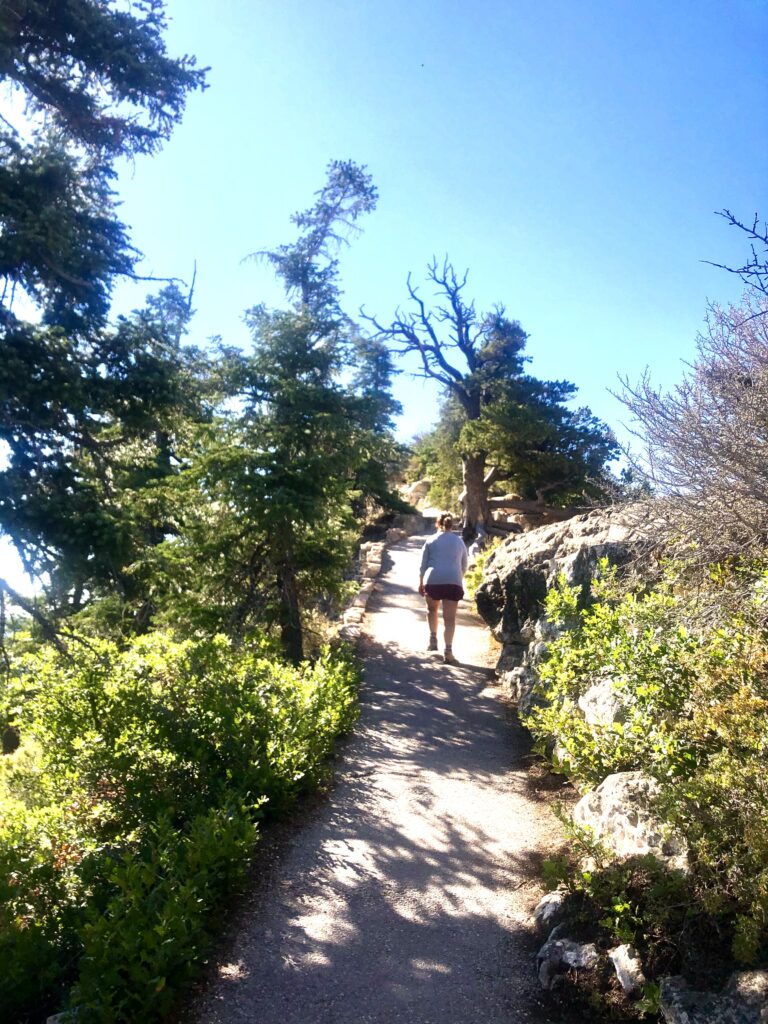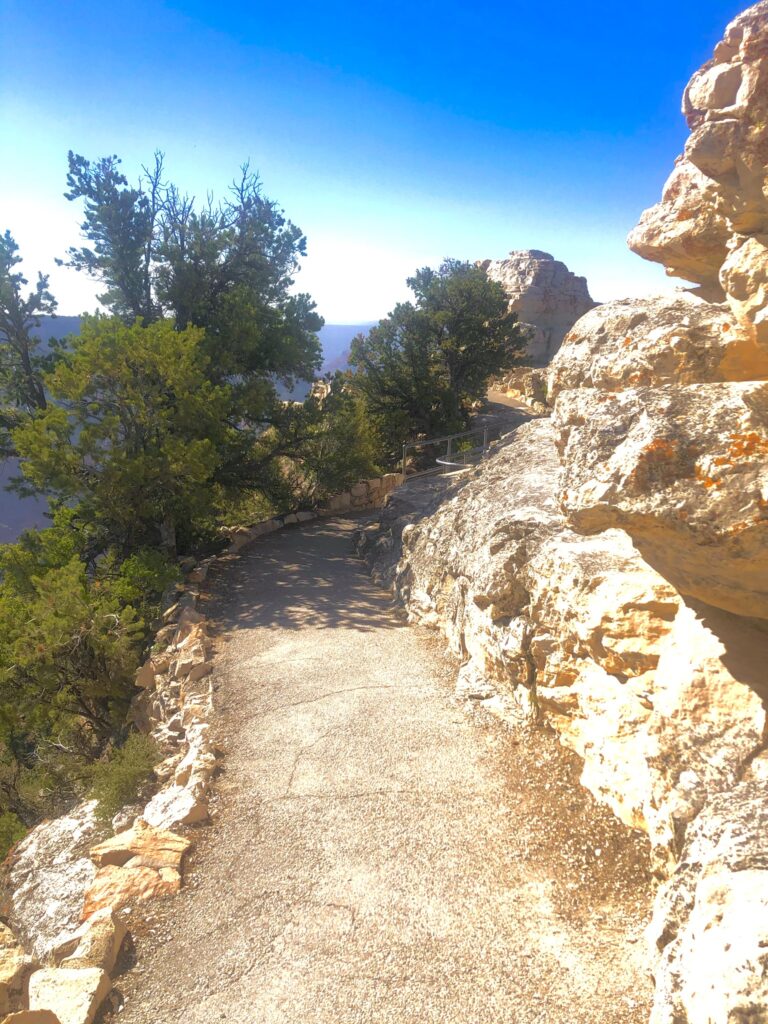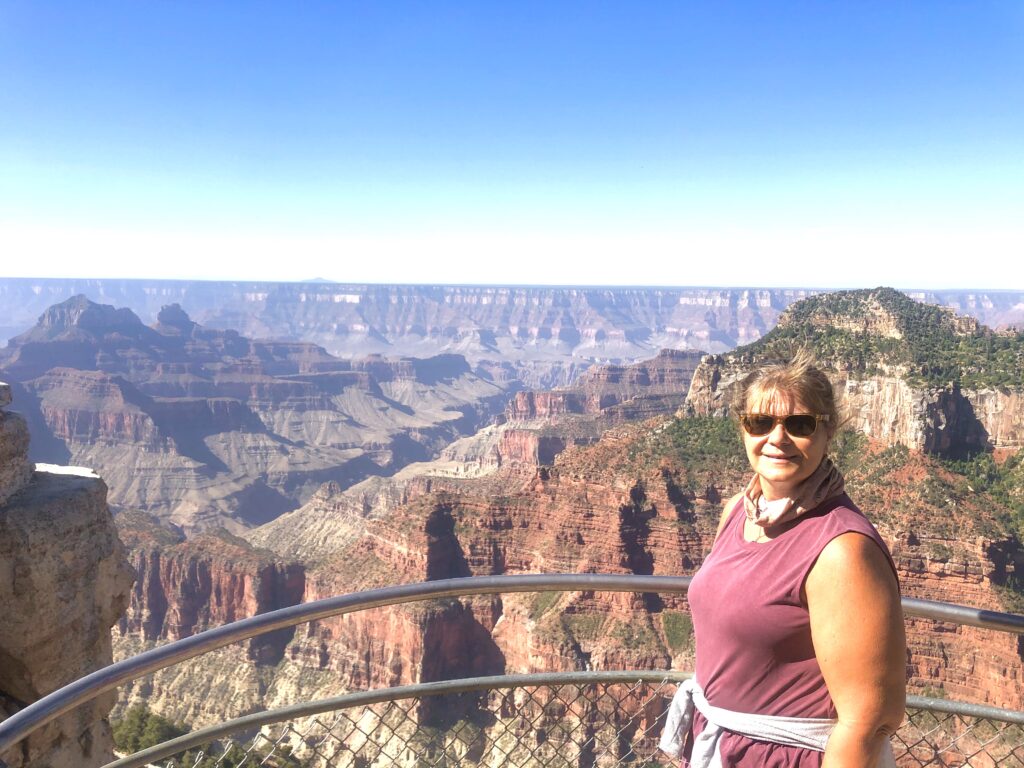 If we could have a do-over, we would have done Mule Rides at the North Rim
Mule rides are offered from the North Rim. These rides do not descend to the floor and the Colorado River but are shorter and more available to book than the South Rim mule rides. Minimum age is 10 years old and maximum weight allowance is 220 lbs. North Canyon mule trips can be booked at https://www.canyonrides.com/grand-canyon-mule-ride/
There are 3 mule trips:
One-Hour Rim Ride – This tour lasts approximately one hour traveling along a rim trail. It is the perfect tour for a those that want a quick fun experience of riding a mule. The cost is $45 including tax.
Three Hour Ride to Uncle Jim's Point – A little more extensive, this mule ride departs the North Canyon Lodge and follows the Ken Patrick Trail to Uncle Jim's Point. A wonderful tour of the North Rim! This mule ride is $90 including tax.
Three Hour Ride to Supai Tunnel – Descend down the North Kaibab Trail on the back of a sure-footed mule until you reach the Supai Tunnel, 2300 feet below the rim. A popular way to get below the rim and take a mule ride together. The Inner Canyon Mule ride is $90 including tax.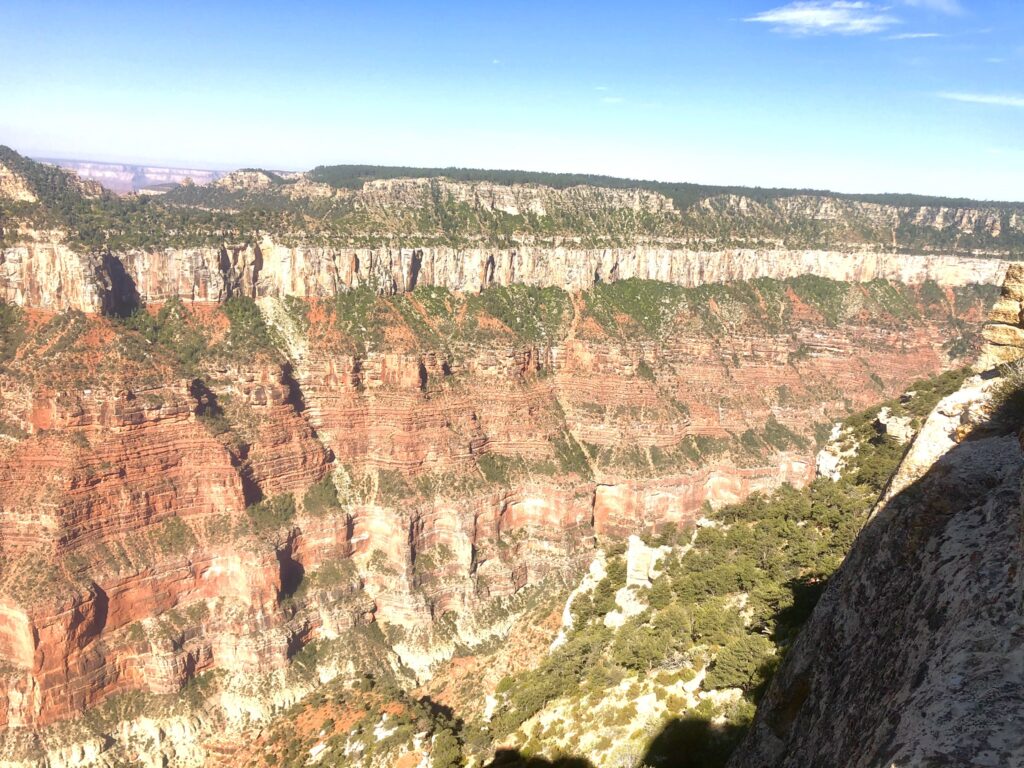 We only had a day at the Grand Canyon so after Bright Angel 😇 trail and the visitor center we launched onto a day of scenic driving….
Grand Canyon North Rim Scenic Drive – The remote quiet beauty of the North Rim can be appreciated on the Scenic drive. Along the route, there are pull-outs and viewpoints to see Point Imperial and Cape Royal. The drive usually takes a half a day if you enjoy short walks and photo opportunities. Point Imperial is approximately 11 miles or 20 minutes from the visitor center and Cape Royal is 23 miles or 45 minutes. There is a second, unpaved road that leads to Point Sublime, about 20 miles west of the visitor center ~ Do not miss this drive!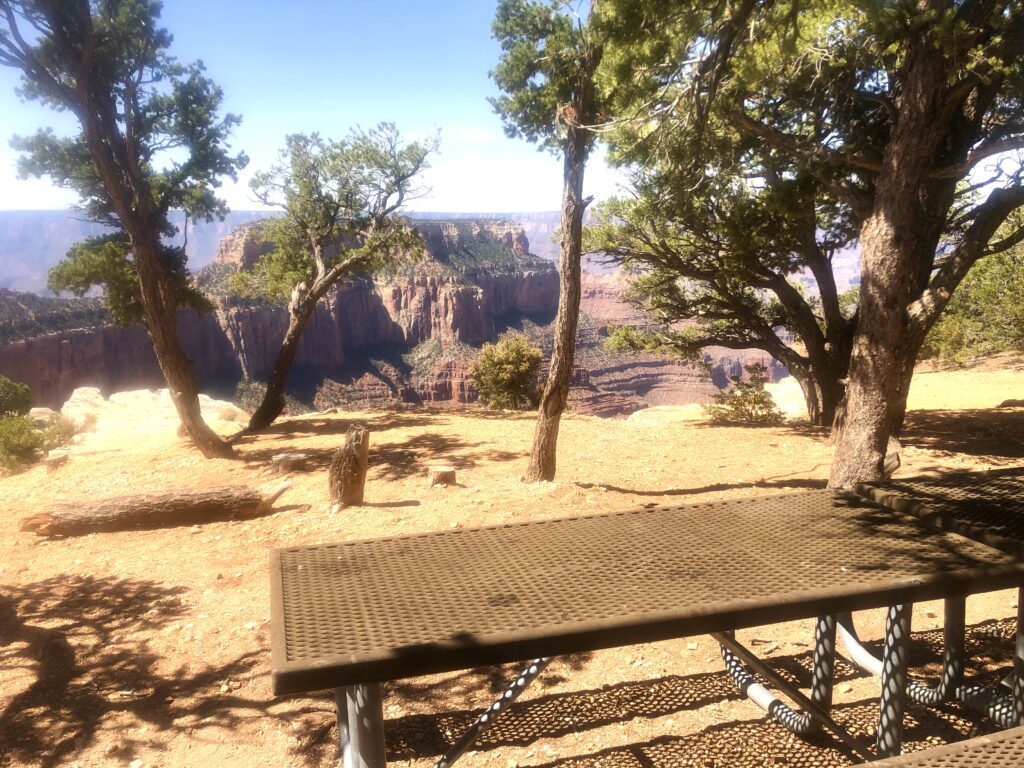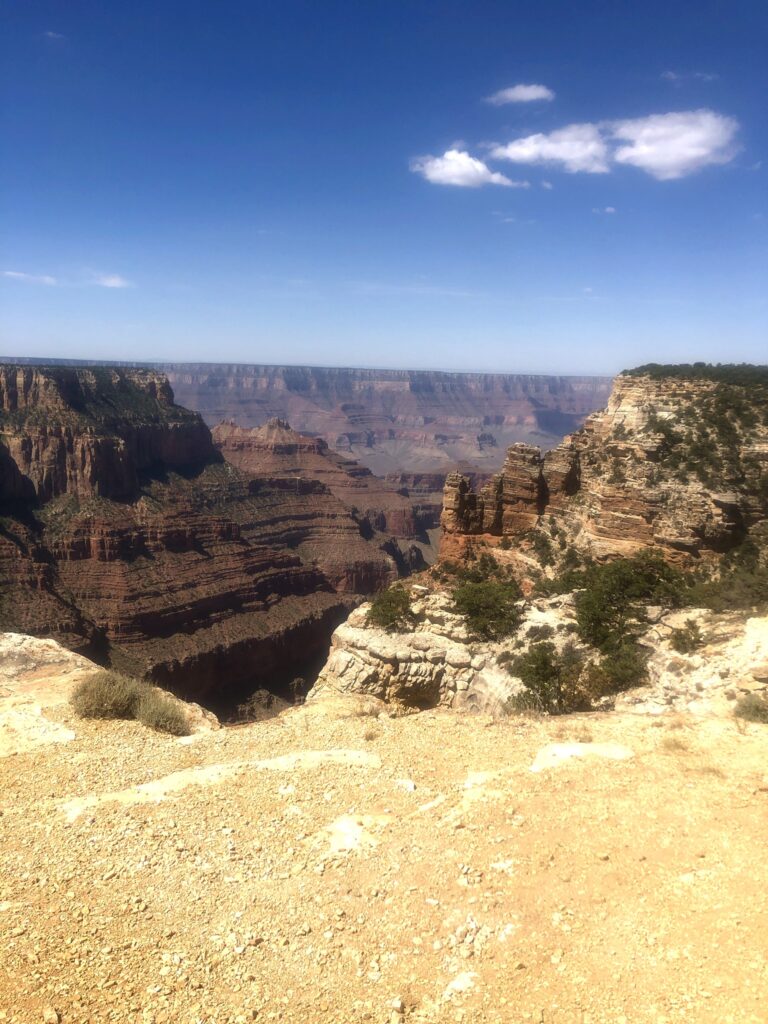 Half way through our drive we found this picnic 🧺 table next to Grand Canyon. What better way to enjoy a turkey sandwich 🥪 with this view.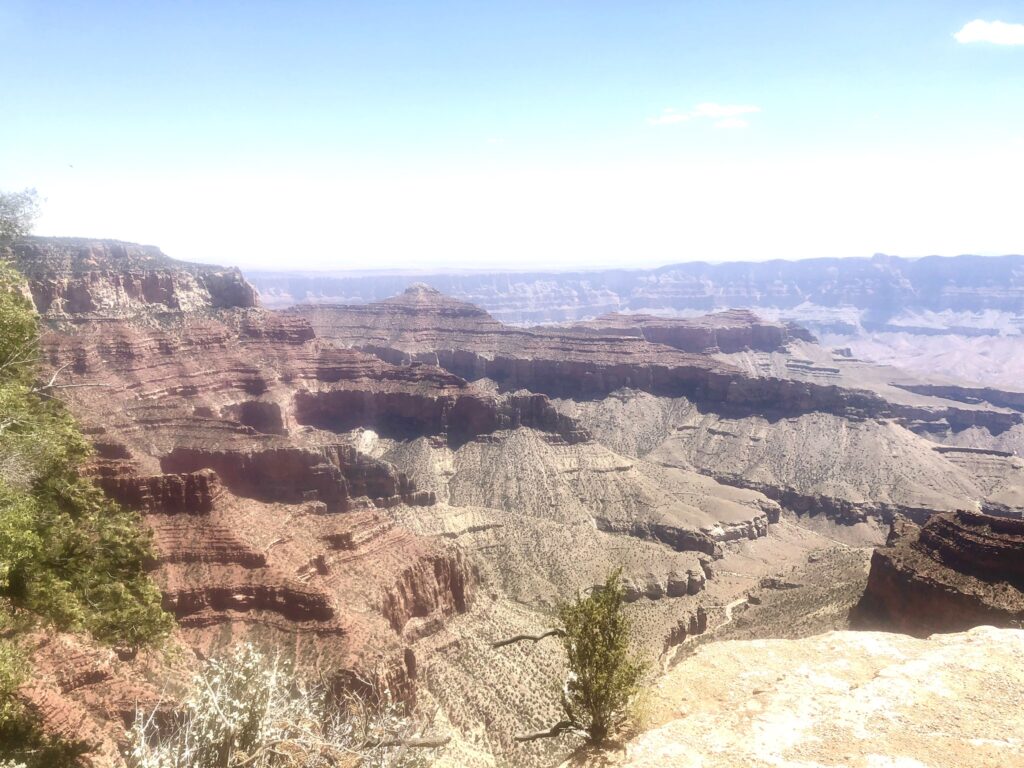 A walking stick or Trek poles and proper shoes will make a hike in the Grand Canyon more enjoyable. We can not count how many people we passed who were struggling on some of these trails.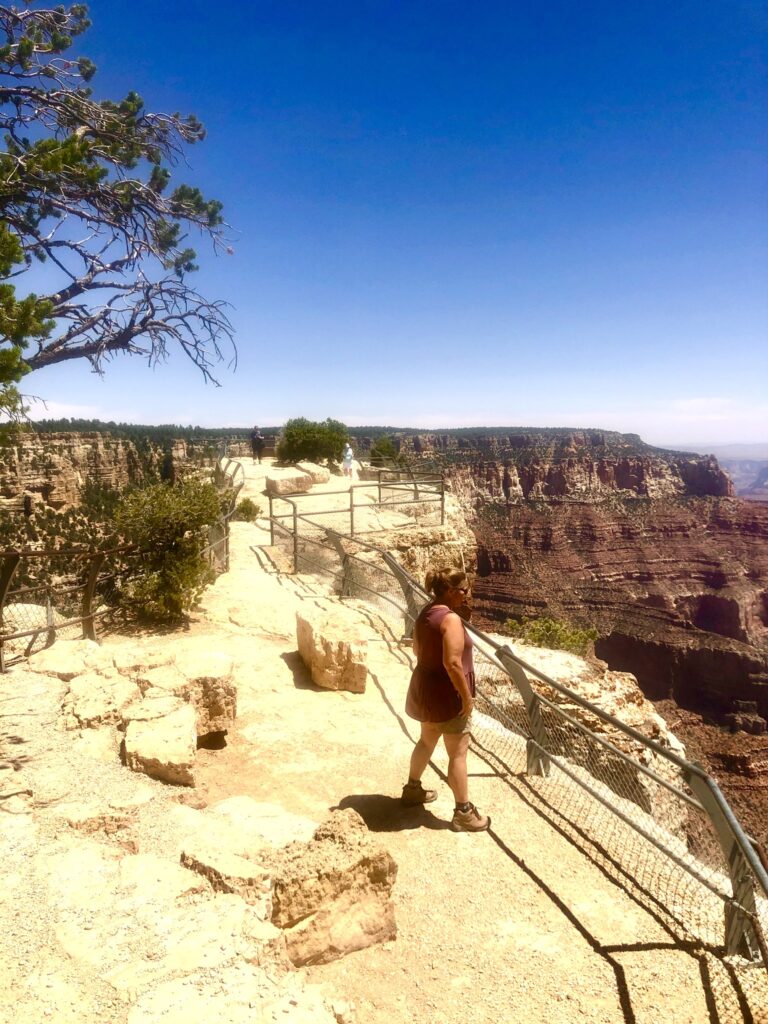 Hiking at the North Rim
The National Park Service posts serious warnings to all hikers about hiking from Rim-to Rim or Rim-to River in one day. The inner gorge temperatures, lack of water and difficulty of the trails tax even the most experienced of hikers. Dehydration, injuries, heat exhaustion and heat stroke are very common for hikers that are not prepared for this extreme environment. Do not attempt a one-day Rim-to-Rim or Rim-to-River-Return in one day for your safety.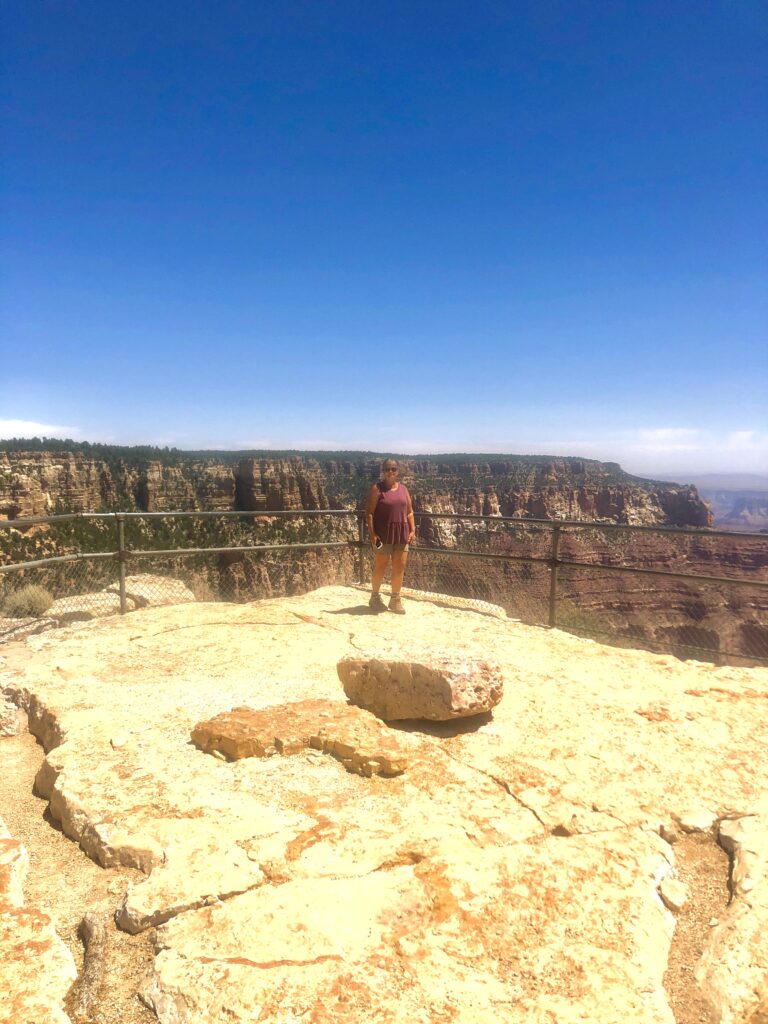 Cape Royal Trail – An easy trail with the most sweeping, grandiose view of the Grand Canyon? What more could you want! The trail starts at the end of the paved Cape Royal Road and is less than a mile round trip. Although the magnificent vista can be seen from the car, the short walk opens even more breathtaking views. We highly recommend this short easy walk.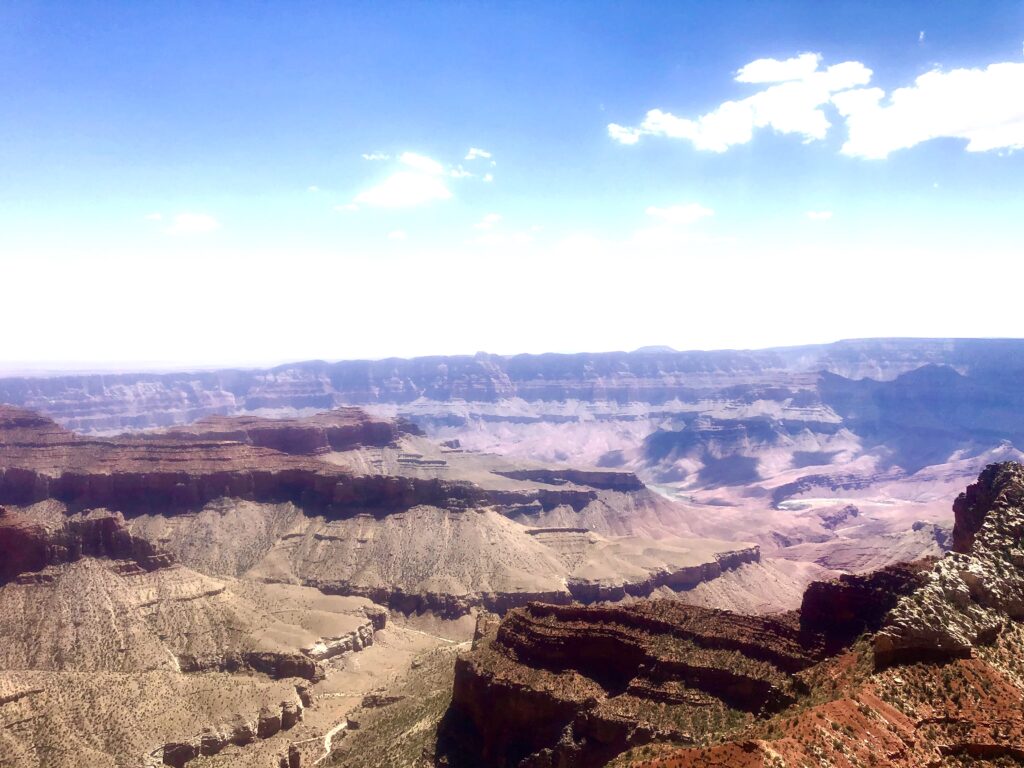 Demotte Campground – located within the North Kaibab Ranger District just 7 miles north of the entrance to the Grand Canyon National Park's North Rim. It has 38 single family campsites with tables and cooking grills. There is no group site. The 38 single family campsites can accommodate tents, trailers and small motor homes. However, no utility hookups are available.
Half of the sites are available on a first-come, first-served basis, and the other half are available with reservations. Reservations can be made through the Recreation.gov website or via telephone at 1-877-444-6777.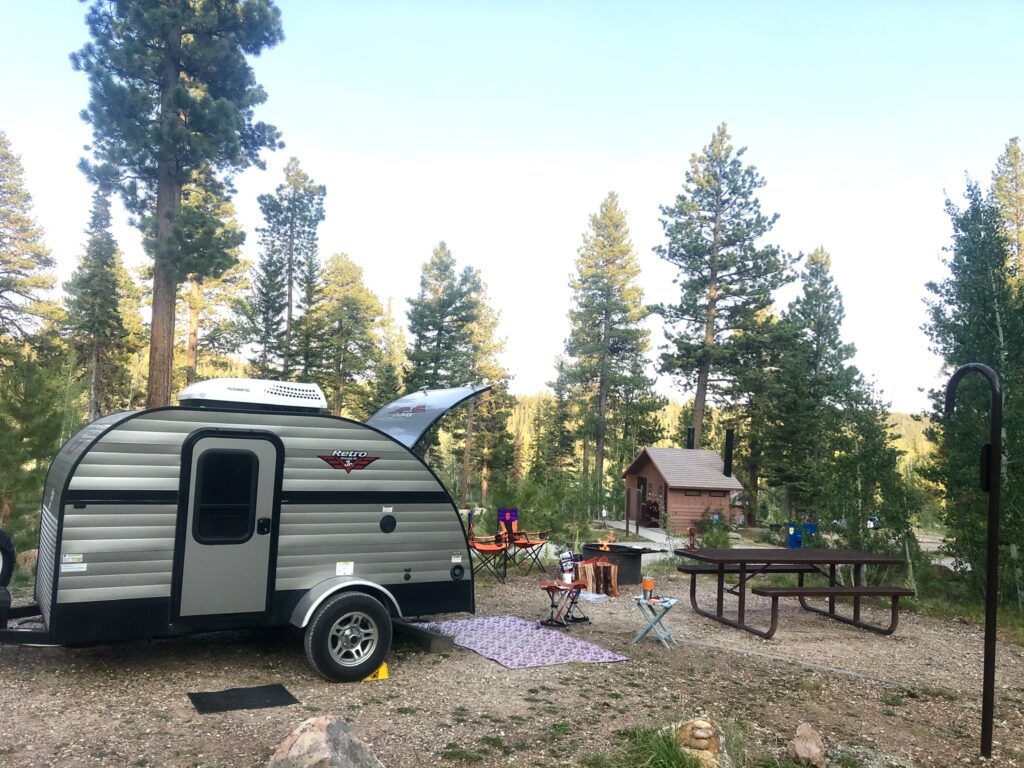 We took advantage of the "first come, first serve" option and had no issues getting a site on a Friday in August. It was a bit surprising to me. There were actually quite a few open sites. People came after dark and still got a site. It is always fun to watch people set up their RV in the dark. The sites were decent with enough space to not be right on top of one another. The bathrooms didn't smell horrible. There's a store across the street with lots of things in case you forget something.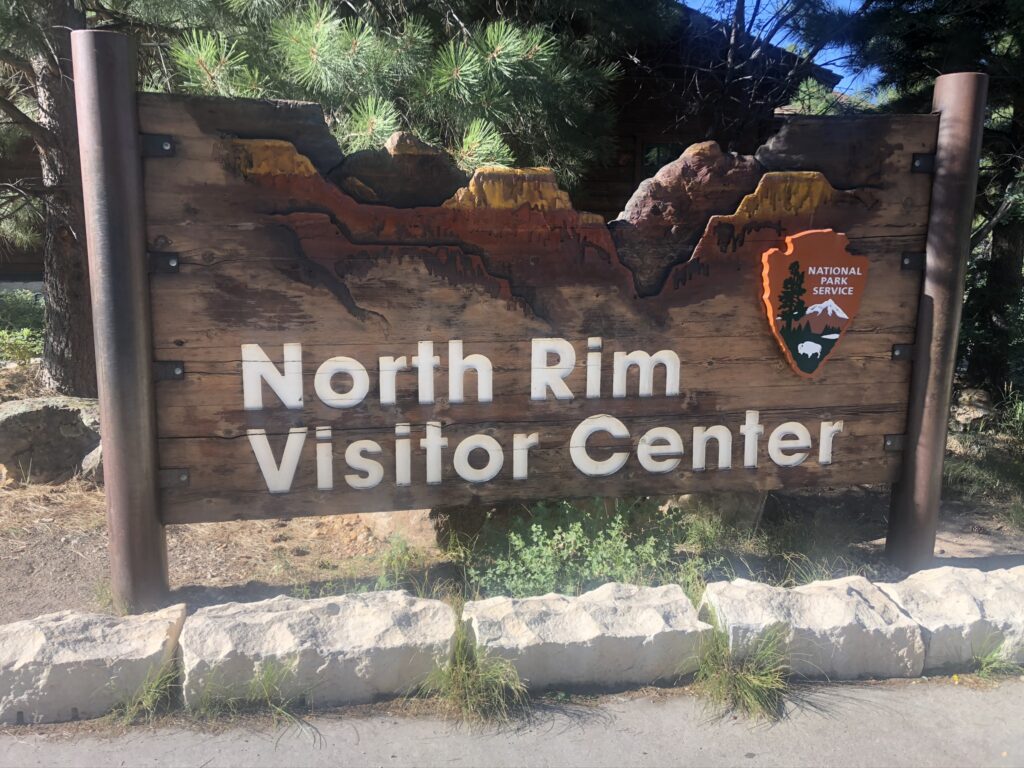 Quick link to Grand Canyon Website
Robin love 💕 to cook 👩‍🍳 and her favorite accoutrement is this fish spatula from Amazon also check out her recipes within the webpage. All tried and delicious 😋 while on the road.
This site contains paid advertisements. By clicking the links it does not cost you any extra money as the seller pays Travelswithgg a referral fee. We will never place any links without 100% satisfaction of a product we use.
Traveling across the country is challenging enough to not have to worry about ones drinking water. We carry with us the Berkey water filtration system which we consider one of the best on the market
We are often asked do we have travel insurance and the answer is NO except for car and RV insurance. I was reading Money Magazine and found this article.
Drone flying is fast becoming a hobby of mine. After much research I purchased the Mini from DJI. I am very satisfied but still an amateur having a blast. Check out our drone videos within the blog which we hope you will enjoy.
Products we love ❤️

Paid ads-we recommend
After 12,000 miles on the road and hundreds of miles hiking 🥾 throughout America, our Merrells have withstood all types of terrain and although they may be dirty, the quality is outstanding and are ready for the next 12,000.
Being on the water is very therapeutic and lots of fun. Space is always our issue so the inflatable kayak was our answer. Easy to inflate but we did buy a battery 🔋 pump to make life easy. We have kayaked the lakes of Montana, Idaho, Arkansas, Minnesota, South Carolina, Arizona and the Intex has not let us down.
Robin's favorite outdoor cooking utensil
Great personal usb fans. Perfect for warm dry camping nights
Our Retro Jr offers only so much space so to expand the cooking area, Robin loves this easy to put up table from Lifetime. No issues after multiple setups and break downs.
We enjoy a good cup of coffee ☕️ and one of our favorite cafes offers a pour over. ( How to make the best pour over coffee) If you are still making coffee in a pot break the yoke of social conformity and consider alternatives to a drink of the gods (coffee) every morning. This Insta Pot has been a godsend to our travels.
Campers are for the most part very honest and friendly people. However, pulling GG through a city and leaving her to go explore can make one feel uneasy 😬 so this easy locking 🔒 system was our solution.
Our teardrop does not come with a refridgerator do coolers are our life blood. We needed to keep our food cold for days on end and these coolers did the trick.
Grand daughter had her first birthday 🍰 so the best gift was to start her love of camping. Love you 😍 Bridget.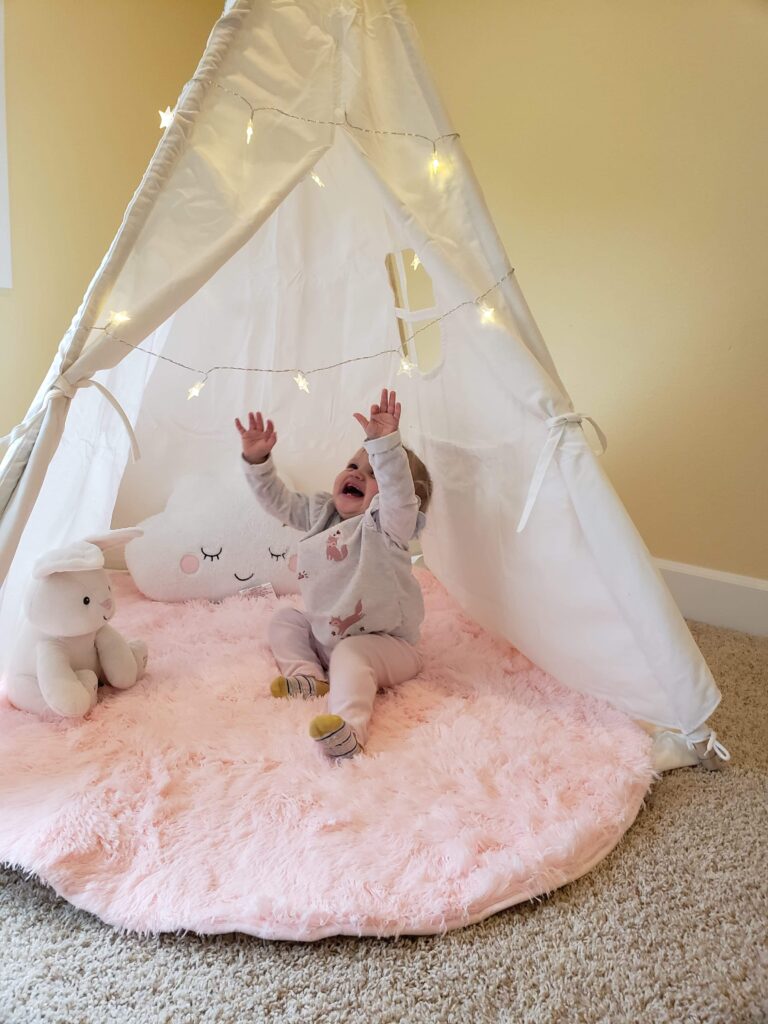 Traveling over 12,000 miles in a Teardrop trailer one realizes space is an issue. We highly a roof rack to aid in carrying more items ie inflatable kayak, life jackets, oars, and etc.
12,000 miles on the road, one of my best purchases was my Costa sunglasses 🕶. The glare from driving is gone and the polarized lenses intensified the colors of my surroundings.