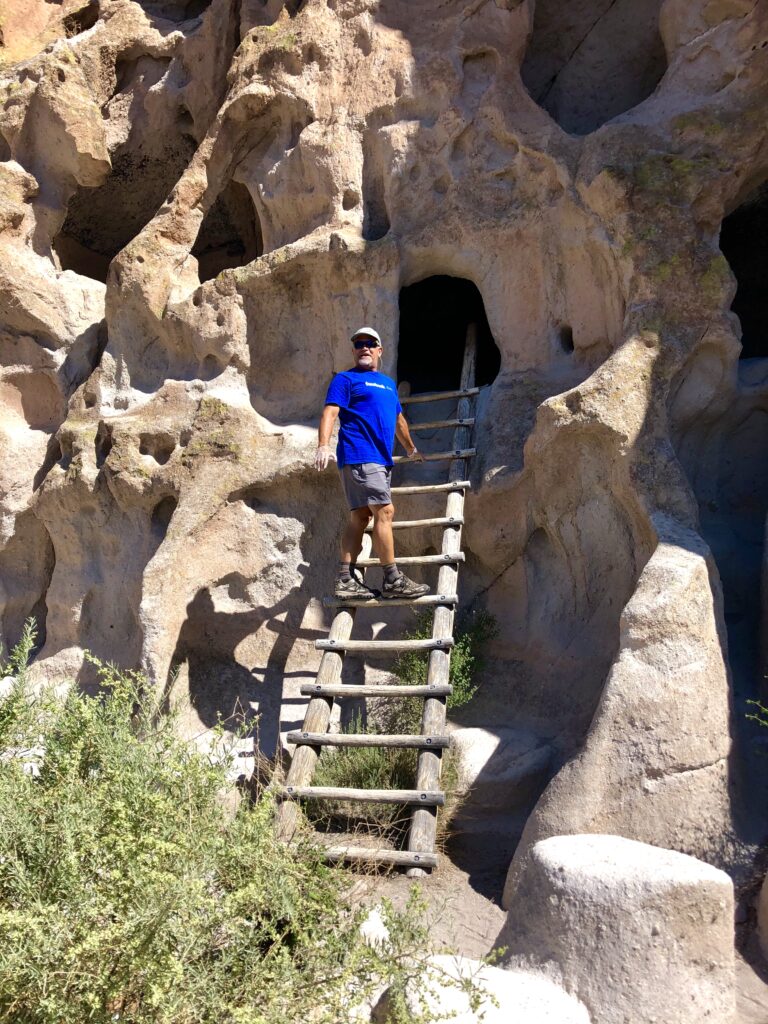 Any road trip Near Santa Fe, New Mexico would not be complete without a visit to Bandelier National Monument which lies 23 miles away. It did take us an hour to drive through the ? mountains; albeit, the stunning landscape helps the time fly. Every turn through the mountains has a more incredible view.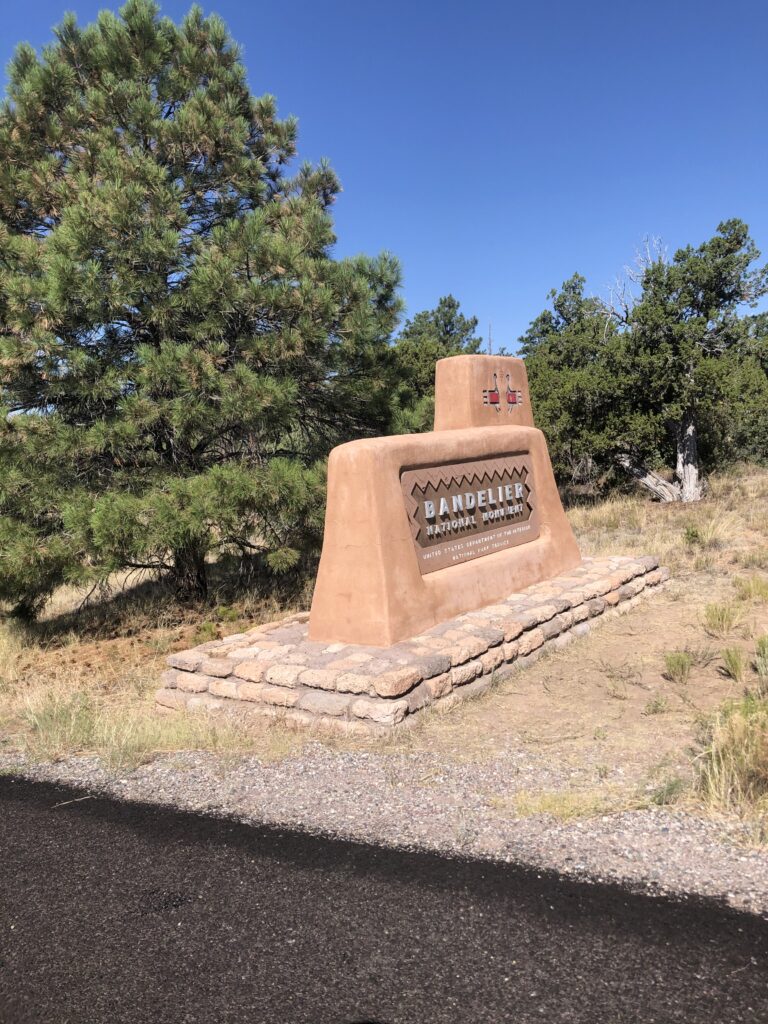 Near Las Almos, NM, the Bandelier Monument preserves the homes and territory of the Ancestral Puebloans also knowN as the Anasazi. These structures date to between 1150 and 1600 AD. We hiked ? around and into these cliff homes and are sure it will amaze young and old visitors. There are 128 National Monuments located in the USA ?? and we recommend stopping ? by as many as you can if they are on your journey. ?‍♀️ You will be impressed.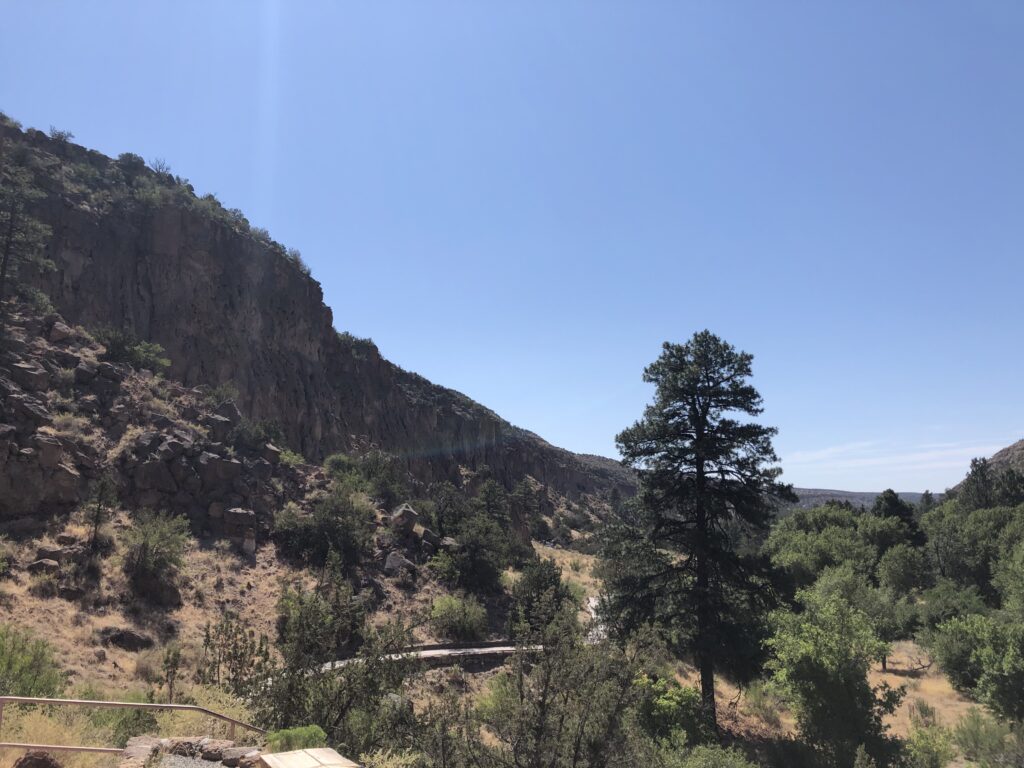 Money saving tip: Buy the annual national parks pass. The National Park Pass will also allow access to all the national monuments. The cost is $80. If you plan on being in any of the National Parks more than three times within a year then you will save money. The pass will sometimes allow discounts to camping in the National Forest ?. There's also discounts for seniors which can be applied against camping threw out America. Other discounts apply so please read the eligibility which can save you more money. We estimate we saved over $600 in park fees.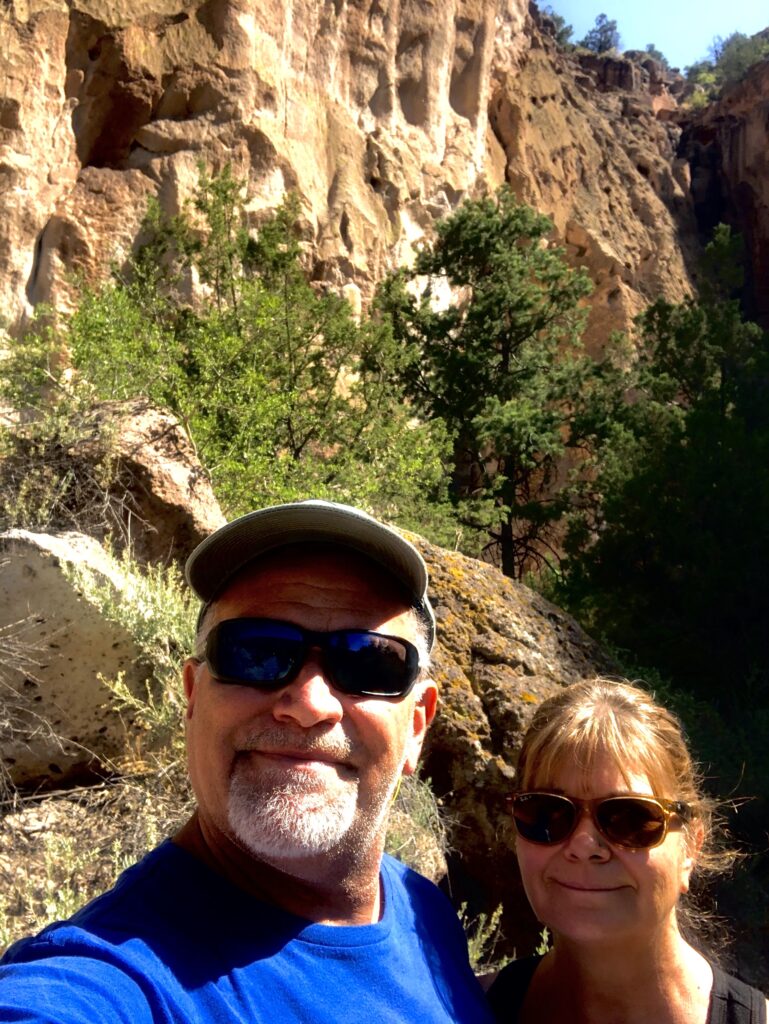 This site contains paid advertisements. By clicking the links it does not cost you any extra money as the seller pays Travelswithgg a referral fee. We will never place any links without 100% satisfaction of a product we use.
Traveling across the country is challenging enough to not have to worry about ones drinking water. We carry with us the Berkey water filtration system which we consider one of the best on the market.
Hiking and exploring Bandelier National Monument
Bandelier National Monument has over 70 miles of trail within its boundaries and many more miles that connect out into the adjacent Santa Fe National Forest Lands.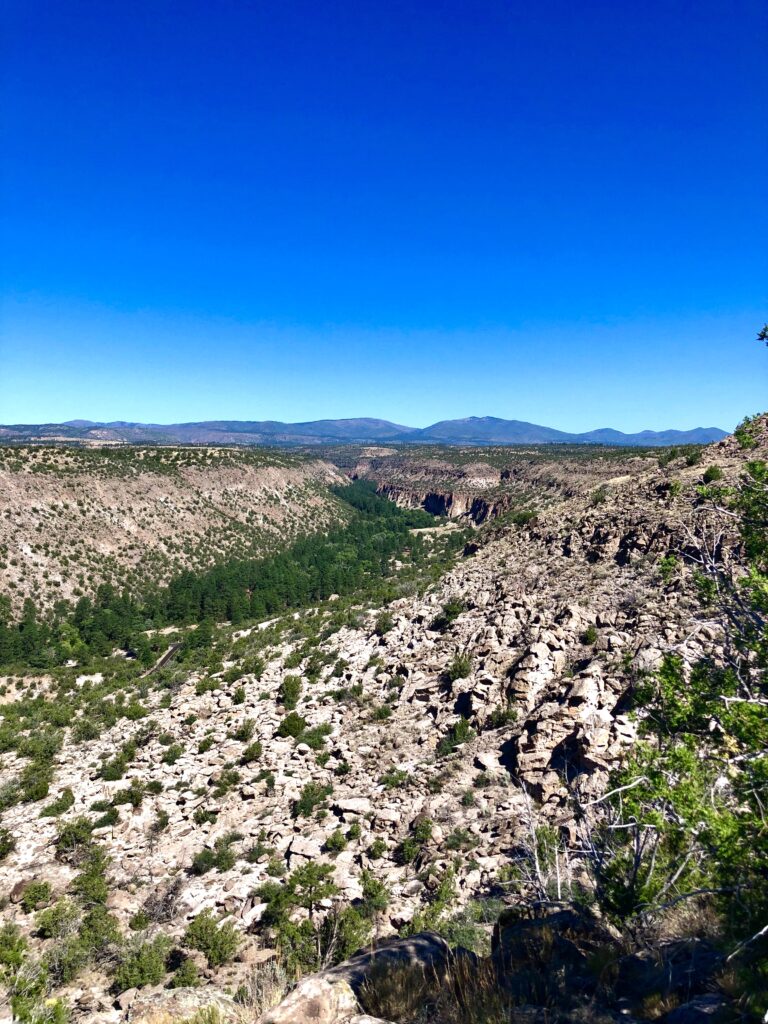 We hiked the Main (Pueblo) Loop Trail and Alcove House Trail (click here for more information) which are accessed from the visitor center in Frijoles Canyon. These trails take you to many Ancestral Pueblo sites. We highly recommend adding an extra 1 mile and include the Alcove House trail to your plans.
The Main (Pueblo) Loop Trail is a 1.4 mile loop trail through archeological sites. Most visitors spend between 45 minutes and one hour on this trail. Ladders along the trail allow visitors to climb into cavates (small human-carved alcoves). The Main (Pueblo) Loop Trail takes you past the Big Kiva, Tyuonyi, Talus House, and Long House.
Pick up a $2 trail guide at the Park Store to learn more about the sites along the trail through descriptions of 21 numbered stops.
The first section of this trail is flatter and may be travelled by wheelchairs and strollers; however, some areas exceed accessibility standards and some areas contain stairs/dropoffs. In winter, this is the only trail on which the snow is removed.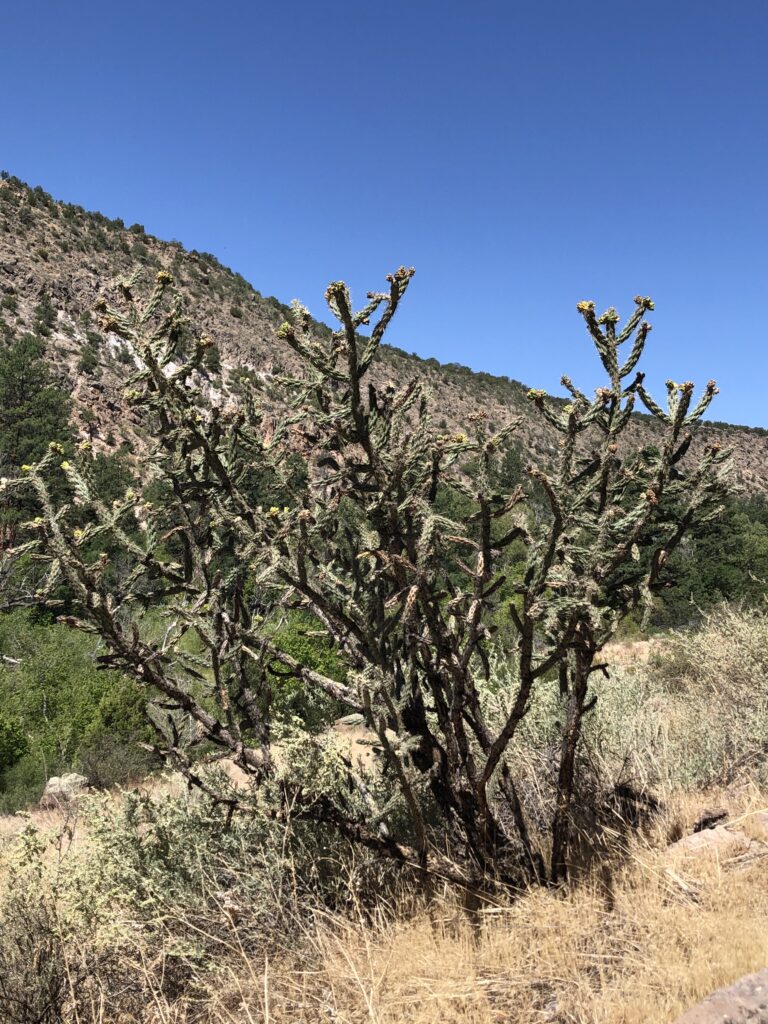 The Falls Trail is another trail that is very popular (click here for more information). It takes you to a beautiful waterfall. Before the flash floods of 2011 the trail continued to the Lower Falls and ultimately to the Rio Grande. Flooding destroyed the trail leaving no access to the Rio Grande from Frijoles Canyon. There are no archeological sites on this trail. We did not allow enough time to explore this trail but on our next visit it is a must do.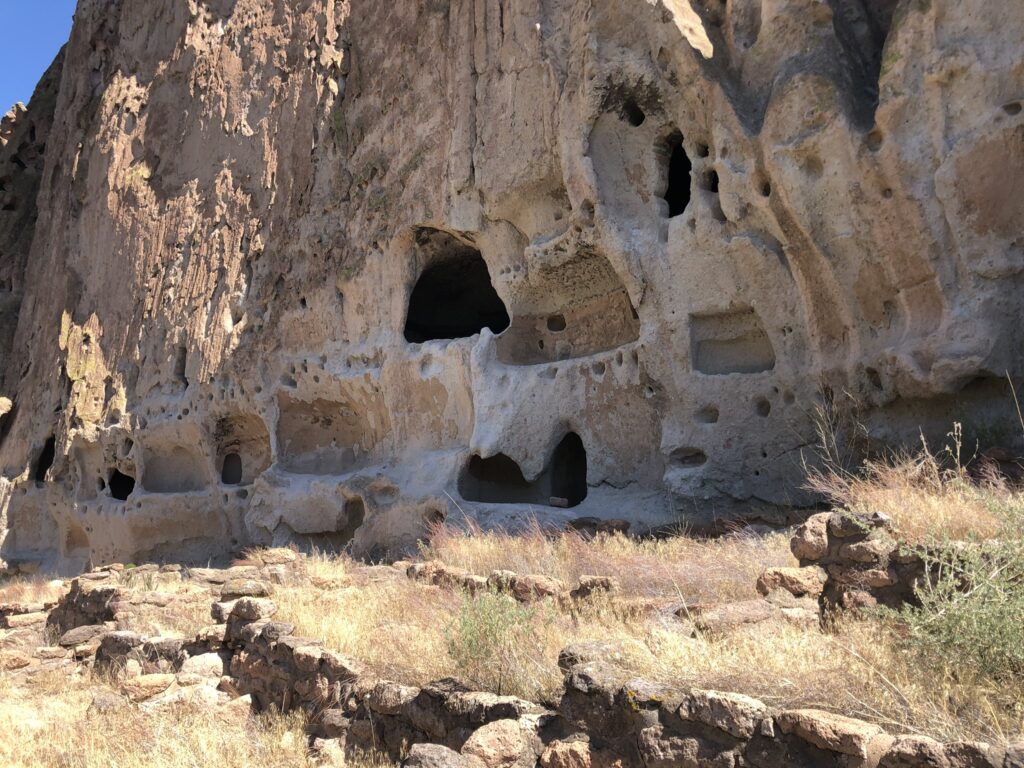 The Falls Trail starts at the end of the Backpacker's Parking Lot near the visitor center. The trail descends 400 vertical feet in its 1.5 mile length to the Upper Falls. A beautiful trail in any season, this trail is not cleared of snow in the winter and can be extremely icy.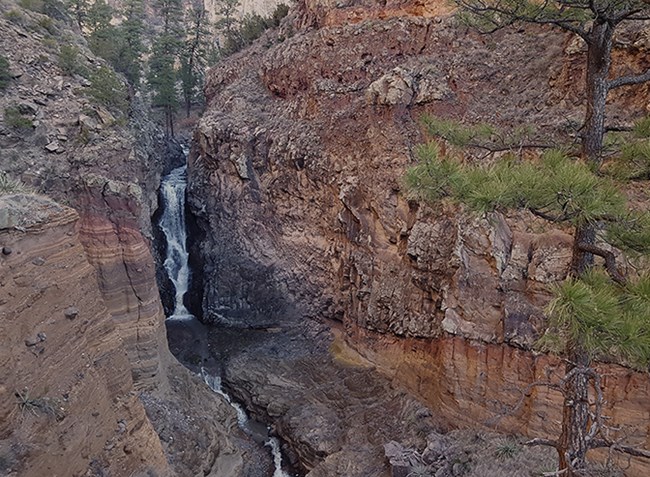 There are steep dropoffs along the trail and plank bridges ? across the creek. We Use to call this a Robert E Lee overpass (log across a stream). Keep children close at all times and watch for wildlife. Take plenty of water ? . Water from the creek should not be drunk without first treating it.
THIS TRAIL IS NOT ACCESSIBLE TO WHEELCHAIRS OR STROLLERS.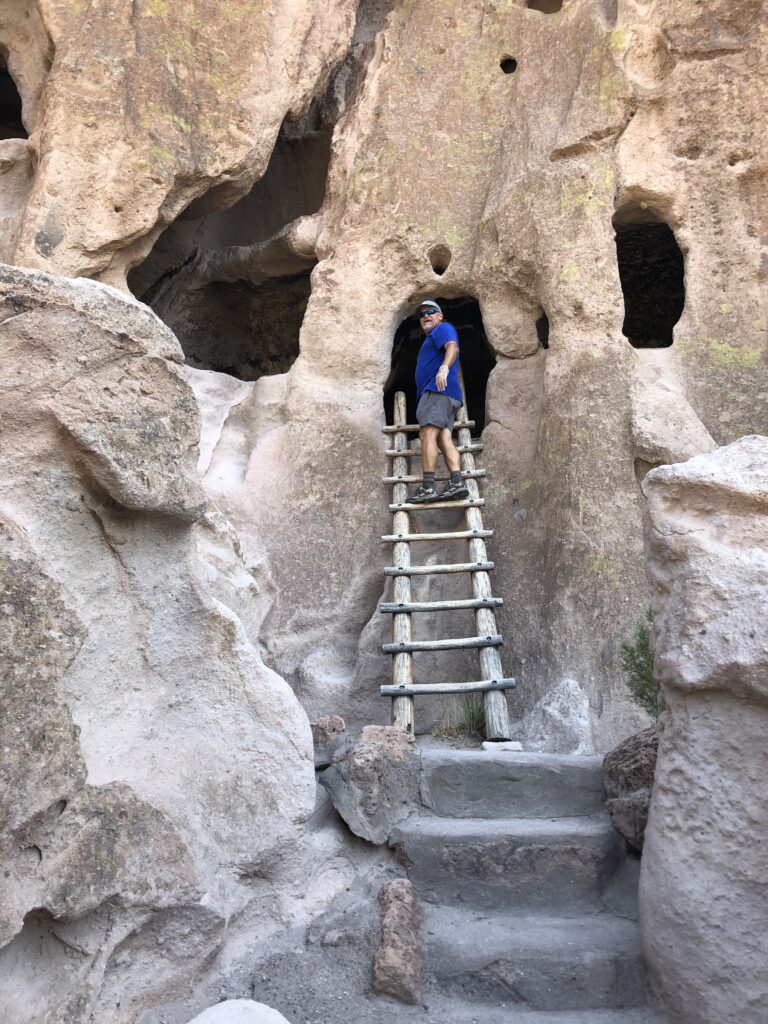 Within Bandelier's 33,000 acres there are over 70 miles of trail. Some trails are short easy loops while others can encompass many miles and steep rocky switchbacks. There are even several trails suitable for cross-country skiing or snowshoeing in the winter. Longer backcountry trails often involve hiking more than 12 miles round-trip. Wilderness permits are required and are available at the visitor center for overnight stays in the park's backcountry. Water is not readily available on most backcountry trails. Please check at the visitor center for current conditions before hiking in the backcountry.
Pets, bicycles, and pack animals are not permitted on any park trails.
Frijoles Rim and Canyon Trail
Yapahsi Pueblo
Painted Cave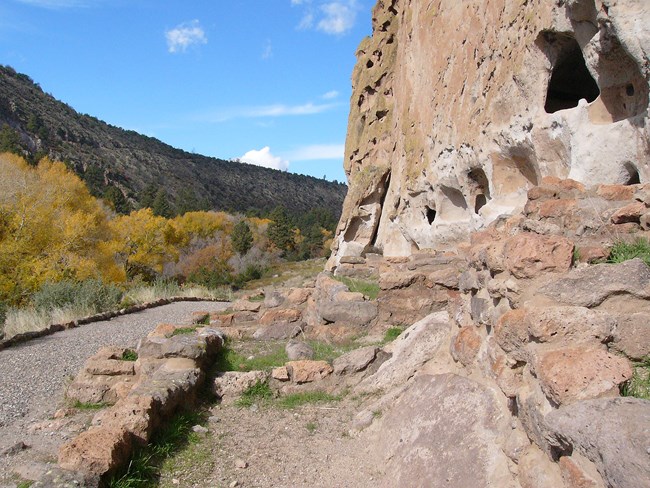 Amazon Launchpad Holiday Gift Guide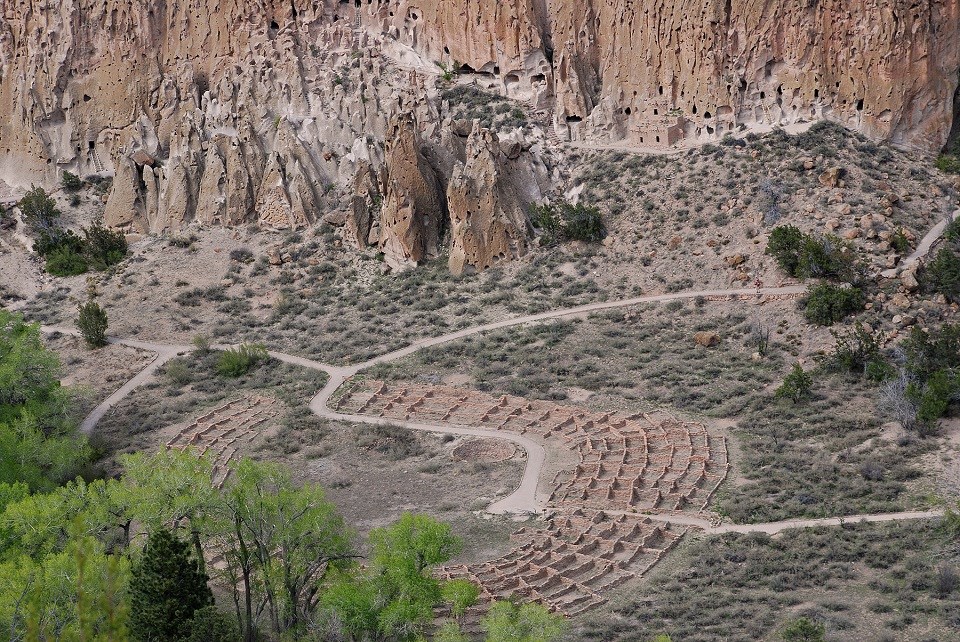 Valles Caldera
Another must see attraction near Bandelier National Monument is Valles Caldera National Preserve. It protects a large portion of the Valles Caldera, an area of significant geological, ecological and cultural interest. The Valles Caldera is a supervolcano eruption, like Yellowstone, and one of the largest young calderas on Earth. It formed about 1 million years ago when multiple explosive eruptions occurred that produced an immense outpouring of ash, pumice, and pyroclastic flows. It is considered by geologists to be still active.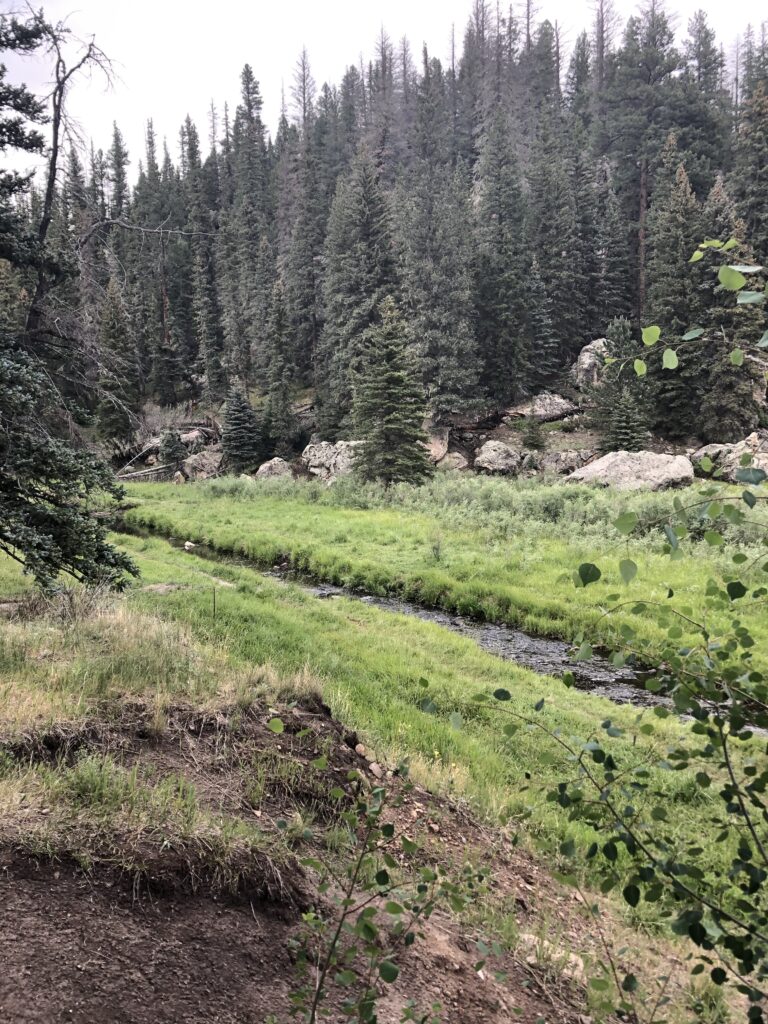 Main Entrance is open daily except Thanksgiving and Christmas holidays. Please visit the Valles Caldera National Preserve's website at www.nps.gov/vall for the most up-to-date information. We camped next to the Valles Caldera in Jemez Falls campground and our review is available about this wonderful campground.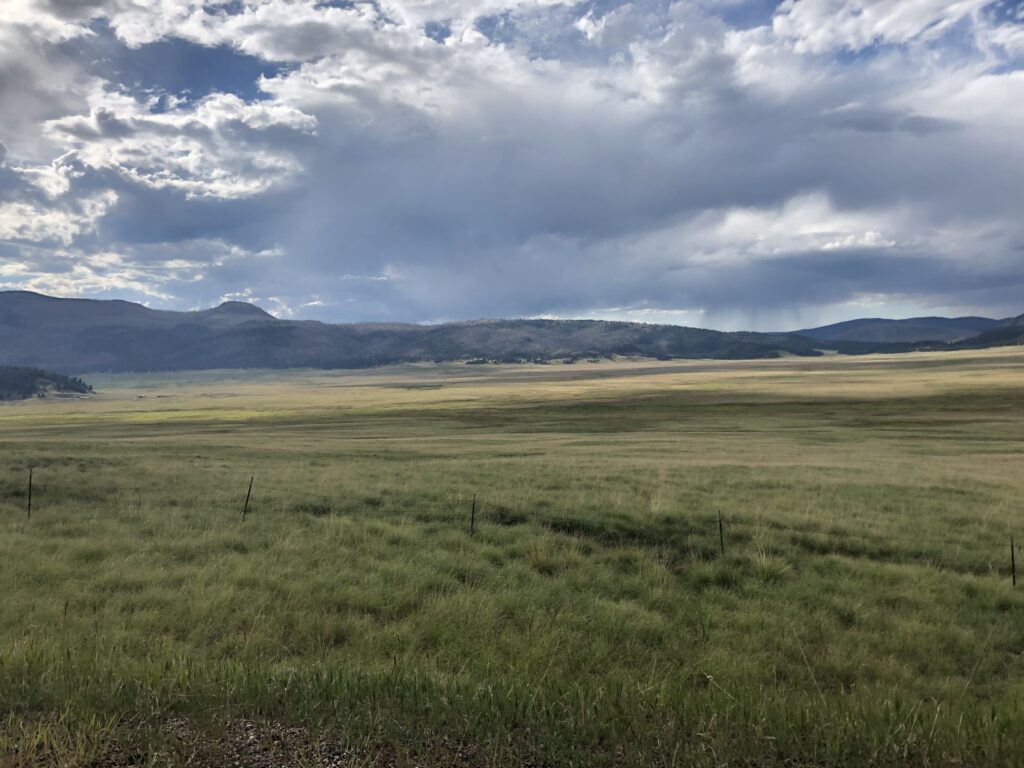 About 120,000 visitors come to the preserve each year to enjoy activities such as hiking, biking, fishing, hunting, and simply enjoying this southwest geologic gem. The busy season in Valles Caldera runs from May-October.Please use these websites to find information on:
Quick link to Bandelier Nation Monument Website
Drone flying is fast becoming a hobby of mine. After much research I purchased the Mini from DJI. I am very satisfied but still an amateur having a blast. Check out our drone videos within the blog which we hope you will enjoy.
Rookie Mistake: Not allowing enough time to explore the Jemez Mountain, Valles Caldera, Santa Fe National Forest, City of Santa Fe, the natural hot ? springs, waterfalls, and all the natural wonders in this area of New Mexico. If we could have a do over, it would be to spend atleast 1 full week or more in this enchanted region. Do NOT rush through New Mexico. We promise we will be back soon and will definitely stay longer.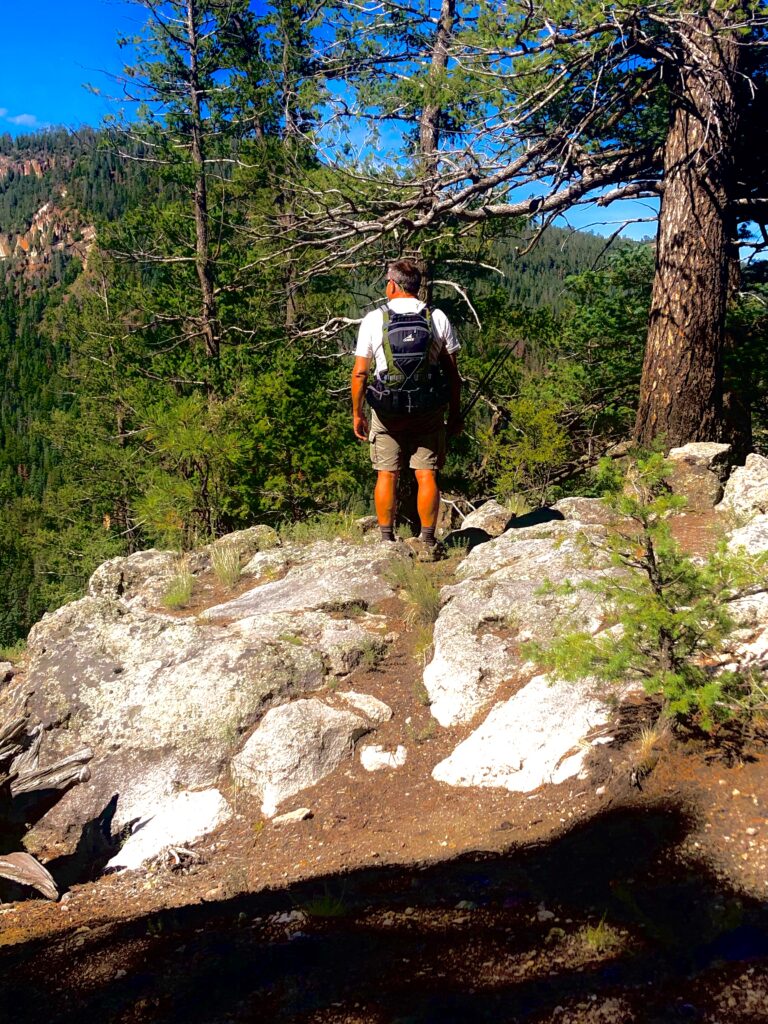 We did hike the McCauley hot springs trail from the Jemez Falls campground. The hike is about 6 miles round trip all down hill to the springs. So it is a tough hike back. We changed into bathing suits ? with a dip in the warm waters and a lunch afterwards before hiking back to camp. Our altitude was above 8,000 which lead to warm days and chilly nights.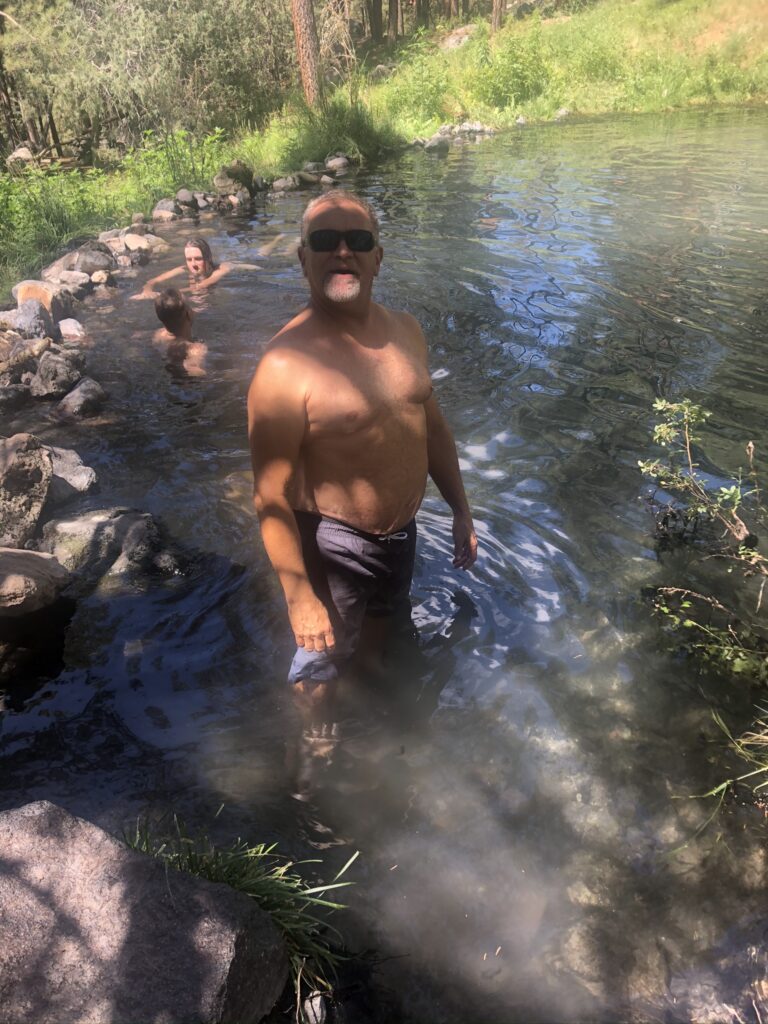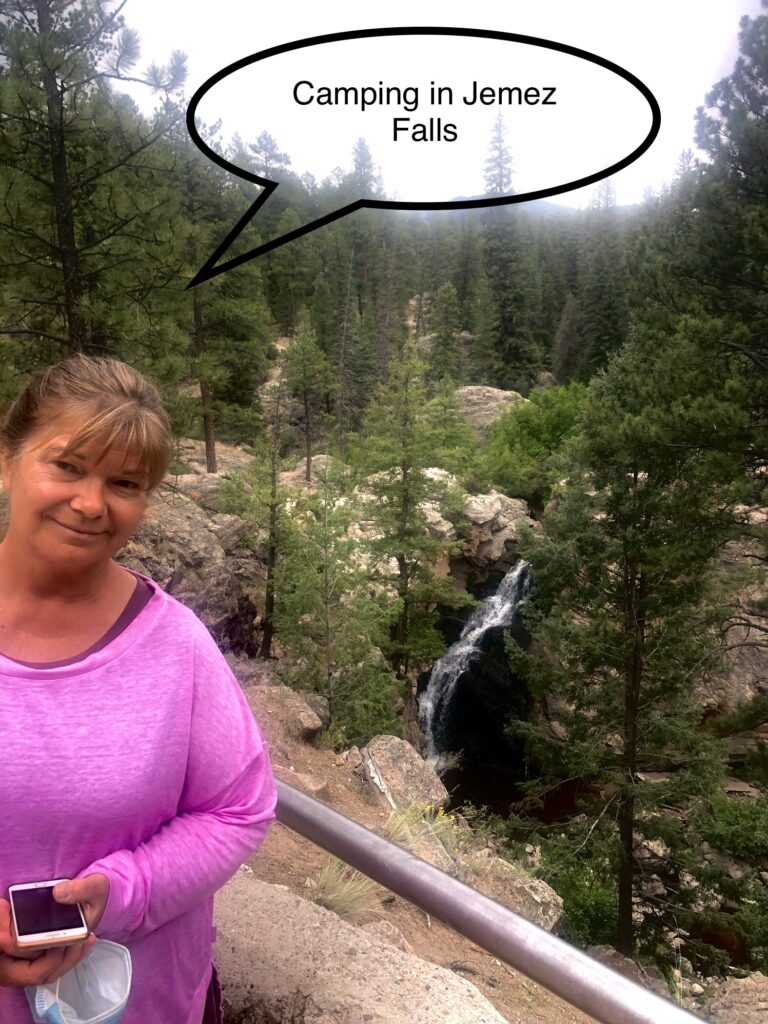 Drone flying is fast becoming a hobby of mine. After much research I purchased the Mini from DJI. I am very satisfied but still an amateur having a blast. Check out our drone videos within the blog which we hope you will enjoy.
Drone flying around Jemez Falls Campground

Products we love ❤️
After 12,000 miles on the road and hundreds of miles hiking ? throughout America, our Merrells have withstood all types of terrain and although they may be dirty, the quality is outstanding and are ready for the next 12,000.
Being on the water is very therapeutic and lots of fun. Space is always our issue so the inflatable kayak was our answer. Easy to inflate but we did buy a battery ? pump to make life easy. We have kayaked the lakes of Montana, Idaho, Arkansas, Minnesota, South Carolina, Arizona and the Intex has not let us down.
Robin's favorite outdoor cooking utensil
Great personal usb fans. Perfect for warm dry camping nights
Our Retro Jr offers only so much space so to expand the cooking area, Robin loves this easy to put up table from Lifetime. No issues after multiple setups and break downs.
Campers are for the most part very honest and friendly people. However, pulling GG through a city and leaving her to go explore can make one feel uneasy ? so this easy locking ? system was our solution.
Our teardrop does not come with a refridgerator do coolers are our life blood. We needed to keep our food cold for days on end and these coolers did the trick.