Trip taken August 2020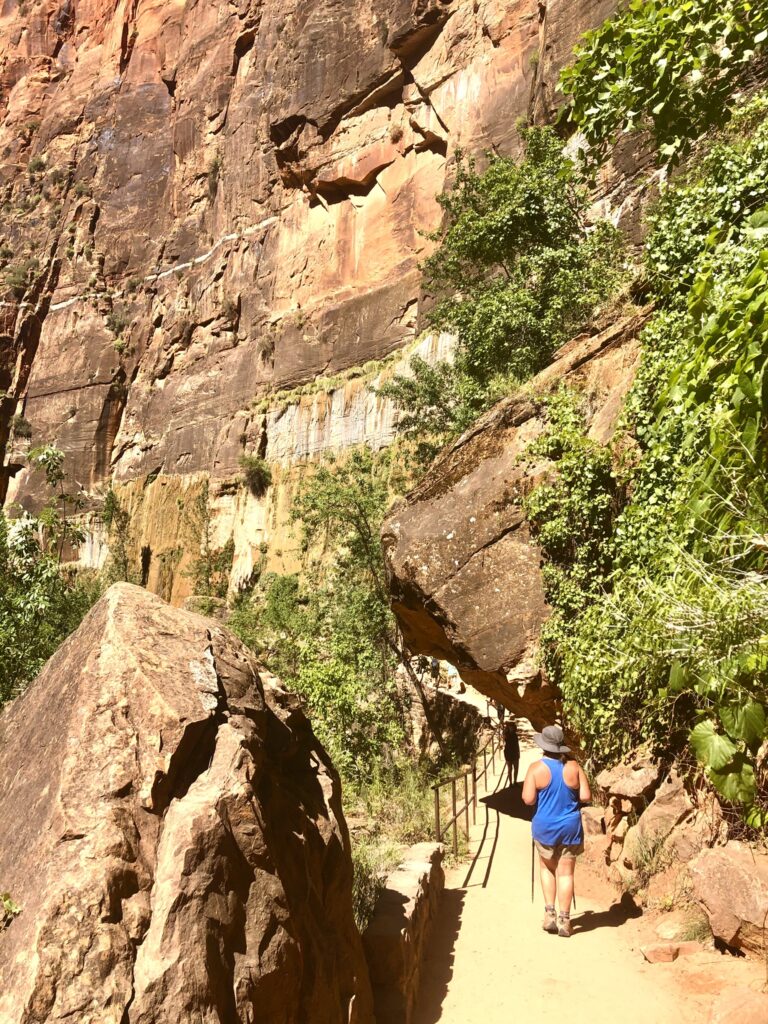 Zion National Park is a special place to visit and explore. It's not hard to understand why Mormon settlers felt a spiritual connection to the land when they arrived in the mid-19th century and used religious references such as Towers of the Virgins, Tabernacle Dome, the Three Patriarchs (Abraham, Isaac, Jacob) to name areas of the park. ~ "Look deep into nature and you will understand everything better." – Albert Einstein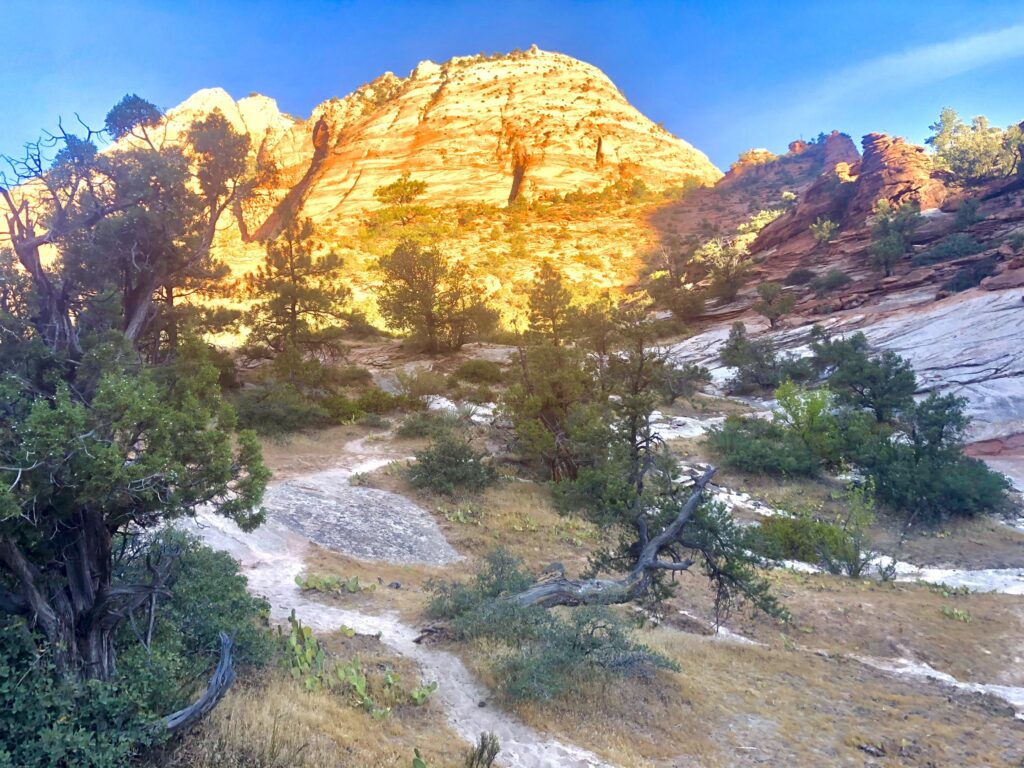 But the park's human (and spiritual) history goes back much further, first to the Ancestral Puebloans and then to the Southern Paiute people who've been stewards of this land since it was known as Oawingwa—"a place where the stream flows." After one of our hikes ?‍♂️, we lounged in these cool waters; however, in the summer bacterial blooms are common so follow the warning signs ? as to not end up with a bad rash or worse at the hospital.
Of Utah's five national parks, Zion stands out for its geological wonders, a place where water and sand meet to form arguably the most dramatic landscape in the country. Here's our primer on how to see it all, from big hits like Zion Canyon and the Narrows to the gems many visitors overlook.
Road warriors need to pass the time when on the road. I highly recommend the Audible books ?
Try Audible and Get Two Free Audiobooks
Pro Tip: There are many reason to visit Zion which we will list; albeit, timing ⏱ when you visit is crucial. In July and the summer months, the crowds are immense and it's hot.? Well, you are in a red rock desert. Many of the hikes require taking shuttles and waiting in line. Did I mention lots of people. With Covid 19 in full swing we opted to skip many of our planned hikes such as Angel ? Landing (closed when we arrived) for lesser known destinations within the park. If one can visit Zion when less crowded we highly recommend; however, just driving through the park is a thrill and a must do.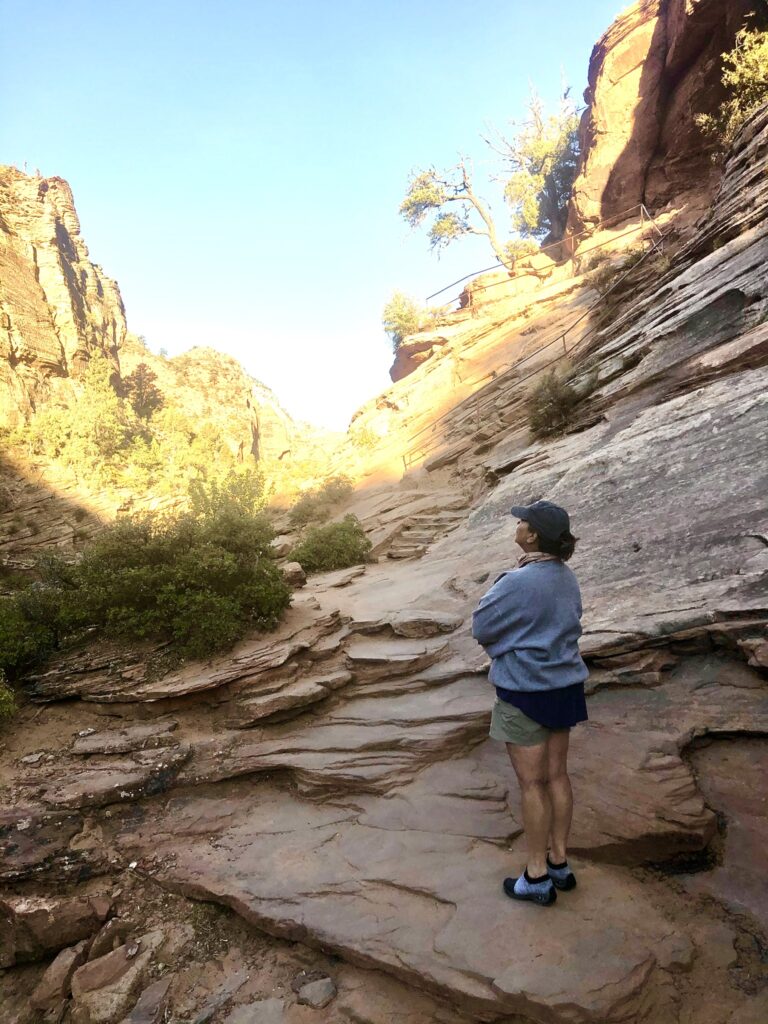 Amazon Launchpad Holiday Gift Guide
Watchman campground is located 1/4 miles from South entrance and offers 190 options for camping: ⛺️ There is NO full hookup but there is a dump station. Generators are not permitted. 69 campsites are for tent camping only which cost $20 a night. We camped on one of the electric ⚡️ only sites for $30 a night. The restrooms were very clean but a constant roulette game of closing a bathroom for cleaning ? and the other bathroom was on other side of park. Not a fun walk if one ☝️ waits to long for a rest stop and picks a bathroom being cleaned. We will definitely be back but would chose a time with less people.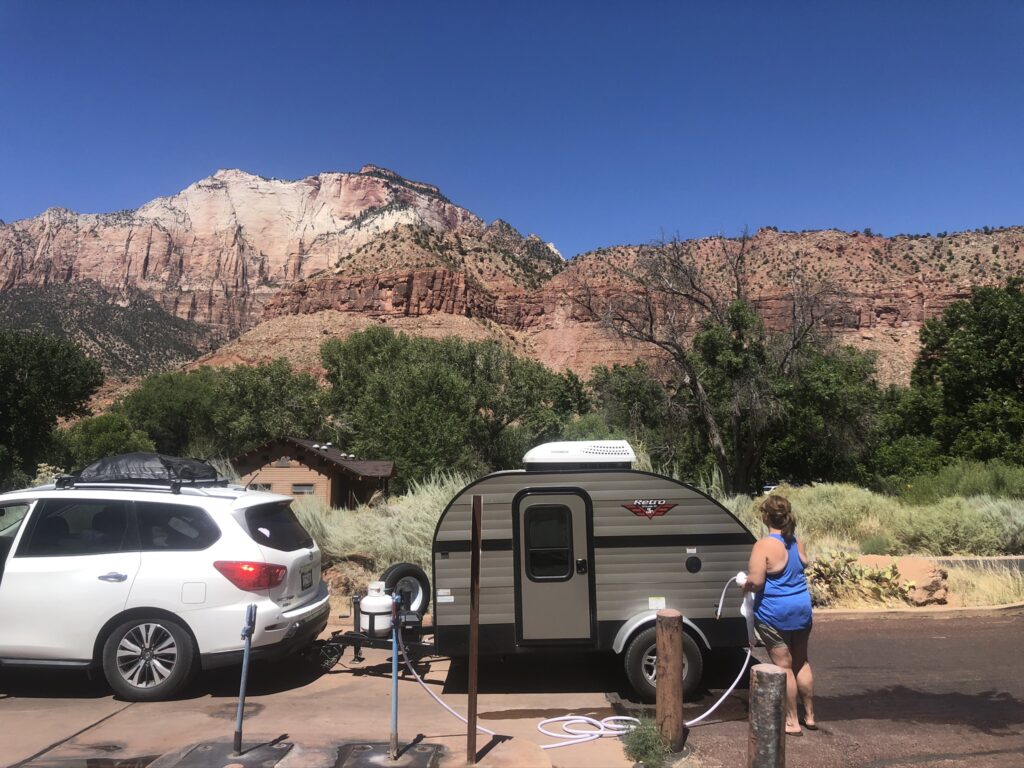 Hiking trail ~ the Good, the Hard, and the insane
Weeping Rock Trail ? Shortest Trail in the park .5 mile. ? Lush hanging gardens that are continually moist due to a constant water flow from the canyons above.
A unique view of the Great White Throne to the upper left can be seen when standing behind the dripping water and looking out.
Mostly Paved. Highly recommend.
Best time to hike
*Year Round
*Portions can be closed in winter due to falling ice.
*Spring and Fall provide the most water flow.
*Summer can be very crowded.
SECRETS/TIPS
Steps by the hiker's bridge also provide access to the stream below. This is very popular with children. We did not venture into the water here due to the algae blooms in this area but rest next to the water after our hike was refreshing.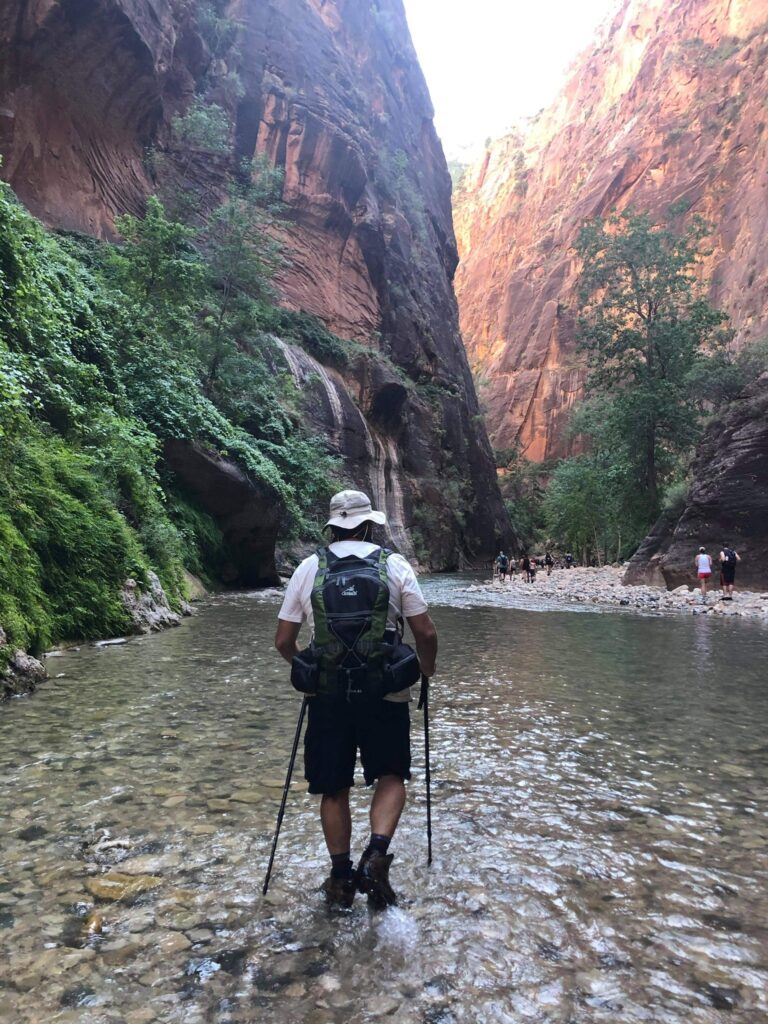 UPPER EMERALD POOLS Trail ~ 3 MILES
HIGHLIGHTS
If you start at the Zion Lodge you will pass right by the Lower Emerald Pools (first 0.6 miles) and Middle Emerald Pools (another 0.2 miles) on your way to the Upper Emerald Pools. We stopped to explore the lodge; however, there were so many people we did not enter and ventured to Lower Emerald pool to explore this hiking trail but turned back as no one seemed to want to wear a mask ?.
Another way to hike Emerald Pool – you can start from the Kayenta Trail starting at the Grotto Shuttle Stop (stop 6) to add another mile to your trip for a different less-traveled way to get there.
The Middle Emerald Pools Trail was closed due to a 2010 rockslide and continuing instability but can still be seen on your way to the Upper Emerald Pools via either starting points.
The trail past the paved Lower Emerald pools trail is dirt, sand, more rugged and rock covered.
Waterfalls, beautiful alcoves, and natural pools can be seen all around.
Colossal cliffs surround the end of this trail on three sides in front of you creating a natural amphitheater.
Many majestic views of Zion Canyon can be seen from here to provide a very unique perspective.
SECRETS/TIPS
Go early in the morning during the summer or later in the day as the trail can get very busy.
Make sure to stop at the Middle Emerald Pools. If open!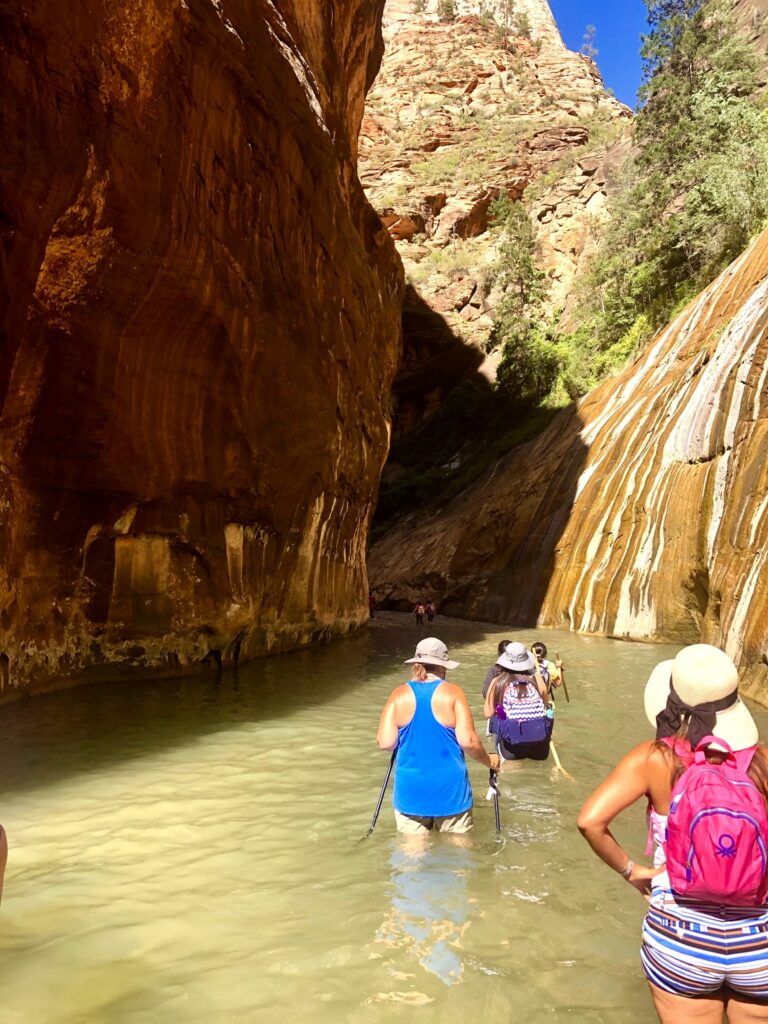 CANYON OVERLOOK Trail is a Steep 1 MILE Hike
But so rewarding!!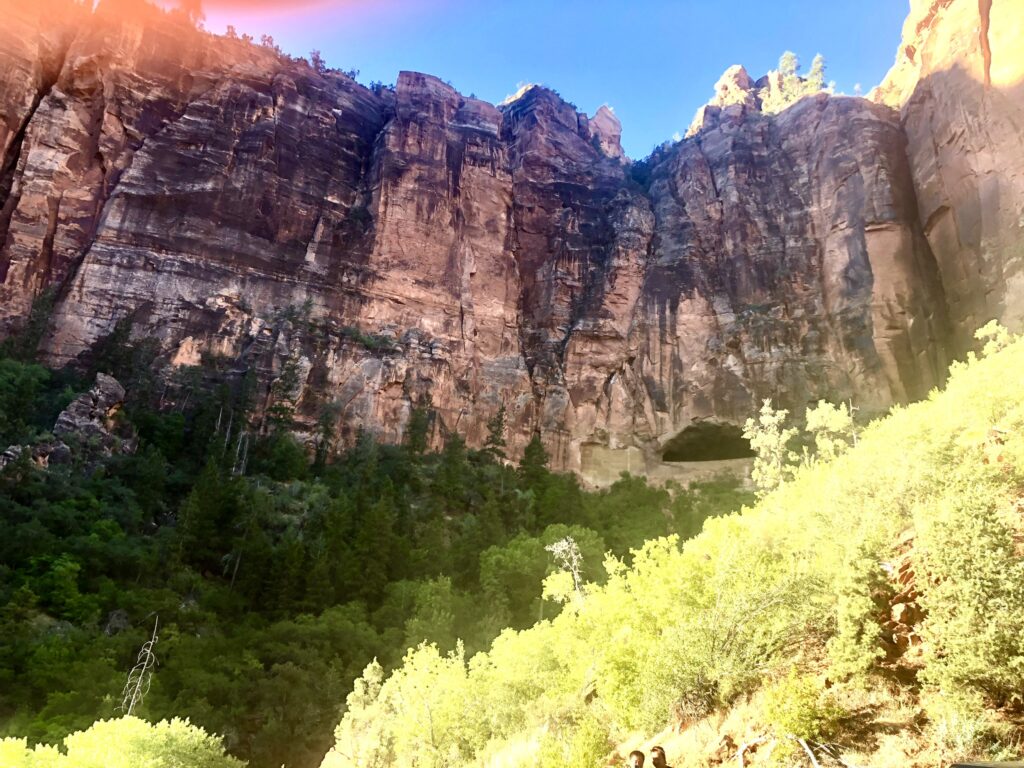 HIGHLIGHTS
Steps leading up to a maintained, rocky and uneven dirt trail. We recommend hiking boots. ? Shortest hike in the park to get you to a viewpoint above the canyon offering amazing views down into the Pine Creek slot canyon. We hiked this trail early in the morning with hopes of seeing mountain goats ? but we had no luck. There was a cool shaded alcove with lush ferns growing out of the walls.
Other things to check out once you are at the viewpoint:
Route 9 switchbacks below, Bridge Mountain (the highest peak on the left side of the canyon), the East Temple (the impressive rock formation above the viewpoint to the right), the canyon wall to the left to spot "windows" of the tunnel, and the Pine Creek stream below
BEST TIME TO HIKE
Year round
SECRETS/TIPS
If parking is full, continue down the road and there are several other overflow parking lots or shoulders to park. We went early and had to park along the shoulder; however, we discovered numerous hiking trails which we explored prior to reaching the trailhead.
While driving up the mountain, stop ? at the last bend of the switchbacks (3rd bend) to spot the Great Arch of Zion. Great place for a picture and if you look closely you can see people on top of it. This is where the Canyon Overlook Trail viewpoint can be seen.
A great night hike to see a wonderful display of stars or sunset (make sure to bring a flashlight or headlamp).
Drone flying around Watchmans Campgrounds
ANGELS LANDING is 5 &1/2 MILES of Terror with a great view and a long fall to the bottom
HIGHLIGHTS
Partially Paved and this hike is NOT for the faint of heart ❤️. When we arrived this trail was closed due to Covid.
The hike begins with a set of 21 zig-zags known as Walters Wiggles before you reach Scout's Lookout. Scout's Lookout offers beautiful vistas from above the canyon. One could stop here if your fear of heights overwhelms you. (Don't be a scared ? cat)
If you do decide to go all the way up Angel's Landing, you will be rewarded with magnificent views in every direction you look. Plenty of chains, guard-rails, and carved steps are provided to help ease your mind of all the drop-offs on both sides of the canyon. Warning ⚠️ The last 0.7 miles of the trail is roughly only about 4 ½ to 5 feet wide and Acrophobia (fear of heights) can be challenging.
BEST TIME TO HIKE
Spring, Summer and Fall. Winter can get dangerous due to rain, snow and ice collecting on the trail. Portions can be closed in winter due to trail conditions.
Summer is very crowded
SECRETS/TIPS
Go Early! This is a very popular trail that can quickly become crowded.
On your way down hike some of the West Rim trail. The views from that trail are also very stunning and could be a great spot to take a picture of Angel's Landing.
Bring lots of water and snacks. Most of the trail (especially the last part) can be very sun-exposed and hot.
The Narrows is the ultimate slot Canyon .5 to 16 miles
Highlights
For miles one can hike the North fork of the Virgin River with sheer rock walls on both sides. The trailhead begins at the end of the Riverwalk trail at Temple Sinawaua. The Riverwalk trail is about a mile of paved road. The simplest way to hike the Narrows is a boomerang ? (out and back) hike until you run out of time or become tired, and turn around.

For the more adventurous, consider a top down overnight hike for 16 miles that begins on the private property Chamberlain ranch and ends at the Riverwalk. This hikes requires permits.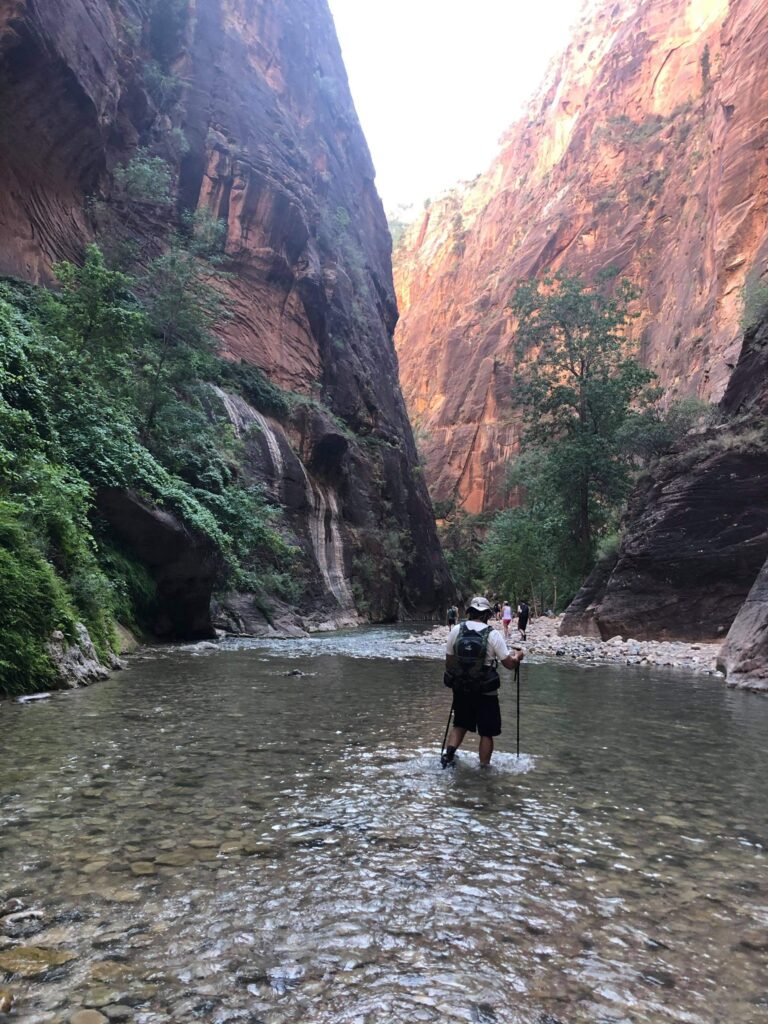 BEST TIME TO HIKE
Spring, Summer, and Fall.
Winter can get dangerous due to rain, snow and ice collecting on the trail and the water is cold ?. Portions can be closed in winter due to trail conditions and did I say the water is cold.
Summer is very crowded
SECRETS/TIPS
A walking stick or Trek poles and proper shoes will make a hike in the Narrows more enjoyable. We can not count how many people we passed alone the Narrows with bloody shins and knees because they slipped or tripped within the rapid rushing water.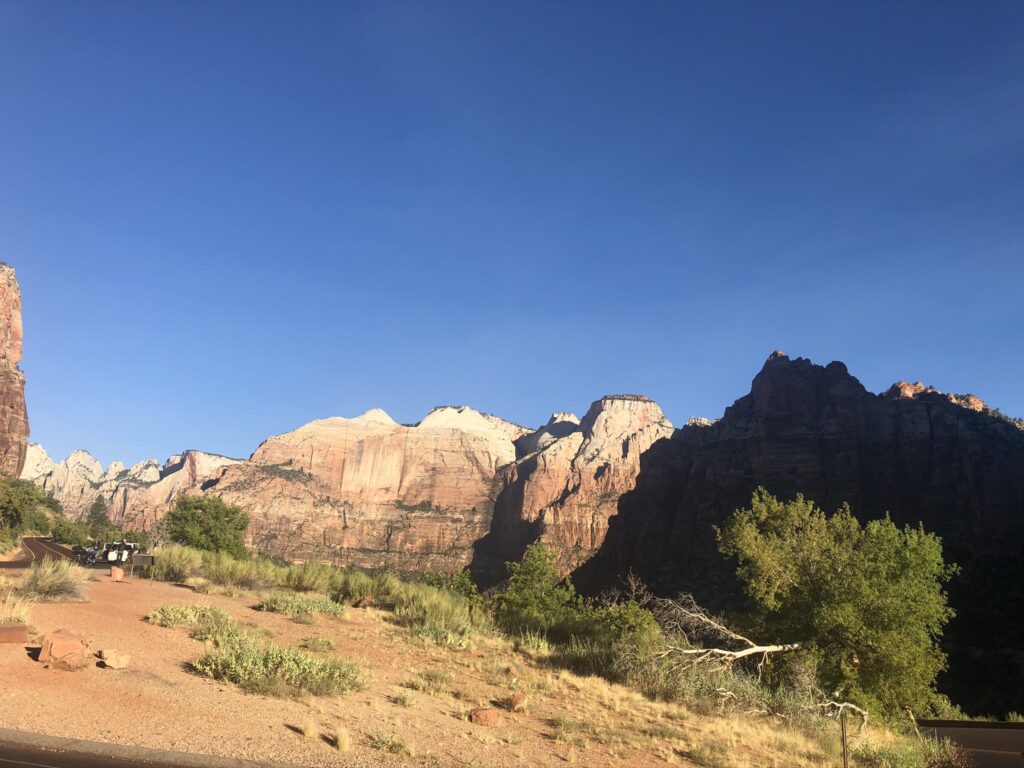 Robin love ? to cook ?‍? and her favorite accoutrement is this fish spatula from Amazon also check out her recipes within the webpage. All tried and delicious ? while on the road.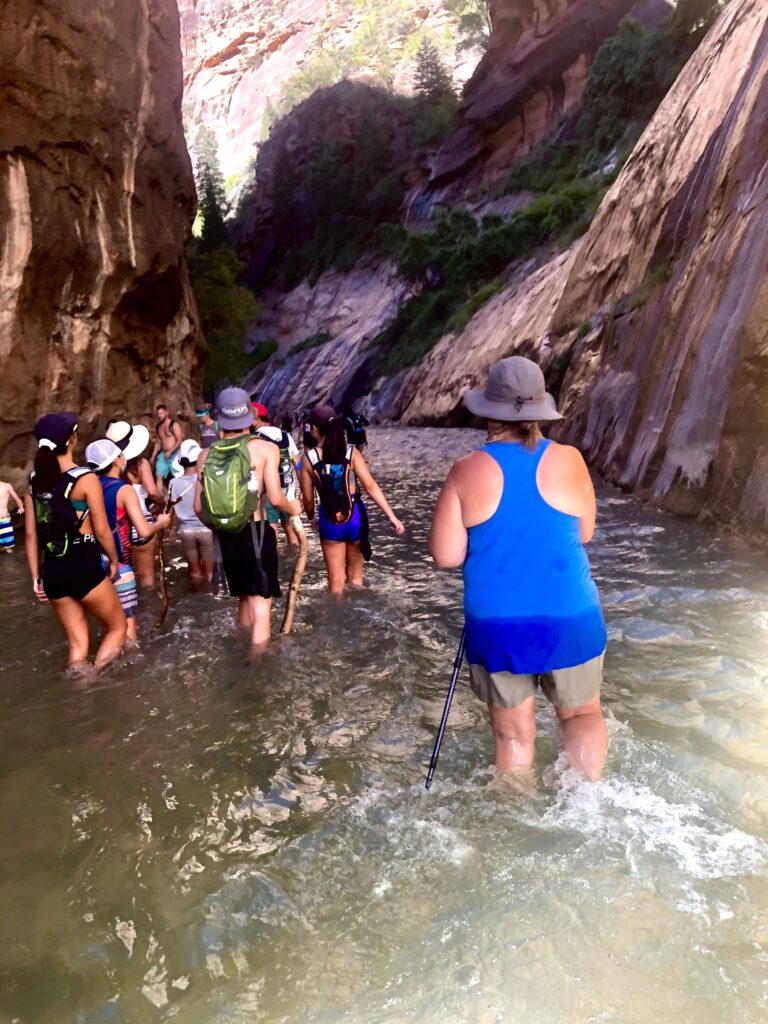 This site contains paid advertisements. By clicking the links it does not cost you any extra money as the seller pays Travelswithgg a referral fee. We will never place any links without 100% satisfaction of a product we use.
Traveling across the country is challenging enough to not have to worry about ones drinking water. We carry with us the Berkey water filtration system which we consider one of the best on the market
Biking Zion
Cycling is a great way to see Zion National Park and is a popular alternative to shuttle buses for accessing the Zion Canyon Scenic Drive.

Certain park operations, including the shuttle buses, have changed dramatically due to COVID-19. For more information, find out how COVID-19 will affect your visit.
General Regulations
Bicycling is permitted on all park roadways and on the Pa'rus Trail. All other park trails, off-trail routes, and the Zion-Mount Carmel Tunnel are closed to bikes.
Bicycles must ride single file on the right side of park roads and the Parus Trail.
Please wear your helmet!
Cyclists are limited to groups of 6 bikes or less. Larger groups prevent vehicles from passing them in a safe manner on the narrow park roads. Groups of more than 6 bikes can split into smaller groups but must be separated by one quarter mile or more.
Bicycles are allowed on the park shuttle buses, though you will need to be able to lift the bikes on and off the front racks yourself.
Pa'rus Trail
The Pa'rus Trail is a multi-use path with foot and bike traffic, so slow down and please be considerate of other visitors.
Bicyclists must obey all traffic signs including stop signs. The side trail to the Human History Museum is not open to bicycles.
There are lots of turns, bridges, blind corners, and wildlife along the trail. Cyclists must warn pedestrians before passing, either verbally or with a horn or bell. Pedestrians have the right of way. Bikes must stop if the path is not clear.
Be careful when passing wildlife and pets. The speed and sound of a bicycle can startle animals.
The Pa'rus Trail begins at the Zion Canyon Visitor Center and can take you to the Zion Canyon Scenic Drive without the need to ride on UT-9 (the Zion-Mt Carmel Highway).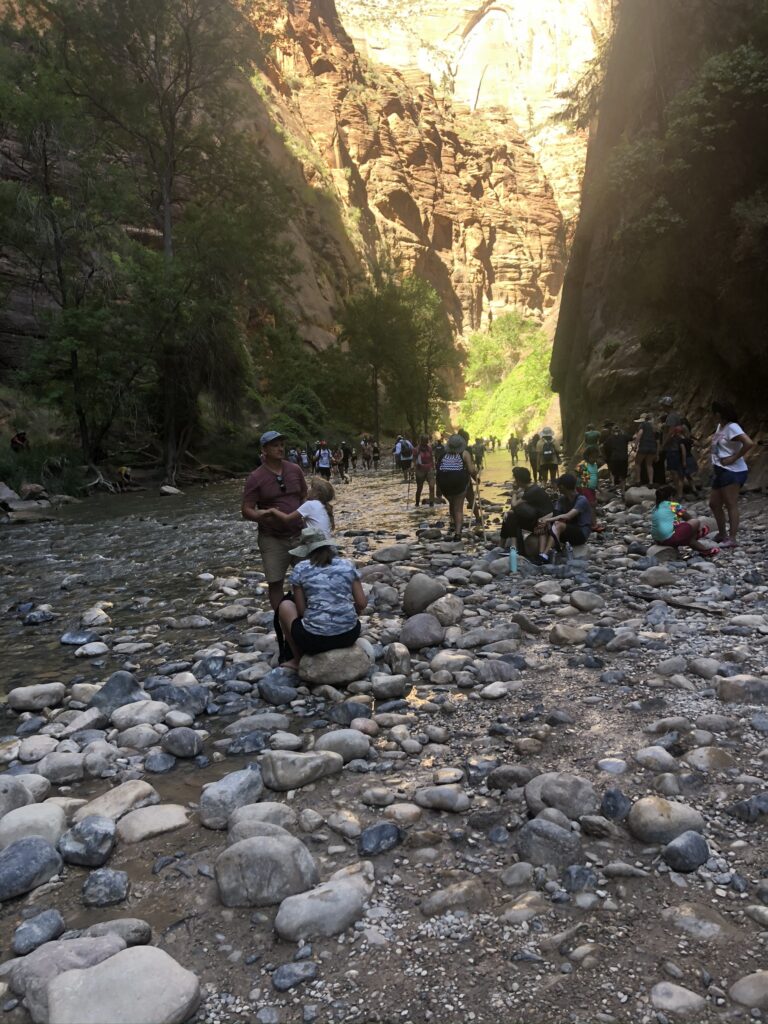 The town of Springdale is just outside the gates of Zion along with Virgin and Hurricane, Utah.
Explore the awesome little town that hosts Zion National Park travelers. We drove through Springdale but due to Covid-19 we did not dine at any of the quaint establishments and there are a lot of quaint establishments!
Every big destination needs a host city – somewhere to get you fed, watered and rested before you set out on your adventure. Cuzco is basecamp for Machu Picchu, the Acropolis sits above Athens and Zion National Park has Springdale.
Springdale ~ sits on the southern border of Zion with a population of 529. It rests in the shadow of the towering red, white, and pink striped cliffs that define Southern Utah, essentially an incorporated annex of the park proper, giving you incredible views right from the main drag, aptly named Zion Park Blvd. It's got plenty of entertainment for those of us not quite ready to renounce civilization altogether, and lots of outdoor retailers for those of us who are. These retailers will rent you water shoes for a hike in the Narrows.
Springdale's the perfect getaway/gateway: Laid back, all the amenities and incredible access to unforgettable adventure.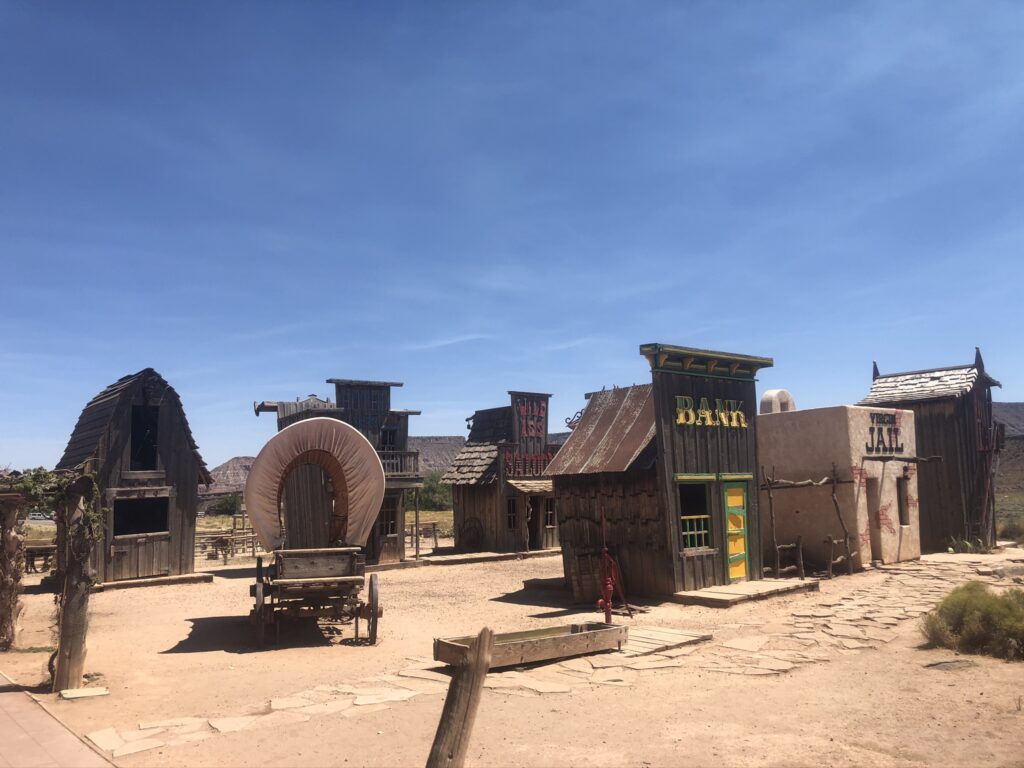 We drove to the town of Virgin, UT and purchased cactus jelly at a road side vendor. (Delicious) ? There is no limit to the road side attractions offered around the towns surrounding Zion.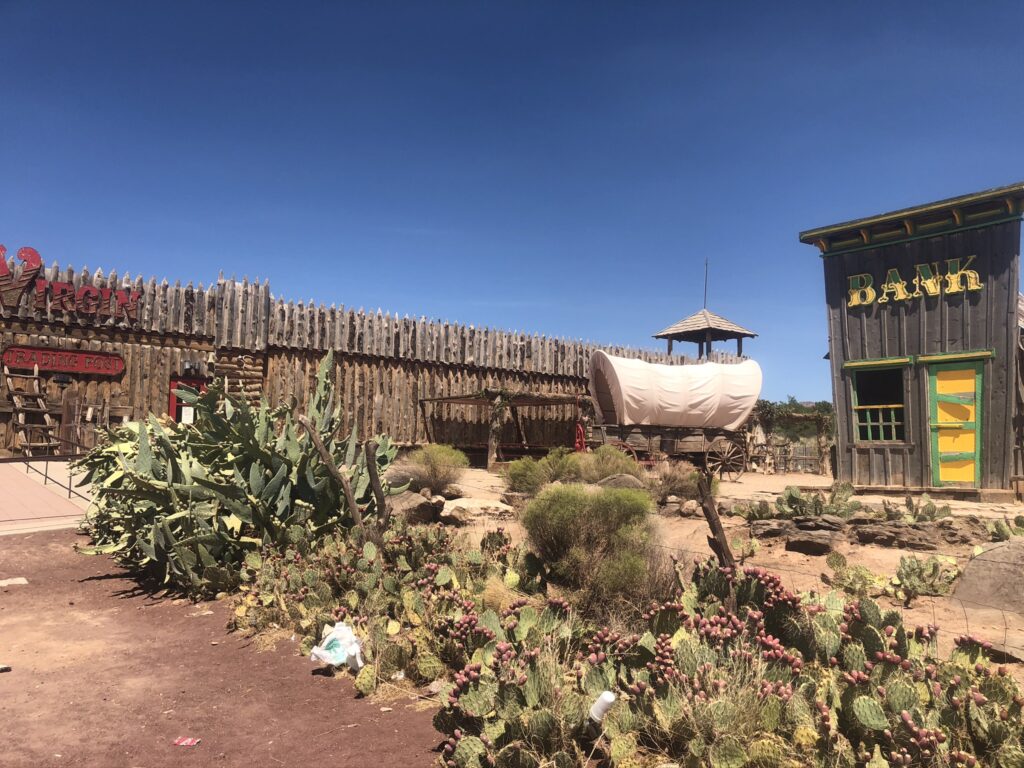 Money saving tip: Buy the annual national parks pass. The cost is $80. If you plan on being in any of the National parks more than three times you will save money. The pass will also allow you access to the National Monuments and sometimes discounts in the National Forest ?. There's also discounts for seniors which can be applied against camping threw out America. Other discounts apply so please read the eligibility we can save you more money. We estimate we saved over $600 in park fees.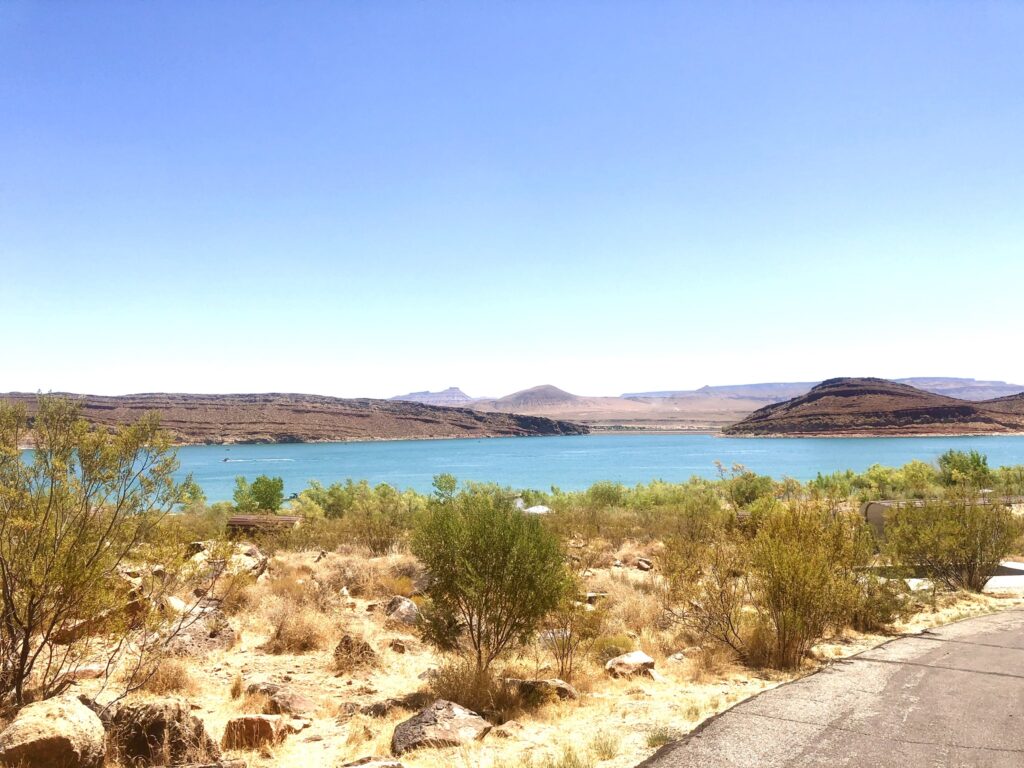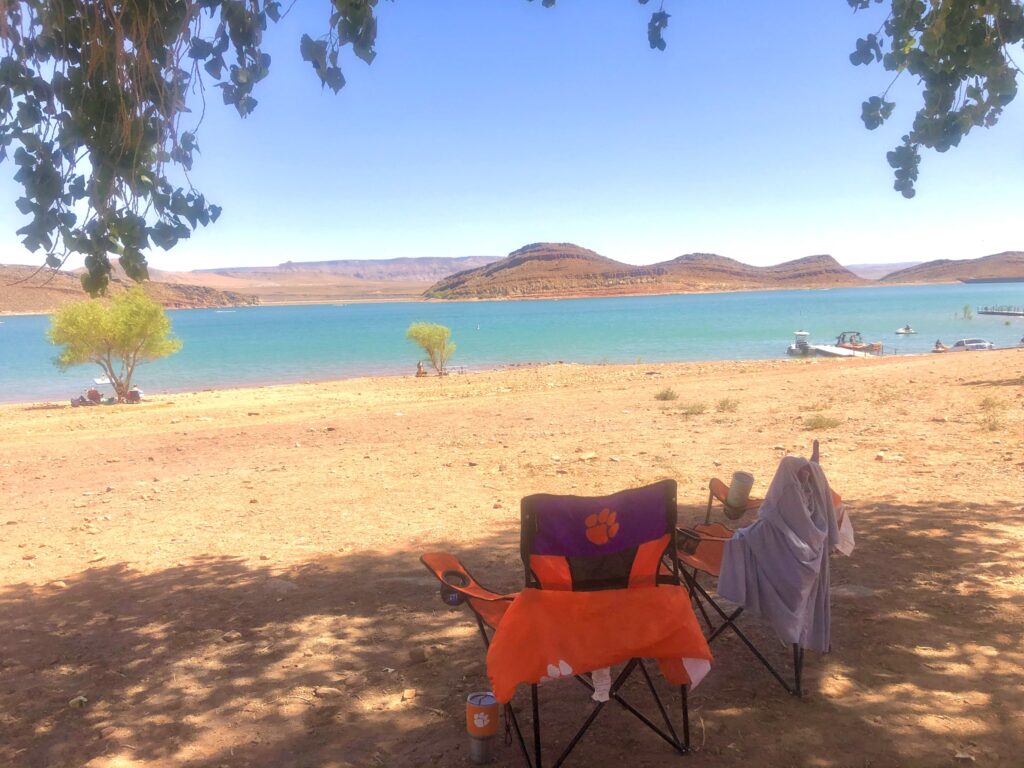 Quick link to Zion National Park Website
Drone flying is fast becoming a hobby of mine. After much research I purchased the Mini from DJI. I am very satisfied but still an amateur having a blast. Check out our drone videos within the blog which we hope you will enjoy.
Products we love ❤️

Paid ads-we recommend
After 12,000 miles on the road and hundreds of miles hiking ? throughout America, our Merrells have withstood all types of terrain and although they may be dirty, the quality is outstanding and are ready for the next 12,000.
Being on the water is very therapeutic and lots of fun. Space is always our issue so the inflatable kayak was our answer. Easy to inflate but we did buy a battery ? pump to make life easy. We have kayaked the lakes of Montana, Idaho, Arkansas, Minnesota, South Carolina, Arizona and the Intex has not let us down.
Robin's favorite outdoor cooking utensil
Great personal usb fans. Perfect for warm dry camping nights
Our Retro Jr offers only so much space so to expand the cooking area, Robin loves this easy to put up table from Lifetime. No issues after multiple setups and break downs.
We enjoy a good cup of coffee ☕️ and one of our favorite cafes offers a pour over. ( How to make the best pour over coffee) If you are still making coffee in a pot break the yoke of social conformity and consider alternatives to a drink of the gods (coffee) every morning. This Insta Pot has been a godsend to our travels.
Campers are for the most part very honest and friendly people. However, pulling GG through a city and leaving her to go explore can make one feel uneasy ? so this easy locking ? system was our solution.
Our teardrop does not come with a refridgerator do coolers are our life blood. We needed to keep our food cold for days on end and these coolers did the trick.
Grand daughter had her first birthday ? so the best gift was to start her love of camping. Love you ? Bridget.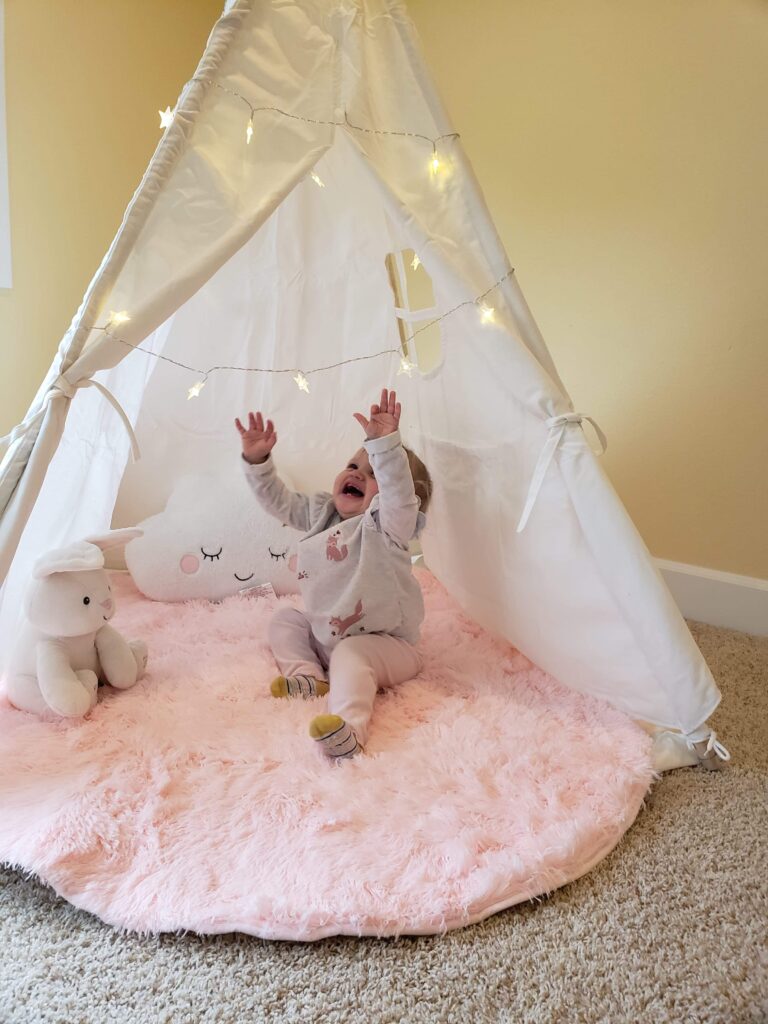 Traveling over 12,000 miles in a Teardrop trailer one realizes space is an issue. We highly a roof rack to aid in carrying more items ie inflatable kayak, life jackets, oars, and etc.
12,000 miles on the road, one of my best purchases was my Costa sunglasses ?. The glare from driving is gone and the polarized lenses intensified the colors of my surroundings.