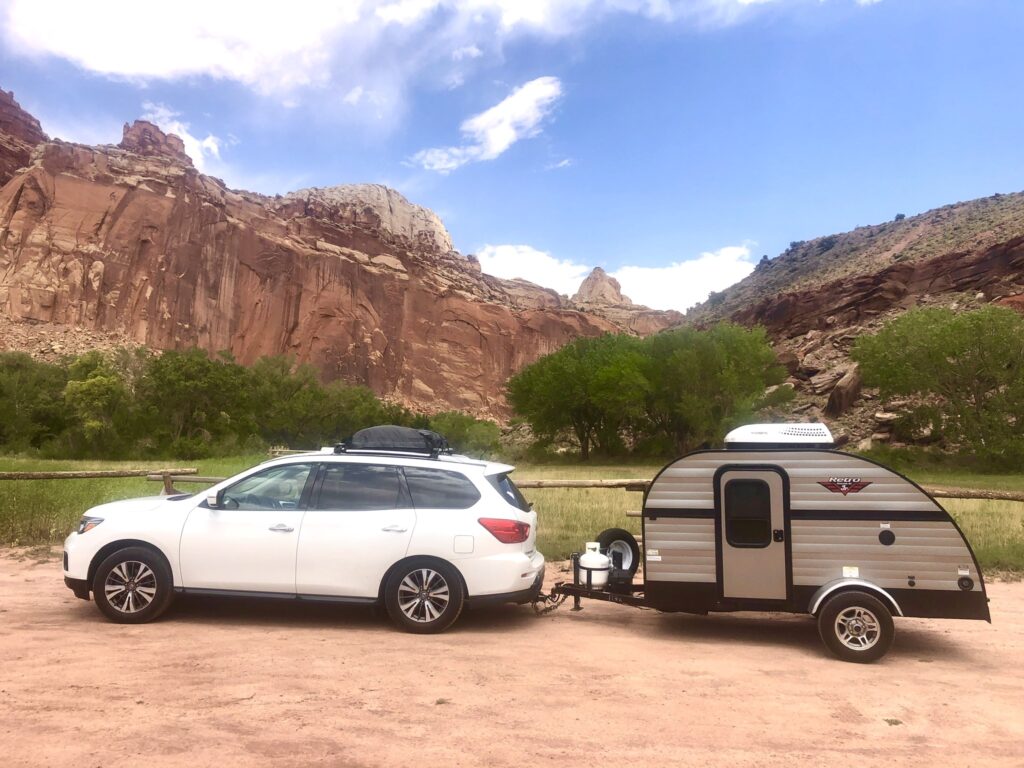 America the beautiful. It's time to go wondering. Our Drive to Capital Reef National Park from Bryce National Park was made spectacular because we chose to drive the scenic HWY 12 byway with a designation of an All America Road. Only one-third of America's scenic byways get this distinction, and it's given because these roads offer unique features that you can't find elsewhere making these byways tourist destinations unto themselves. Your adventure begins today.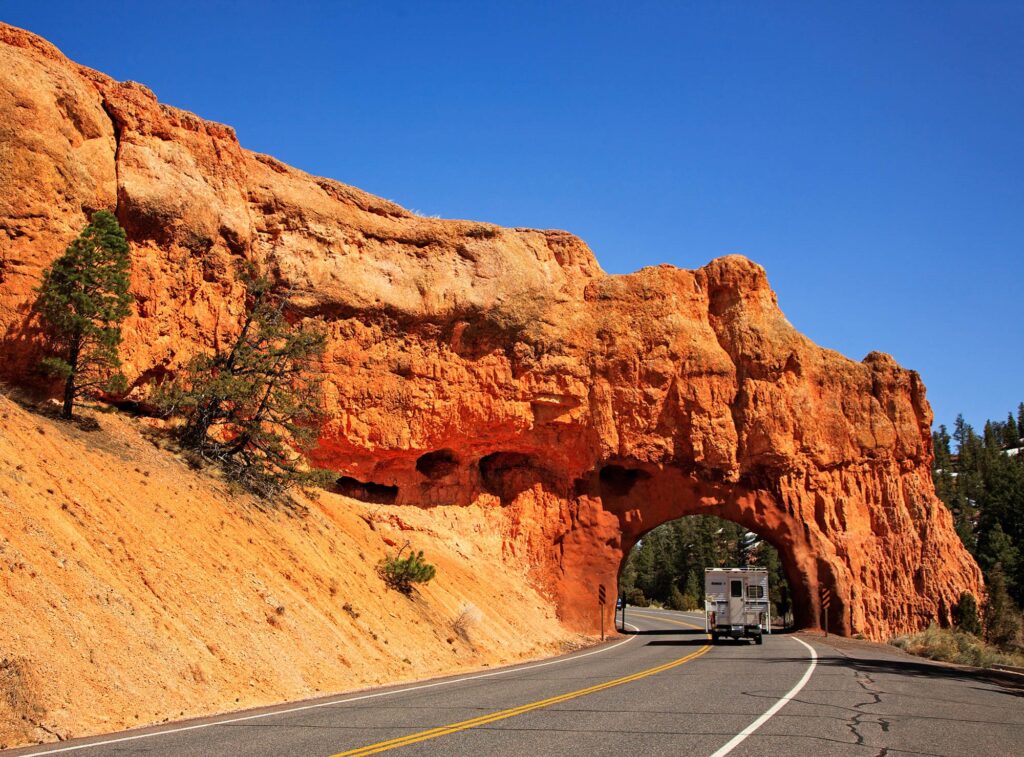 Hwy 12 is 122.863 miles (to be exact) of pure driving 🚙 bliss. Welcome to Utah's Scenic Byway 12, also known as "A Journey Through Time Scenic Byway." In short, fans of scenic driving, motorcycle 🏍 touring, epic bike rides, and people with a love of journey. It's even better if loved ones don't mind you saying "wow" a thousand times over the course of the 122-mile drive. Begin to plan your adventure today.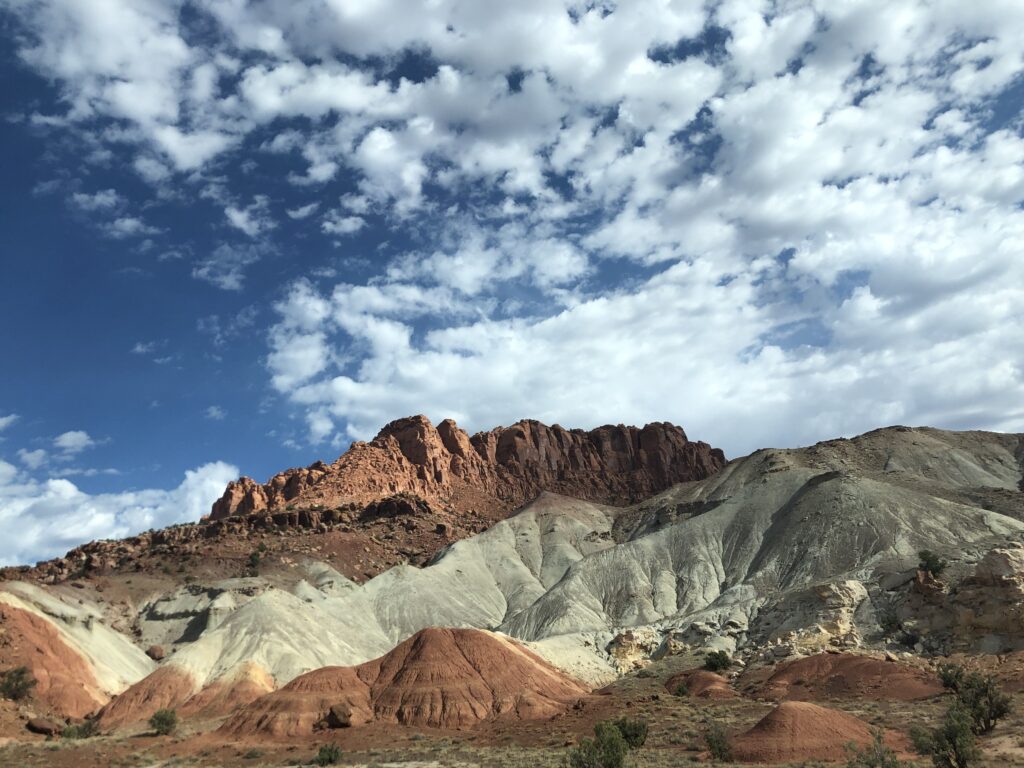 Amazon Launchpad Holiday Gift Guide
The All-American Road: Scenic Byway 12 connects U.S. 89 near Panguitch on the west with S.R. 24 near Torrey on the northeast. It is not the quickest route between these two points, but it far and away the best. We truly believe that often we have a destination in mind and the destination quickly takes a backseat to the journey as we climb into the Dixie National Forest. We could not stop pulling the car over to gawk and marvel at another overlook.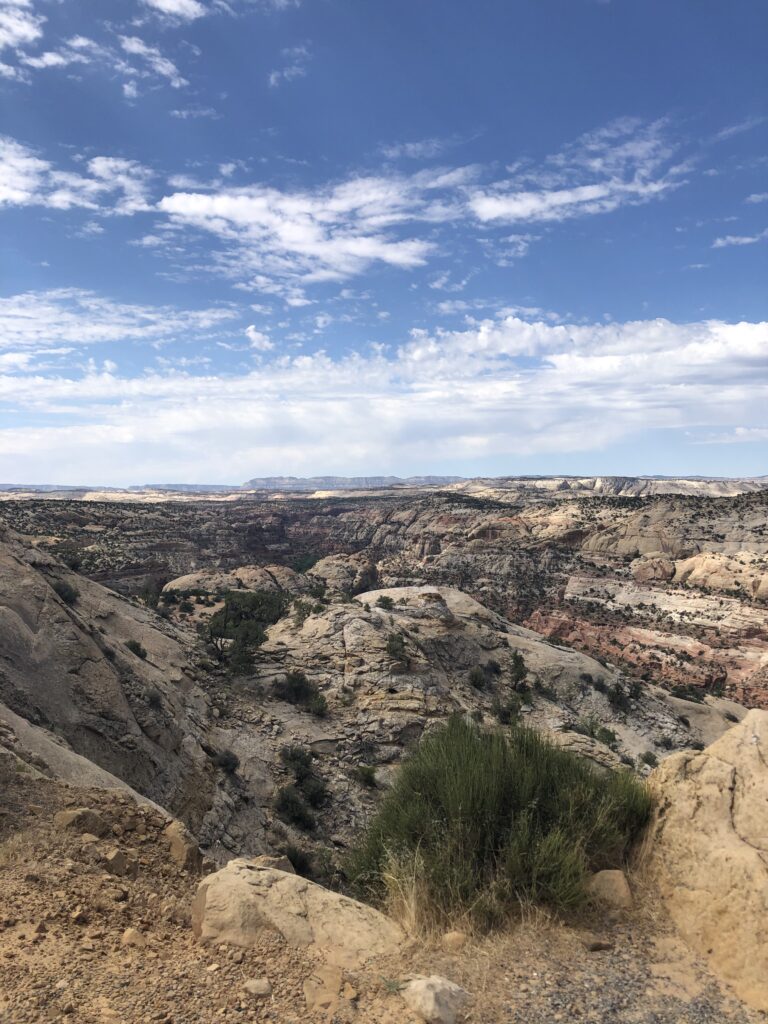 A stop at the scenic overlook near the road's summit at about 9,000 feet puts it all into perspective. Atmosphere envelopes distant lands, the Henry Mountains, Grand Staircase–Escalante, and the shimmering red rock of Capitol Reef National Park. Contrasting stands of subalpine fir and aspen decorate the immediate surroundings.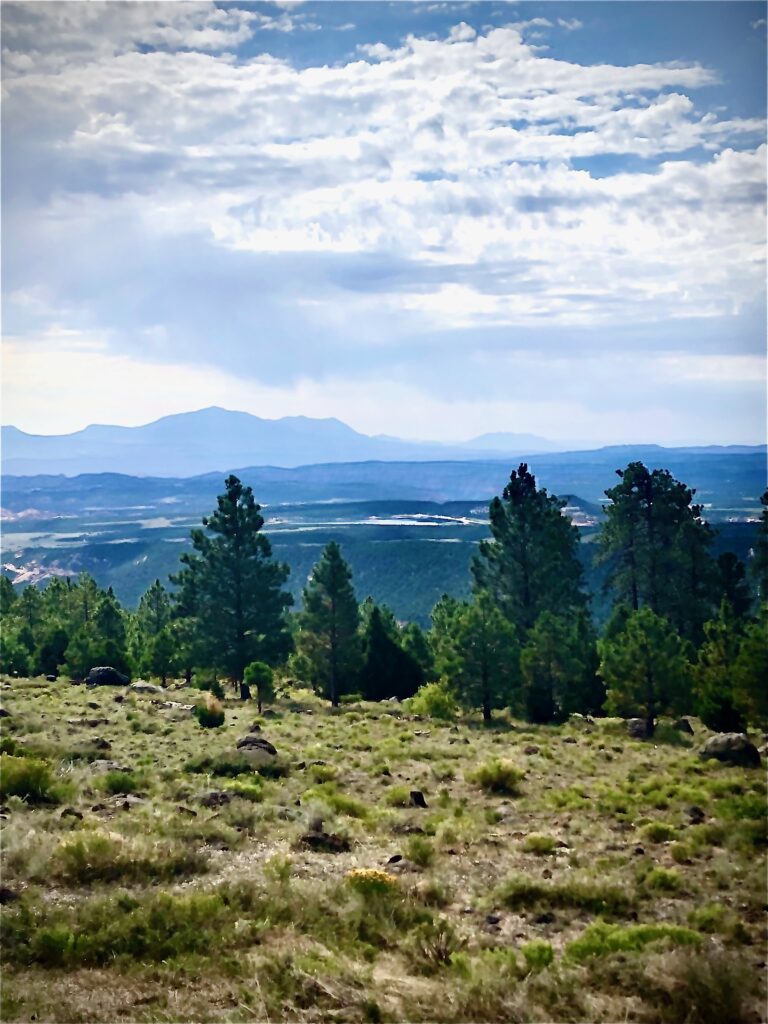 Rookie Mistake: This is one pretty epic road. Sure, the whole drive can be completed in three hours if you're just passing through. But on the other hand — If we had a do over we would recommend a week exploring this stretch of roads and multiple state parks (Kodachrome Basin, Escalante Petrified Forest, Anasazi State Park Museum), national parks (Bryce Canyon and Capitol Reef), scenic backways for travelers with 4 wheel drive(Cottonwood Canyon, Hole-in-the-Rock, Burr Trail, Hell's Backbone) and virtually endless outdoor recreation options on the expansive Dixie National Forest.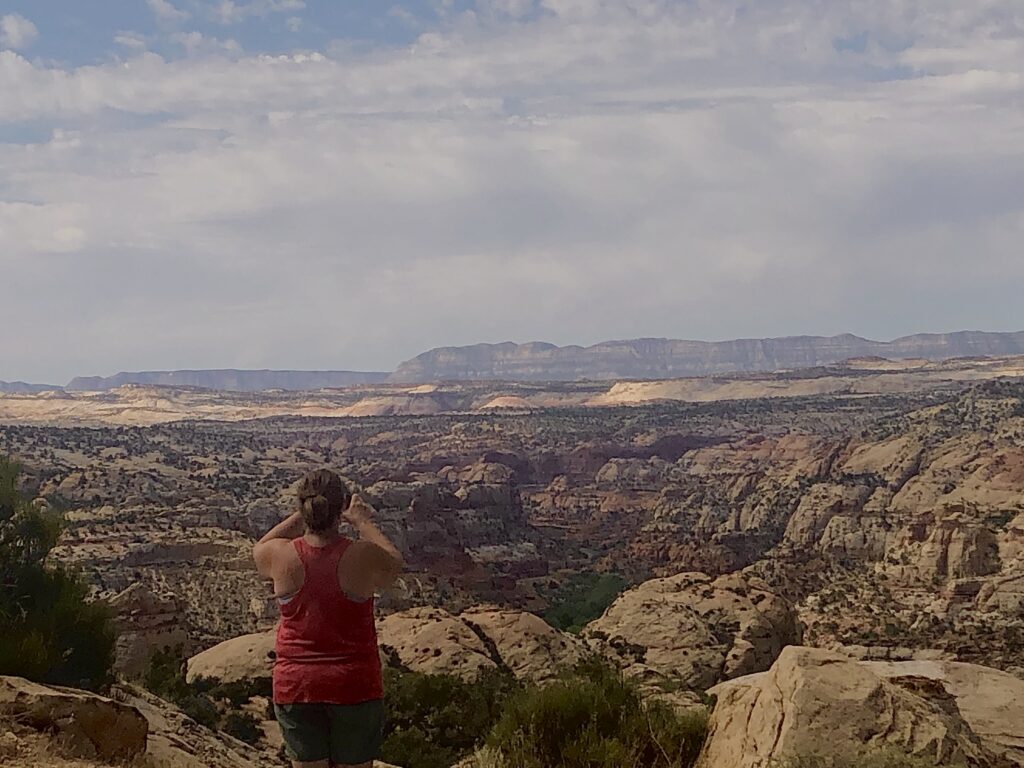 Road warriors need to pass the time when on the road. I highly recommend the Audible books 📚
Try Audible and Get Two Free Audiobooks
As you proceed east from Bryce Canyon ,you'll enjoy driving through the two red arches in Red Canyon. Then, you'll be in awe as you lay witness to the actual "stairs" in the Grand Staircase–Escalante National Monument just past Henrieville — a different color of sandstone to the north and to the south. Along the "Hogsback" between Escalante and Boulder, hairpin turns dare you on a road that drops off drastically from the shoulders down into deep canyons below.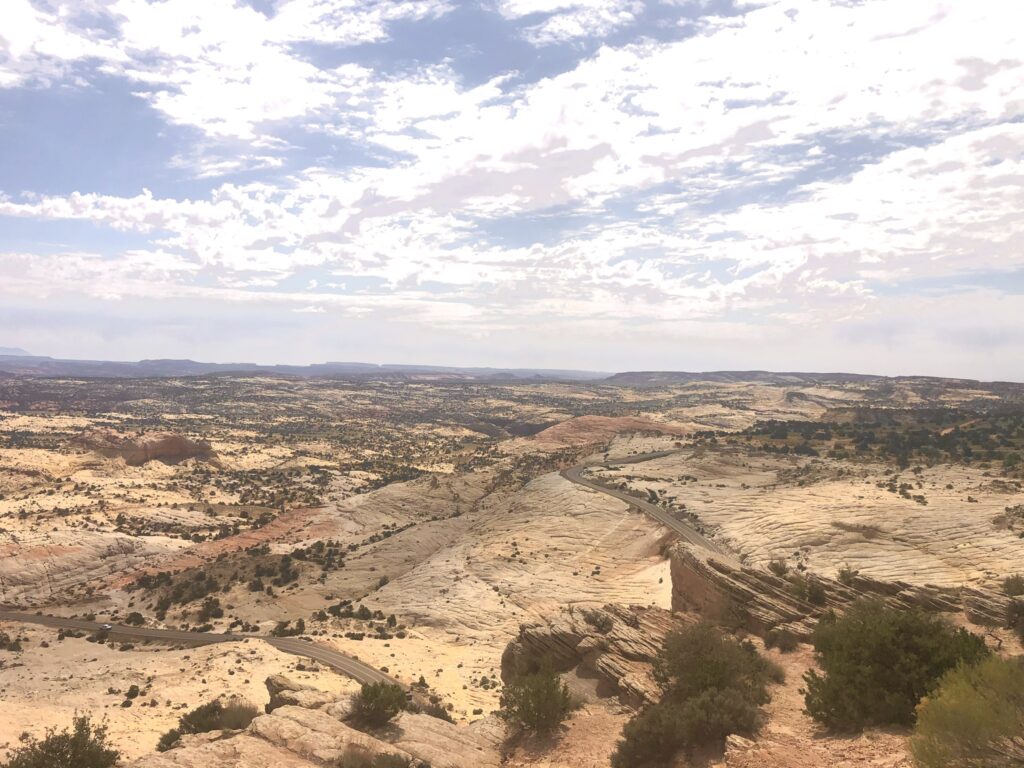 You'll yet again change geography as you traverse through the aspen and pine groves, and meadowlands of Boulder Mountain before finally heading back to the desert near Capitol Reef. Don't worry, there are plenty of pull-offs and scenic overlooks so you don't have to take pictures while driving (not recommended).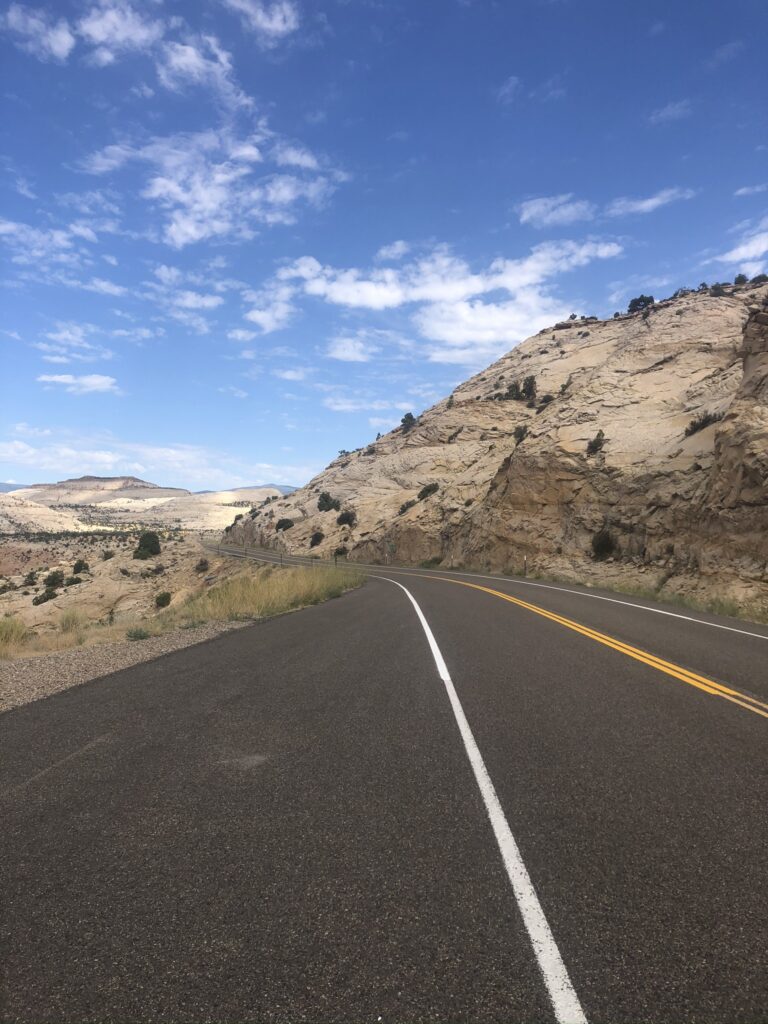 Capital Reef National Park
The Fruita Campground is often described as an oasis within the desert. Adjacent to the Fremont River and surrounded by historic orchards, this developed campground has 71 sites. This park has captured our hearts 💕 and was one of our favorite of Utah's Mighty 5 (Zion,Bryce, Capital Reef, Arches, and Canyonland).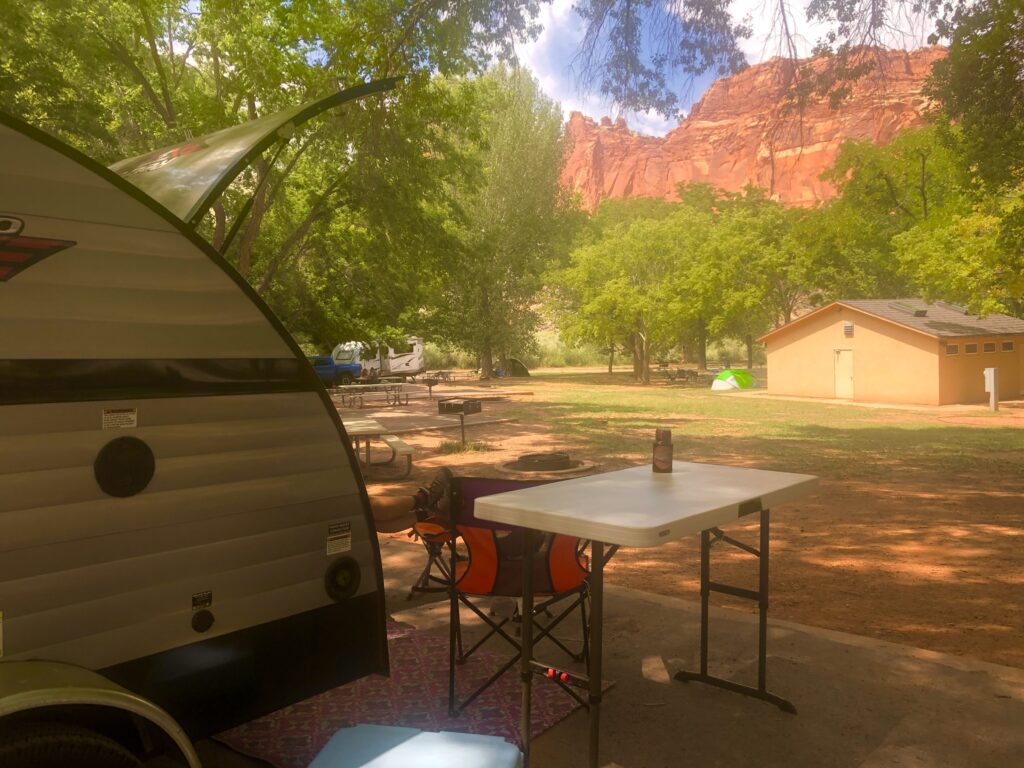 Robin love 💕 to cook 👩‍🍳 and her favorite accoutrement is this fish spatula from Amazon also check out her recipes within the webpage. All tried and delicious 😋 while on the road.
Each site has a picnic table and firepit and/or above ground grill, but no individual water, sewage, or electrical hookups. There is a RV dump and potable water 💦 fill station near the entrance to Loops A and B. Restrooms feature running water and flush toilets, but no showers 🚿. Accessible sites are located adjacent to restrooms. The campsites are a little close together for our liking however sleeping under the red canyons in a historic orchid was out of this world.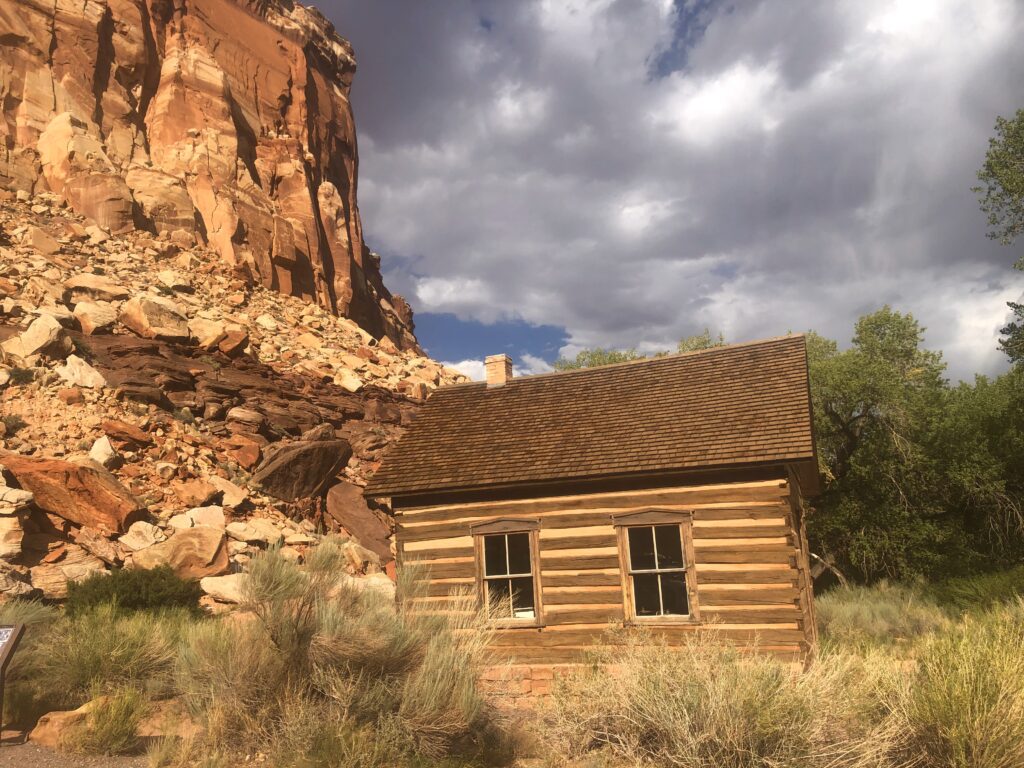 The nightly fee is $20.00 ($10.00 for Golden Age/Senior Pass or Golden Access/Access Pass holders). Check-out time is 11:00 am. The Fruita Campground is open year-round, and is the only developed campground in Capitol Reef National Park. Highly recommend: The Gifford House Store and Museum sells baked goods, coffee and tea, canned goods, ice cream 🍦, and other snacks during the spring and summer season (usually March through October). We purchased the homemade pies 🥧 and cinnamon rolls. They were delicious 😋.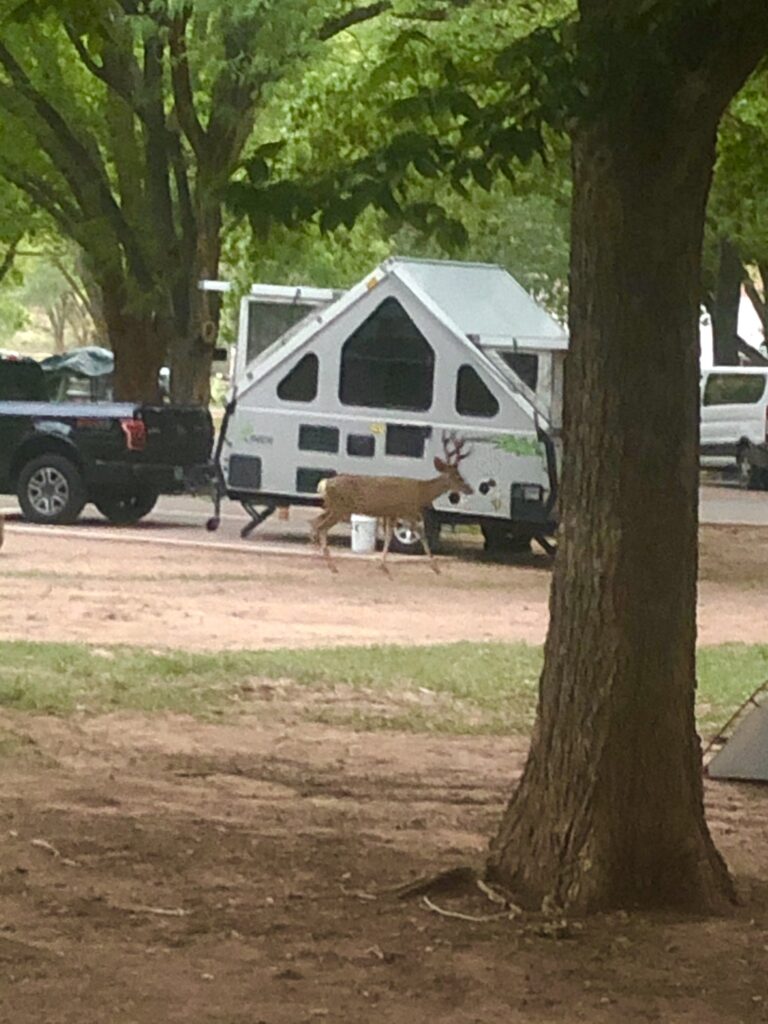 The Fruita Historic District could be considered the heart of Capitol Reef National Park. For thousands of years, people have called this verdant valley home. Now the Fruita Historic District offers visitors opportunities to experience amazing geology, learn about human history, and explore a diverse landscape. We were amazed to view the petroglyphs along the trails. Capital Reef offers a little something for everyone and is not as crowded as many of the other Utah parks.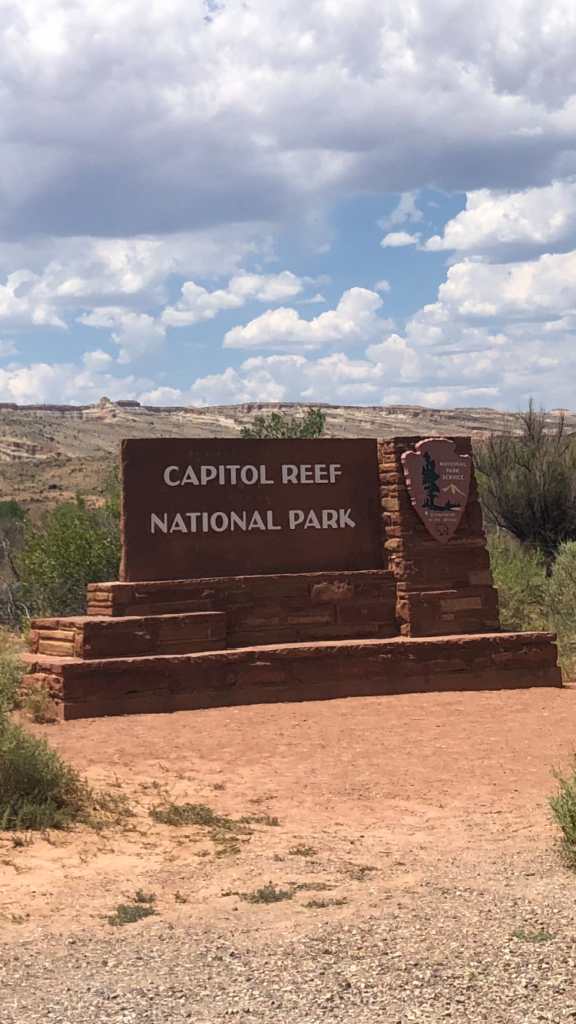 This site contains paid advertisements. By clicking the links it does not cost you any extra money as the seller pays Travelswithgg a referral fee. We will never place any links without 100% satisfaction of a product we use.
Traveling across the country is challenging enough to not have to worry about ones drinking water. We carry with us the Berkey water filtration system which we consider one of the best on the market
Hiking in Capital Reef
When you die and get to watch the movie of your life, you'd better hope there's a montage about when you hiked all of the following. If not all the angels will pity you and it will be awkward.
Hickman Bridge: This gawk-worthy natural bridge is a three-for-one nature special: After a short hike and a moderate amount of effort, you'll see the bridge in question, its kid sister — the miniature Nels Johnson bridge — and the ruins from a Fremont pit house. Now that's some efficient fun!
Cathedral Valley: Want to see all the world's religious architectures done in red rock by an invisible geologic hand? Head over to the remote Cathedral Valley, where you can wander amongst the Temples of the Sun, Moon and Stars, as well as the Walls of Jericho. When you're done picking your jaw off the ground, head away from these stone monoliths to Glass Mountain — a hill of shimmering crystals — or the giant Gypsum Sinkhole.
Goosenecks Overlook: Get some perspective on life and eons of geologic time with this quick jaunt to a vista overlooking Sulphur Creek, which winds it way in tight turns through a layer cake of rainbow rock 800 feet below.
View all hikes at Capitol Reef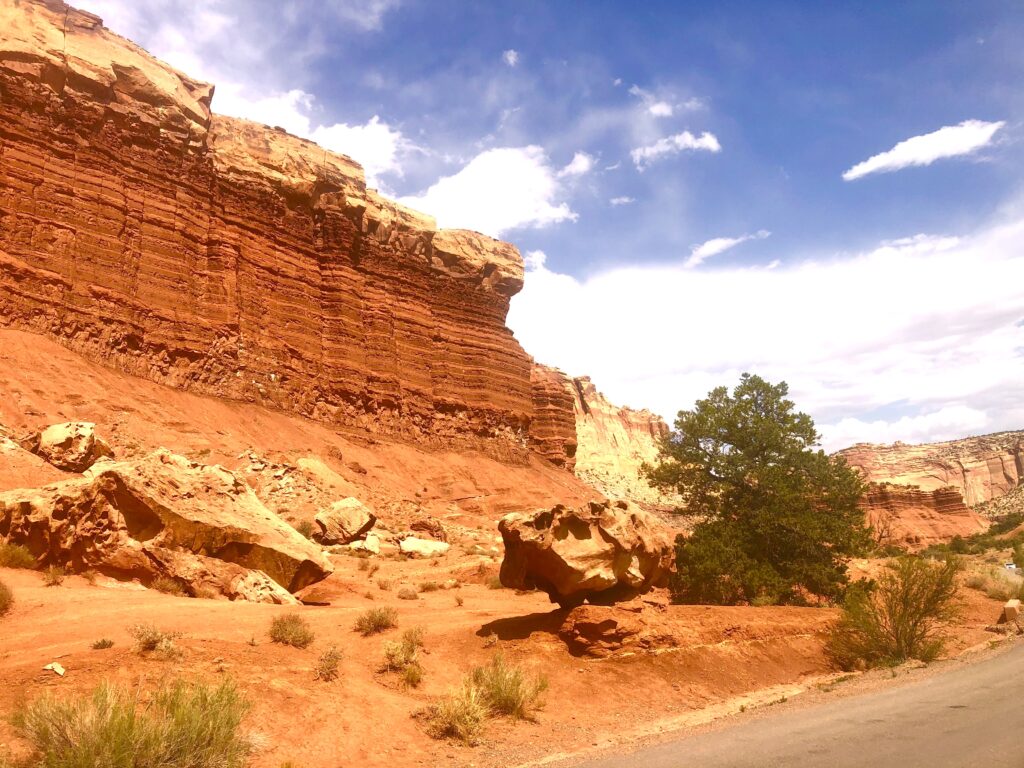 Must do the scenic drive through the park.
The Scenic Drive is a 7.9 mile (12.7 km) paved road, suitable for passenger vehicles. Allot about an hour and half roundtrip to drive the Scenic Drive and the two dirt spur roads, Grand Wash and Capitol Gorge. Unless you are advised roads are not safe, we recommend driving into the gorge on the dirt road all the way to the end. It is almost as impressive as Scenic Hwy 12.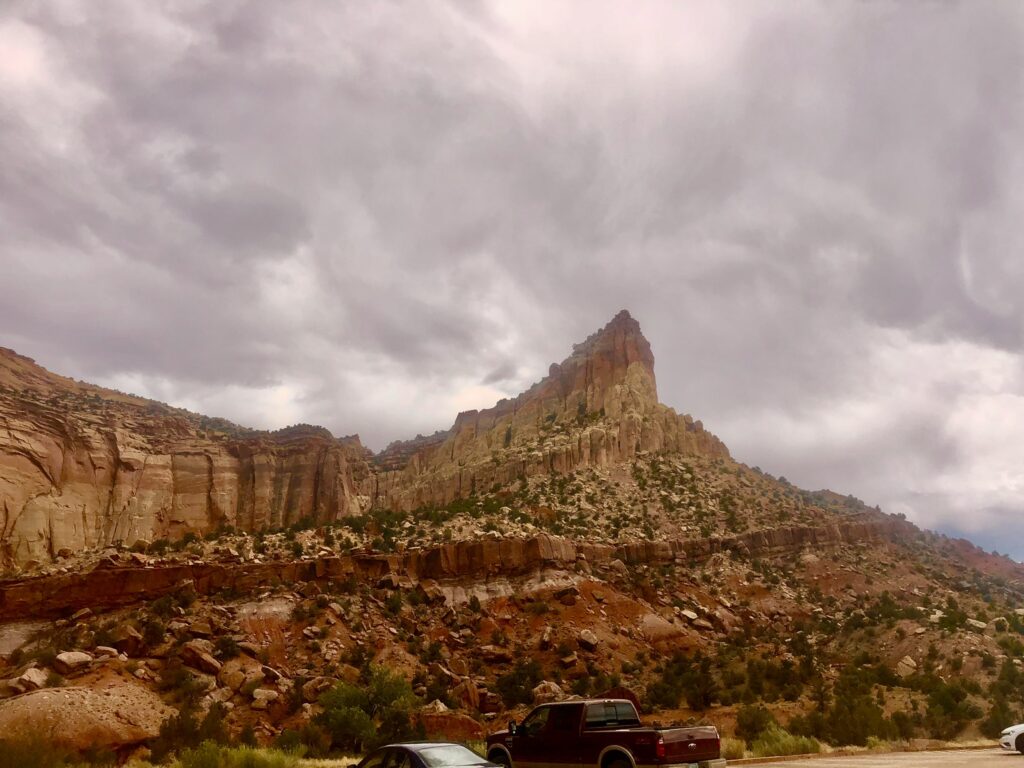 These dirt spur roads enter canyons and lead to trailheads, and are usually suitable for passenger cars and RVs up to 27 feet in length. The Scenic Drive, Grand Wash, and Capitol Gorge roads can be closed due to snow, ice, mud, and flash floods. Check at the visitor center, or call 435-425-3791, for possible road closures.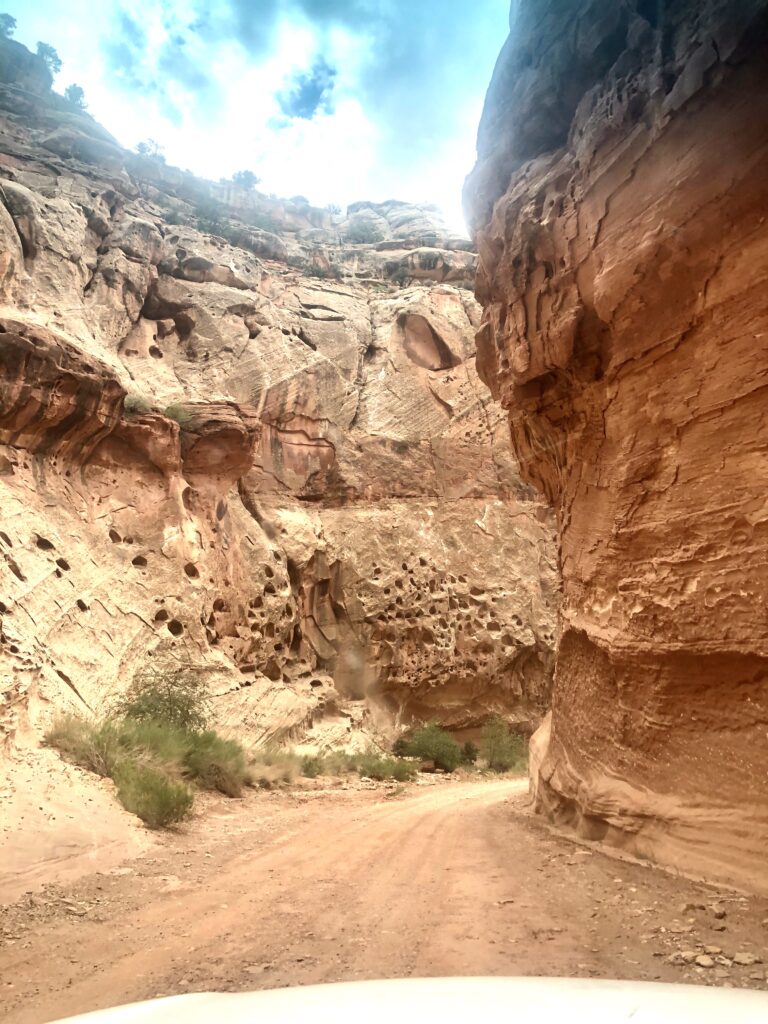 Off Road Trail near Capital Reef
Off-road enthusiasts are required to keep vehicles on designated routes when driving within Capitol Reef National Park. That said, inside the park there are rugged routes leading into scenic areas, and many of the park's colorful vistas may be experienced from jeep trails just outside park boundaries. Recommended drives include: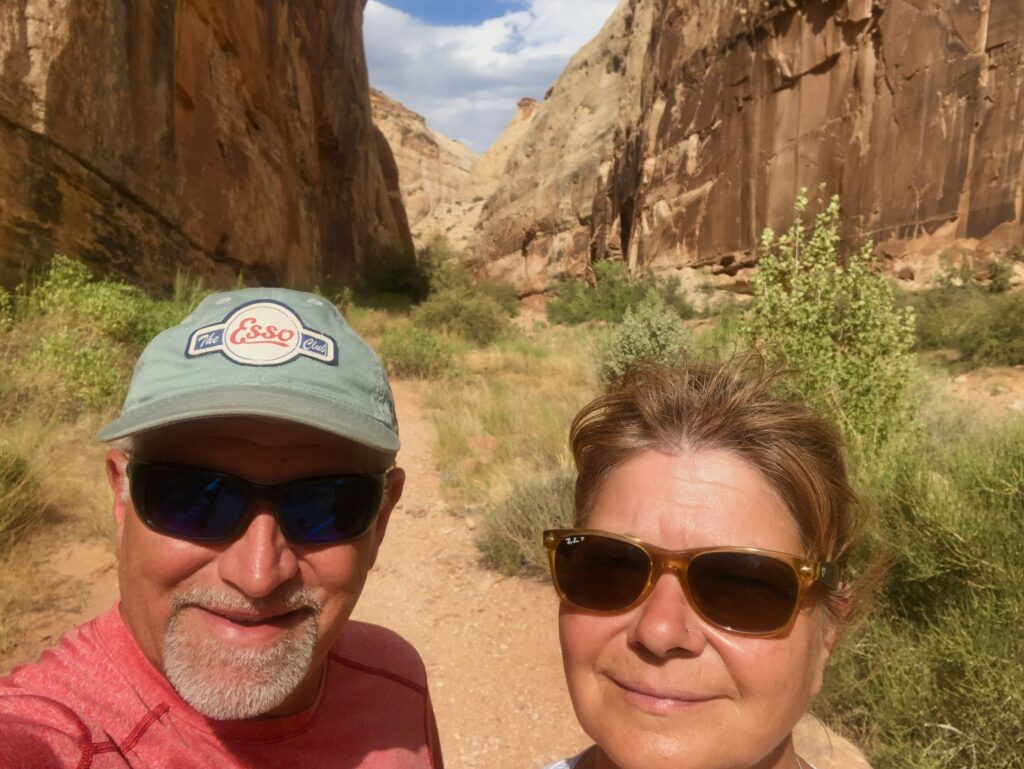 Cathedral Valley
Vehicles with good ground clearance can usually negotiate the 58-mile loop road through spectacular Cathedral Valley's stark landscape, past such landmarks as the Temples of the Sun & Moon and Glass Mountain. Road conditions can vary greatly depending on recent weather conditions so check at the visitor center for current road and weather information before visiting Cathedral Valley.
Hartnet Road
The western half of the Cathedral Valley Loop, or the Hartnet Road, begins 11.7 miles east of the Visitors Center off Utah Hwy 24. Visitors must ford the Freemont River soon after leaving the highway, which may require a 4WD vehicle, in order to take this route to Cathedral Valley. The remaining 24 miles provide a sweeping view of the Blue Flats and the South Desert. High clearance vehicles are recommended. Travelers should stop by the Visitor Center for the most recent updates on weather and road conditions.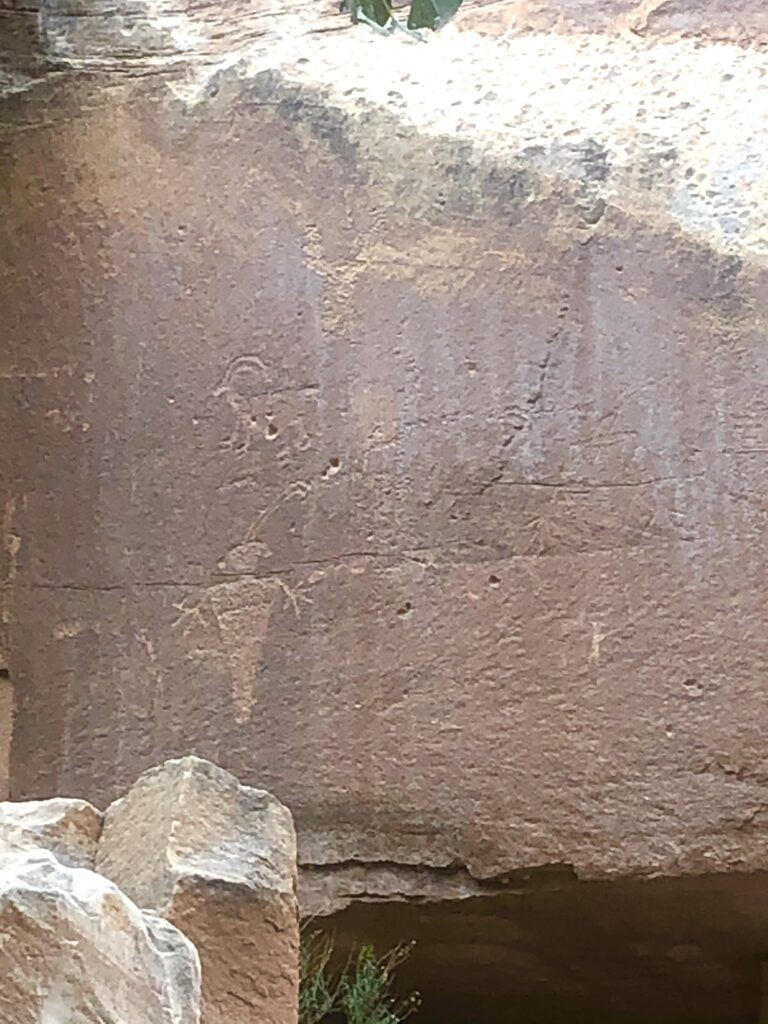 Caineville Wash Road
The eastern side of the Cathedral Valley Loop, or the Caineville Wash Road, begins 18.6 miles east of the Visitor Center. By taking the eastern side of the Cathedral Valley Loop, visitors avoid the Fremont River Ford. For those planning to drive the entire loop it is recommended that they start at the River Ford to make sure they are able to make the crossing. Conditions on the Caineville Wash road vary widely based on recent weather. Check with the Visitor Center for current road information.
Burr Trail
The Burr Trail is one of the most popular backroads in southern Utah. From Boulder, it extends for about 68 miles through Grand Staircase-Escalante's Long Canyon and Circle Cliffs, the Waterpocket Fold of Capitol Reef National Park, and other amazing scenery to Hwy 276 above Bullfrog Marina on Lake Powell.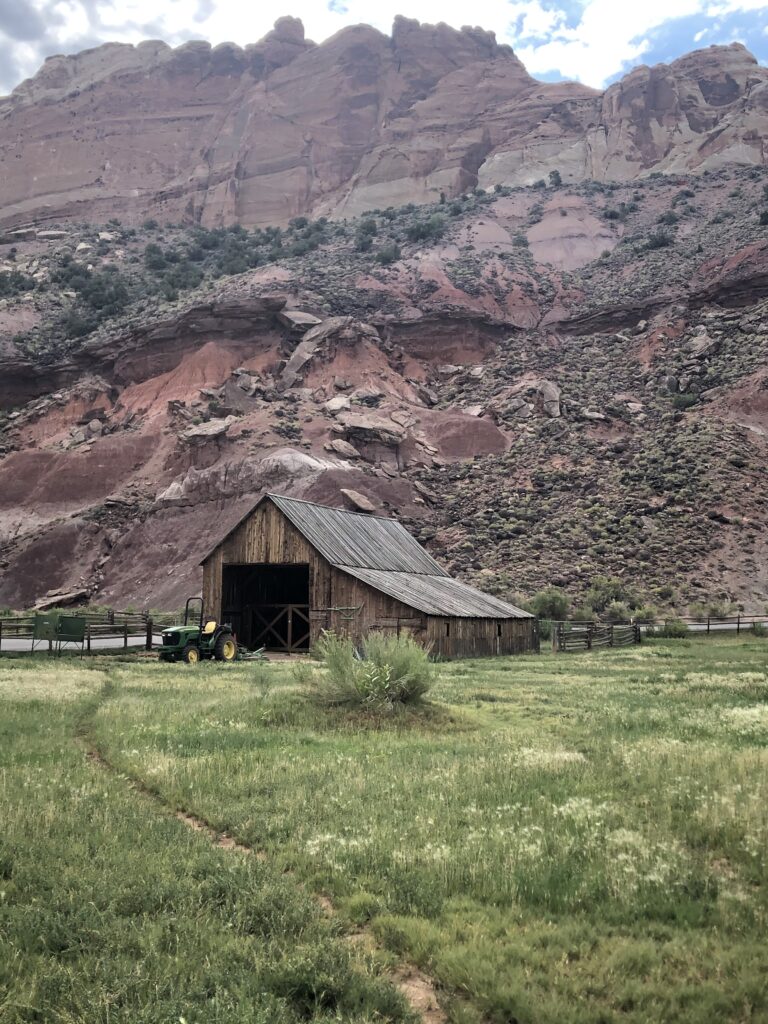 Boulder Mountain
Boulder Mountain, south of SR 24, has many roads that are excellent for 4-wheel drive vehicles. North of Boulder Mountain, over the back of Thousand Lake Mountain via Loa and Fremont, is a ruggedly scenic 25-mile route into Cathedral Valley in Capitol Reef National Park.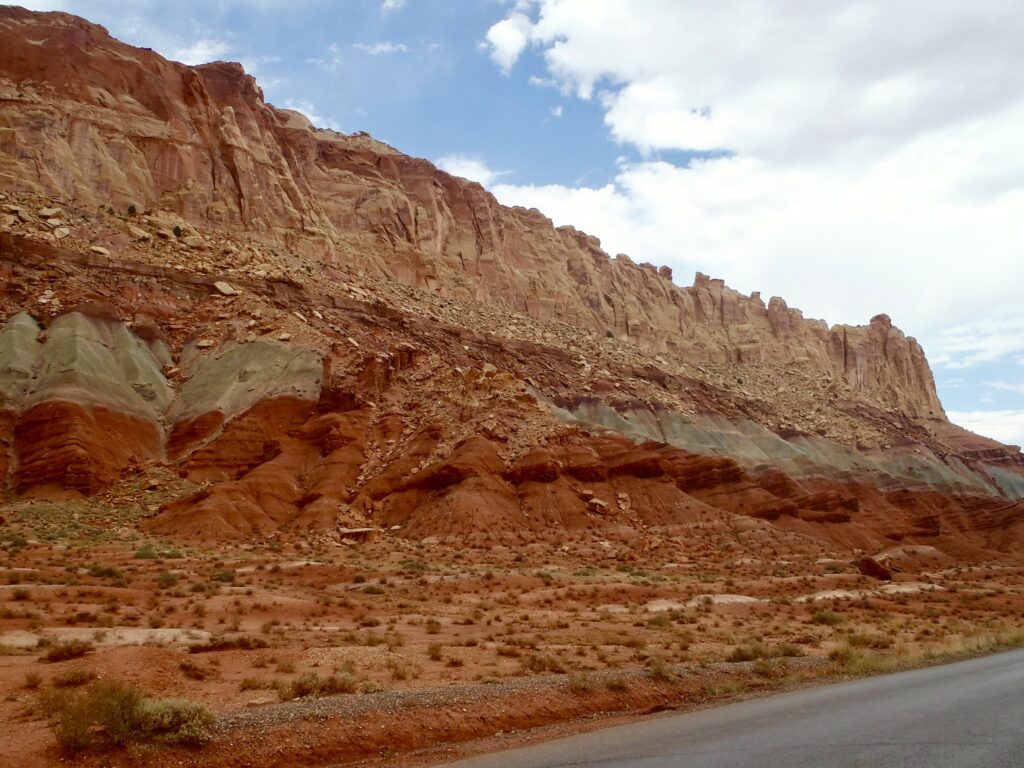 South Draw Road
This high clearance 4-wheel-drive road stretches from Pleasant Creek to the park boundary near Tantalus Flats. The road is rocky and rough, and crosses the creek several times. In harsh weather the road becomes impassable for even 4WD vehicles. Access to the road from Boulder Mountain is closed during winter because of deep snow.
Notom-Bullfrog Road
This dirt road intersects Utah Hwy 24 9.3 miles east of the Capitol Reef Visitor Center and stretches south to Bullfrog Marina. This road offers beautiful scenery as well as superb hiking; access to many of the park's backcountry trails can be found along this route. The condition of this road changes with the weather. It is recommended that visitors check with the Visitor Center before heading out.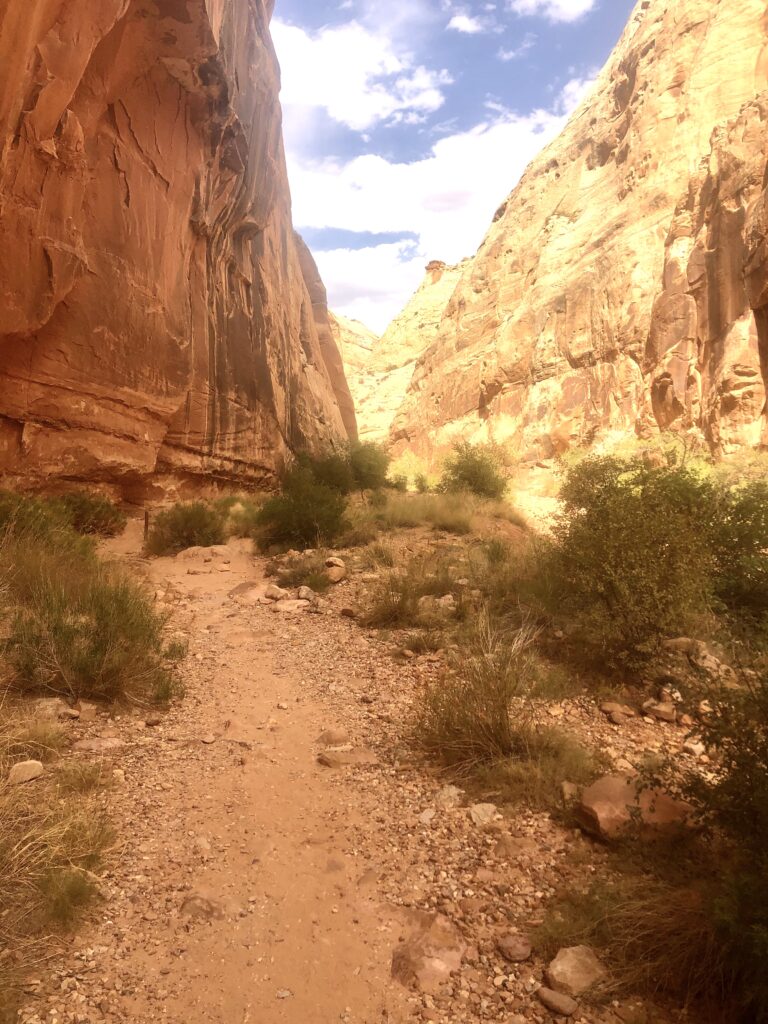 Money saving tip: Buy the annual national parks pass. The cost is $80. If you plan on being in any of the National parks more than three times you will save money. The pass will also allow you access to the National Monuments and sometimes discounts in the National Forest 🌳. There's also discounts for seniors which can be applied against camping threw out America. Other discounts apply so please read the eligibility we can save you more money. We estimate we saved over $600 in park fees.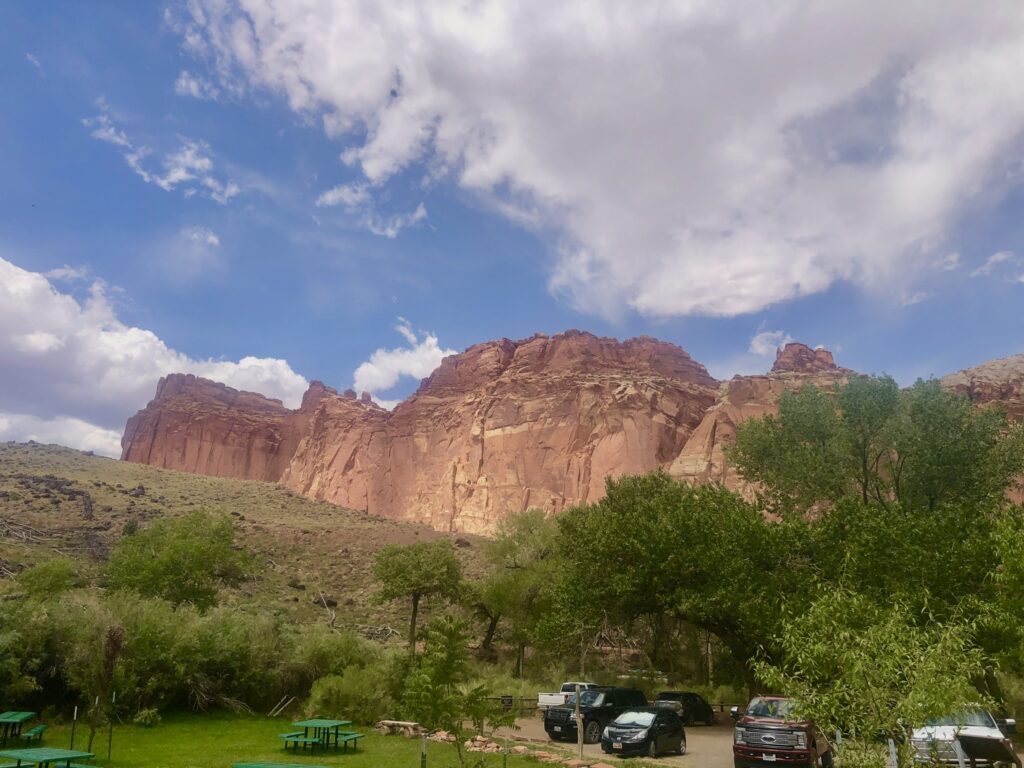 Mountain Biking options
Four designated roads throughout Capitol Reef National Park allow visitors to experience the splashes of colors via bike. Bicycles are not allowed off road, washes, closed roads, or other trails to protect the fragile desert environment. Bring plenty of water, as water is difficult to find on all routes. Reservations may be required; so check with the visitor's center for availability. For overnight trips, camping is allowed in three designated campgrounds or along nearby BLM or USFS lands.
A handout available at the visitor center identifies and describes recommended routes.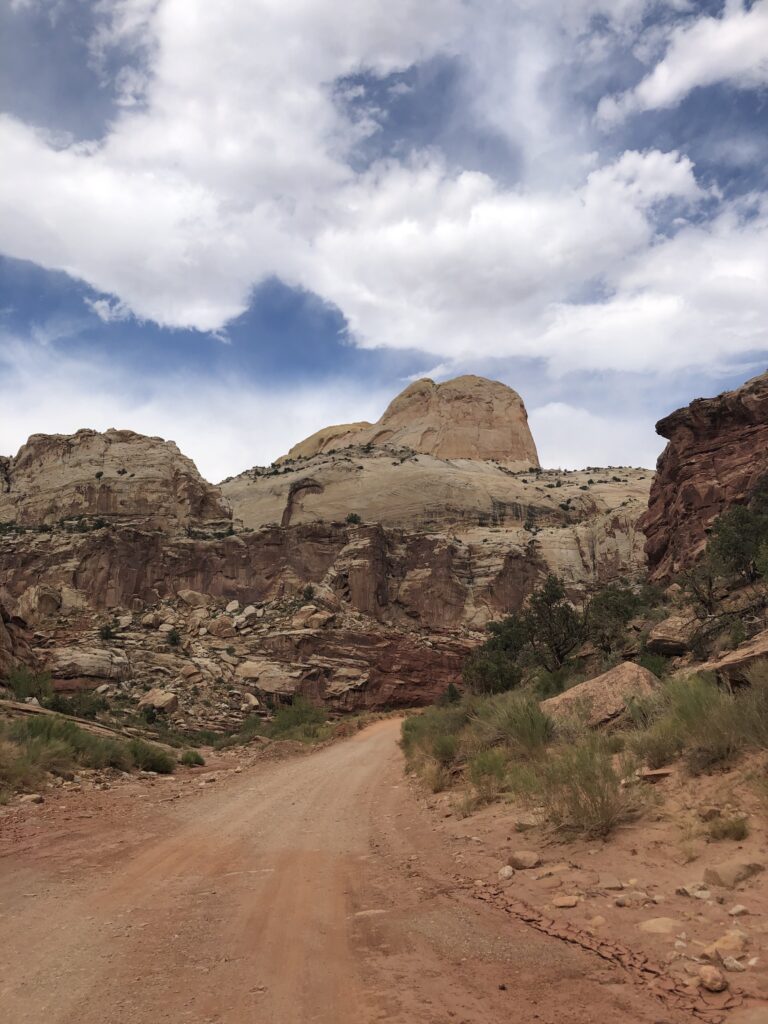 Quick link to Fruita Campground Website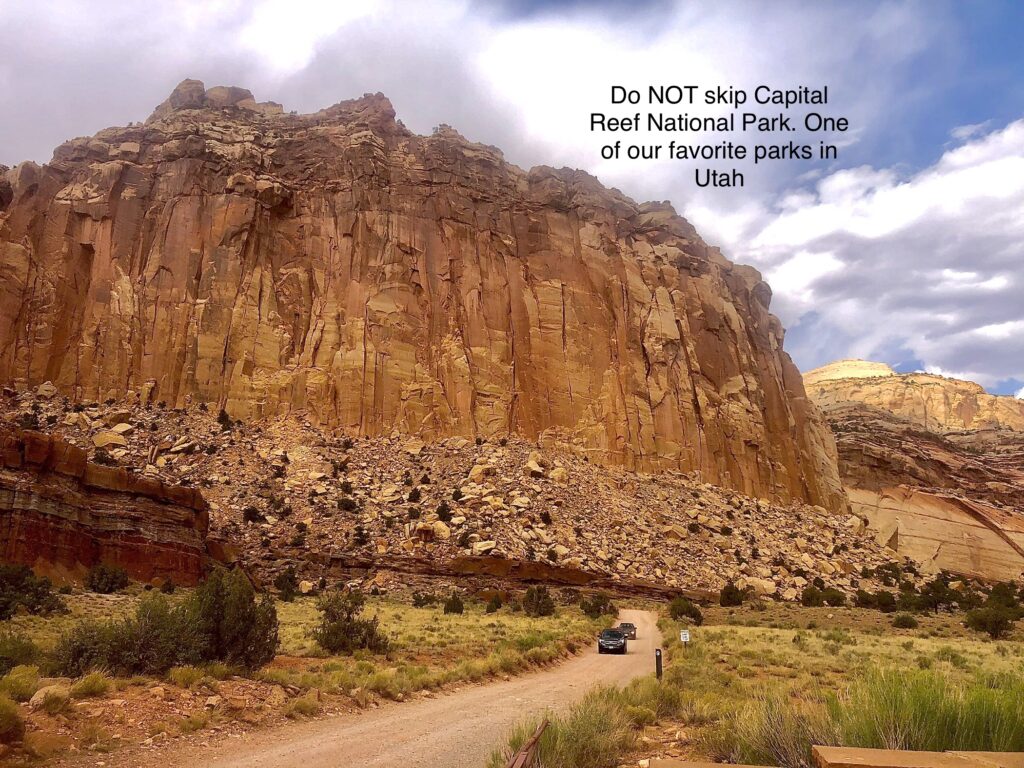 Drone flying is fast becoming a hobby of mine. After much research I purchased the Mini from DJI. I am very satisfied but still an amateur having a blast. Check out our drone videos within the blog which we hope you will enjoy.
Products we love ❤️

Paid ads-we recommend
After 12,000 miles on the road and hundreds of miles hiking 🥾 throughout America, our Merrells have withstood all types of terrain and although they may be dirty, the quality is outstanding and are ready for the next 12,000.
Being on the water is very therapeutic and lots of fun. Space is always our issue so the inflatable kayak was our answer. Easy to inflate but we did buy a battery 🔋 pump to make life easy. We have kayaked the lakes of Montana, Idaho, Arkansas, Minnesota, South Carolina, Arizona and the Intex has not let us down.
Robin's favorite outdoor cooking utensil
Great personal usb fans. Perfect for warm dry camping nights
Our Retro Jr offers only so much space so to expand the cooking area, Robin loves this easy to put up table from Lifetime. No issues after multiple setups and break downs.
We enjoy a good cup of coffee ☕️ and one of our favorite cafes offers a pour over. ( How to make the best pour over coffee) If you are still making coffee in a pot break the yoke of social conformity and consider alternatives to a drink of the gods (coffee) every morning. This Insta Pot has been a godsend to our travels.
Campers are for the most part very honest and friendly people. However, pulling GG through a city and leaving her to go explore can make one feel uneasy 😬 so this easy locking 🔒 system was our solution.
Our teardrop does not come with a refridgerator do coolers are our life blood. We needed to keep our food cold for days on end and these coolers did the trick.