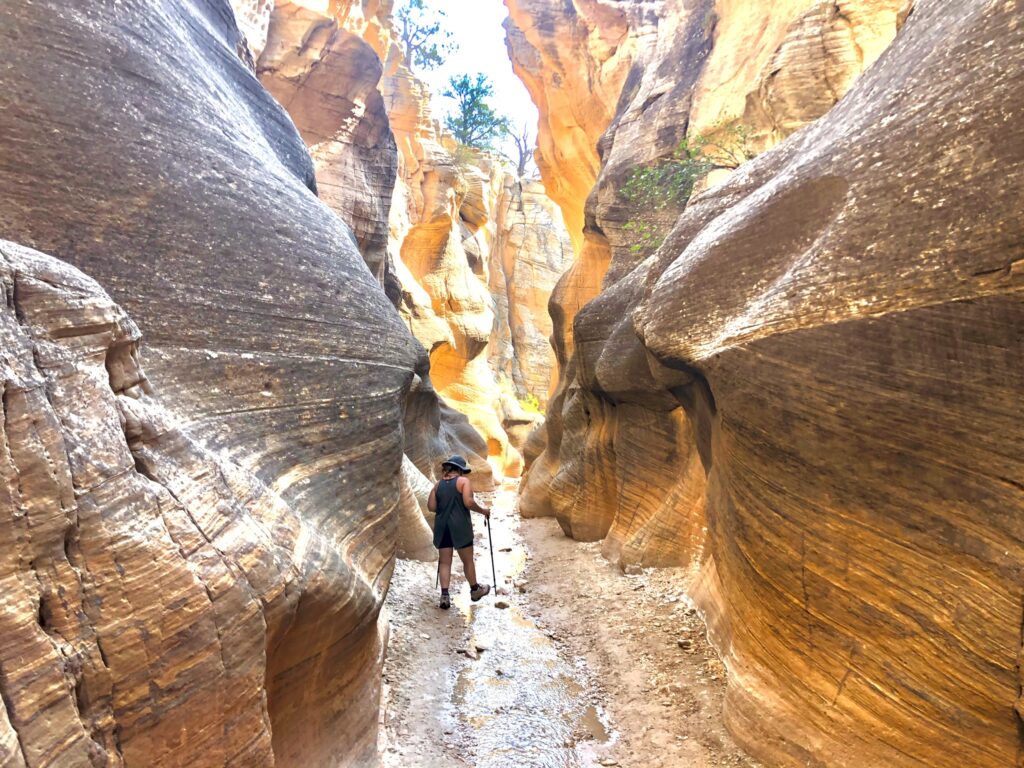 Willis Creek slot canyon is located outside the gates of Kodachrome Basin State Park. Unlike some other canyons in this area, Willis Creek is very easy to explore, with no obstacles of any kind, just a flat, stony streambed enclosed by shapely, delicately colored walls of Navajo sandstone.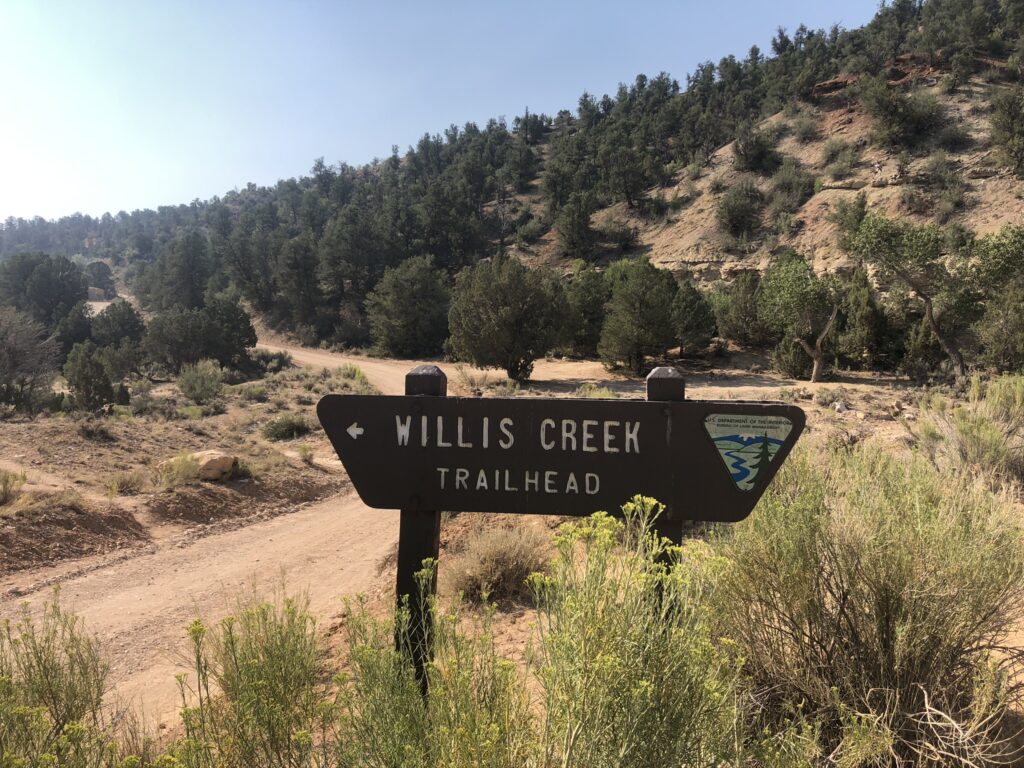 Our toughest challenge was getting to the trail head. Skutumpah Road – the unpaved route between Johnson Canyon and Cannonville, was recommended to use a 4wd.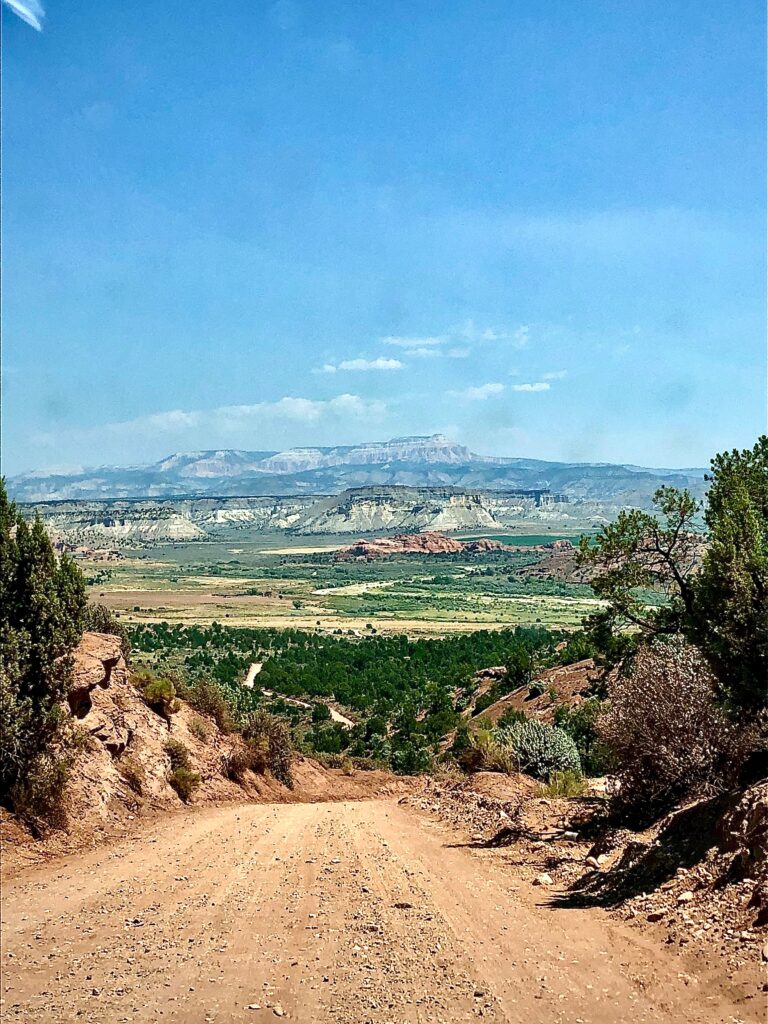 We drove our Nissan; albeit, several sharp turns had the car fishtailing near steep cliffs. My adrenaline was pumping by the time I pulled into the trail head.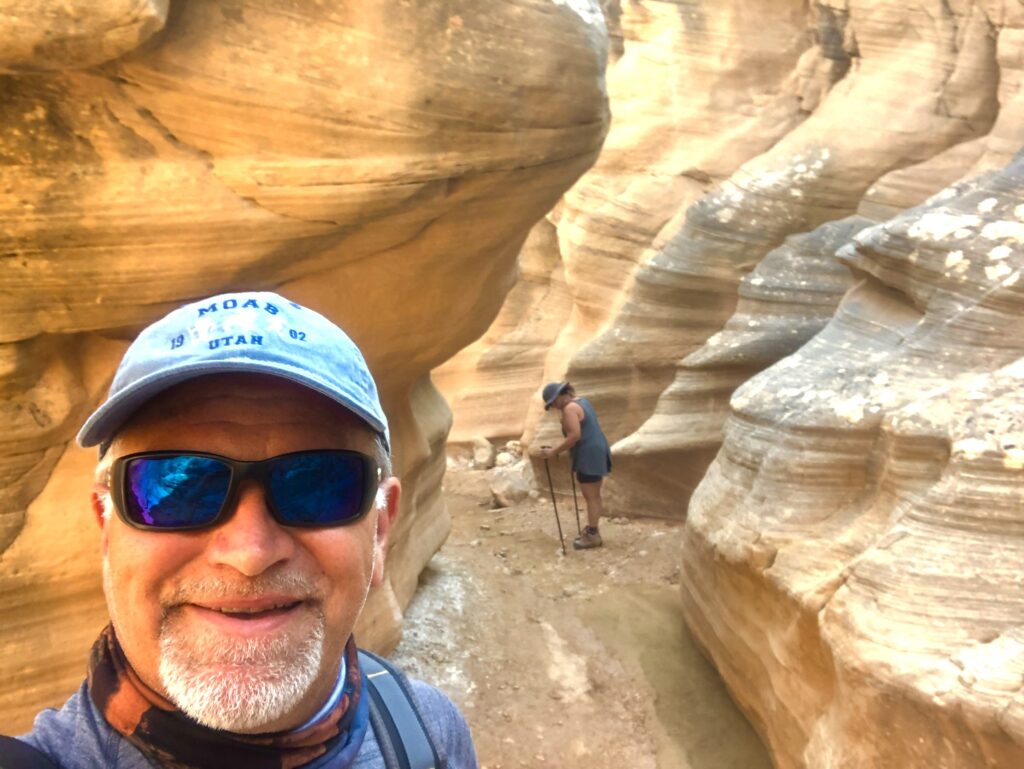 Willis Creek flows a long way, from the base of the Pink Cliffs in Bryce Canyon National Park through high country at the edge of Grand Staircase-Escalante National Monument.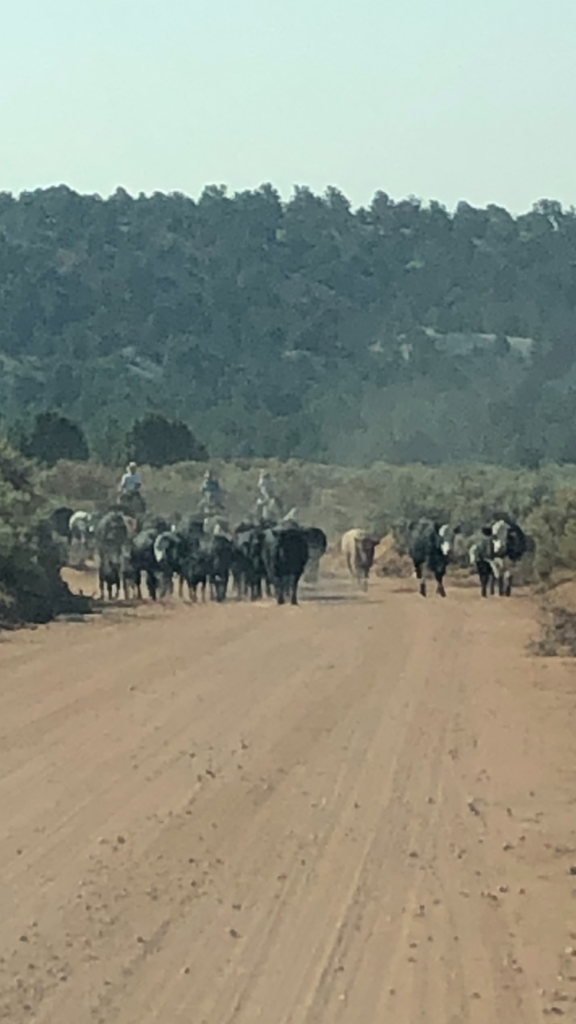 Hikers will have to cross this stream numerous times; however, the creek is only several inches deep so walking ?‍♀️through the stream is cause us no issues and was fun. All ages will enjoy this hike. Alway check conditions before going into a slot canyon-flash floods can happen anytime.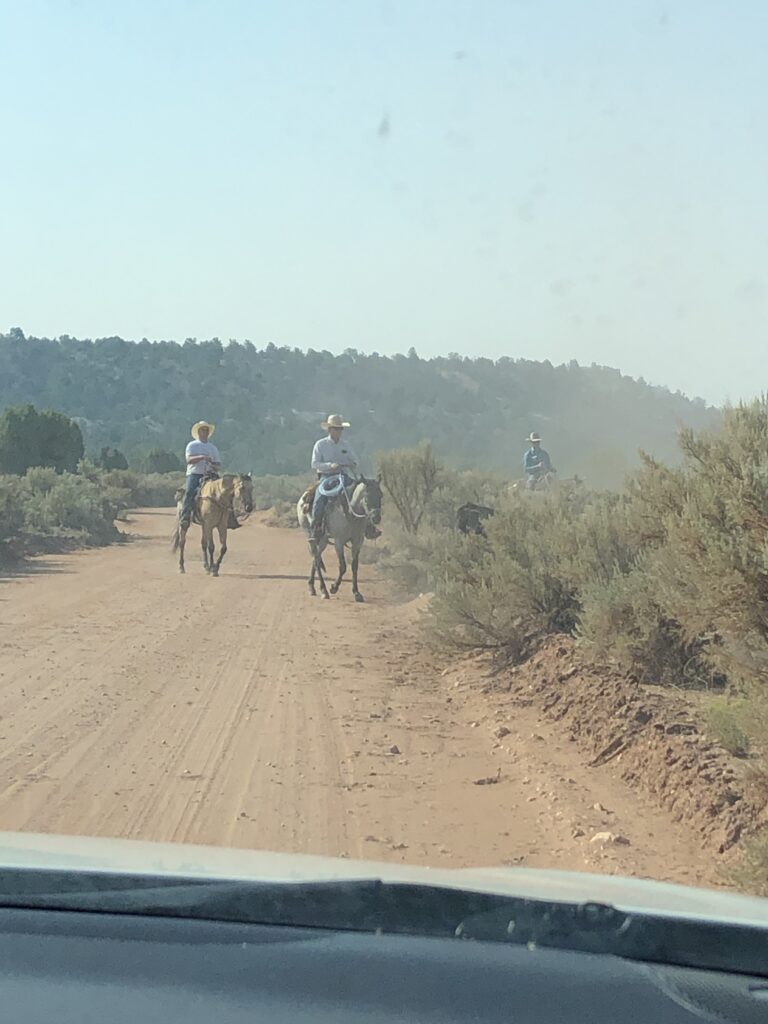 The trail is an out and back. We walked to the balanced rock in the middle of the slot canyon and then returned. I estimate we did about 4 miles round trip. If you become tired ? just turn around. Bring water because summer heat can be hot ? but there is a nice break from the heat inside the slot canyon.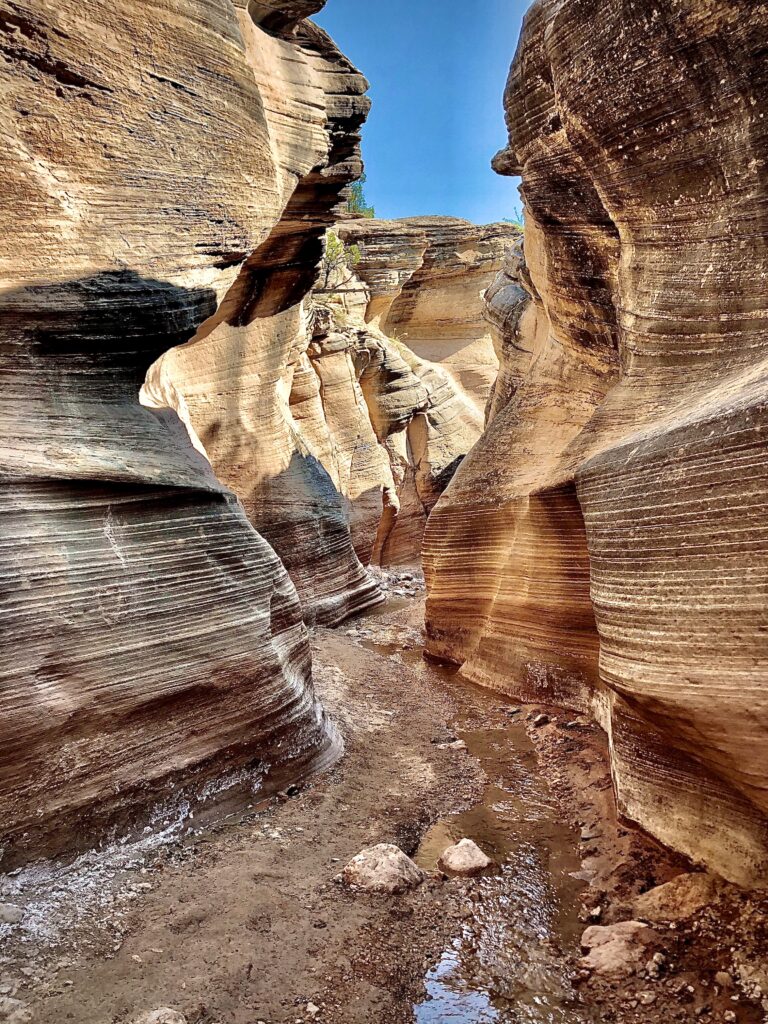 Road warriors need to pass the time when on the road. I highly recommend the Audible books ?
Try Audible and Get Two Free Audiobooks
Several springs ensure its waters flow year round, and just after the crossing of the Skutumpah Road – the unpaved route between Johnson Canyon and Cannonville, the creek enters a moderately deep gorge and passes through several short but very beautiful sections of narrows.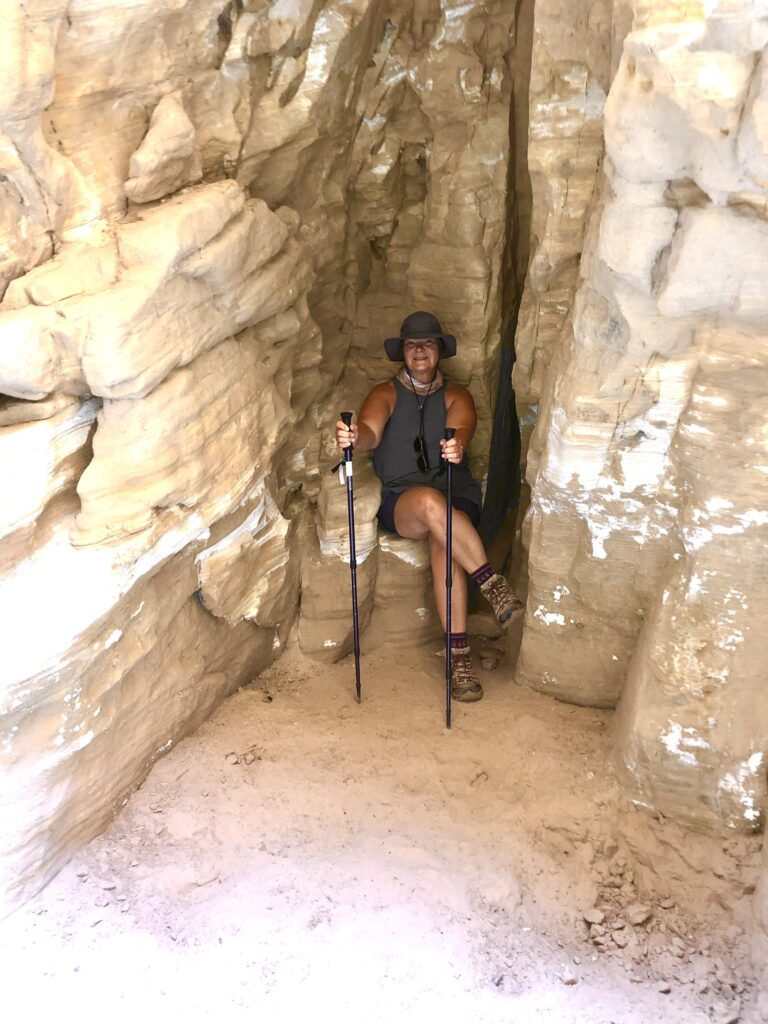 Occasional small waterfalls form where the floor drops over small chokestones, and the canyon has several quite lengthy curving, narrow passageways, nicely illuminated when the sun shines, and always very photogenic. We came across a young lady taking nudes in one of these waterfalls. She covered up and we continued hiking ? but this hike is secluded and not as popular as Zion so no fear of large crowds.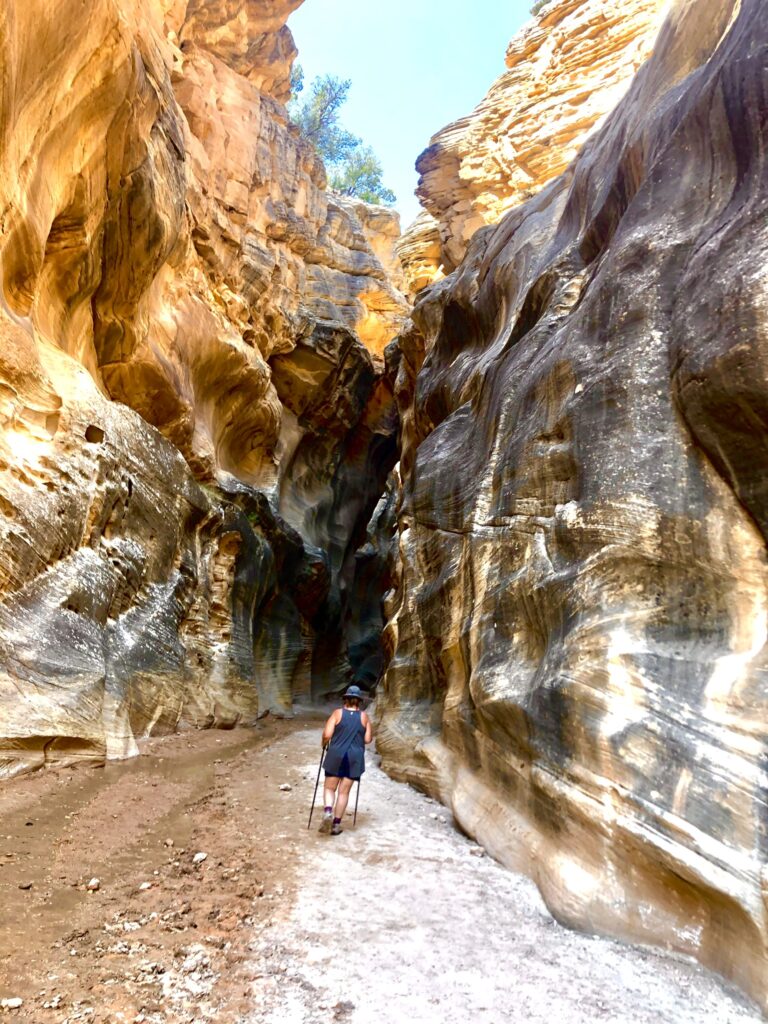 Money saving tip: Buy the annual national parks pass. The National Park Pass will also allow access to all the national monuments. The cost is $80. If you plan on being in any of the National Parks more than three times within a year then you will save money. The pass will sometimes allow discounts to camping in the National Forest ?. There's also discounts for seniors which can be applied against camping threw out America. Other discounts apply so please read the eligibility which can save you more money. We estimate we saved over $600 in park fees. It may not save one money on this hike but a trip to Bryce Canyon or Capital Reef should not be missed when in this area.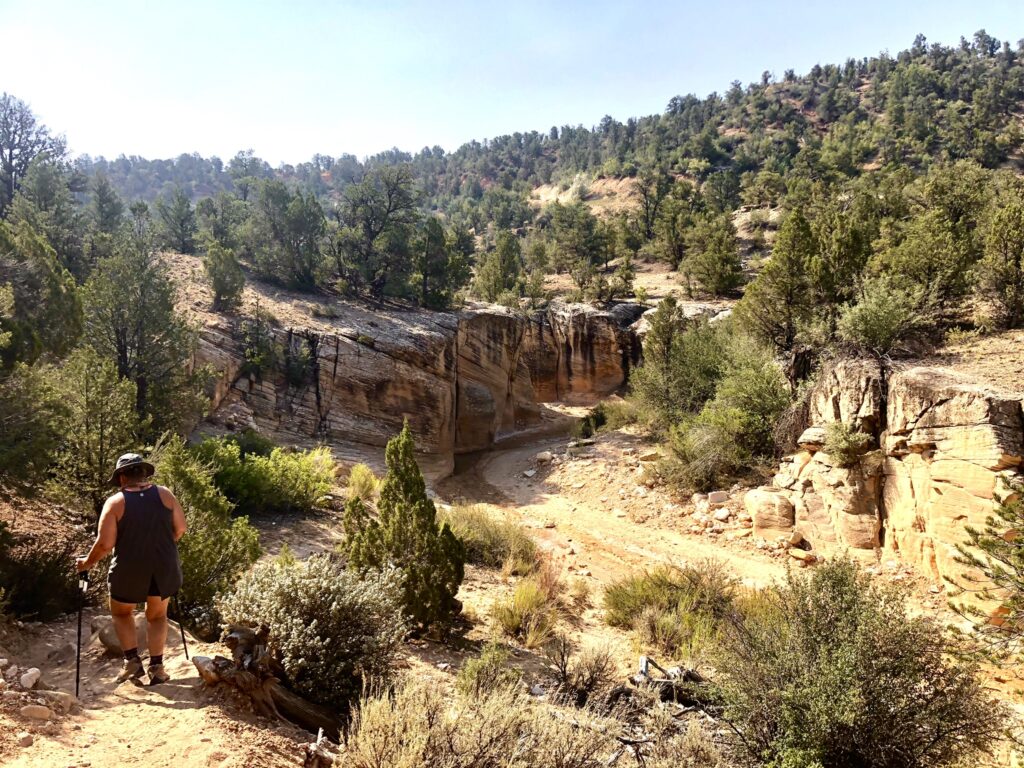 This site contains paid advertisements. By clicking the links it does not cost you any extra money as the seller pays Travelswithgg a referral fee. We will never place any links without 100% satisfaction of a product we use.
Traveling across the country is challenging enough to not have to worry about ones drinking water. We carry with us the Berkey water filtration system which we consider one of the best on the market.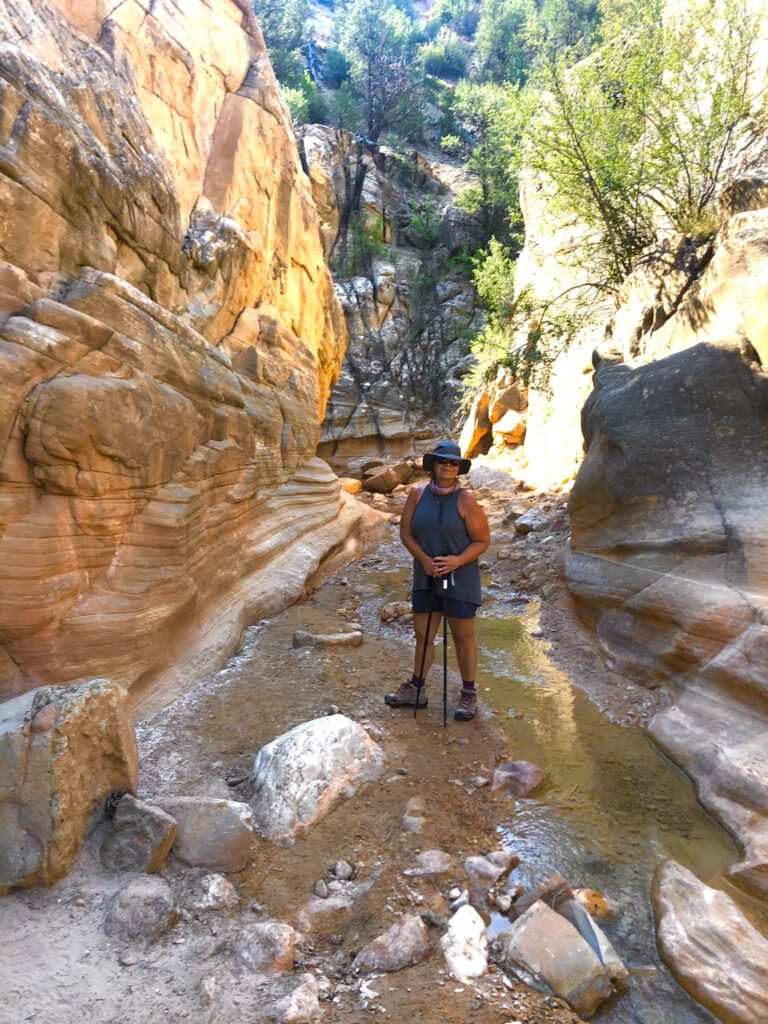 I did not write this – but WOW does it speak to my heart!!! Worth the read.

Barely the day started and… it's already six in the evening.
Barely arrived on Monday and it's already Friday….
and the month is already over….
and the year is almost over….
and already 40, 50 or 60 years of our lives have passed….
and we realize that we lost our parents, friends.
and we realize it's too late to go back…
So… Let's try, despite everything, to enjoy the remaining time…
Let's keep looking for activities that we like…
Let's put some color in our grey…
Let's smile at the little things in life that put balm in our hearts.
And despite everything, we must continue to enjoy with serenity this time we have left.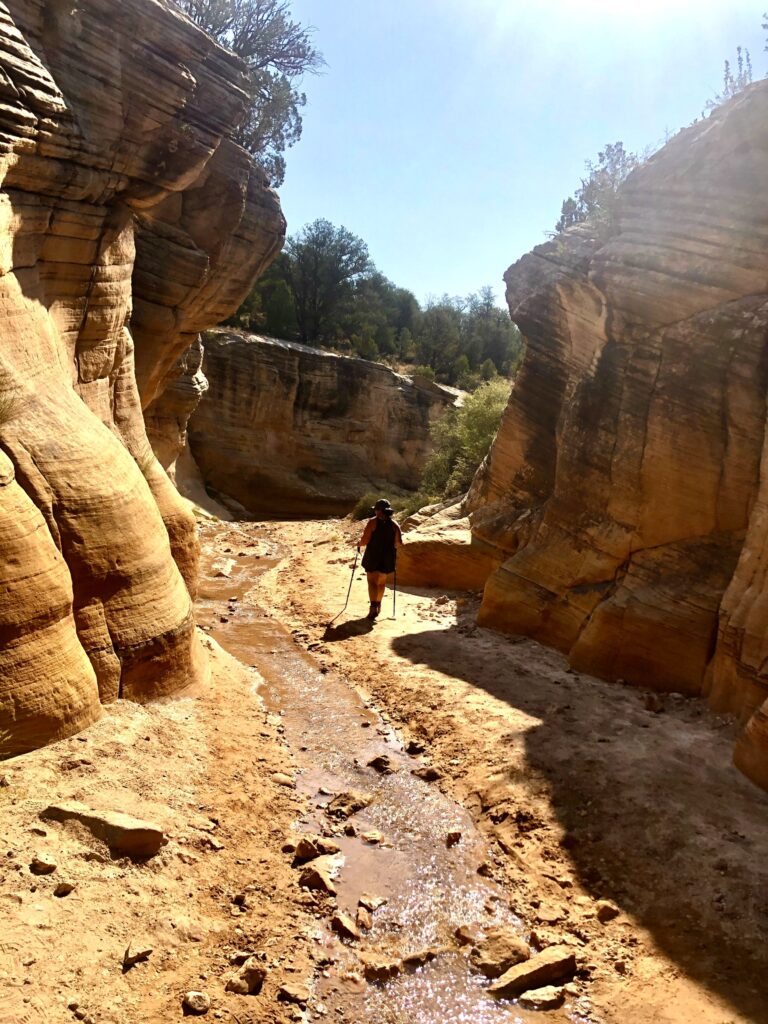 Let's try to eliminate the afters…
I'm doing it after…
I'll say after…
I'll think about it after…
We leave everything for later like ′′ after ′′ is ours.
Because what we don't understand is that:
Afterwards, the coffee gets cold…
afterwards, priorities change…
Afterwards, the charm is broken…
afterwards, health passes…
Afterwards, the kids grow up…
Afterwards parents get old…
Afterwards, promises are forgotten…
afterwards, the day becomes the night…
afterwards life ends…
And then it's often too late….
So… Let's leave nothing for later…
Because still waiting see you later, we can lose the best moments,the best experiences,best friends,the best family…
The day is today…
The moment is now…
We are no longer at the age where we can afford to postpone what needs to be done right away.
Now go wonder, or is there an "after" in the way?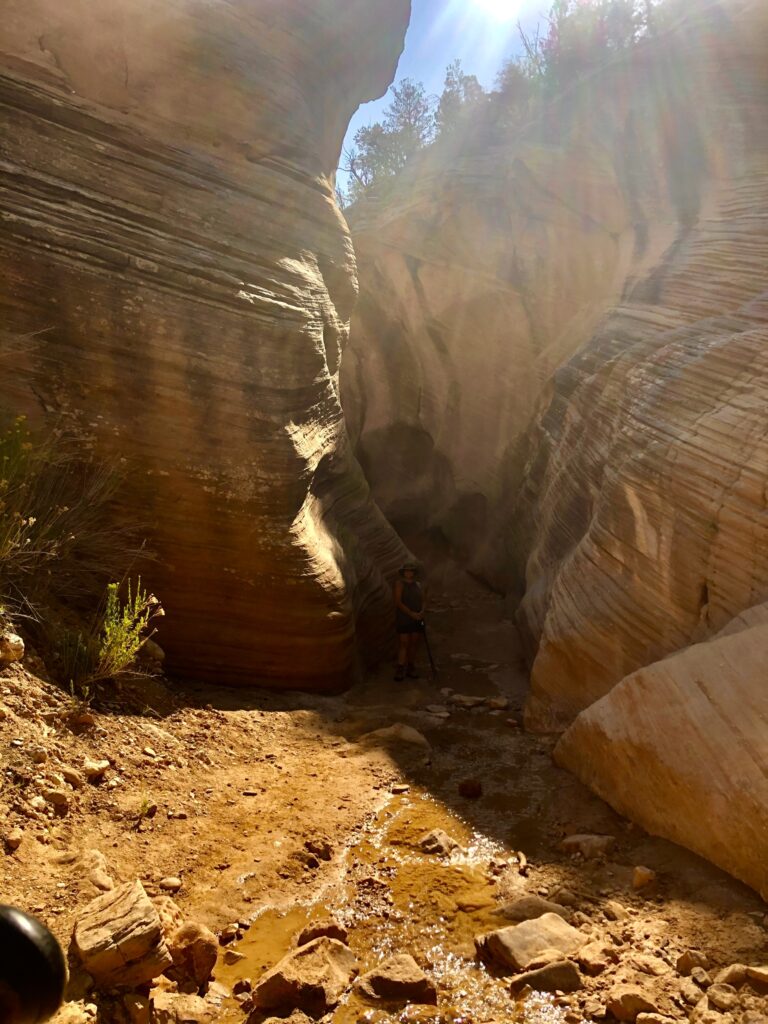 The drive to find Willis Creek trailhead is worth the drive. The hike is easy and worth the effort. Now go wonder.
Amazon Launchpad Holiday Gift Guide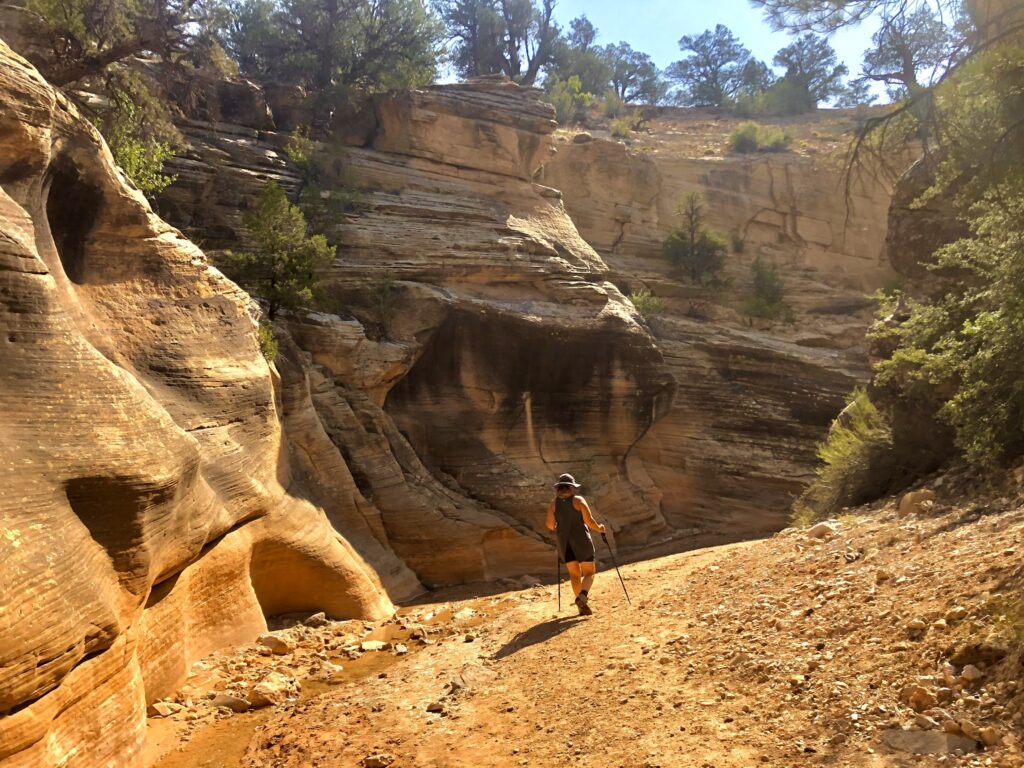 Drone flying is fast becoming a hobby of mine. After much research I purchased the Mini from DJI. I am very satisfied but still an amateur having a blast. Check out our drone videos within the blog which we hope you will enjoy.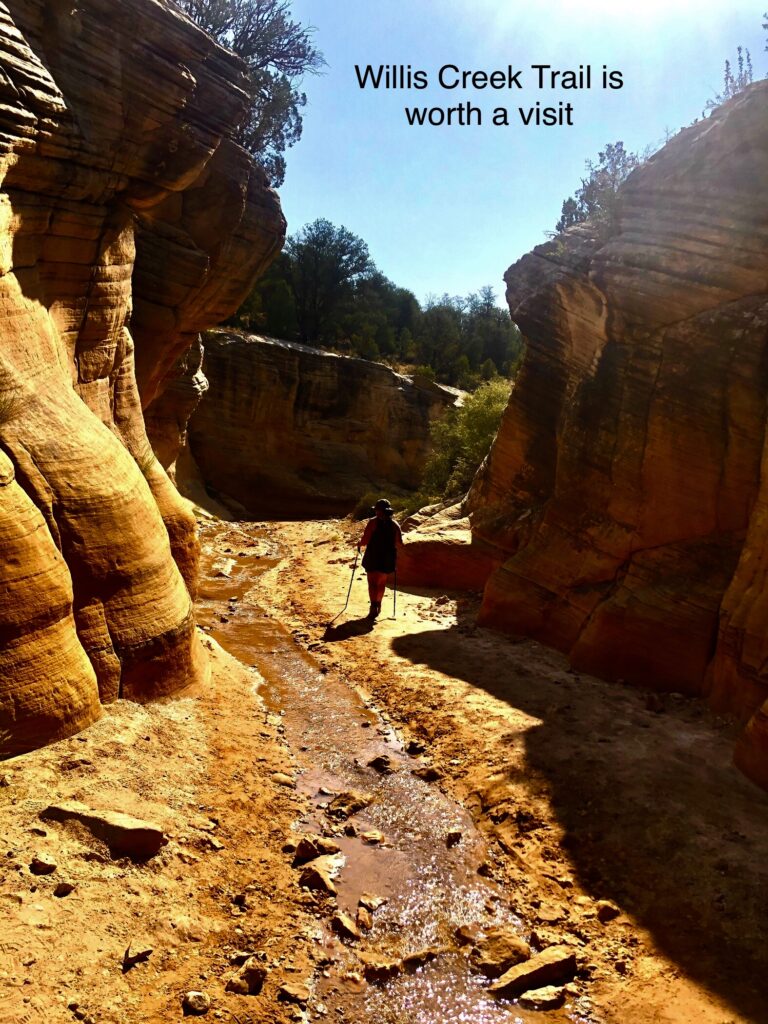 Products we love ❤️
After 12,000 miles on the road and hundreds of miles hiking ? throughout America, our Merrells have withstood all types of terrain and although they may be dirty, the quality is outstanding and are ready for the next 12,000.
Being on the water is very therapeutic and lots of fun. Space is always our issue so the inflatable kayak was our answer. Easy to inflate but we did buy a battery ? pump to make life easy. We have kayaked the lakes of Montana, Idaho, Arkansas, Minnesota, South Carolina, Arizona and the Intex has not let us down.
Robin's favorite outdoor cooking utensil
Great personal usb fans. Perfect for warm dry camping nights
Our Retro Jr offers only so much space so to expand the cooking area, Robin loves this easy to put up table from Lifetime. No issues after multiple setups and break downs.
Campers are for the most part very honest and friendly people. However, pulling GG through a city and leaving her to go explore can make one feel uneasy ? so this easy locking ? system was our solution.
Our teardrop does not come with a refridgerator do coolers are our life blood. We needed to keep our food cold for days on end and these coolers did the trick.
Grand daughter had her first birthday so the best gift was to start her love of camping. Love you Bridget.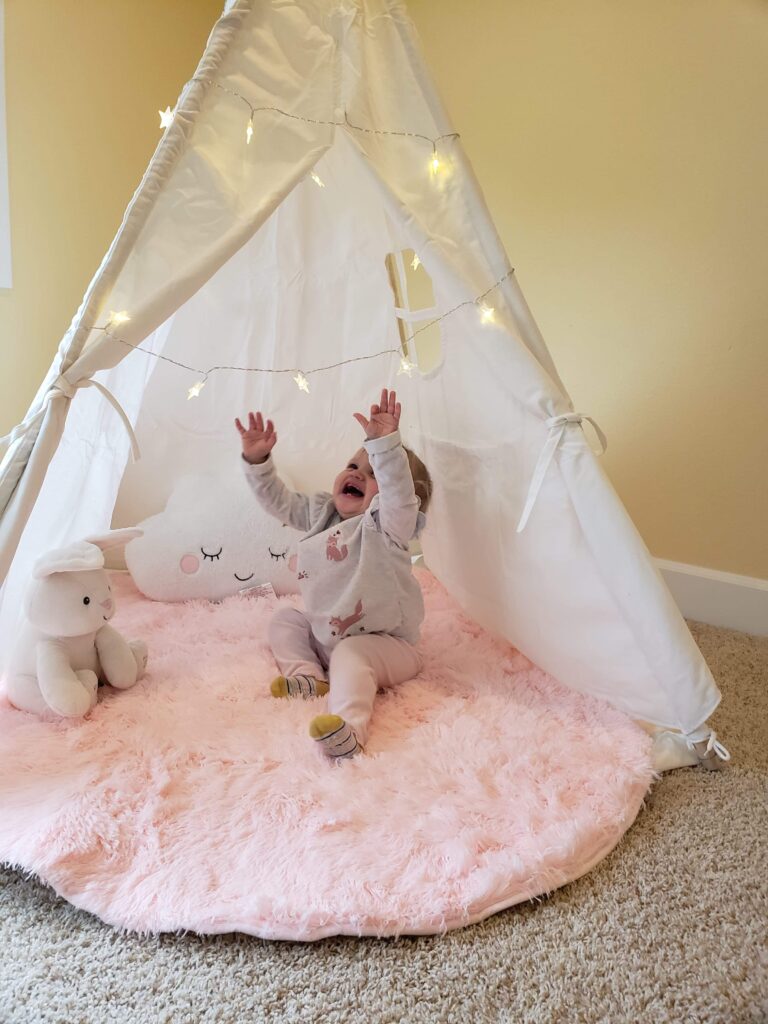 Traveling over 12,000 miles in a Teardrop trailer one realizes space is an issue. We highly a roof rack to aid in carrying more items ie inflatable kayak, life jackets, oars, and etc.
12,000 miles on the road, one of my best purchases was my Costa sunglasses ?. The glare from driving is gone and the polarized lenses intensified the colors of my surroundings.