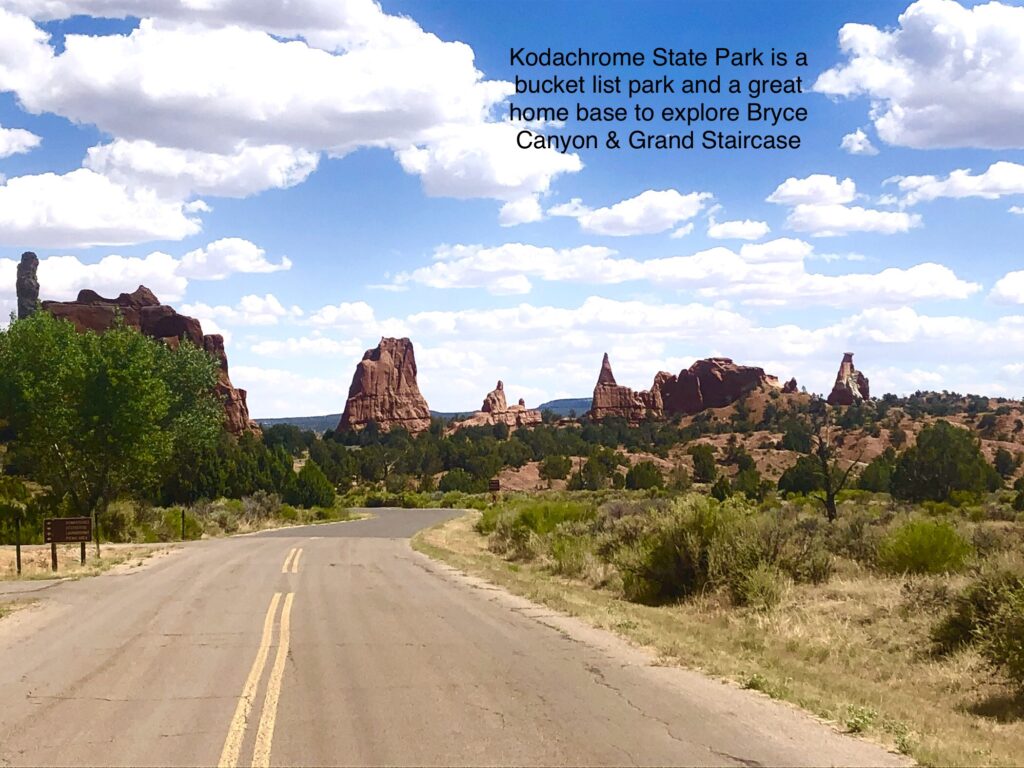 America the beautiful. It's time to go wondering. As soon as you see it, you will know that the name fits perfectly. Kodachrome Basin State Park, with its red tinged rock formations and incredible blue skies, just begs to be photographed. The National Geographic Society came up with the name, and everyone agreed with it.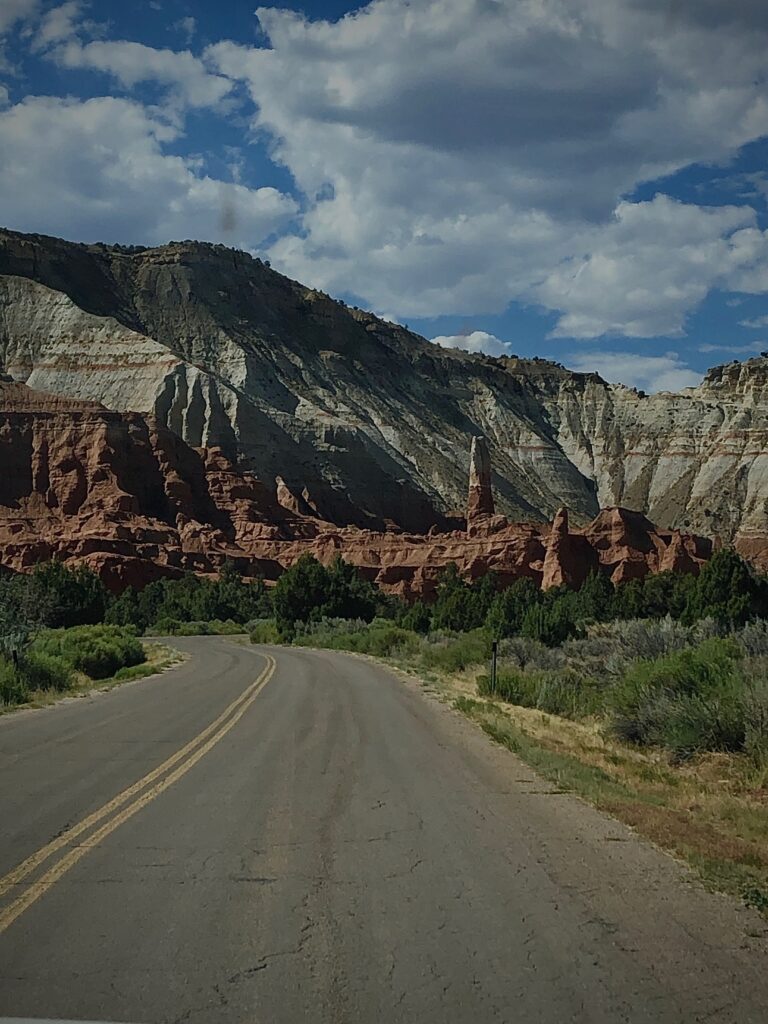 We originally chose this location as a home 🏠 base to hike and visit Bryce Canyon and the Grand Staircase National Park ;however, we underestimated this state park as it should have been a destination to explore more than a sleep 💤 over.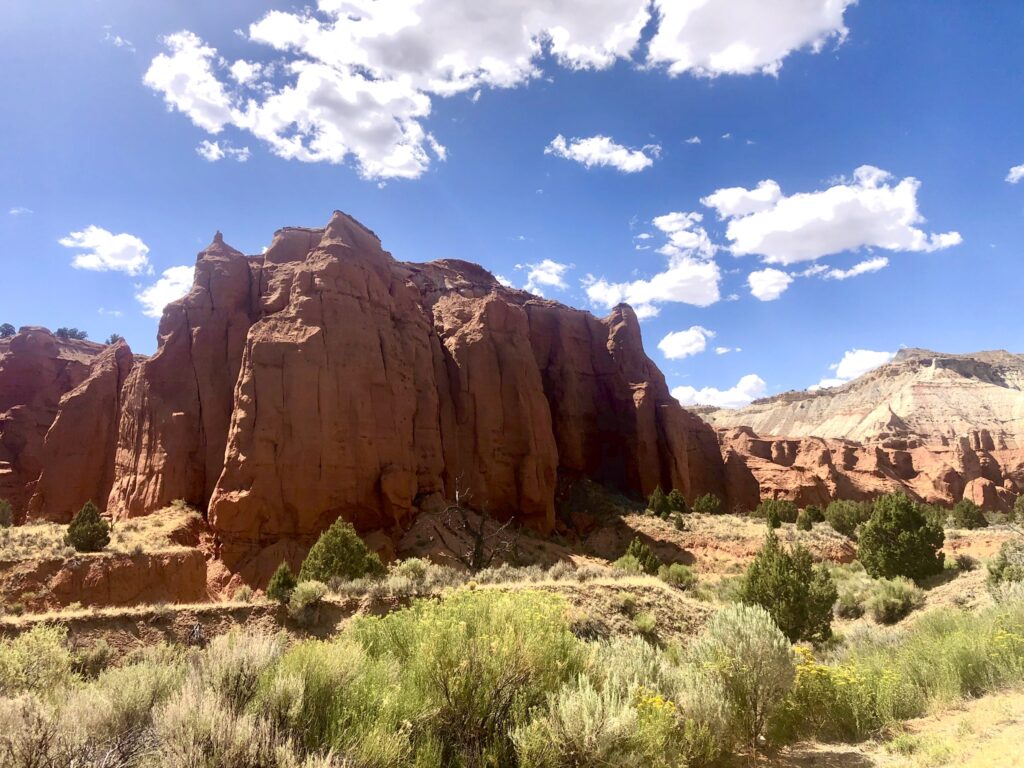 There are over 67 monolithic stone spires, called sedimentary pipes, accentuate multihued sandstone layers that reveal 180 million years of geologic time. Walking among the spires resonates the power and beauty of nature. The race is long and in the end it is only against yourself. 😇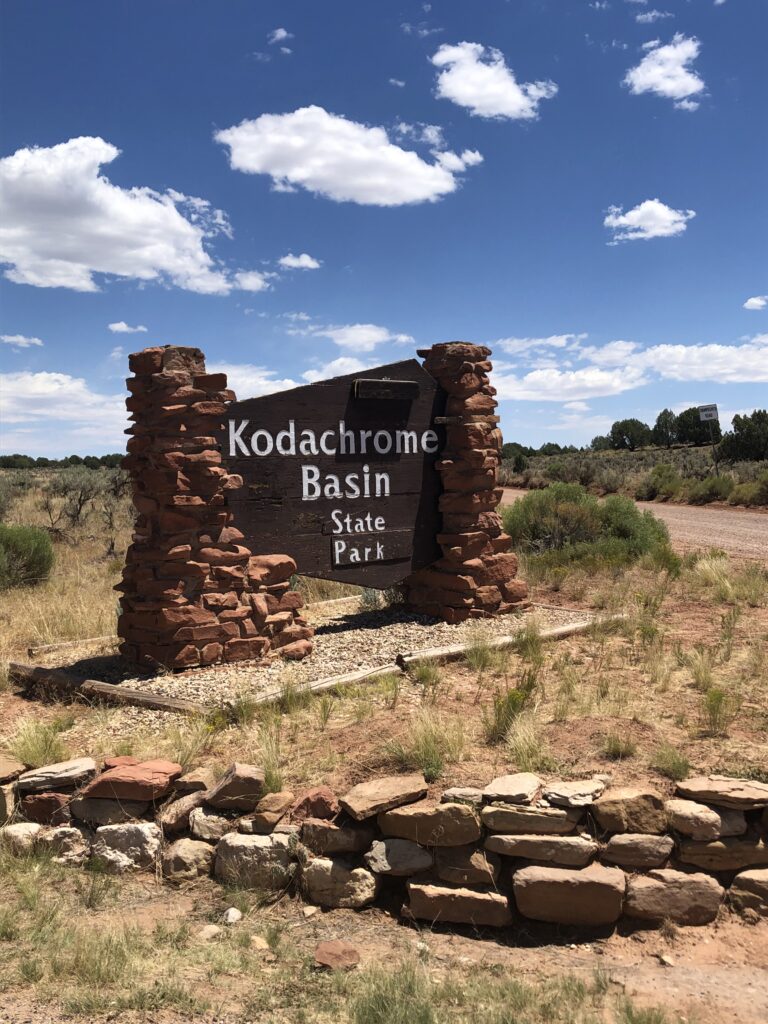 Road warriors need to pass the time when on the road. I highly recommend the Audible books 📚
Try Audible and Get Two Free Audiobooks
Alert: Shakespeare Arch collapsed in April of last year. The trail is still open but there is now just a pile of rubble where the arch used to be. Our country is so beautiful 😍 make more time for yourself and see these natural wonders. No one ever said on their death 💀 bed, "I wish I had worked harder."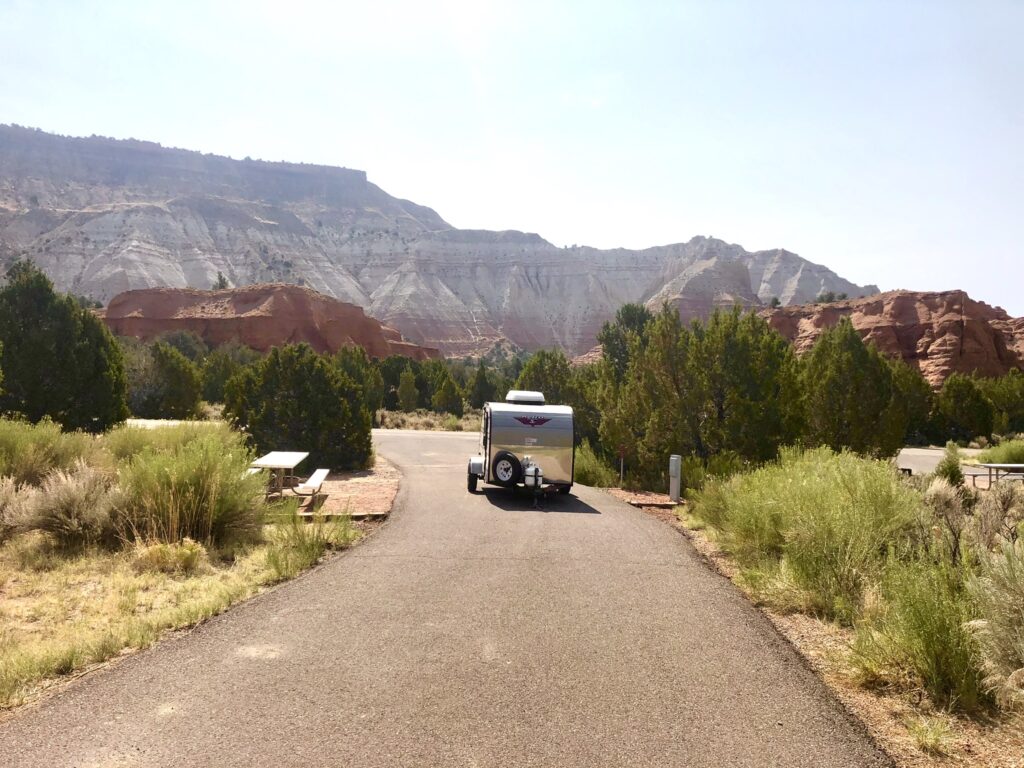 Amazon Launchpad Holiday Gift Guide
Kodachrome Basin State Park offers 54 options for camping: ⛺️ 30 standard sites, 15 Full hook ups, 6 standard-partial hookup, 2 bunkhouses, 1 group site. We have camped across the USA and the bathrooms 🚽 within Kodachrome State Park are some of the best we have witnessed. The showers remind us of a day in the spa 🧖‍♂️ within the Ritz. Laundry 🧺 facilities are top notch.
Camping Fees:
Basin Campground standard Site (no hook-ups): $25.00/ night (max. 8 people, 1 vehicle)
Basin Campground Full Hook-Up Site (13 sites available): $35.00/night (max. 8 people, 1 vehicle)
Bryce View Campground: $25.00/night (Vault toilet, no hookups, max 4 people, 1 vehicle)
Arch Campground: $35.00/night (max 8 people, 1 vehicle, power and water hookups)
Bunkhouses: $85.00/night (No running water in bunkhouse, bring your own bedding, max 6 people, 1 vehicle)
Additional vehicles will be charged an additional vehicle fee per night:(Limit of one additional vehicle per site)
Additional Vehicle Fee:
$16.00 Per night (There is a maximum of one extra vehicle allowed on each site.)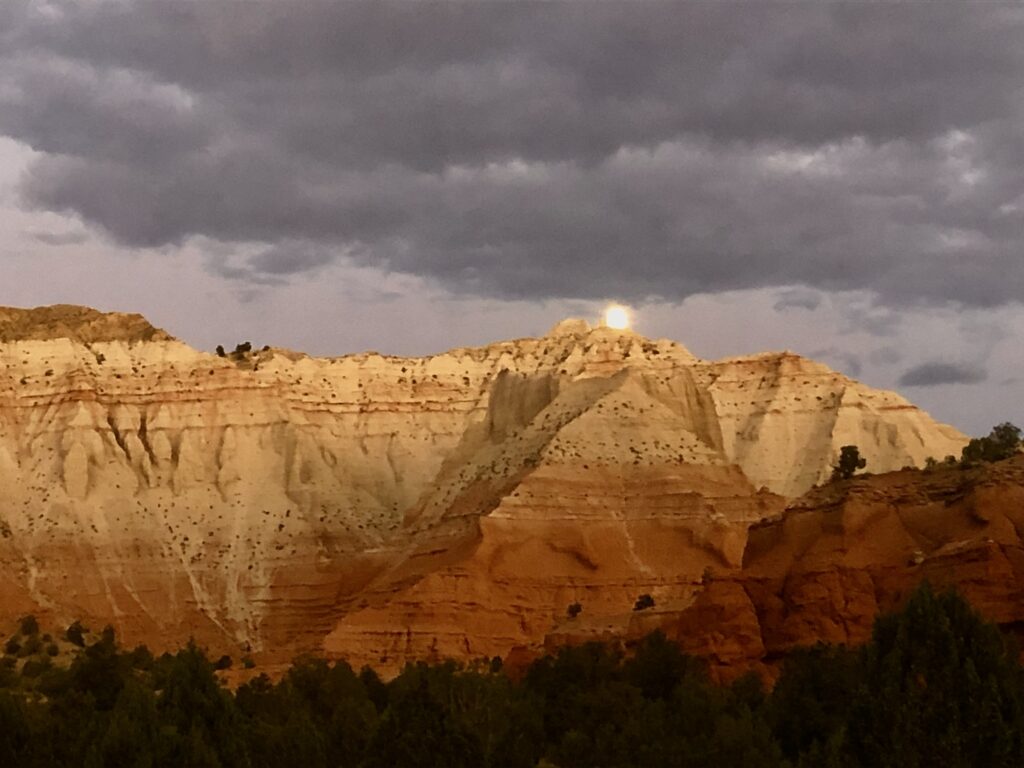 Geology
The geologic interest of the park are sandstone spires and columns called sand pipes, believed to be found nowhere else on earth. It is believed that the area was once similar to Yellowstone National Park with hot springs and geysers, which eventually filled up with sediment and solidified. Through time, the Entrada sandstone surrounding the solidified geysers eroded, leaving large sand pipes. Now stop 🛑 waiting and plan your adventure today. Tomorrow may never arrive.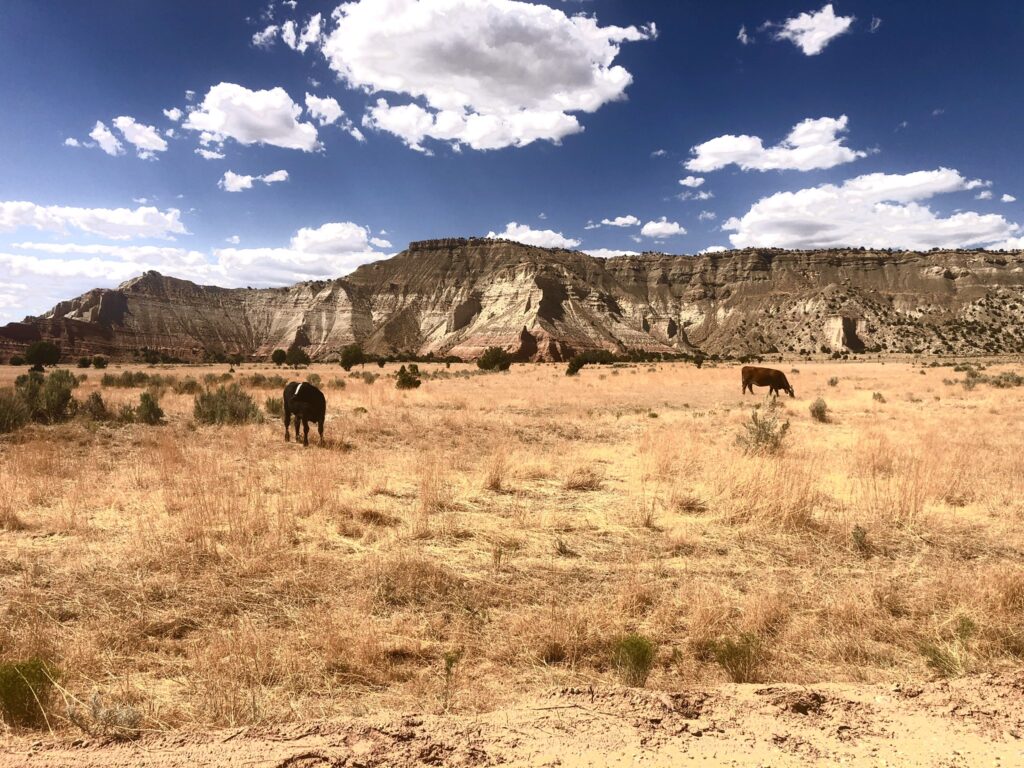 Rookie Mistake: We made the assumption that we could explore, hike, and drive this area in 3 days. We did not put a dent in the many todo adventures along this stretch of road and the afternoon heat limited adventures in the later day. Temperatures near 💯 in early August when we visited made hiking tough except in the morning.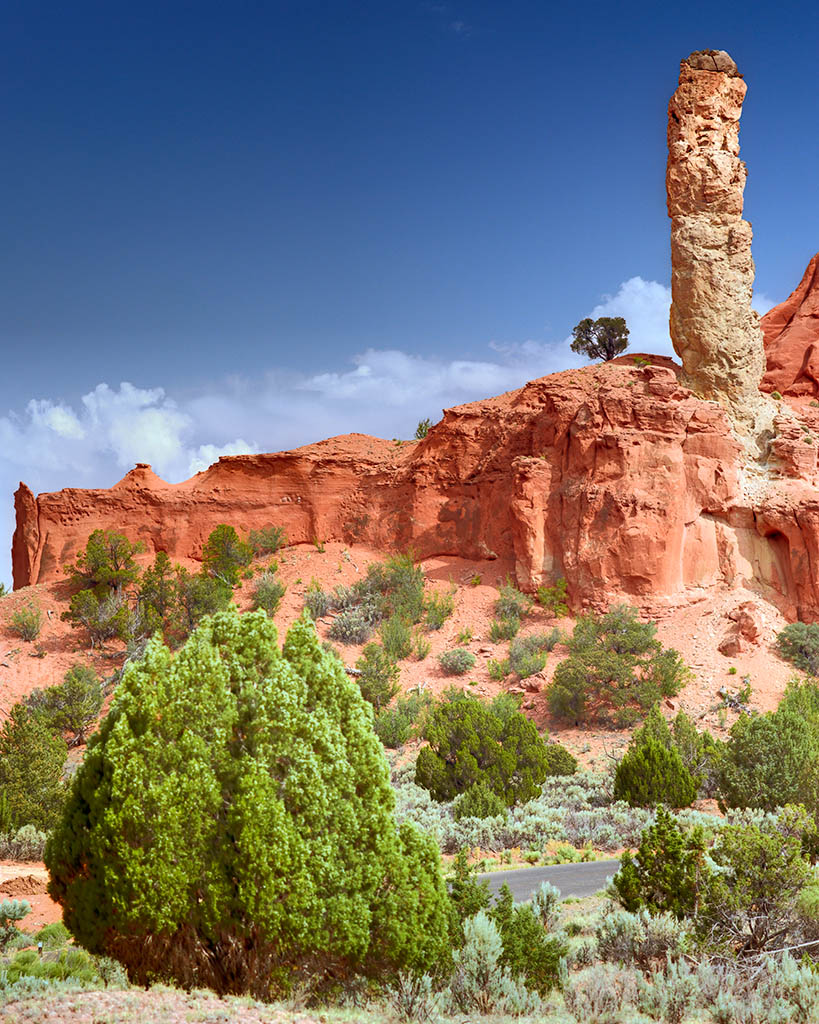 Kodachrome Basin State Park is located near Cannonville on Scenic Byway 12. This is one pretty epic road. Read our review of Scenic Byway 12. Consider exploring this stretch of roads and the multiple state parks (Kodachrome Basin, Escalante Petrified Forest, Anasazi State Park Museum), national parks (Bryce Canyon (which is 20 miles away) and Capitol Reef), scenic backways for travelers with 4 wheel drive(Cottonwood Canyon, Hole-in-the-Rock, Burr Trail, Hell's Backbone) and virtually endless outdoor recreation options on the expansive Dixie National Forest.
Drone flying around Kodachrome State Park Campgrounds
Things to do within the park
Chimney Rock is the main attraction at Kodachrome Basin State Park, with the largest spire towering at 170 feet tall. Several hiking, biking, and equestrian trails run throughout the park. We would recommend spending atleast a full day exploring Kodachrome Basin State Park.

The Grand Parade Trail is an easy, 1-mile scenic trail that follows along the park road.
Angels Palace is another easy 1/2-mile trail
Eagle's View Overlook is a little more challenging 3/4 mile trail
Panorama Trail is a 3 mile roundtrip That leads to the renowned Ballerina Slipper formation, with the option to continue for another two miles on the Big Bear Geyser/Cool Cave Trail. We did not have time to do Cool Cave trail but was told it is a must do. Next time. 😔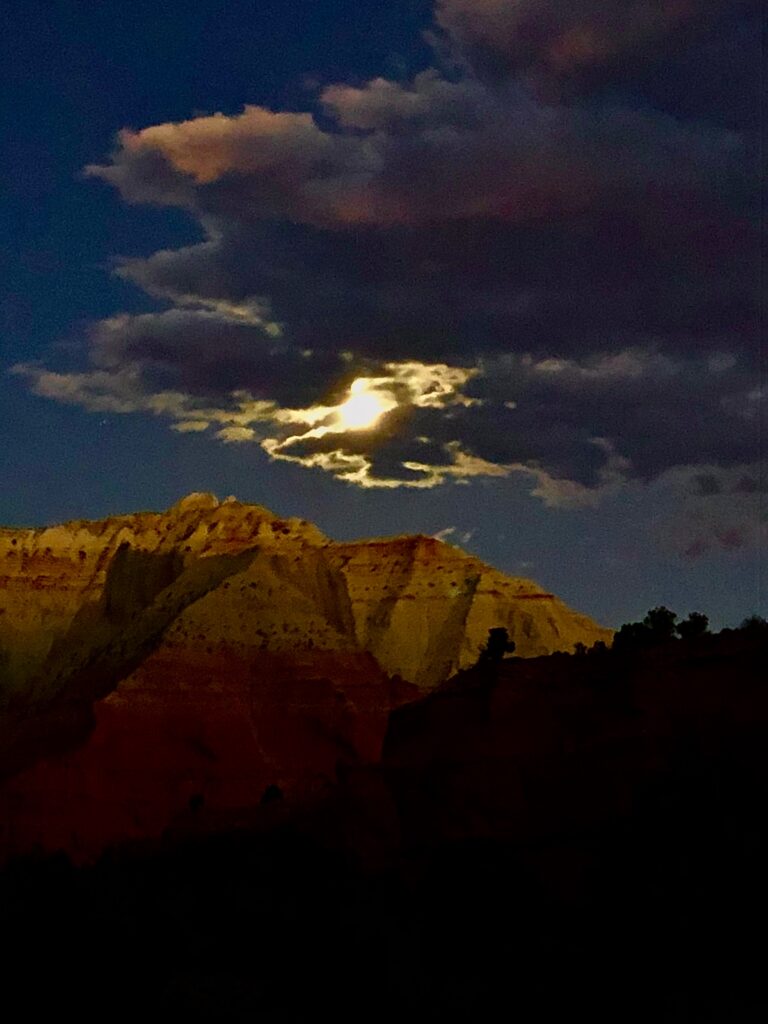 You are next to the Grand Staircase so plan to also explore this area 🥾 🚵‍♀️ 🏍 – We recommend hiking Willis Creek Trail as we did a full day hike & was very happy with this hike.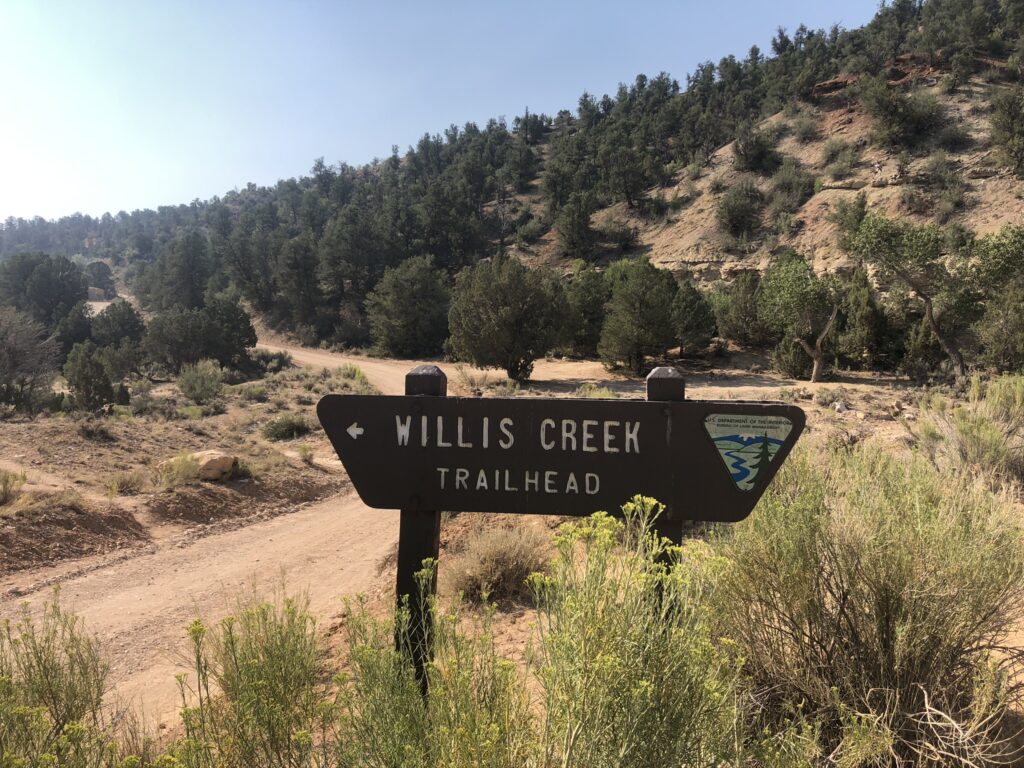 Robin love 💕 to cook 👩‍🍳 and her favorite accoutrement is this fish spatula from Amazon also check out her recipes within the webpage. All tried and delicious 😋 while on the road.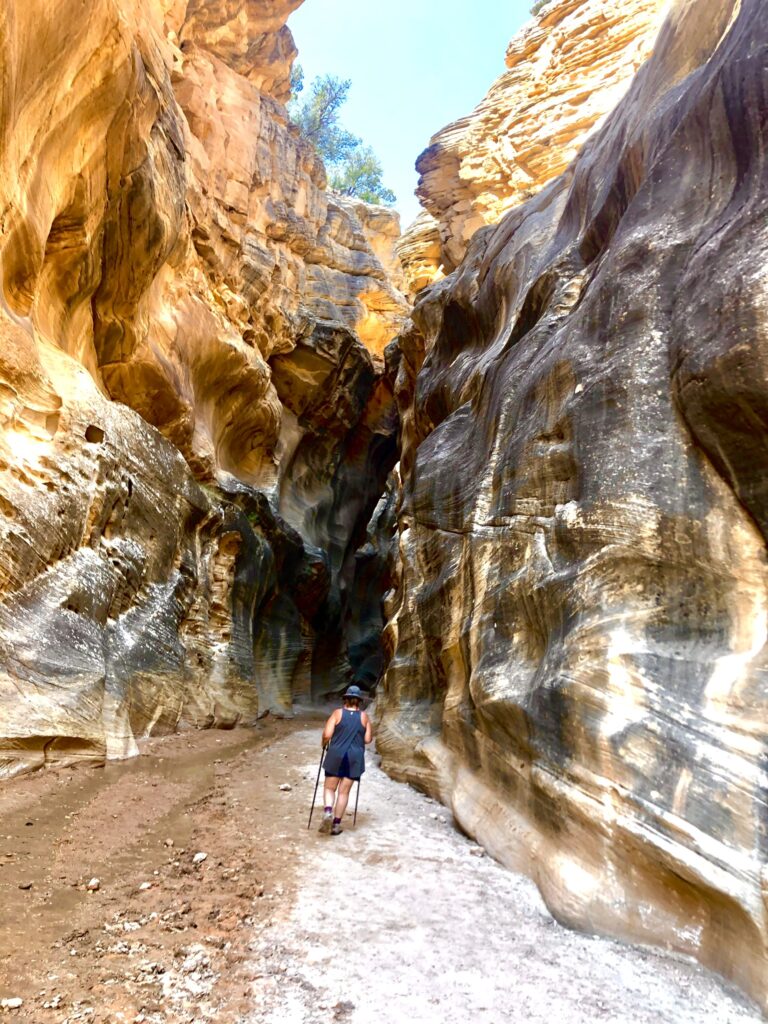 This site contains paid advertisements. By clicking the links it does not cost you any extra money as the seller pays Travelswithgg a referral fee. We will never place any links without 100% satisfaction of a product we use.
Traveling across the country is challenging enough to not have to worry about ones drinking water. We carry with us the Berkey water filtration system which we consider one of the best on the market
Hiking Near Kodachrome
Willis Creek Slot Canyon –
Willis Creek Narrows is a mellow and accessible hike. Here, you'll find great visual rewards with minimal effort. Skutumpah Rd is recommended to use 4wd; but, our Nissan made the journey with a couple scary hair pin turns. Check road conditions and weather before making this trip.
Willis Creek Slot Canyon is located off Skutumpah Road in Grand Staircase-Escalante National Monument. The hike is a 4.8-mile round trip, but you can turn around after you finish the narrows section, making it a 2.6-mile round trip. The trail gains a scant 300 feet as it follows the perennial Willis Creek. Much of the hike involves uncountable creek crossings or hiking directly in the creek, but the creek is generally only an inch or two deep. We enjoyed the feeling remoteness and seclution-you will likely only see a dozen or so other friendly hikers along the way.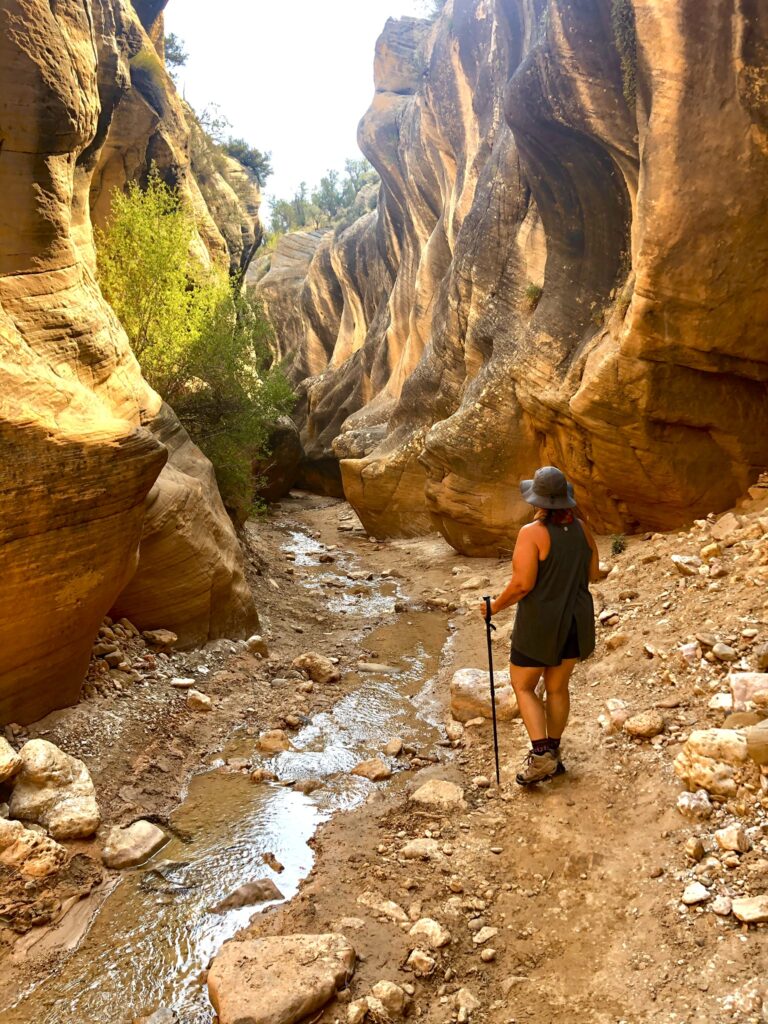 Must do hike along the scenic byway drive just outside the gates Bryce Canyon
The Mossy Cave Trail is an easy (.4 mile) route that begins beside UT 12 between Tropic and the Bryce Canyon turn-off at Ruby's Inn.🏨 The trail is mostly a level trail, following beside the fast-flowing stream and across two footbridges to a junction. We took some time to take off our shoes 👟 and let the cool water run over our feet 🦶.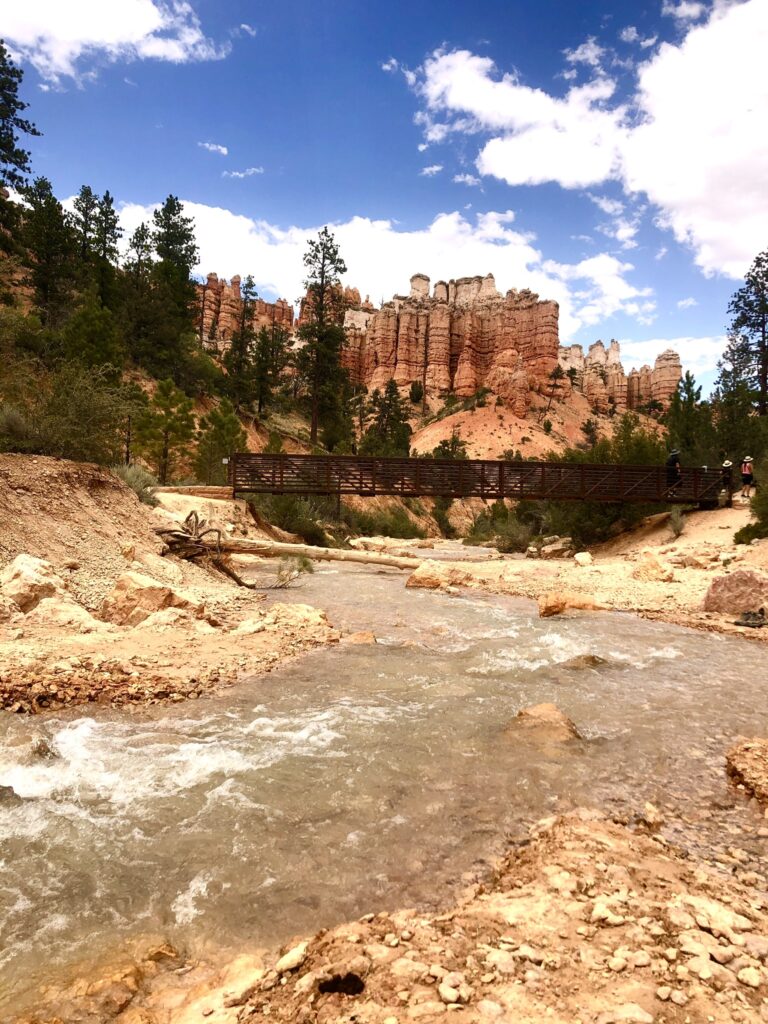 The trail comes to a Robert Foster "fork in the road." The left fork has a short but steep climb through a patch of pine woodland to the cave, actually just a wide, mossy overhang in the Claron limestone, kept moist by water dripping from the ceiling. This freezes in winter, and the large ice pillars beneath do not fully melt until midsummer, partly as the cave faces northeast and hence receives no direct sunlight.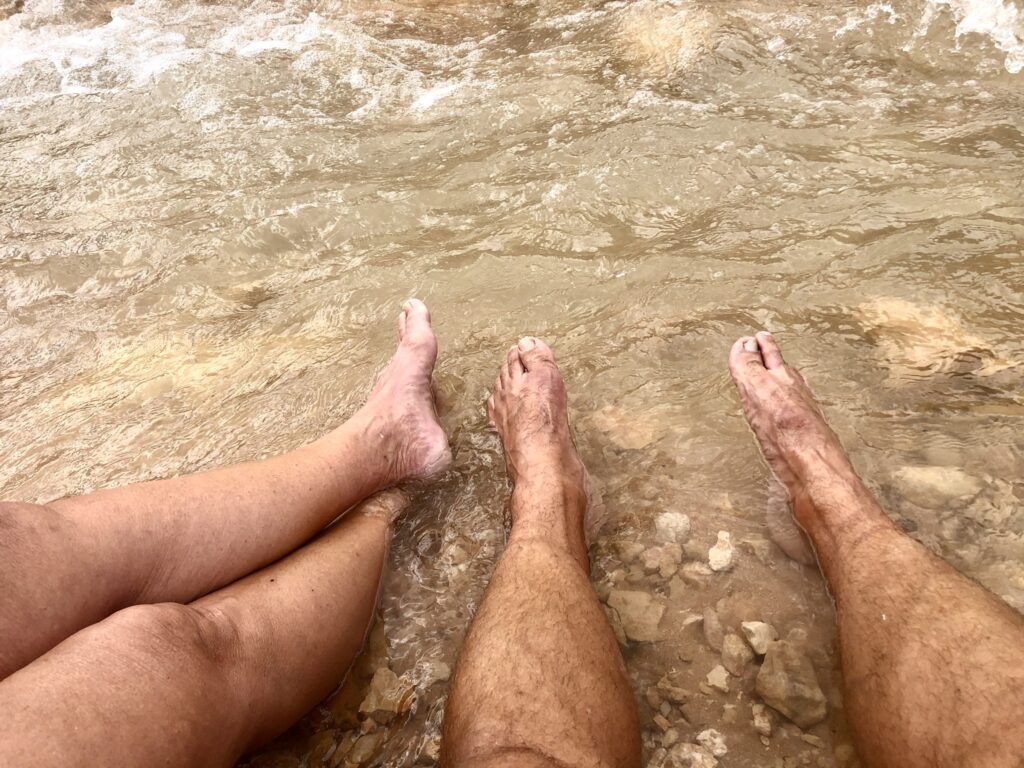 The Waterfall
The right branch of the trail leads a little further upstream to the waterfall, where the stream tumbles 15 feet over a ledge into a circular pool; above is a swirling channel and several quite deep potholes. We hiked up using the trails and then down walking, along and in, the stream.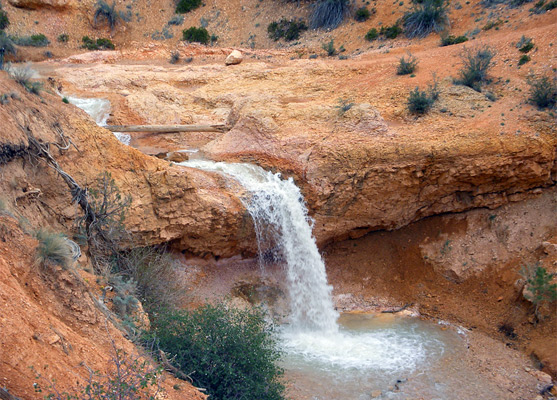 Further erosion is slowed by an underlying layer of much harder dolomite. Apart from small hoodoos and other minor formations lining the cliffs above the stream, the surroundings are wooded and gently undulating – not as scenic as the more famous section of Bryce National Park to the south. Don't be afraid to take the roads less traveled. 🧳
Bryce Canyon is only 20 miles away from Kodachrome Basin State Park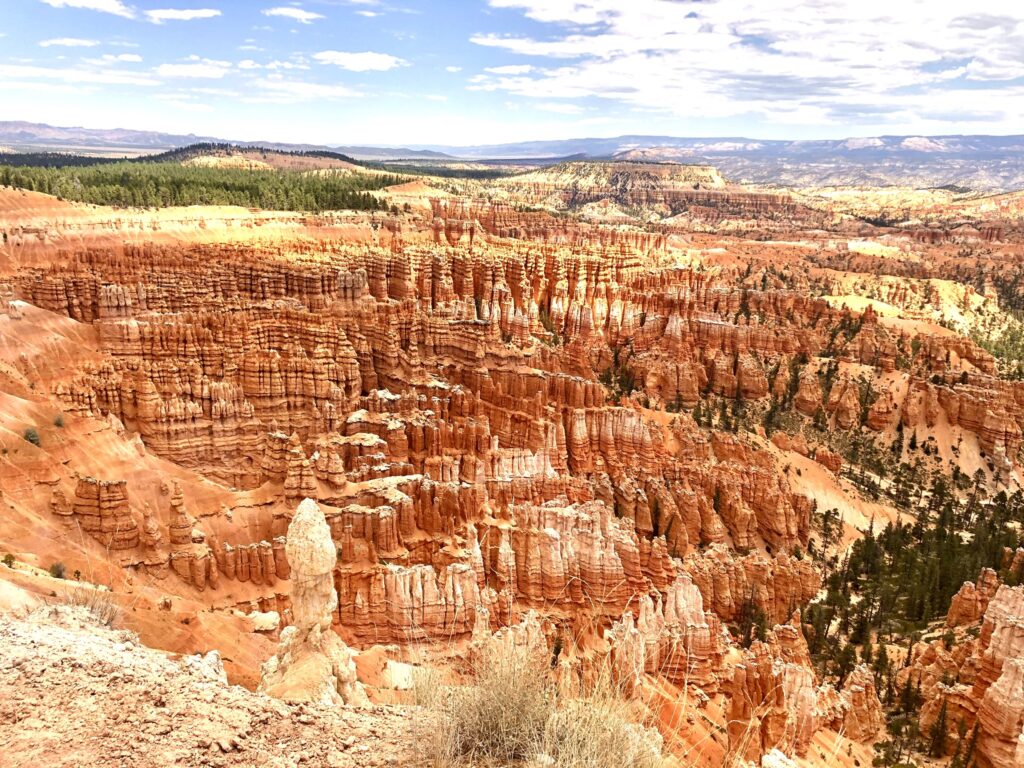 Off Road Trail near Kodachrome
Cottonwood Canyon Road, also known as Road 400, is a 46 mile dirt road that connects U.S. Highway 89 with Utah SR 12 at Cannonville and traverses portions of the Grand Staircase-Escalante National Monument, offering a unique view into its heart. As high clearance vehicles are recommended, it's ideal for four-wheeling, and drivers will be rewarded with an up close look at some stunning natural features, including colorful rock formations. If you want to get out on your feet, there are a number of outstanding hiking trails that can be accessed along the route too, like the Cottonwood Narrows, Hackberry Canyon and Round Valley Draw.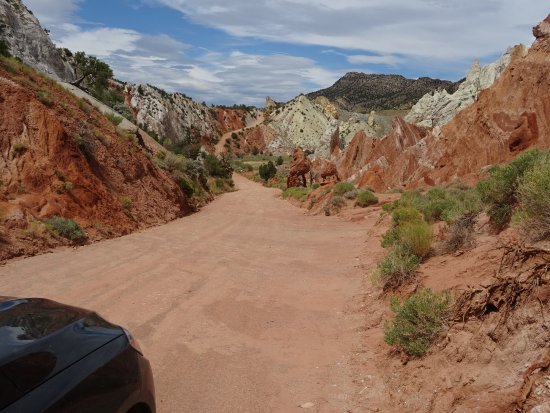 Money saving tip: Buy the annual national parks pass. The cost is $80. If you plan on being in any of the National parks more than three times you will save money. The pass will also allow you access to the National Monuments and sometimes discounts in the National Forest 🌳. There's also discounts for seniors which can be applied against camping threw out America. Other discounts apply so please read the eligibility we can save you more money. We estimate we saved over $600 in park fees.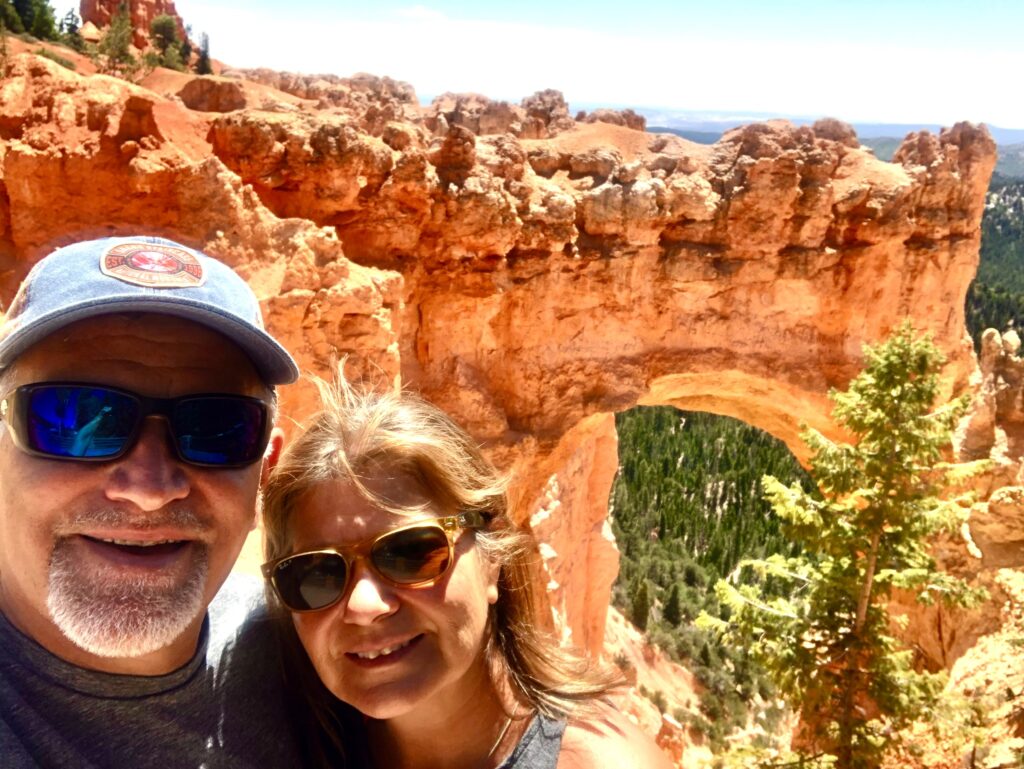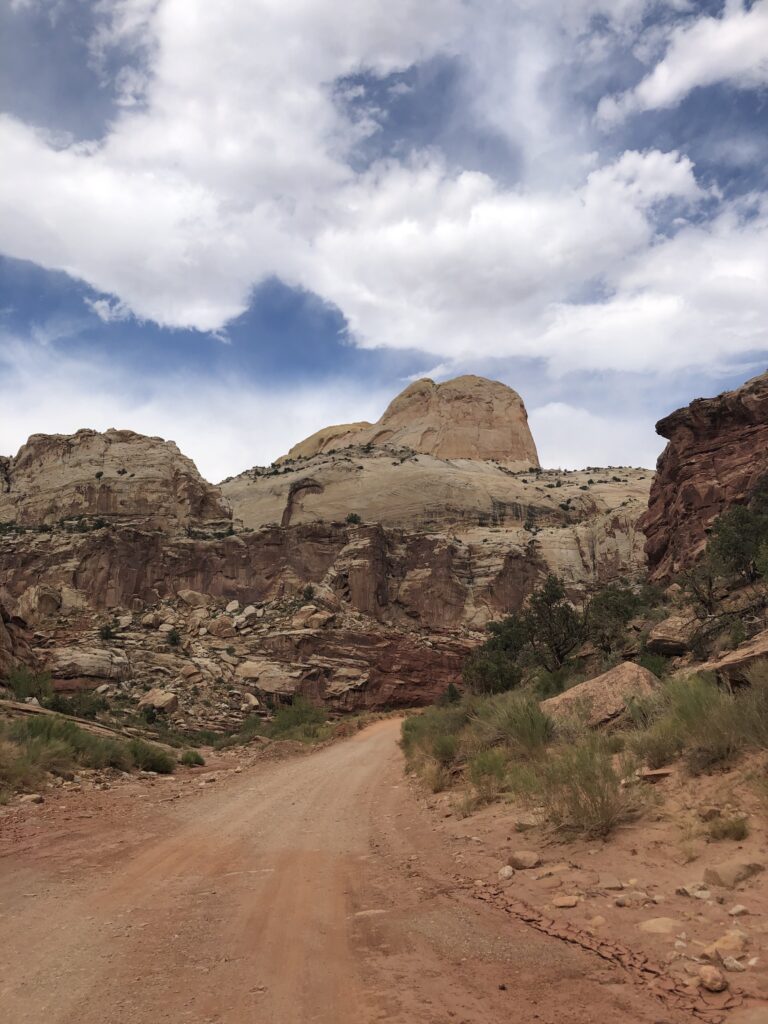 Quick link to Kodachrome Basin State Park Website
Drone flight around Kodachrome Basin State Park
Drone flying is fast becoming a hobby of mine. After much research I purchased the Mini from DJI. I am very satisfied but still an amateur having a blast. Check out our drone videos within the blog which we hope you will enjoy.
Products we love ❤️

Paid ads-we recommend
After 12,000 miles on the road and hundreds of miles hiking 🥾 throughout America, our Merrells have withstood all types of terrain and although they may be dirty, the quality is outstanding and are ready for the next 12,000.
Being on the water is very therapeutic and lots of fun. Space is always our issue so the inflatable kayak was our answer. Easy to inflate but we did buy a battery 🔋 pump to make life easy. We have kayaked the lakes of Montana, Idaho, Arkansas, Minnesota, South Carolina, Arizona and the Intex has not let us down.
Robin's favorite outdoor cooking utensil
Great personal usb fans. Perfect for warm dry camping nights
Our Retro Jr offers only so much space so to expand the cooking area, Robin loves this easy to put up table from Lifetime. No issues after multiple setups and break downs.
We enjoy a good cup of coffee ☕️ and one of our favorite cafes offers a pour over. ( How to make the best pour over coffee) If you are still making coffee in a pot break the yoke of social conformity and consider alternatives to a drink of the gods (coffee) every morning. This Insta Pot has been a godsend to our travels.
Campers are for the most part very honest and friendly people. However, pulling GG through a city and leaving her to go explore can make one feel uneasy 😬 so this easy locking 🔒 system was our solution.
Our teardrop does not come with a refridgerator do coolers are our life blood. We needed to keep our food cold for days on end and these coolers did the trick.
Grand daughter had her first birthday 🍰 so the best gift was to start her love of camping. Love you 😍 Bridget.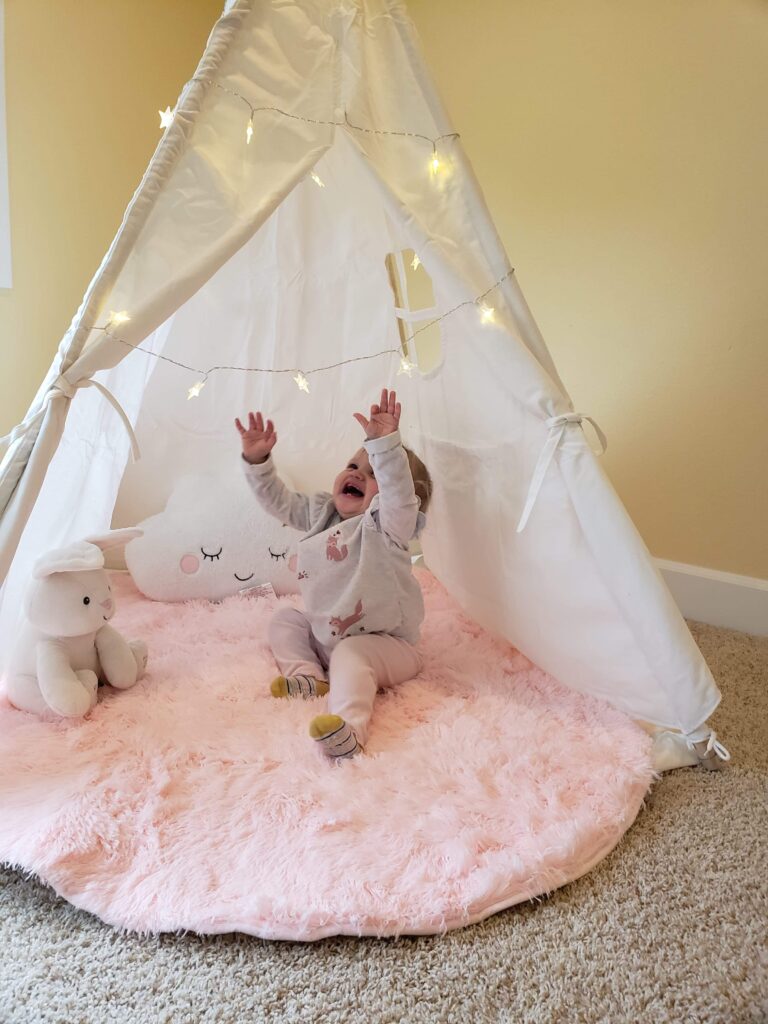 Traveling over 12,000 miles in a Teardrop trailer one realizes space is an issue. We highly a roof rack to aid in carrying more items ie inflatable kayak, life jackets, oars, and etc.
12,000 miles on the road, one of my best purchases was my Costa sunglasses 🕶. The glare from driving is gone and the polarized lenses intensified the colors of my surroundings.